I Got High With San Francisco's Most Sincere Weed Delivery Startup
"Whatever we can do sober or with a beer, we should be able to do with cannabis."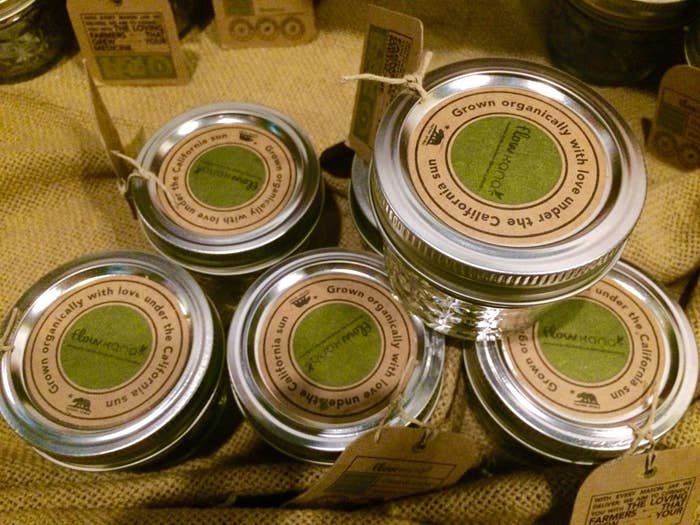 The cannabis-infused hazelnut spread started to kick in a few minutes before the movie started.
It was Wednesday night and I was at a movie screening hosted by a medical marijuana delivery startup named Flow Kana. Forty or so guests paid $45 to sample some weed and then watch a movie high. The screening room was located on the first floor of the Hobart Building, an office tower in San Francisco's Financial District, and the sweet, fruity smell of sativa wafted almost all the way out to the lobby.
CEO Michael Steinmetz told Buzzfeed News this was the first in a series of "culture shifting cannabis events" to help foster the idea that Flow Kana is about transforming society, not just getting baked.
Inside the reception area, guests were greeted with a banquet of options, artfully arranged on a burlap cloth. Flow Kana works directly with farmers in Northern California and likes to call their concept farm-to-table. For this event, the table was covered with containers of Kanatella (house-made chocolate-hazelnut spread infused with 10 mg of medical marijuana) and Kanabees (same deal, but with honey) that could be sampled with tiny wooden spoons. There were also bowls of different strains of weed that could be sampled using an assortment of vaporizers, including a handful of Pax 2s and one Volcano vaporizer (the kind with the plastic bag that inflates like balloon people outside a car dealership).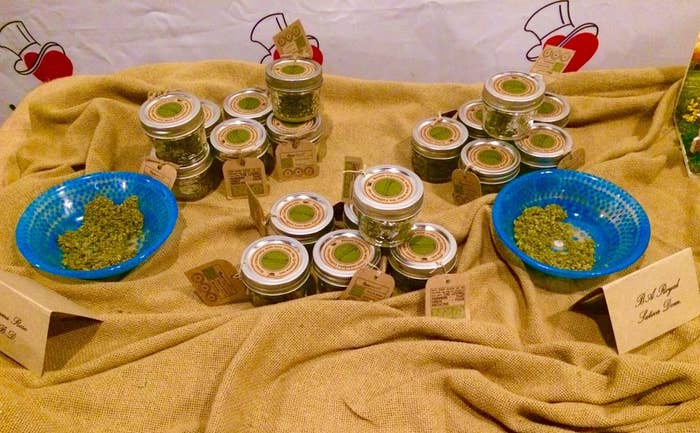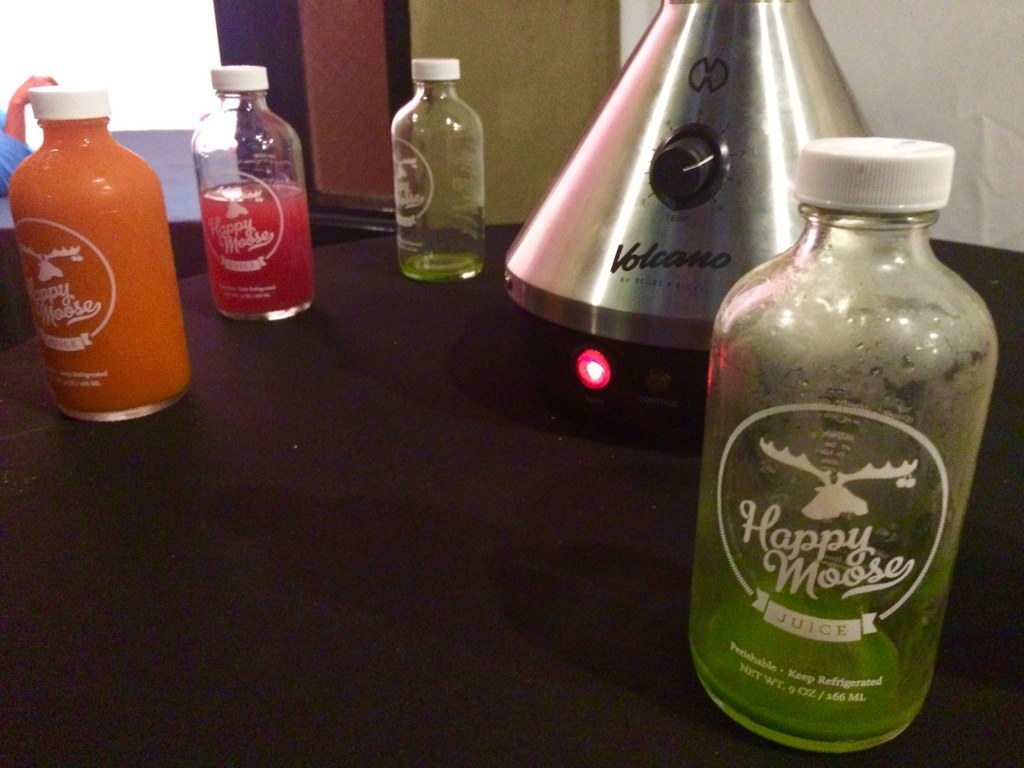 Steinmetz told BuzzFeed News that he's still in the experimental phase with the company's "Enlightenment Series," but future events could include gallery openings or TED-like conferences. The industry is betting that California will fully legalize marijuana in 2016, which means the time to brand is nigh. The science and health benefits of the plant — "that's kind of what everybody is pushing," he explained. Flow Kana, on the other hand, wants to focus on how legalization can change the social fabric. "We want to elevate the conversation around cannabis, eliminate the stigma, and bring it into our daily lives," said Steinmetz. "Whatever we can do sober or with a beer, we should be able to do with cannabis."
The $45 ticket price included unlimited flower sampling, unlimited juice, unlimited popcorn, a goody bag, and a private screening of Samsara, an earnest spool of images without narration or dialogue that the New York Times called "an invitation to watch closely and to suspend interpretation." Steinmetz picked Samsara rather than, say, Half Baked, because Flow Kana doesn't want to be a stoner brand.
Steinmetz's wife, Flavia Cassani, who helped come up with the honey recipe, assured the guests, "It's not going to be a crazy stoner high. You'll be able to think." True to her word, the mind-enhancing chocolate spread was pretty mellow. Cassani said the name Flow Kana referred to the way cannabis can induce a state of flow "when you are in alpha and you are vibrating in the waves where everything is happening." At that point, I was halfway into a Kanatella container and zip lining straight to alpha.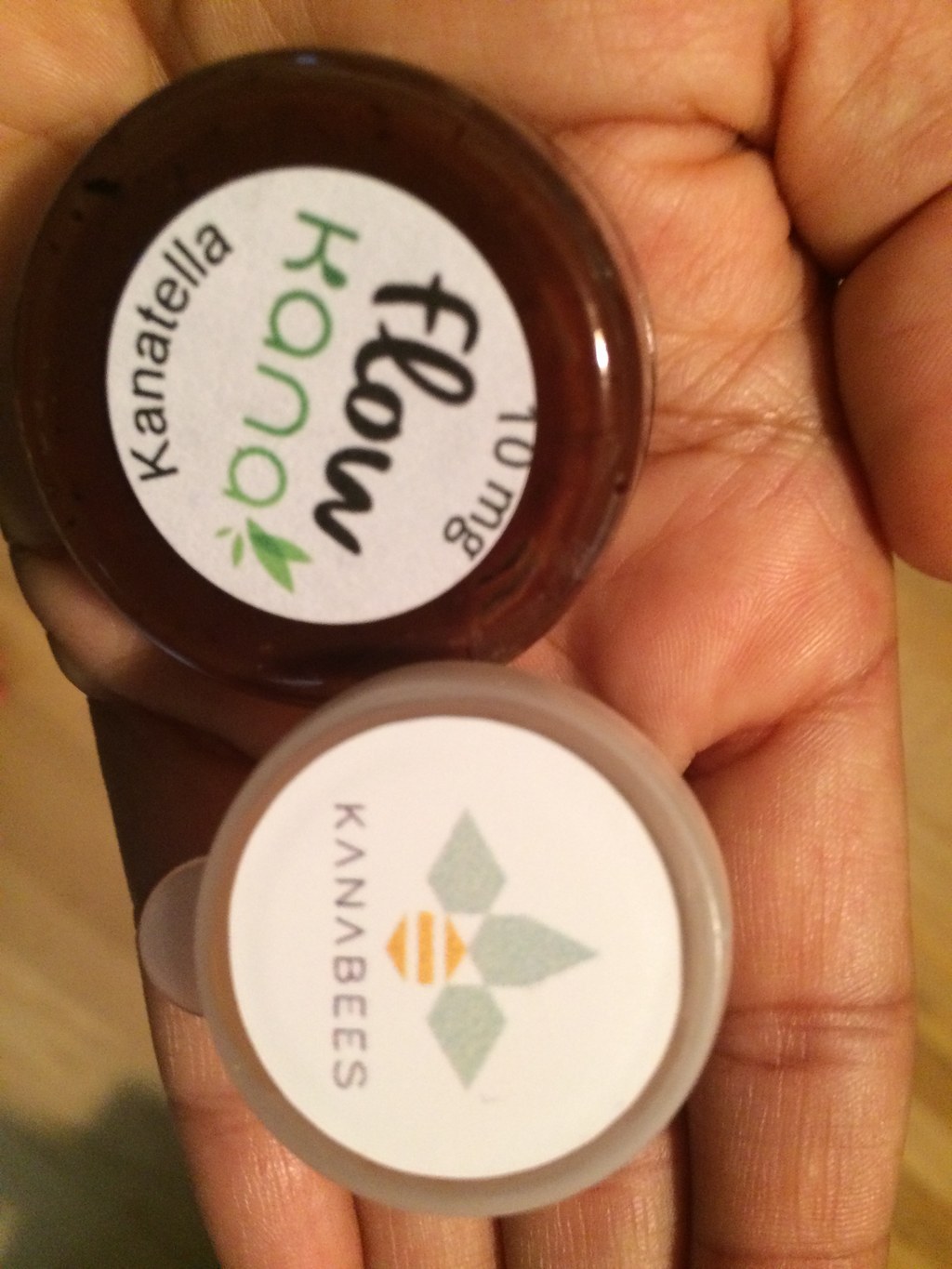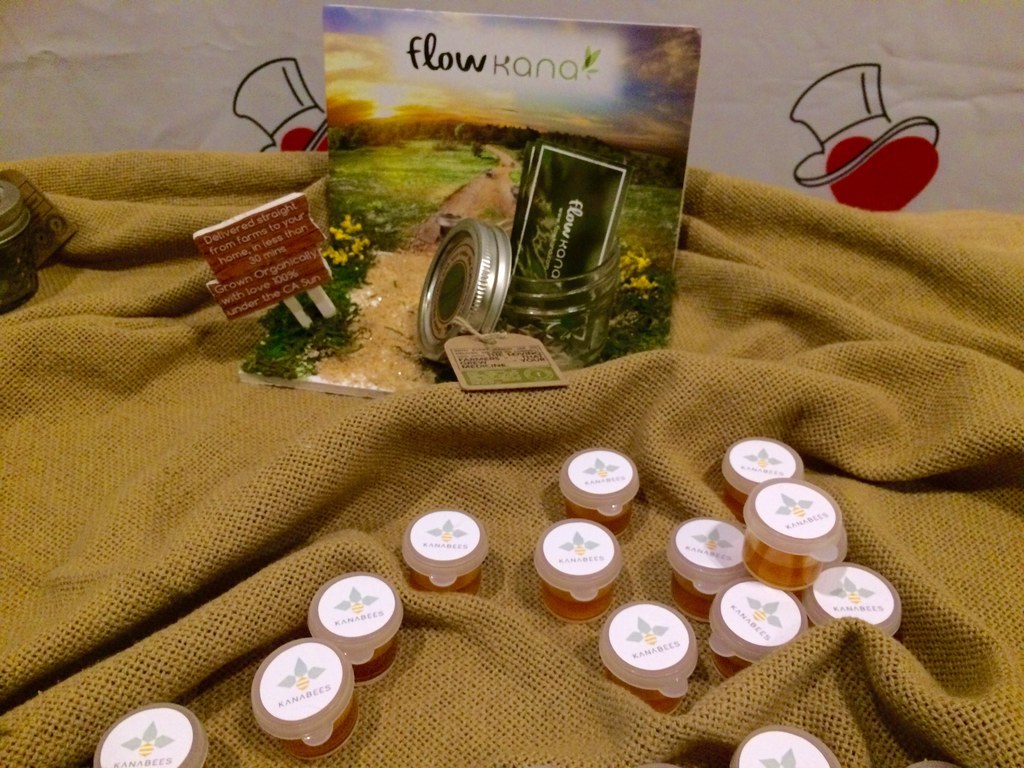 I had last seen Steinmetz at Flow Kana's swinging launch party in Berkeley. He wouldn't tell me how many users his four-month-old startup had gained since then, only that it was growing 60% month-over-month. Was that growth rate coming from tens of thousands of users? Thousands of users? Tens of users? He couldn't say, because Flow Kana is in the middle of raising a round worth $1 million to $2 million. "We've definitely had meetings on Sand Hill Road [Wall Street for venture capitalists] and down in the peninsula," he said. The company would rather not pitch cannabis investors. "When you start a picture sharing app you don't go to picture sharing investors, you go to technology investors," he reasoned. One of the investors Steinmetz is courting, Sean Percival from 500 Startups, was at the event.
500 Startups, an incubator for young companies with a $100 million investment fund, has already invested in Eaze, a better-known San Francisco–based delivery startup that has raised $11.5 million. At least once a week Percival gets a pitch about a delivery business, "but they literally never launched," he said. "Our partner ends up joking that they never get out of the idea stage."
At this point, a female acquaintance came up to the group with a vaporizer bag of sativa. "I feel like a really big stoner because I had to instruct people how to use it!"
Percival said there were lots of parallels between the state of the cannabis industry and Bitcoin, including the fact that early entrepreneurs were "smart people, but with sort of questionable backgrounds" who had trouble with execution. But also like the early days of Bitcoin, a strong signal from a Silicon Valley investor has helped legitimize the market: "They're much smarter than us. They have a much longer-term views," Percival said. With Bitcoin that was Andreessen Horowitz's $100 million Bitcoin fund. With cannabis, it's the fact that Peter Thiel's investment firm Founders Fund participated in a $75 million investment into Privateer Holdings, a private equity fund for cannabis-related companies.
Percival hadn't yet made up his mind about Flow Kana, but he liked that the company is focused on the supply chain. Unlike Bitcoin, which started in 2009, "people have been doing this for thousands of years," he said, surveying the vaporizer bags. "Everyone is getting in the pole position for legislation to change." Perhaps, he prophesied, President Obama would take care of it before he left office. "Ended the war. Gay marriage. Legalize pot. Boom."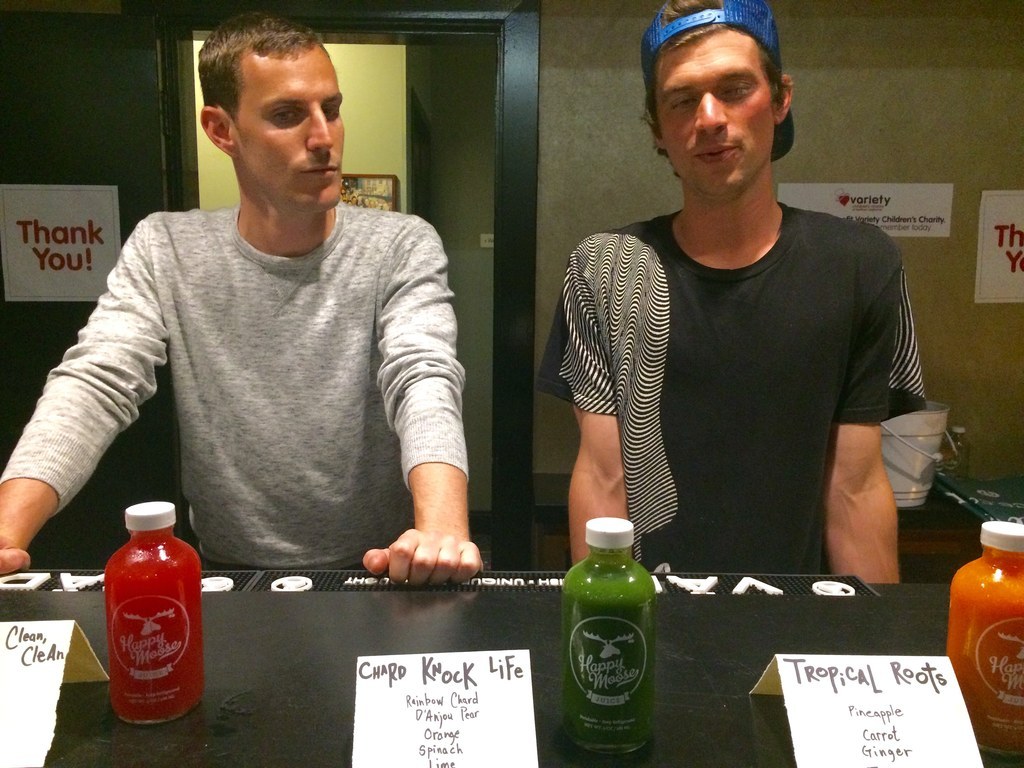 Just behind Percival was a concession stand, where guests could take advantage of that unlimited juice, provided by a local company called Happy Moose Juice. Ryan Armistead, one of the owners, was standing behind the bar and offered me samples of cold-pressed beverages with names like Chard Knock Life. Armistead says he likes playing with "American classics," so he's going to take the "awesome fruit waste" and start making his own jams. "So we're gonna do an elevated peanut butter and jelly." Flow Kana and Happy Moose Juice plan on collaborating on cannabis-infused offerings in the future, like juices or maybe fruit roll-ups.
Steinmetz thinks brands are the way to go because the retail model in legalized marijuana is upside down. When it comes to flowers, "All we have are these strain names that are arbitrarily assigned from one dispensary to the next," he said. Brands, in turn, will help cannabis users come out of the closet. Steinmetz has friends who "work at Facebook, they work at Google, they work at cool companies, yet in their work environment they have to keep it hush-hush that they engage in cannabis."
Before the movie started, I struck up a conversation with Nick Philip, one of Steinmetz's collaborators, who described the vision for the Enlightenment series as "street art gallery meets TED meets The Big Chill. Stoned." I have no idea what the '80s movie has to do with enlightenment, or if Philip was referring, perhaps, to another large chill, but the Kanatella was doing its thing and connections were starting to emerge, like, all around me.
Philip founded the Imaginary Foundation, which he described as a "fashion brand think tank." He was wearing one of the foundation's T-shirts — a Venn diagram with "Science" on the left, "Art" on the right, and "Wonder" in the middle where the circles overlapped. Philip is British and has "seen a few things come and go, if you know what I mean." He predicted there would be a "serious paradigm shift in 2016" when it comes to cannabis. He scanned the room while he said this, as though the paradigm shift could be coming at us from any direction.
To understand the paradigm being shifted, Philip recommended the work of theorist and author Steven Johnson, who has a theory about how switching from alcohol to coffee ushered in the Age of Enlightenment.
Most of the time, Steinmetz sounds like your typical Silicon Valley self-appointed prophet, just with a charming Venezuelan accent and a slightly looser grasp on how much people care about where their weed is grown. But a few spoonfuls in, Philip's vision of the next great alcohol swap sounded pretty sweet. During the movie, everyone in my row was too transfixed by the images of faraway lands and time-lapse sequences of factory workers to check their smartphones. Since I couldn't pick up my phone without being that dude, I paid attention to the movie, too.