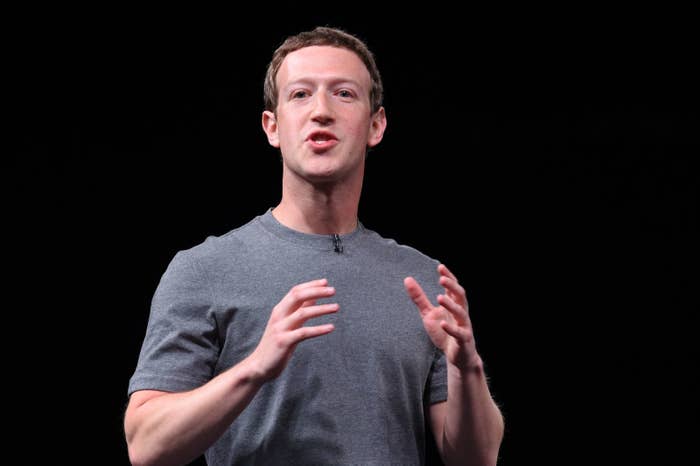 UPDATE:
A Facebook spokesperson reached out to BuzzFeed News to say: "No one has asked us to build a Muslim registry, and of course we would not do so."
A spokesperson for Facebook, accidentally responding to a BuzzFeed News reporter via email, called the notion of a Muslim registry a "straw man." Seemingly thinking he was addressing a colleague, he suggested that the best course of action was to not respond to the reporter's inquiry.

Earlier today BuzzFeed News emailed Facebook to ask whether the social networking giant would make a commitment to limit data collection that could be used for ethnic or religious targeting, including a pledge not to build a registry of Muslims, if asked to do so by the government. A Facebook public relations representative intended to forward our request, along with a message about how to respond, within Facebook, but accidentally sent the email to BuzzFeed News instead and in doing so provided inadvertent insight into how the company plays the optics game.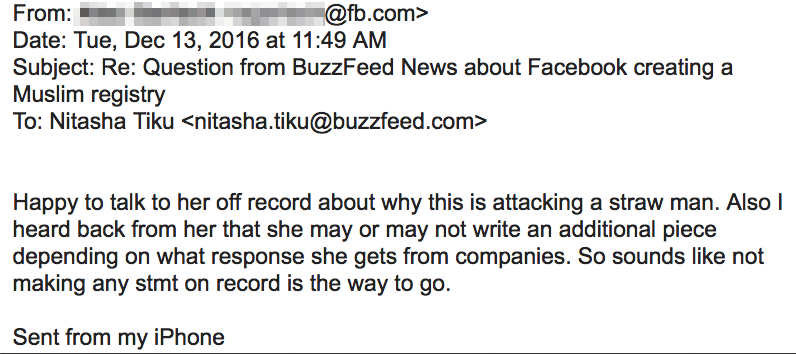 Facebook had not responded to previous requests for clarification from The Intercept on whether or not it would participate in building a Muslim registry. BuzzFeed News asked again today in light of the fact that Facebook COO Sheryl Sandberg will attend a tech summit at Trump Tower tomorrow, and because a group of 60 or so engineers and employees for major tech companies just signed a pledge not to comply with practices that could be used to target people or build databases based on their religious beliefs.

In the email that was accidentally sent to BuzzFeed News, the PR rep calls this "attacking a straw man."
Happy to talk to her off record about why this is attacking a straw man. Also I heard back from her that she may or may not write an additional piece depending on what response she gets from companies. So sounds like not making any stmt on record is the way to go.
The representative subsequently called, and asked that the email be considered off the record. This preference for off-the-record spin over on-the-record comments is fairly typical of large tech companies. Facebook ultimately declined to comment.
However, the possibility that President-elect Donald Trump will try to create a Muslim registry is not a straw man. Trump has repeatedly been given a chance to clarify whether he supports the idea. He has been asked about it by everyone from Fox News to George Stephanopoulos. On more than one occasion he has chosen not to rule out the possibility of a Muslim registry. The question of such a registry arose based on Trump's comments about Muslims and his intention to build a database of Syrian refugees.
Since the election, Kansas Secretary of State Kris Kobach, an adviser to Trump's transition team, told Reuters that Trump's immigration policy group is considering reinstating the National Security Entry-Exit Registration System (NSEERS), a suspended federal program used to keep a database of immigrants from countries that have a Muslim majority from 2001 to 2012.

Facebook, of course, already asks for and retains sensitive information about the race, religion, and location of its users and allows advertisers to target narrow segments of people based on that personal information. Government officials here and abroad already use the social network to track activists and dissidents.