Mark Zuckerberg Almost Makes Prime Minister Of India Cry
When Zuckerberg was lost, Steve Jobs told him to go to India. Now he's going back.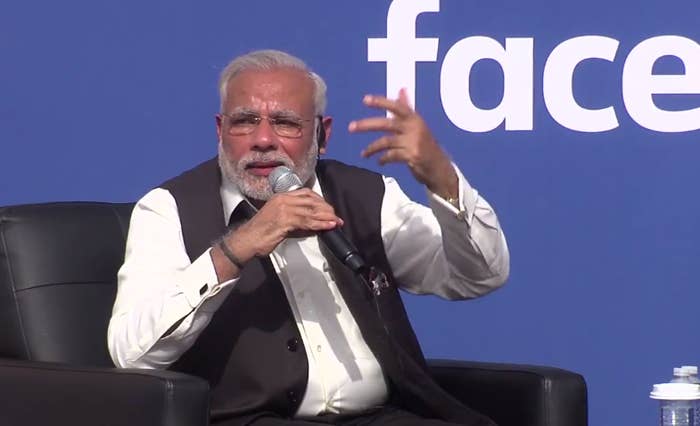 Forget hoverboards or heartbeats on your wrist. The biggest tech shift of 2015 is Silicon Valley's landgrab in the developing world — it's the year when Uber raised additional billions just to compete in the Chinese domestic market and Facebook built a Boeing-sized drone to try to beam connectivity down to the 43.4% of the world who are not yet online.
In that context, the sound of Bollywood hits blaring across the social network's Menlo Park headquarters yesterday morning carried a note of portent. The sentimental playlist, including throwbacks from the '90s and late aughts, was background music for the thousand or so guests — mostly Indian or of Indian descent — gathered for a town hall–style Q&A with Facebook CEO Mark Zuckerberg and Indian Prime Minister Narendra Modi.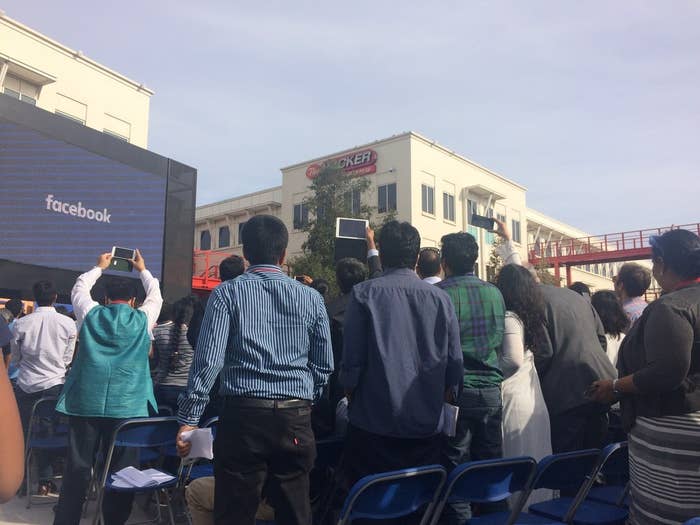 Early Sunday, Hacker Square, an outdoor stretch of the social giant's campus with the word "hack" spelled out in concrete, was abuzz with tech workers in Facebook swag and sneakers who mingled with women in chic salwar kameez, men in Nehru vests over their button-down shirts, and a handful of kids who came with their parents for the historic occasion and couldn't help pointing to the helicopter circling overhead or the translators in their soundproof booths. As the row of TV correspondents in the back told their respective cameras, it's been 33 years since an Indian head of state visited California.
During his two-day tour of tech country, Modi has received the kind of "rock star" reception normally reserved for billionaire CEOs like Elon Musk — who himself gave Modi a personal tour of Tesla. Modi also met with the CEOs of Apple, Google, and Microsoft. On Sunday night, Modi sold out the "Shark Tank," a massive indoor arena in San Jose, where the crowd chanted "Modi" for hours.
Apple CEO Tim Cook told Modi that Apple had a special relationship with India because Steve Jobs went there for inspiration. Zuckerberg told Modi that Facebook had a special relationship with India because Zuckerberg's mentor Steve Jobs told him to go to India for inspiration. "This is a story I haven't told publicly and very few people know," Zuckerberg said at the beginning of the Q&A, describing his monthlong visit to the same temple where Jobs figured out "what he wanted Apple and his vision of the future to be."
The temple anecdote set the tone for the town hall's 50-minute mutual admiration summit that elided difficult subjects such as the protesters outside Facebook's compound demonstrating against Modi's human rights record or the backlash in India against Internet.org, Facebook's plan to give limited internet access to the poor (a backlash that seems to have landed a real blow).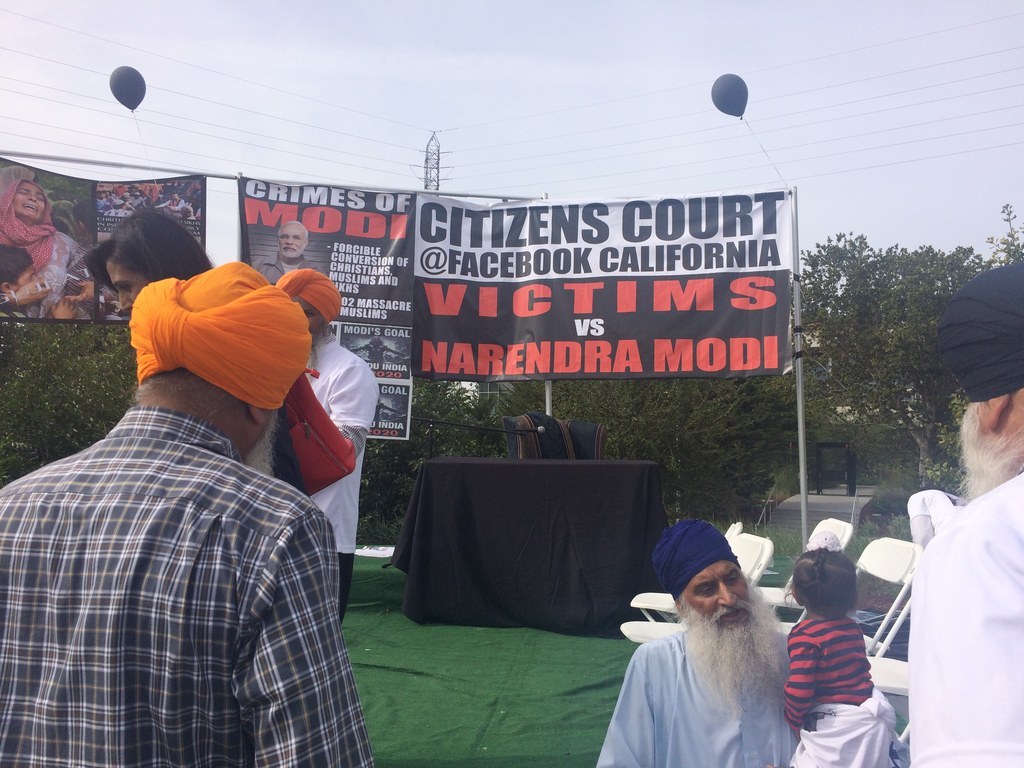 Before the Q&A began, an announcer informed the crowd to stay seated because questions from the audience had been "predetermined." The heavily staged Q&A made both men's commentary on the power of social media ring somewhat hollow. But still, Modi called social media a chance for "daily bonding," where governments can learn in real time what they're doing wrong and get an opportunity for course correction. "We used to have election after every five years — now we have them after every five minutes," he said, one of many quips that got a laugh from the pro-Modi audience, who also chanted his name.
The real bonding moment, however, came when Zuckerberg introduced Modi to his parents, who were sitting in the crowd with translation devices, and then asked the prime minister to talk about his relationship with his mother. This led to an emotional exchange as a teary-eyed Modi described a childhood where his mother went to neighbors' houses to clean dishes and fill water.
When Zuckerberg first announced Modi's visit to Menlo Park earlier this month, it wasn't clear who was courting whom. Facebook has a vested interest in India's young, tech-savvy population. But Modi also needs something from Silicon Valley: investment for his "Digital India" initiative.
And, in fact, just before they appeared together, Zuckerberg changed his Facebook profile picture so that it was overlaid with the Indian tricolor, and Facebook rolled out a tool that would let others do the same, to show support for Digital India. It was certainly buzzy, even if it was interpreted in some quarters as a secret stage for Internet.org.
No matter, though — because those colors overlaid across Zuckerberg's grinning face brought a subtle shift into clear focus. In the past week, the power balance between the 30-year-old billionaire and the leader of the world's largest democracy shifted a little. China has long been the top priority for tech CEOs, but during a much-anticipated meeting in Seattle, Chinese President Xi Jinping didn't back down about the difficulty of doing business in China. Hours before the town hall, the New York Times dubbed India "the new China," calling it the next frontier for companies like Facebook, Google, and Twitter, blocked from Xi's turf.
"We are an $8 trillion economy today. My dream is to become a $20 trillion economy," Modi told the crowd. In other words, to use language familiar to Silicon Valley venture capitalists, it's undervalued.
Modi knows how to play to the tech industry's cult of fast growth. His line about moving from highways to "i-ways" has charmed CEOs, as well as supporters wearing #PMModiInSiliconValley T-shirts featuring an icon of the Golden Gate bridge. India has 600,000 villages. "People get scared listening to that number," he told the crowd at Facebook. But where civilizations once settled along rivers, in five years' time, they may be linked with a fiber optic network. Or, say, the flight path of a solar-powered drone that can deliver 10 gigabits of data per second.
"It's a compulsion for me and my government that we have a proper digital infrastructure," said Modi. "I don't think there's really any lack of funds or capital." If investors are looking for an address, "here's the place!" he said. That same day, Google's new CEO, Sundar Pichai, announced that his company will provide high-speed public Wi-Fi to 400 train stations across India.
"In the past year, 100 million people in India started using the Internet for the first time," wrote Pichai. "This means there are now more Internet users in India than in every country in the world aside from China. But what's really astounding is the fact that there are still nearly one billion people in India who aren't online." That's a lot of eyes, and a lot of room to grow, even by Silicon Valley standards.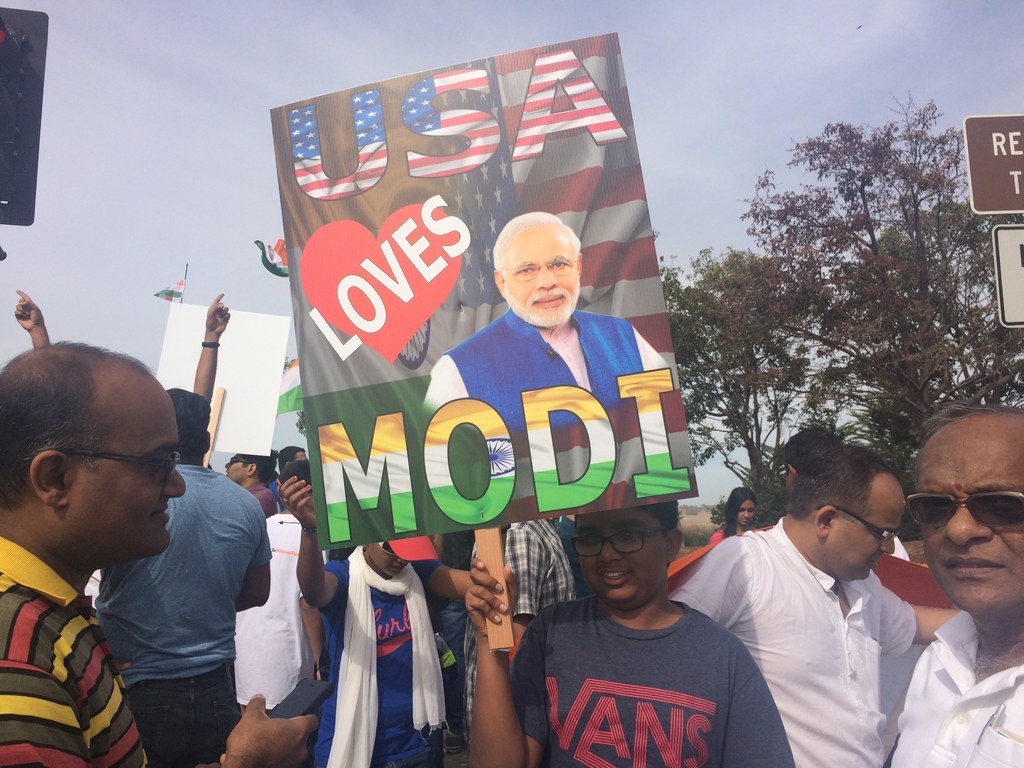 CORRECTION
The size of the Indian economy is $8 trillion. An earlier version of this article misquoted Modi.