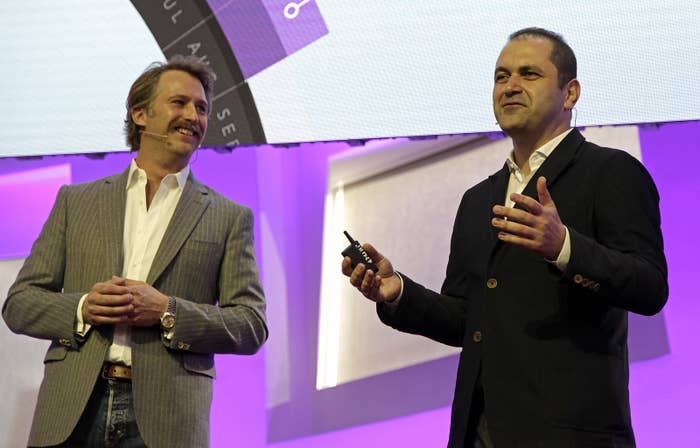 Hyperloop One — the futuristic transportation company backed by $92 million in funding — may soon be headed to court. The startup was cofounded by the venture capitalist Shervin Pishevar, and Brogan Bambrogan, an early employee at SpaceX. But a couple weeks ago, Bambrogan abruptly left the company without explanation. BuzzFeed News discovered a court filing that may shed some light on the sudden departure.
In mid-June Bambrogan requested a temporary restraining order against Hyperloop's chief legal officer Afshin Pishevar, who also happens to be cofounder Shervin Pishevar's brother. A few days before Bambrogan left, Afshin Pishevar also departed the company without explanation. The harassment allegation is complicated by both familial and financial ties. Shervin Pishevar's venture capital firm, Sherpa Capital, is a repeat investor in Hyperloop One.
Court records show that Bambrogan filed four documents as part of the case. In addition to a temporary restraining order, he also asked for a civil harassment restraining order. In California, a civil harassment order can be requested to "protect people from violence, stalking, serious harassment, or threats of violence."
Neither the company nor Bambrogan immediately responded to questions from BuzzFeed News. However one source with knowledge of the case claims that Bambrogan plans to file a related lawsuit, which the source alleged would name Hyperloop One, Shervin Pishevar, and his brother Afshin Pishevar.
A hearing on the restraining order is scheduled for Thursday in Los Angeles County Superior Court. A court representative told BuzzFeed News that documents related to the petition are in the judge's hands until the hearing. Afshin Pishevar left a law practice in Maryland to join Hyperloop in 2014. Recode, which first reported the executive departures, cited "internal tension" as a reason. The blog noted that assistant general counsel David Pendergast left Hyperloop One around the same time as Pishevar.
Before the unexpected exodus, Hyperloop One seemed to be on an upward trajectory. In May, the company announced that it had raised $80 million to develop its high-speed transportation system. In June, the company announced a deal with the Russian government to construct a Hyperloop in Moscow. As recently as last month, Bambrogan himself was touting the possibility of building hyperloops underground or even underwater.
Hyperloop One has faced considerable skepticism around its product, but has managed to get major media attention because of the bold-faced names and big personalities floating around the project. For example, before the Russian deal was announced, Shervin Pishevar posted a photo of a meeting with Vladimir Putin (which elicited mixed responses from his fellow venture capitalists). Meanwhile Bambrogan, a mustachioed engineer integral to SpaceX, was supposed to be the tech talent, driving development from his role as chief technology officer.
Bambrogan's presence lent credibility to Hyperloop One, particularly since the original concept of a transporting people in high-speed tubes came from billionaire SpaceX CEO Elon Musk, who posted the idea online and encouraged anyone to give it a go.
The role of top technician will be assumed by Josh Giegel, Hyperloop One's former senior vice president of engineering, who got a big promotion. Giegel is now both president of engineering and a cofounder of Hyperloop One. (Retroactively awarding cofounder titles is not that unusual in Silicon Valley. Neither is hiring your relatives.)