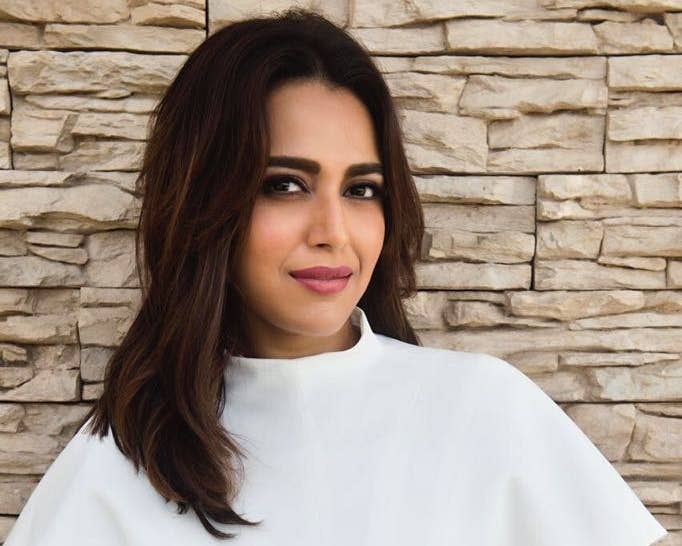 A Bollywood star who has become right-wing Twitter's favorite punching bag in India has told BuzzFeed News she has no intention of censoring herself.

Swara Bhaskar, 30, has faced horrific abuse online for breaking convention in a conservative film industry by voicing her opinion on a range of topics from high-profile criminal trials to relations with Pakistan.
"At least Indians and Pakistanis have finally managed to find something to agree about," Bhaskar told BuzzFeed News recently over the phone from Mumbai. "Maybe this is the Indo-Pak peace talk we needed."
Bhaskar was referring to comments she made while promoting her latest film, Veere Di Wedding (Friend's Wedding in English), which focuses on female friendship and pleasure, leading to comparisons from reviewers to Sex and the City.
An interviewer had asked her why the film had been banned in Pakistan: "They say it's because of the film's vulgarity, language, and theme," they prodded. "That's largely your character."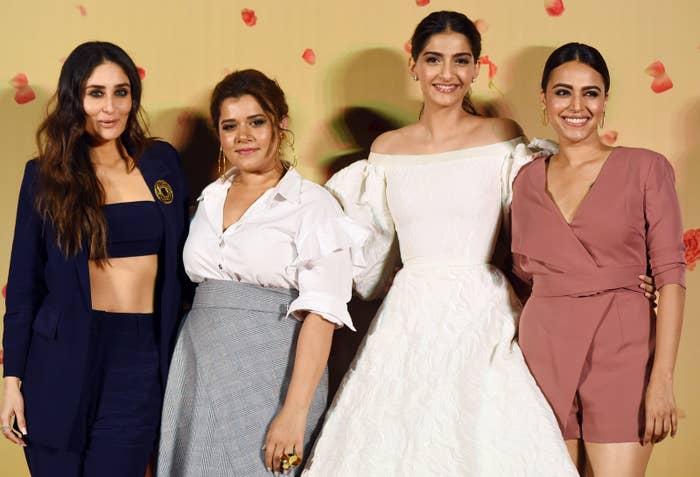 "For some reason, I have to keep answering for that!" Bhaskar replied, jerking forward in her seat. "I don't know why people think I'm pro Pakistan's government."

She didn't stop there. "But what do you expect from a state that's run by sharia laws? They're an unsecular state. I'm not surprised at all! Why should we hold up Pakistan, which is a failing state, as our…why should we take pleasure in all the silly things that happen in Pakistan? Apologies to all my Pakistani friends…"
"Breathe, breathe," Bhaskar's costar, seated to her left, cautioned — but it was too late. Swara Bhaskar had done it again.

In a country where actors rarely criticize the government for fear of backlash, and journalists choose to turn a blind eye to stories of corruption and violence, Bhaskar's candid sharing of political opinions is an even rarer phenomenon than a film starring four women leads.
The daughter of a film studies professor and a retired naval commodore, Bhaskar joined the Hindi film industry in 2009. The first time she realized how terrifying internet trolls could be was in 2014, when she tweeted about the country's general elections. That year, Prime Minister Narendra Modi's party had won by a massive margin, which some believed was a sign that Indians had forgiven Modi for the Gujarat riots — one of the most brutal communal massacres in recent history, in a state where Modi had been chief minister.
While Modi's supporters celebrated both offline and on Twitter, Bhaskar shared a photograph of one of the riot victims.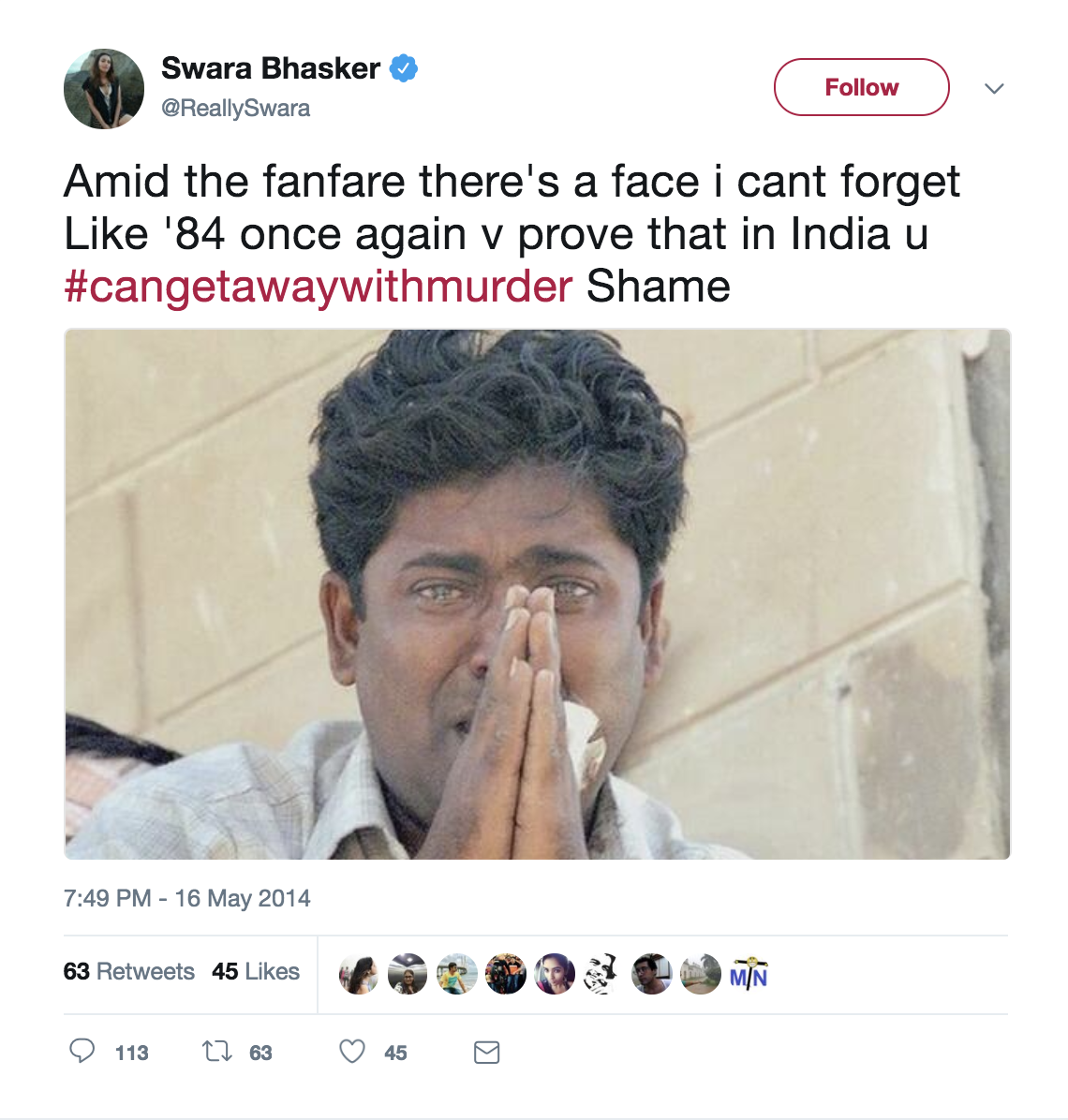 Now, every time she expresses an opinion that is contrary to the populist wave, whether it's about a film she didn't like or university politics, Bhaskar's Twitter mentions are flooded with rape and death threats, edited photographs with obscene captions, misattributed quotes, and the most dangerous accusation in present-day India — that she is "anti-national."
Since her comments about Pakistan in the promotional interview for Veere Di Wedding, Bhaskar is now on the receiving end of hate from both Indians and Pakistanis. It's not just trolls — journalists and celebrities from Pakistan appear to have taken offense at her description of Pakistan as a "failed state" run under sharia law. Along with being called ignorant and a hypocrite, Bhaskar has also been described as "a whore" and "a third-grade actor."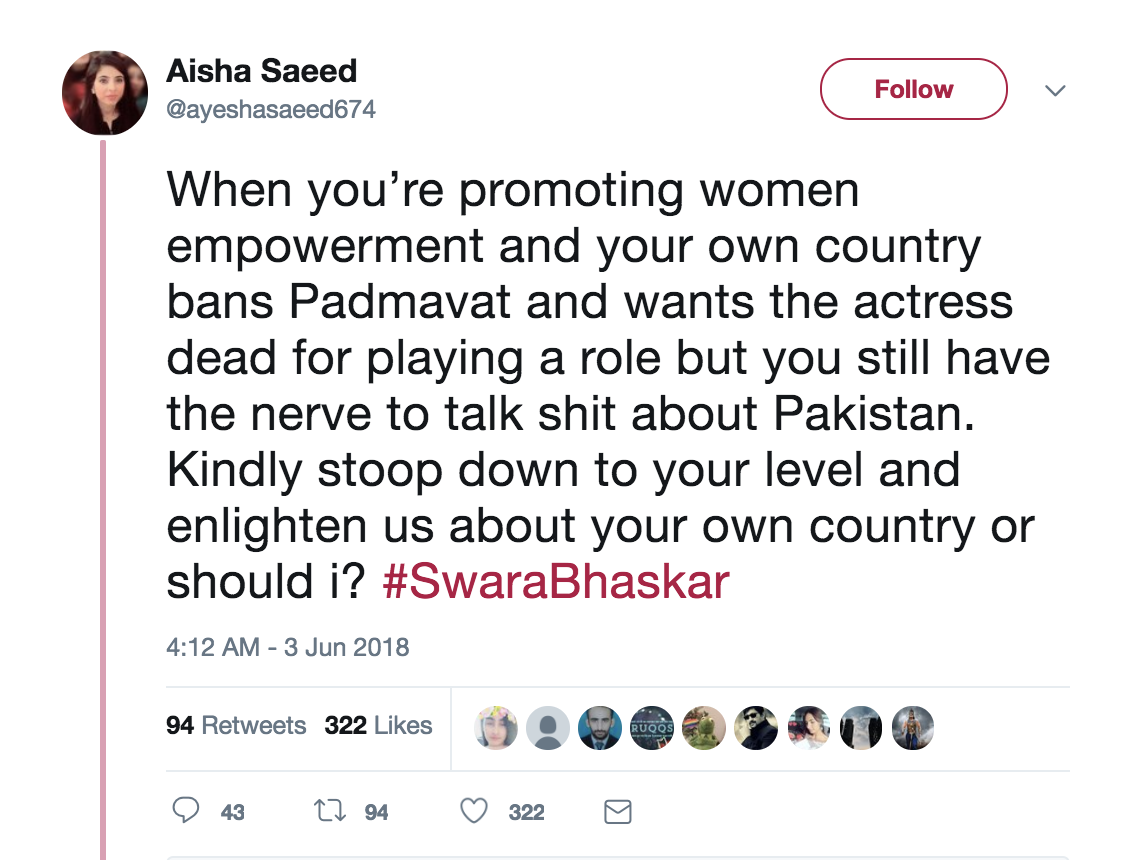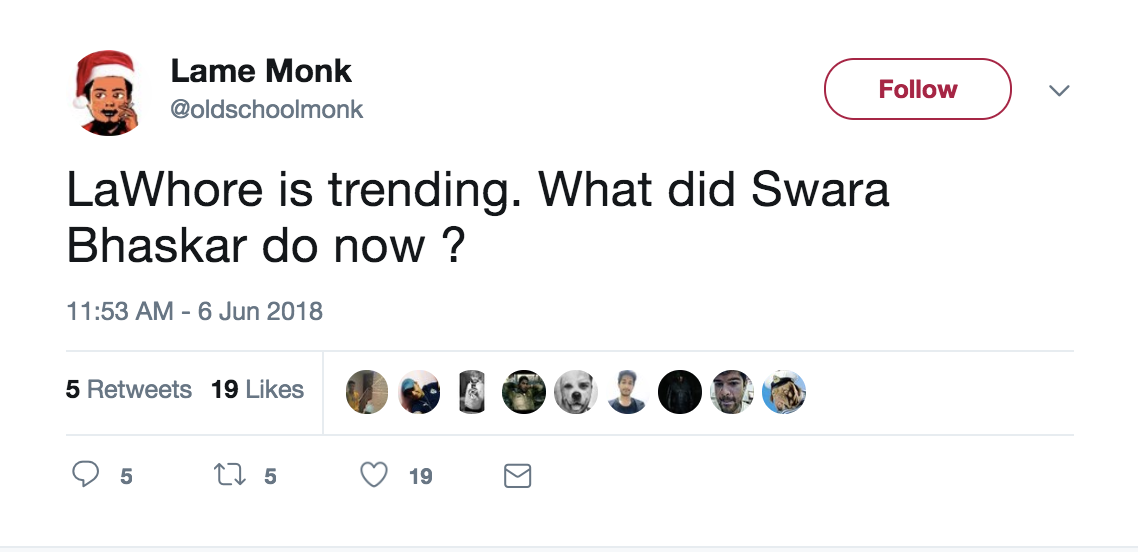 Bhaskar's Twitter timeline is a testament to her wry and feisty attitude — she routinely takes on haters, and retweets the funnier mean tweets about herself. The trouble is, Indian trolls appear to have figured out a way to hit her where it hurts.

In February, Bhaskar and her costars from Veere Di Wedding posed with placards to protest against the gang rape and murder of an 8-year-old girl. All four women were subjected to targeted harassment by Hindu truthers, but even then, Bhaskar had it the worst — her original tweet with the placard was photoshopped ad infinitum, each time with a more offensive message.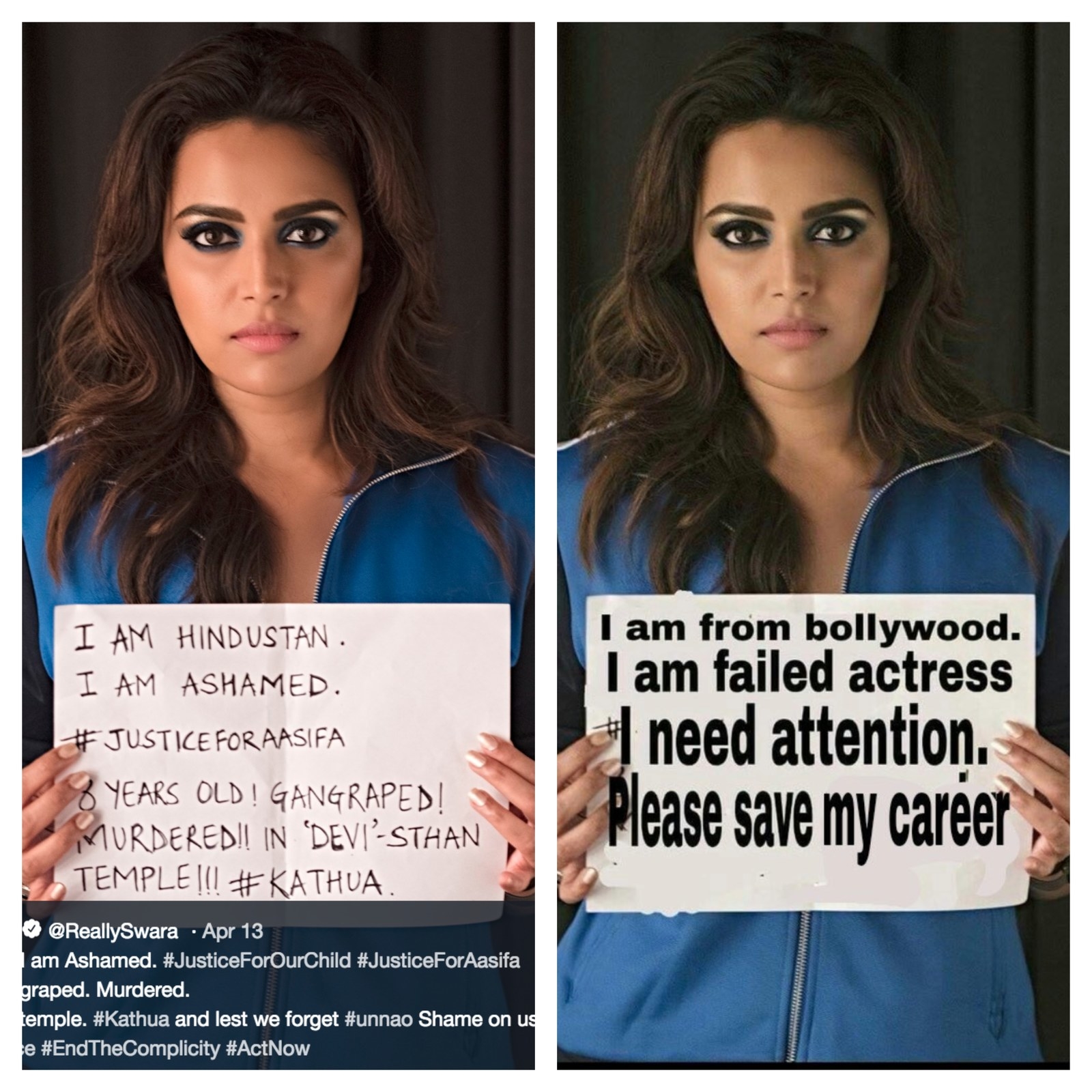 It didn't stop there. A few days later, right-wing Twitter was tweeting en masse to Amazon India asking it to stop working with Bhaskar. Finally, the trolls asked all patriotic Hindus to boycott Veere Di Wedding.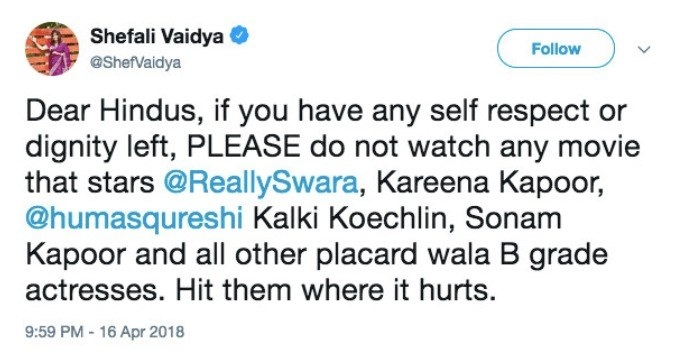 Two days after the film's release, Bhaskar's mentions were flooded with hundreds of identical tweets once again — this time, about a scene from the film that featured her and a vibrator. Apparently, patriots across the country were deeply offended that women could masturbate.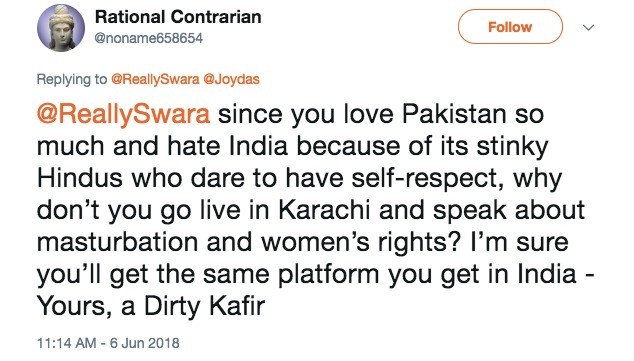 "It doesn't bother me as much when it's just me being targeted," Bhaskar said. "But when it's a film, it's different. It has other people's work and money riding on it…"
Well-wishers — both from the film industry and outside it — have warned her that she is gaining a reputation as a "troublemaker." Advertisers and producers are worried that her outspokenness on issues of national importance could land them in trouble. Bhaskar said that she tries not to think about that too much.
"That spirals into self-censorship very fast... This is how you get scared and then become silent."
For now, at least, the boycott does not appear to have worked. Indian fans follow a film's box office numbers nearly as avidly as cricket scores, and Veere Di Wedding appears to be raking it in. Among hundreds of tweets and threats from trolls, Bhaskar said she also receives private messages of support from industry insiders, who are relieved that someone is brave enough to hold their ground. This, Bhaskar said, was why she finally felt relaxed enough to speak during the interview where she was suddenly asked about the ban in Pakistan.
"I had been getting so much hate for so long that I responded defensively," she said. "A government is not its people. I wouldn't retract what I said, but obviously, I did not mean that the way it sounded. It was inadvertent."
Twitter is an especially toxic place for Indian women, with India's women and child development minister Maneka Gandhi on Wednesday calling on the site to automatically take down rape threats.
But public figures like Bhaskar can have it worse because, as she says, "our faces, names, and addresses are all over the internet. The risk of a Twitter threat becoming a real one is very present."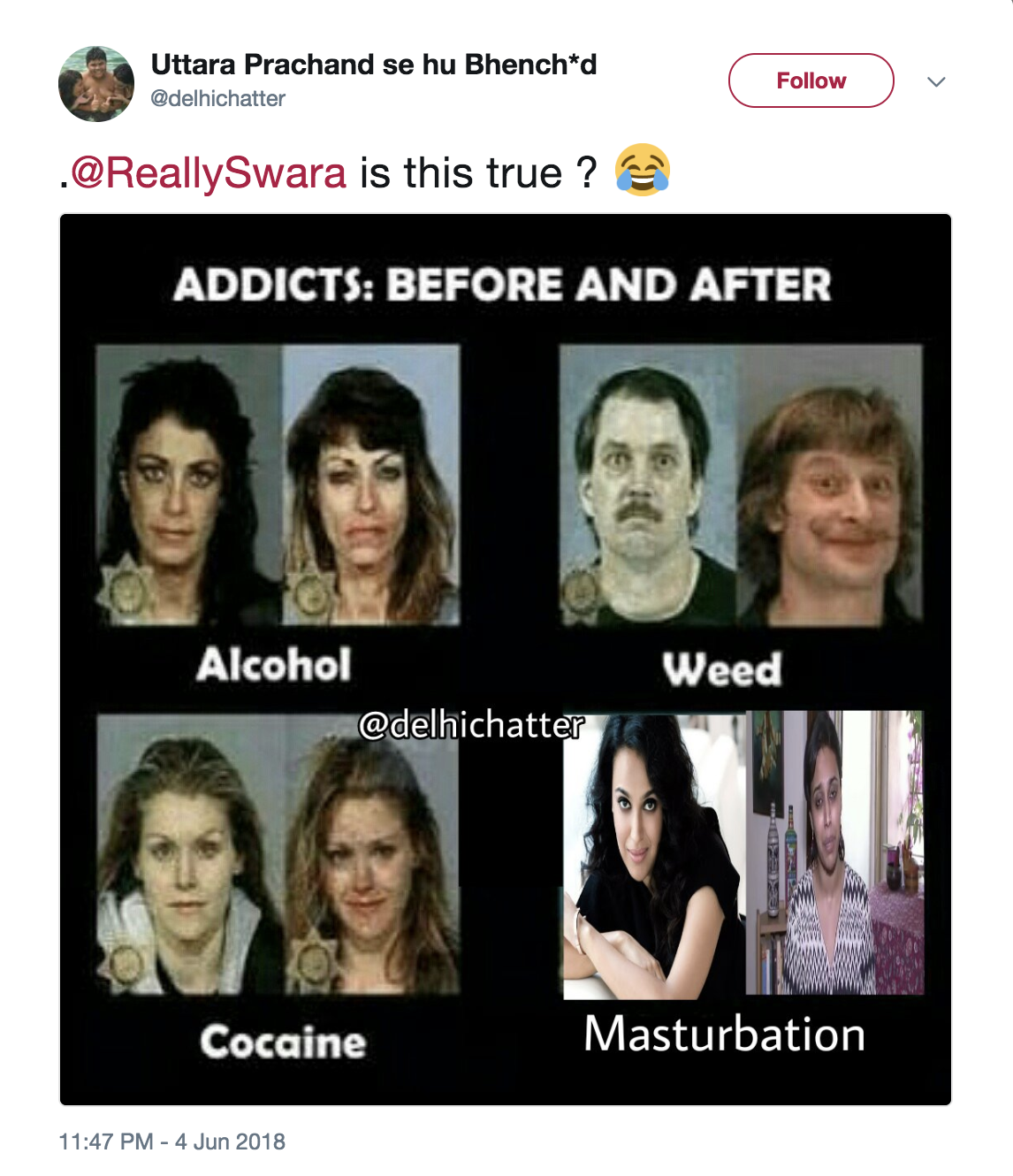 "I've become accustomed to the pattern of abuse by now," she said. "I know how long after I say something that the abuse will begin, when it will peak, and when I can look at my phone again. This is what my every day looks like."
Her parents, however, are not reassured. Given that Bhaskar is constantly surrounded by crowds, especially during outdoor shoots, her family has hired a personal security detail for her, at considerable expense.
"Muhammad Ali refused to be drafted to the Vietnam War and they banned him from boxing for three years," Bhaskar said. "When he came back, he was past his prime. I hope it doesn't come to that, but if there's a price to pay for speaking your mind — I'll pay that too."