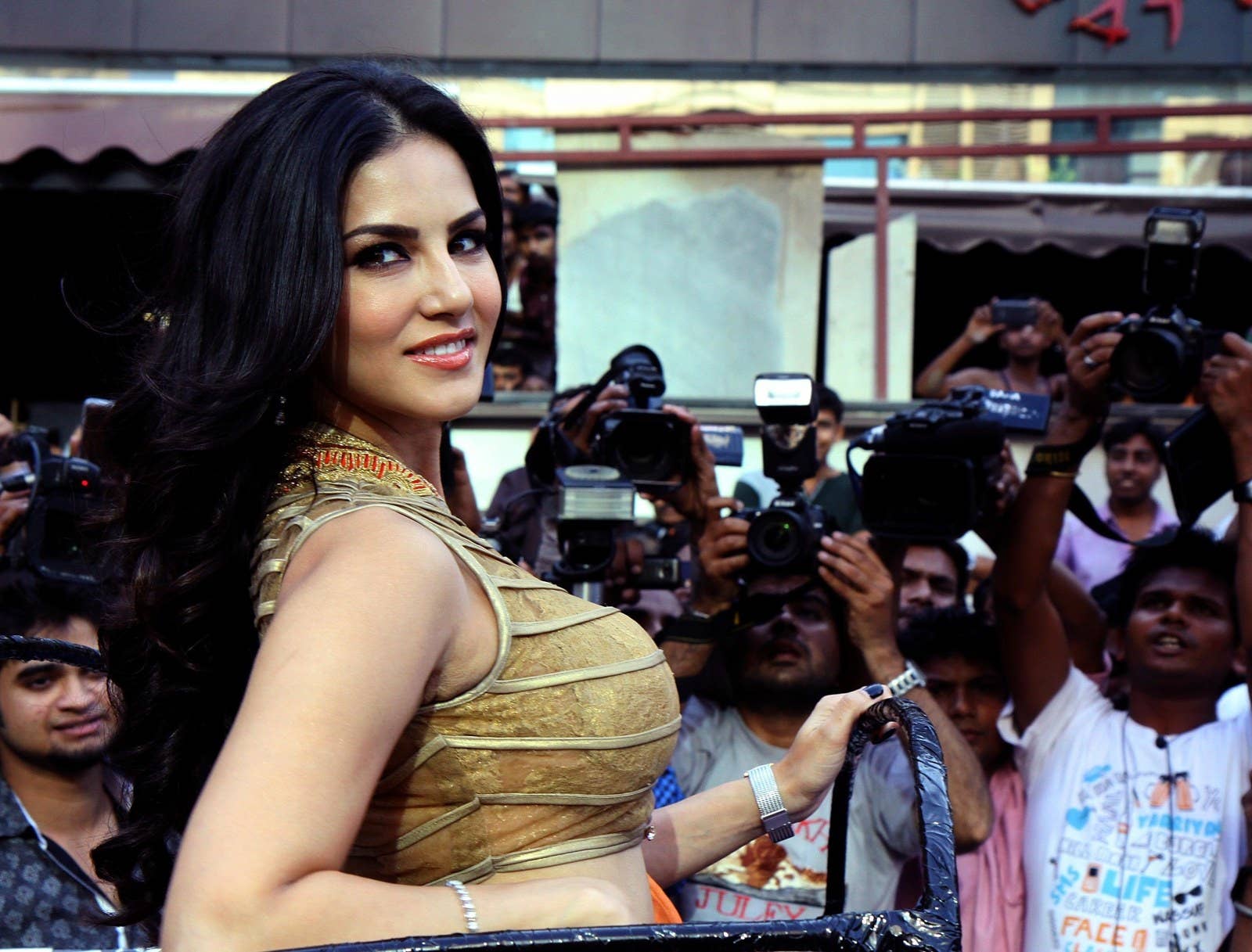 MUMBAI — Sunny Leone is having nanny trouble. Her 7-month-old twins, Noah and Asher, have one feeding schedule; her 2-year-old daughter has another. As Leone travels across the country to promote a web series based on her life — the story of how a Sikh immigrant named Karenjit Kaur became Sunny Leone — Penthouse Pet of the Year in 2003 and the most-googled Indian celebrity three years running, the nannies aren't quite keeping up.

"I'm using this app called Cozi to schedule everyone's feeding times, but the nannies don't get how to use it, " she said, waving off the technician waiting to clip a mic to her embroidered leather jacket ("I'm mid-conversation here!").
"We're very hands-on parents; at least one of us tries to be around consistently," she said, composing herself with a deep breath. "We're around for the diaper changes, for bathing, and for reading to the babies. But I don't know, I feel like the nannies keep making comments about me to each other."
Outside, Mumbai's roads and highways are dotted with giant billboards featuring Leone. Her face looms large over a snapshot of her television family, the actors that play her mother, father, and younger brother on her web series — Karenjit Kaur: The Untold Story of Sunny Leone, which recreates scenes from Leone's life (Leone plays herself, except for in childhood scenes).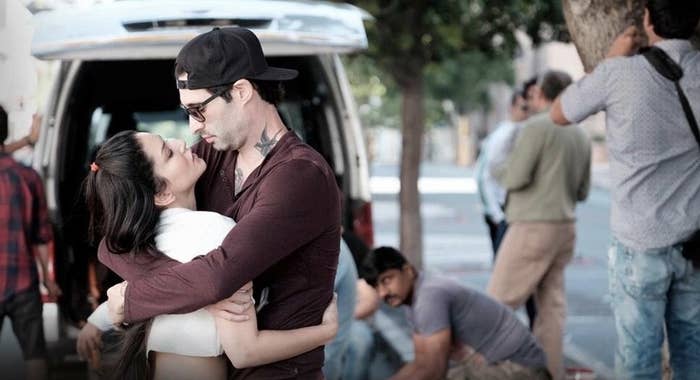 Leone is the busiest she has ever been. The day before we met, she was in Chennai to meet fans and shoot an impromptu dance video for her Instagram followers. The day before that, she unveiled her wax statue at Madame Tussauds in New Delhi.
"Boys, they get happy, then they don't know what to do with that feeling. They try to take a selfie, and then their hands shake."
But ever since Leone first posed naked for Penthouse at the age of 19, then became an adult entertainer with a massive fanbase across the world, disapproving comments have followed. Some of this has to do with the fact that making porn is illegal in India. But it isn't only that — female desire, and by extension, the female body, is treated as illicit and taboo because a woman's body isn't seen as her own.
In India, a woman's chastity is commonly equated with her family's honor (the phrase that Hindi films deployed for years to talk about rape was "izzat lootna," or literally, "being robbed of honor"), so Leone, an unabashedly sexual creature who not only profited from but enjoyed her career in porn, has always been followed by fascination, confusion, and rage.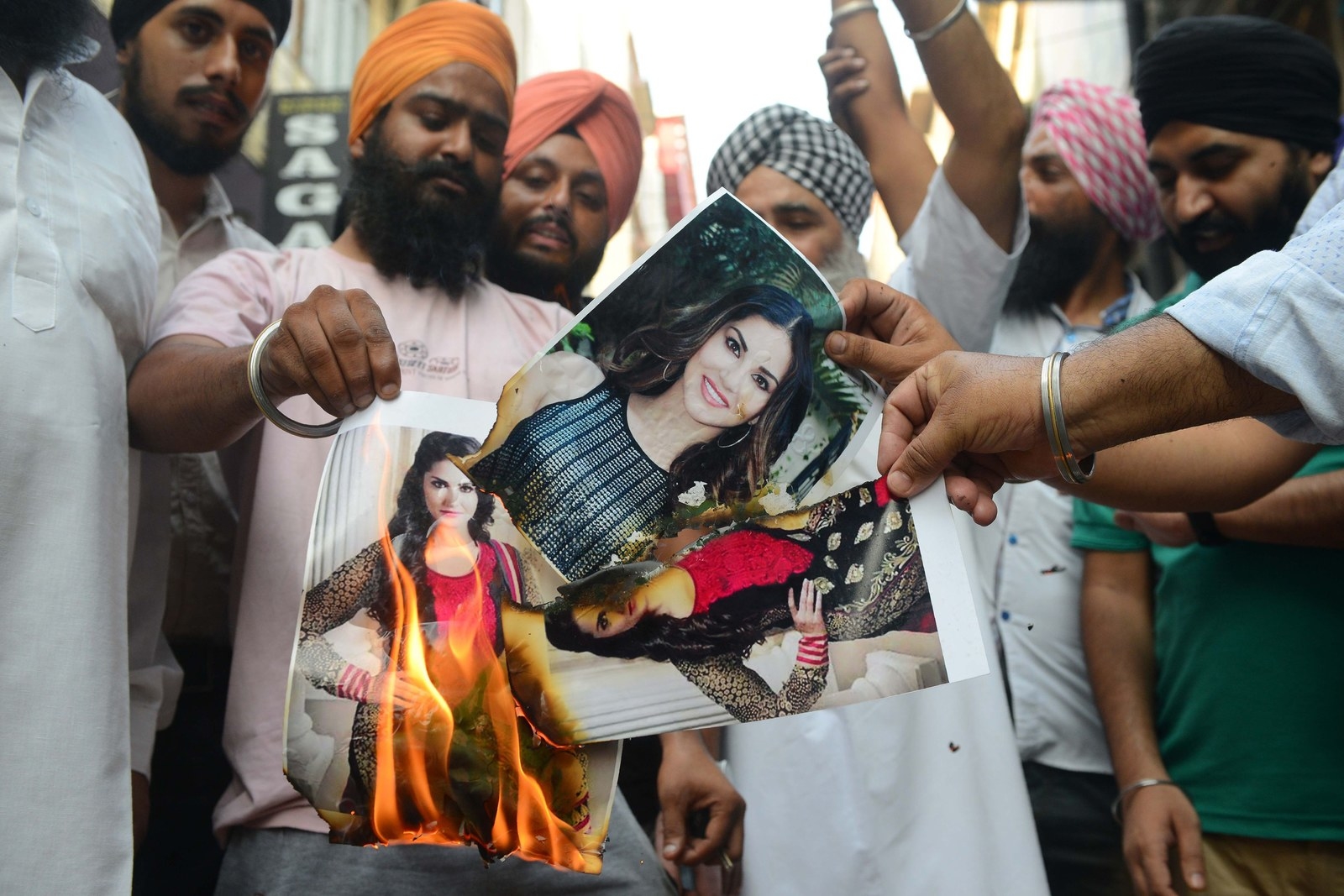 When she met BuzzFeed News at a hotel in Mumbai, Leone, 37, was dressed in a bright red T-shirt that read "Feminist." She was also finally wrestling her narrative free from the disapproving Indians of the world — in Canada where she was born, Los Angeles where she grew up, and in India itself, where extended family members still won't speak to her and journalists try to force-fit her life into a redemptive arc. With her web series, Leone is teaching Indian viewers about sexual agency, desire, and female pleasure under the guise of a classic story about how plain young Karenjit Kaur became the woman an opinion column in the New York Times described as "a walking double meaning."
The multicity tour for Karenjit Kaur: The Untold Story has been flooded with young women.
"It's so incredibly sweet — women are just so much better at expressing their feelings," Leone said. "I'll have young girls come up to me and say, 'I love you, and these are all the ways you changed my life,' or they'll say, 'Here, I made this for you,' or just start telling me their problems. Boys, they get happy, then they don't know what to do with that feeling. They try to take a selfie, and then their hands shake." Leone began to laugh.
It is not surprising that The Untold Story is speaking to young female fans in a way that feels deeply significant in 2018.
Growing up, Leone had the classic dual-world brown-immigrant experience familiar to many South Asian families. Her mother ran two kitchens — one for "smelly" Indian food and another for the family's white guests. While her father, an engineer, encouraged both Leone and her younger brother to be ambitious and make their own money; her mother constantly reminded her about respecting "Indian values" — code for dressing and behaving in sexually conservative ways.
Leone's parents moved to LA when she was a teenager. Their money troubles led Leone to seek financial independence at an early age — following the Penthouse shoot at 19, Leone starred in her first adult film in 2005 and, as her popularity grew, made enough money to put herself through college.
The Untold Story's strength, and also Leone's, lies in the fact that it refuses to debate the ethics of porn, choosing instead to make its protagonist's struggles in adult entertainment relatable to every woman who deals with competitive or handsy colleagues, unfair wages, or a demanding boss. The one scene where she dwells on her body with shame is not as Sunny Leone but as Karenjit Kaur, when she's bullied in a gym full of white students for her hairy legs, and rushes home to wax them while her mother is away.
"Sometimes I signal that I'm unavailable by saying something like, 'Hey, if we hang out I'm going to be the best wingman ever!'"
"Being in school, having light skin and thick black body hair was the worst thing ever." Leone said. "I don't know; I'm really not cool. I'd cut myself shaving and have on all of these bandages to stop the bleeding, or I'd burn myself with hot wax. I don't have hair on my legs now, but that bullying affected me so much subconsciously that I still don't feel comfortable wearing short skirts in my home."

While "underdog turned sexually confident breadwinner" might be the backbone of Leone's story, it's not what makes the new web show feminist. It's Leone's persistent knack for revealing complicated truths about herself and those around her that make the show — despite its kitschy production — compelling. For instance, an early episode in the first season (released this July) recreates the moment when a 19-year-old Leone was on the set of a hip-hop music video in LA. The job is one of her first major television appearances, and Leone is excited about playing the female lead opposite a rapper, called "Two Pence," on the show. As the shoot winds up, Two Pence takes off his clothes and asks Leone to meet her in his suite. Leone refuses with characteristic sass, but later is forced to take a huge pay cut.
"Learn to tease men and get your money," her agent warns her later. "There's no point pissing them off."
Leone told BuzzFeed News that she felt it was important to include the scene because women don't sign away the right to their bodies when they agree to be sexualized onscreen.

"I don't want to say the person's name because I don't feel like getting into a lawsuit, but it was horrible to be that woman — the person that gives it back, and then later feels terrible about it," she said, referring to her experience with the rapper. "What we didn't include on the show was the fact that when it happened, I told the producer and director to get the guy off me. I thought I was important because they had already shot half the song with me in it — but of course, I wasn't aware of 'set etiquette.' It just got very, very awkward after that."
"It hasn't been easy at all; it felt like reliving all the traumas all over again."
The unwelcome propositions never stopped, but Leone said she has become better at handling them. "If someone is aggressive, I give it back to them, but women need to gauge the right response all the time. Sometimes I signal that I'm unavailable by saying something like, 'Hey, if we hang out I'm going to be the best wingman ever!'"

The Untold Story is getting audiences to finally consider Leone — and other sexually active Indian women — as multidimensional human beings who are not defined by their sexual appetites or choices, or the disapproving comments that follow them around. It's not an easy lesson to force down, which is why the narrative device of The Untold Story is a recurring motif of Leone's most controversial interview from 2016, when a television anchor told Leone that he was getting morally corrupted by simply sitting in her presence.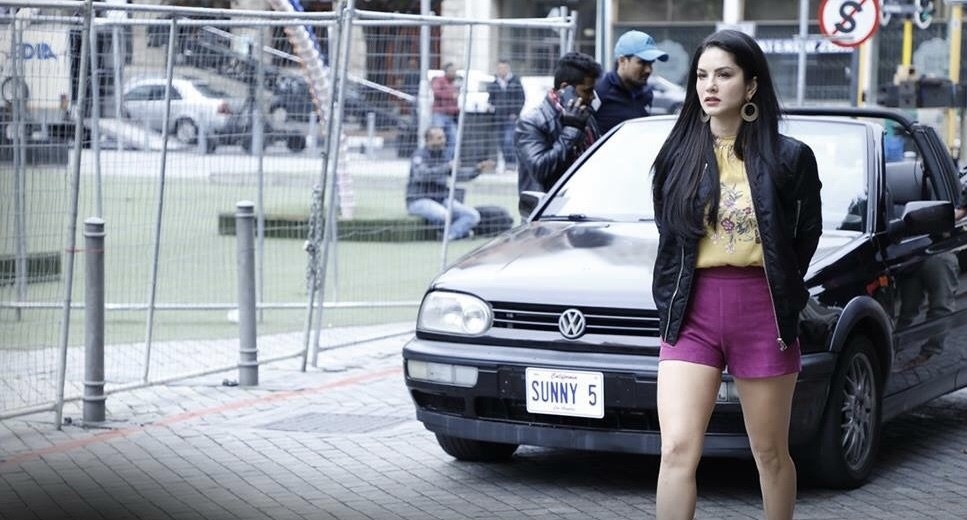 On the web series, the recreation of this interview is somehow even worse — a leering and condescending male journalist leads Leone to make confession after confession: Her mother was ashamed of her career and sank deeper into drinking and depression; her relatives disowned their family; Leone was away on work when her mother was dying. None of these themes are new — Leone has spoken about them before, in a documentary about her life called Mostly Sunny, which Leone later distanced herself from because she felt the filmmaker had manipulated her words to suit his own narrative.

"It was terrible, every time that I had to shoot those scenes," Leone said about recreating the interview. "It felt cringe-inducing, but I think it was genius by the writers to make that the driving force of the whole story."

For years, men have been telling Leone's story on their own terms. The concluding scene of Mostly Sunny, for instance, asks Leone to speak of her legacy and how she will "explain" her decision to be a porn star to her children. Leone, who was not a mother at the time, falters. "I guess I'll say Mommy made certain choices, and those were her choices... I don't know! I'm confused; I don't know what I'll tell them." (In the same documentary, a socialite described Leone's marriage of several years as a "bid for respectability.")

While the show has finally allowed her to tell her story on her own terms, Leone said she has found no catharsis or healing through the process. "It hasn't been easy at all; it felt like reliving all the traumas all over again," she said. "I remember I was working out after a shoot and I was on the rowing machine and just all of a sudden, I began to cry uncontrollably." Leone added that her husband, an American musician and her de facto manager, Daniel Weber, is concerned about her shooting another season, but she will wait and see how things go.
"Season 2 is about meeting Daniel — that's the best part, the happiest part of my story," she said. "I'm like, 'I don't know what happens if we shoot ahead of that. I don't know if it really gets any better.'"
In 2011, Leone and Weber flew to Mumbai to join a reality television show called Bigg Boss (the Indian version of Big Brother) for a signing amount of $100,000. Leone was already looking to build her life after porn. She'd lost her parents; met, acted with, and produced a few porn films with her husband; completed her deal with the American pornographic film production company Vivid Entertainment; and was looking for a graceful exit — or, like several porn stars before her, an entry into the "mainstream."
Leone's closest parallel in Hollywood might be Sasha Grey, but unlike Grey, who was able to publicly champion adult films and defend her decision to join porn before she appeared on Entourage and then The Girlfriend Experience, Leone was shunned by the close-knit Indian community and her extended family in Canada, LA, and India. From that uneasy internet stardom, she was thrust straight onto a reality television show watched by 25 million people every night.
"I just say, 'Thank you! You're helping my Google hits stay up.'"
What happened next is part of Bollywood lore: Leone's beauty, sweetness, and accented Hindi (so familiar to viewers with relatives who lived abroad), combined with visuals of her doing ordinary domestic chores like chopping vegetables, turned her into an all-Indian sweetheart. Comments about her "dark past" as a porn star only consolidated her position as an underdog and a fan favorite. Finally, a film producer and former disciple of Osho (the guru or "Bhagwan" from Netflix's Wild Wild Country) appeared on set mid-season and offered Leone a Bollywood film. It was official: India couldn't get enough of Sunny Leone.

The only problem was that film directors were unable to imagine Leone as anything but a sex kitten. In the Indian film industry, where male actors are forgiven for everything from charges of manslaughter to hunting endangered animals, hoarding machine guns, and sexual assault, Leone is still one-dimensional — a woman synonymous only with her past. She is the exact archetype of a Bollywood star: thin but curvaceous, light-skinned with long, jet-black hair, and able to mold herself according to the whims of legions of male directors. But unlike the majority of women leads who were born into film industry families, Leone must always fight harder for legitimacy and respectability.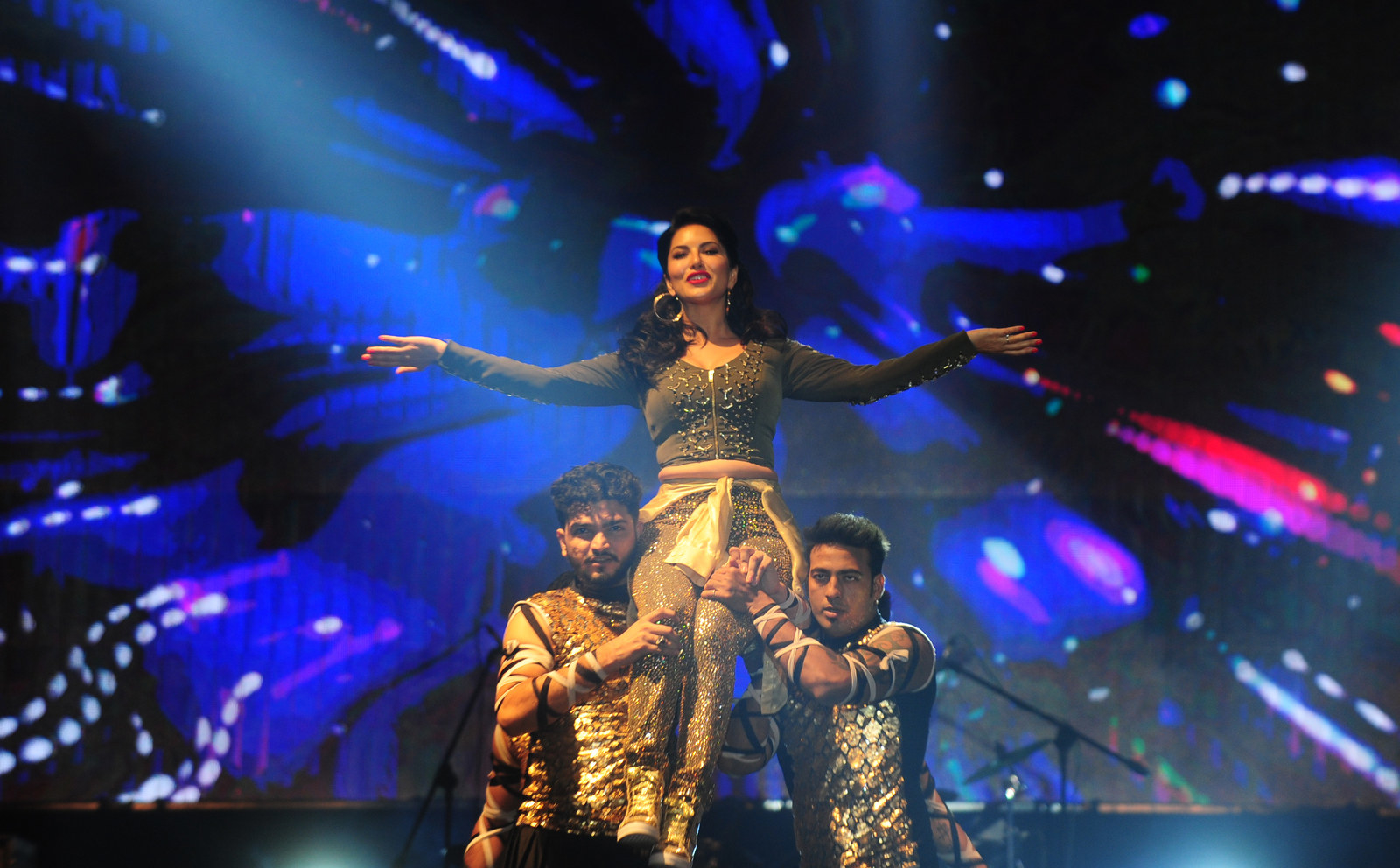 For instance, in 2012, when a gang rape in New Delhi turned the spotlight on India's epidemic of sexual violence, Leone bizarrely became an easy target for moral outrage — with a famous female former police officer blaming Leone and porn for "triggering rape." Over the years, protesters in separate Indian states have filed police complaints against her for "corrupting Indian culture." People routinely tear down posters of her condom endorsements, and in 2017, when Leone was about to make a paid appearance in Bengalore, a right-wing group threatened to commit mass suicide.

"It doesn't bother me at all," Leone told BuzzFeed News, referring to the hate she routinely receives. "My husband and I call this the Howard Stern effect," she said, referring to the fact that Stern's haters would listen to him far more avidly than his supporters. "I just say, 'Thank you! You're helping my Google hits stay up.'"
Over the years, Leone and Weber have become experts at analysing and increasing the web traffic Leone's name generates — but not all the best parts of their life are on the internet. In July 2017, they adopted a 2-year old girl from a village in Maharashtra, and a few months after that, they had twins through surrogacy. While Leone capitalizes on the allure of her past onscreen, IRL she's saving up for the future. She and her husband have invested their money in real estate and individual retirement accounts in the US, and she has launched her own line of makeup and perfume, has several endorsements, including for an Indian condom brand, and speaks about the importance of consent and contraception on the show she hosts on MTV.

As the day's interviews come to a close, Leone rushes outside the banquet hall; her daughter is on her way back from preschool and it's time for the twins to eat again. In a few years, Leone and Weber will have to tell their daughter, Nisha, that she is adopted — "I want her to hear it from us first, obviously; we're reading all these books to prepare for it. We'll tell her she came from our hearts, not Mommy's tummy." But for now, there is time. Leone picks up her sons and holds them up against the sky. Silhouetted against the Arabian Sea, everything looks perfectly sunny. ●