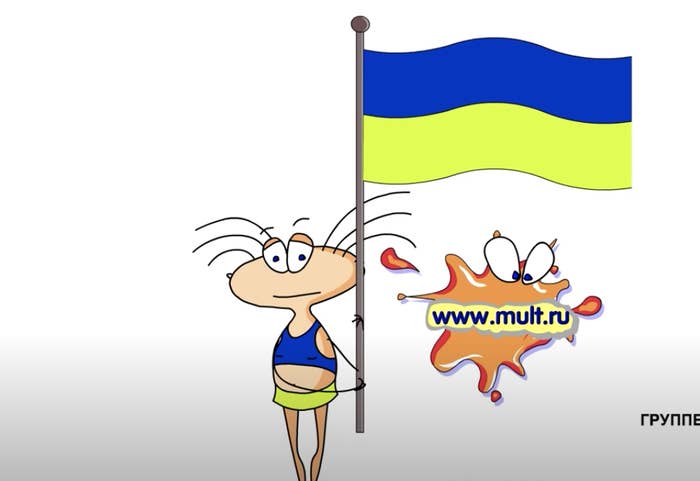 Masyanya, a popular Russian cartoon that traffics in satire and is comparable to South Park and BoJack Horseman for its sarcastic and irreverent takes on life, has been banned by President Vladimir Putin's government, and its creator, Oleg Kuvaev, now says he's in hiding.
Kuvaev told BuzzFeed News he finds himself in the midst of an "information storm," which he is "not used to as an animator."
Masyanya is named after its titular character, a Russian woman in her 20s who lives in St. Petersburg. Her signature look is a miniskirt and a crop top, and the show's characters are immediately recognizable because of their oval heads. The show debuted as a web series in 2001, after which it began to be televised in Russia and Germany. The show aired its final episode on March 21 when Roskomnadzor, the federal executive agency responsible for monitoring, controlling, and censoring Russian mass media, banned the show, according to Kuvaev.
While Roskomnadzor has blocked the original site where the episodes of Masyanya are uploaded by Kuvaev, the final episode, "Wakizashi," is still available on YouTube, where it has been watched 2.8 million times.
The show's final episode is set on Feb. 24, the day that Russia invaded Ukraine, with Masyanya coming home to find her friend Lokhmaty, who is Ukrainian, has passed out drunk in her room so that he does not have to watch the news. Masyanya and her friend Hryundel spend the rest of the episode shielding their friend from the terrible news by making sure he stays away from the internet — while privately discussing how Putin, whom they refer to as the "mad czar" and "fuhrer," has destroyed their country and the future of their children. Hryundel blames Putin's tyrannical actions on the political apathy of people like Masyanya, who prefer not to discuss politics and allow men like Putin to "swell up."
As the war in Ukraine continues, Roskomnadzor has banned hundreds of news outlets and social networks, including Google News, BBC, Twitter, and Meta, the company that owns Facebook and Instagram. Yesterday the agency also banned Russian media from airing an interview with Ukrainian President Volodymyr Zelensky.