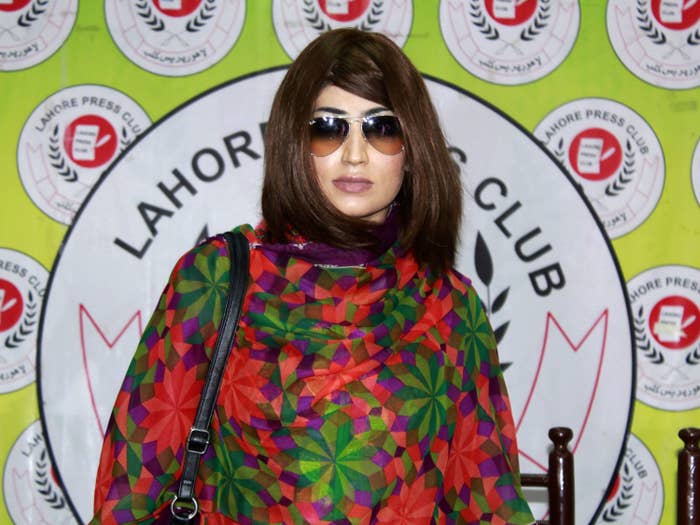 NEW DELHI — The brother of Pakistani influencer Qandeel Baloch has been sentenced to life in prison for her murder.

Baloch was drugged and strangled in July 2016. She was 26. Her brother Waseem Azeem Baloch admitted to her murder at a press conference that month, saying Baloch had brought "dishonor to the family name."
The court that sentenced Waseem on Friday acquitted five other men, including Pakistani cleric Abdul Qavi.
Baloch was a frequently provocative and divisive figure in Pakistan because of what she posted on social media. These posts ranged from the mundane — complaining of a headache — to the risqué — offering to strip for the Pakistani cricket team, but her singular refusal to be shamed by Pakistani society for what she wore, said, or did made her both iconic and reviled.
Controversies swirled around Baloch, who was frequently targeted with rape and death threats before her murder. "Love me or hate me," she once tweeted. "Both are in my favour. If you love me, I will always be in your heart, and if you hate me, I will be in your mind." Things reached a fever pitch in the month before her death when Baloch released a video she'd shot of herself with Qavi at a hotel room in Karachi, showing herself teasing him and trying on his cleric's cap while perched beside him on an armchair.

The video aired on a Pakistani news channel, where Baloch claimed that Qavi had invited her over for the meeting and had cameramen ready in the hotel room to make a video of the two of them. Qavi was widely mocked and later fired from a religious committee charged with sighting the moon at the beginning and end of Ramadan. Meanwhile, a news channel broadcast Baloch's passport and personal contact details.

On July 14, 2016, a day before her murder, Baloch gave her final interview to a Pakistani newspaper in which she said she was afraid for her life.
Her murder and the subsequent investigation sparked fierce debate in Pakistan over laws relating to so-called "honor killings" — the practice of justifying murdering people whose choices cause family members to suffer moral panic. Following her death, the Oscar-winning filmmaker Sharmeen Obaid-Chinoy made a short film on Baloch's life, with a voiceover by Madonna.
Honor killings continue to find support in Pakistan. Waseem's codefendants were showered with rose petals as they emerged from the court in Multan, Pakistan, today.