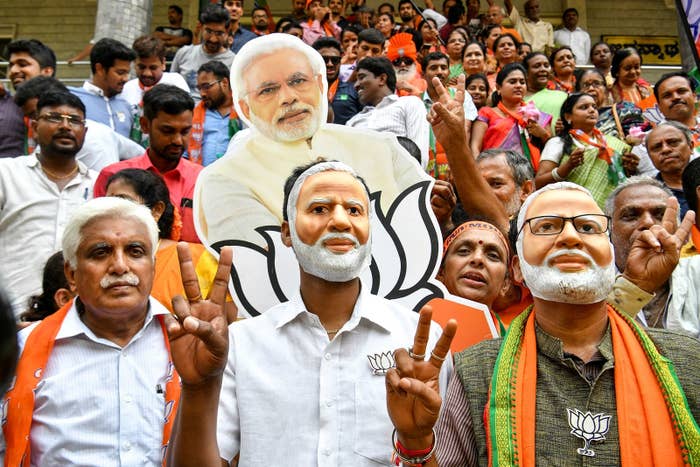 NEW DELHI — Narendra Modi has declared victory in India's general election, with his Hindu nationalist BJP party on track for a landslide win.

With most votes counted, the Bharatiya Janata Party (BJP) is on course to surpass the majority it won in 2014. At the time, the 2014 victory was the first occasion in the last 30 years that India's general election — the world's largest democratic exercise — had seen a party win an overall majority.
"You have not chosen between parties today, you have chosen for India," Modi told supporters from New Delhi.

Modi has been congratulated on his reelection by world leaders, including Russian President Vladimir Putin, Chinese President Xi Jinping, and Israeli Prime Minister Benjamin Netanyahu.

While exit polls released this week had predicted a major win for the BJP, many believed that Modi and his party would have to account for the failures of the last five years — under the BJP, unemployment, incidents of communal violence, and lynchings are at an all-time high. Modi's disastrous decision to remove some small-value banknotes from circulation led to massive economic disruption, causing several people to lose their businesses and lives.
But the BJP's nomination of a candidate accused of involvement with terrorists — Pragya Singh Thakur — revealed the party's strategy for consolidating voters based on right-wing Hindu nationalism. As BuzzFeed News noted when following Thakur on the campaign trail, Thakur was a candidate cast in Modi's image — and on Thursday, both Modi and Thakur won by massive margins by doubling down on the idea of the general election as a "religious war" between Hindu nationalists and their enemies: terrorists, anti-nationals, elite English-speaking liberals, Pakistanis, and Muslims.
Even before his first election as prime minister in 2014, when he was not the towering figure in India's national imagination that he is now, Modi was an expert at creating highly charged, emotive political campaigns. This so-called Modi wave was witnessed when Modi was chief minister of Gujarat, a state in West India, where he based his campaign on creating "Gujarati asmita," or state pride. In 2014, when he ran as a candidate for national elections, it was about development for every Indian, a promise of employment and wealth, going after the rich and their reserves of ill-earned money. This year, Modi and his party have created history once more by sticking to a narrative about reclaiming Hindu pride.
The BJP's main political rival, the Indian National Congress, which has been India's main governing party since independence, has won only 94 seats across the country so far.
Modi addressed the nation for 45 minutes from the BJP headquarters in New Delhi, where he was welcomed with a shower of rose petals and repeated chants of "Modi!" He admitted that he had not had time to go over everything that had happened on counting day, but it was clear that "the people had won."

"This is proof that India's poll analysts are stuck in a different era," Modi said, despite the fact that most political commentators had predicted a victory for the BJP. "This is the 21st century, this is a new India, this is a victory for the young Indian, for the poor mother who suffers looking for a clean toilet, for farmers who stay hungry so they can feed the nation."

The BJP's latest victory has been touted by the party's supporters as an end to divisive politics — Modi reiterated this in his speech by claiming that "only two castes exist in India now, the poor and those who work for the poor." He added that the "mask of secularism" had failed to woo Indian voters, who had chosen a "fakir," or religious ascetic instead.