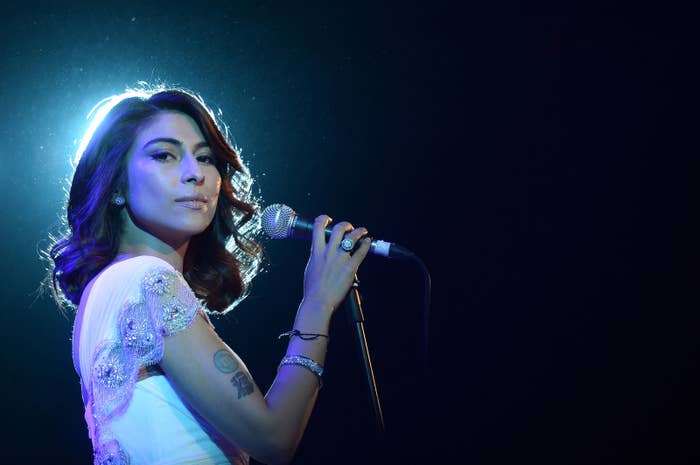 A sexual harassment complaint in Pakistan that divided the country's entertainment industry has resulted in the woman being served with a defamation lawsuit worth 1 billion Pakistani rupees (about $8.2 million).

According to court documents seen by BuzzFeed News, a court in Lahore has directed model, actor, and singer Meesha Shafi to respond to the claim of defamation made by Ali Zafar by July 5. The court also asked Shafi to desist from making any further comments on public platforms or on social media against Zafar.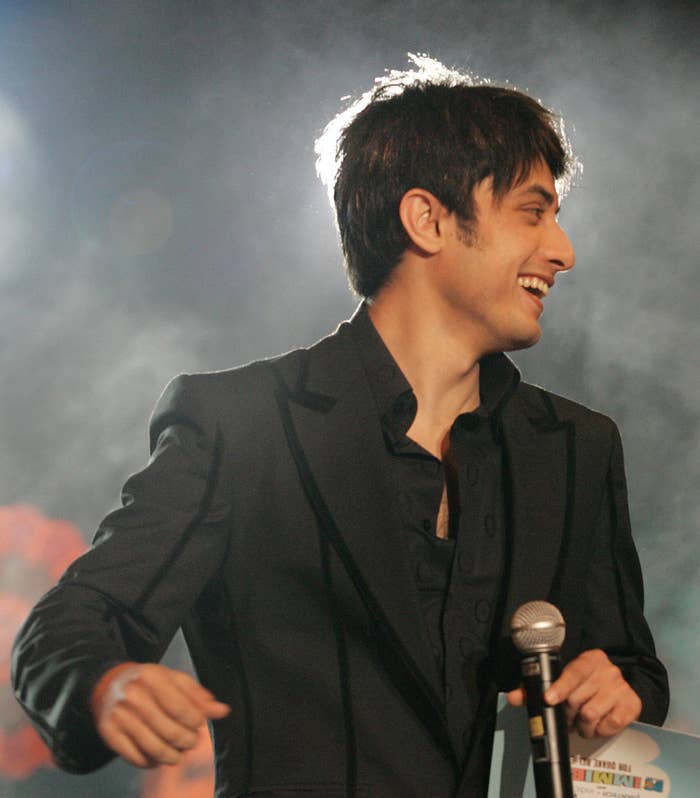 While Pakistan's #MeToo movement has been liberating for women — allowing them to speak about past abuse and even call out childhood abusers — it is struggling to support women who are still actively facing harassment from peers, partners, colleagues, and employers. Women who post about these situations are still vulnerable to lawsuits and defamation, if not further targeted harassment.
"Defamation laws have always been used to silence women. It has been happening for a while," Shafi's lawyer, Nighat Dad, told BuzzFeed News. "Internationally, we've seen that this is part of other legal instruments used to prevent women from speaking up, among them settlement and gag agreements. Online harassment and concerted campaigns to malign the character of victims have also emerged as deterrents."

Shafi and Zafar are both hugely popular Pakistani singers and actors who have frequently collaborated and performed together onstage.
Separately, they have also made regular appearances on the incredibly popular Pakistani music channel Coke Studio. Shafi has acted in films like The Reluctant Fundamentalist and Run Milkha Run, while Zafar, who started his career as a soap opera star, had a fair run in Bollywood before India banned Pakistani actors from its film industry. On April 19, Shafi stunned her fans when she shared an account of being abused by Zafar on Twitter. She wrote that despite the love and unconditional support she had received from her fans, she found it difficult to talk about sexual harassment and abuse.
"If this can happen to someone like me, an established artist, then it can happen to any young woman and that concerns me gravely," she wrote.

"Ali is someone I have known for many years and someone who I have shared the stage with. I feel betrayed by his behavior and his attitude and I know that I am not alone."
According to her note, Shafi was molested more than once by Zafar — when she was already famous and the mother of two young daughters. She chose not to share details of the physical abuse in the post, which was retweeted more than 5,000 times.
Zafar's fans were quick to jump to his defense by attempting to discredit Shafi's account.



But soon after Shafi's Twitter post began to go viral, more women began to share stories of their own abusive or weird encounters with Zafar. According to an article by a Pakistani journalist, Zafar's behavior had been an open secret among Pakistani media's whisper network.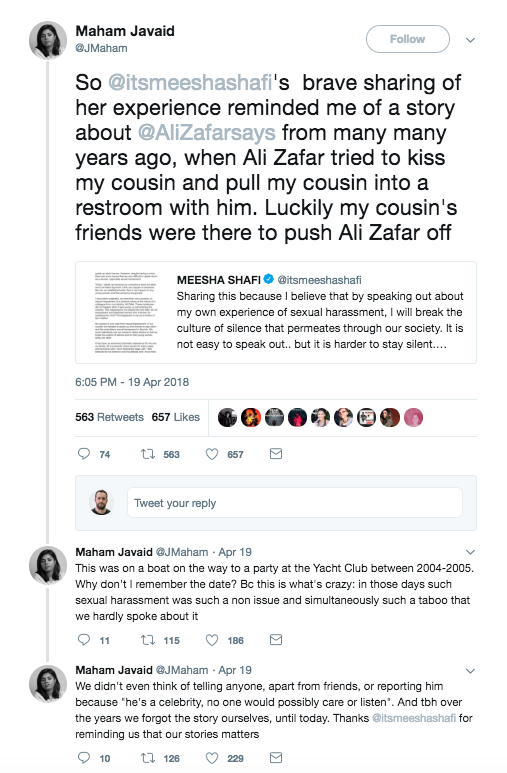 Zafar responded the same day as Shafi's tweet was posted, invoking the #MeToo movement as well as all the women in his life to proclaim his innocence. He said he categorically denied all claims of harassment made by Shafi, and that the truth would prevail.

Zafar also sent Shafi a legal notice asking her to delete her original tweet and pay him damages amounting to 1 billion Pakistani rupees. (Zafar's lawyer Rana Intezar Hussain told BuzzFeed News that Zafar has no plans to sue the other women who have spoken against him.)
As the accusations against Zafar began to add up, the chorus of men and women defending him also grew. Some defend Zafar by describing the good times they shared or the "gentlemanly" way in which he treats women fans. Others have attacked Shafi's character.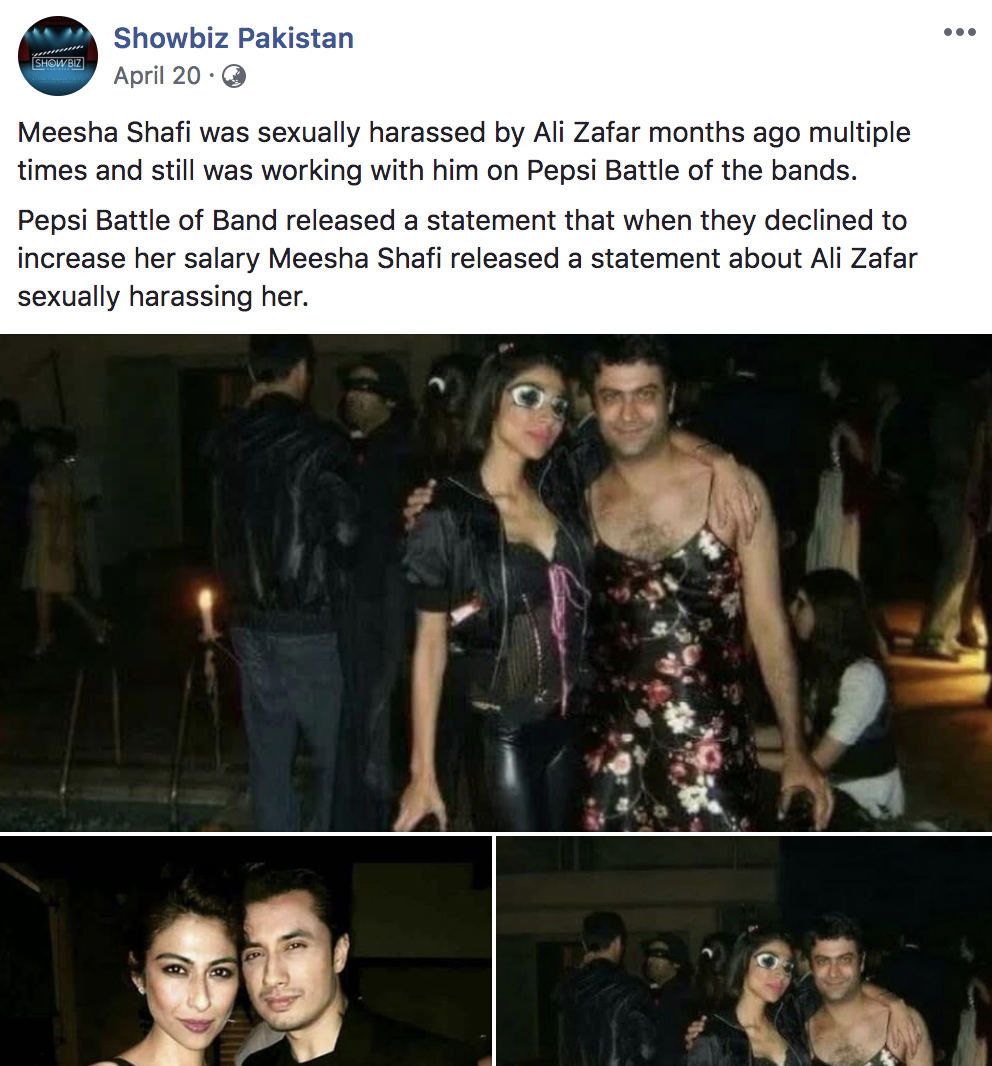 Shafi has since chosen to delete her Facebook account due to threats of intimidation, doxxing, and sexual violence, a person close to her told BuzzFeed News. She has not, however, deleted her original tweet about Zafar and has no plans to remove it as of now.
"Social media is an imperfect forum for coming forward about harassment, but it does allow women to have a platform that they wouldn't normally have within traditional offline structures," Dad added. "It is a great tool, but we've seen that the toxic misogyny on these forums often makes it an unsafe space for women. I would never discourage anyone from coming forward, but I would like them to make an informed decision and be cognizant of the possibility of a backlash."

Apart from its public and social reckoning, the #MeToo movement in Hollywood has also led to retribution in the form of multiple lawsuits by women against former producer Harvey Weinstein. In South Asia, most women are discouraged from filing official complaints, especially against men in powerful positions. When they do, socio-cultural perceptions matter as much as, if not more than, actual evidence.
"Women don't wear body cameras and don't always have evidence of physical or sexual harassment," Dad said. "So when all they have is a statement and maybe some witnesses, they feel discouraged by the legal system."
Following her tweet, when Shafi filed a complaint of being sexually harassed at work against Zafar, the complaint was the first of its kind from the Pakistani entertainment industry. On social media and news channels, people debated whether a jam session (where Shafi said she was first harassed by Zafar) even counted as a workplace.

But things are changing, even if change is slow. Dad has been invited to several schools, colleges, and offices in the past few months to conduct anti–sexual harassment trainings. "Winning or losing a legal case like this is not the point; it's a new era," she said. "Women now have the courage to speak about what they have been enduring thanks to online spaces. Even if it's anonymous, it's still cathartic. Authorities are realizing this and taking action."