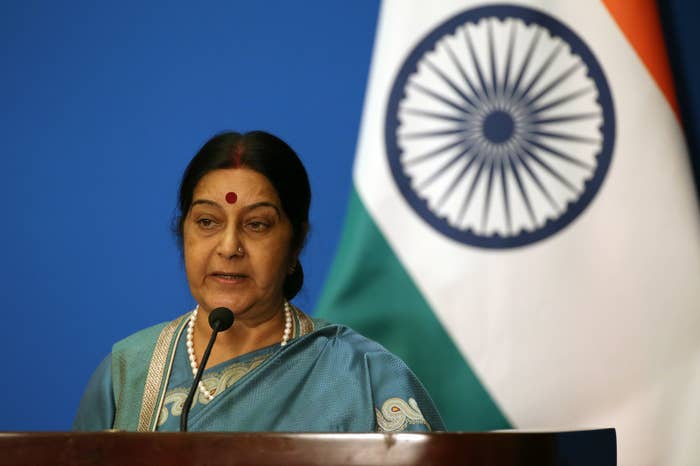 One of India's highest-ranking female politicians is the latest target of organized abuse on Twitter, after multiple journalists, actors, and activists were attacked on the platform.
The attacks on Indian External Affairs Minister Sushma Swaraj began June 20 when a woman named Tanvi Seth tagged Swaraj on Twitter as she recounted the traumatic experience of attempting to secure a passport for her and her husband.
Seth, who is married to a Muslim man, was humiliated by a passport officer who saw Seth's marriage certificate and told her husband to convert to Hinduism to get the passports.
While toxic misogyny is rife across all social media platforms that allow anonymous user handles, Indian Twitter responds with particular viciousness to women who are public personalities and appear to promote secular values.
Even ordinary statements — like calling for justice for an 8-year-old girl who was sexually assaulted and murdered — are interpreted as "hurting nationalist sentiments" (which in 2018, has come to mean far-right Hindu sentiments).
Swaraj said that passport offices would no longer require a marriage certificate — thereby indirectly helping Seth and her husband get their passports. This was seen as "appeasing Muslims."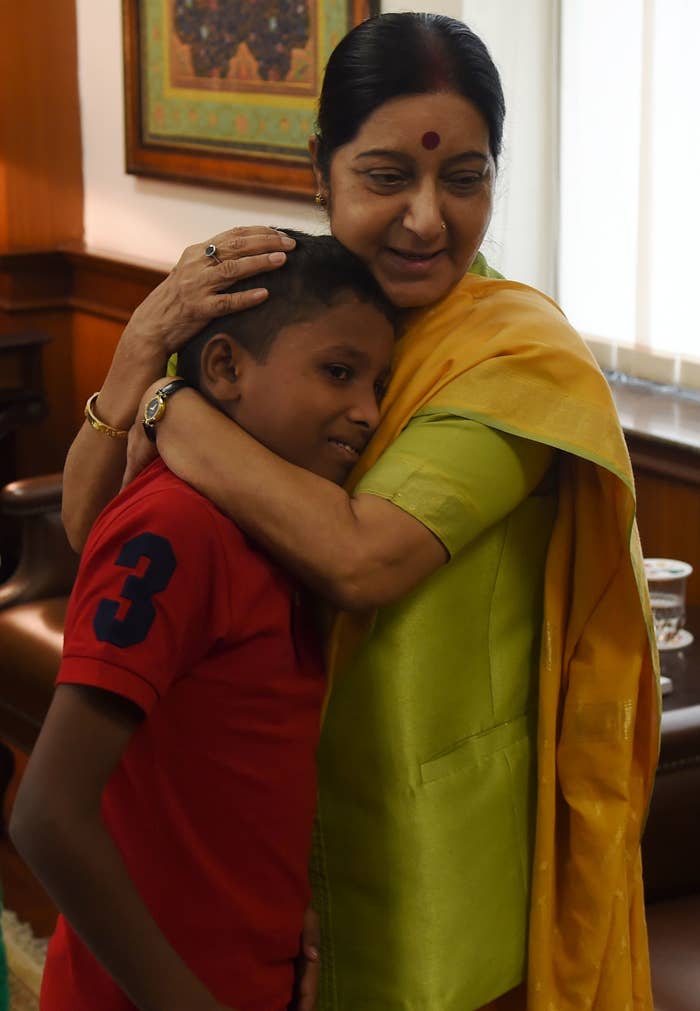 During her term as minister of external affairs, Swaraj has earned a reputation of being one of the few in Prime Minister Narendra Modi's cabinet who responds to requests and queries from Indians on Twitter (the prime minister, of course, does not even entertain questions at press conferences).

A day after Seth's tweet to Swaraj, the passport officer was transferred, and the couple's application was expedited. But instead of celebrating Swaraj's responsiveness and efficiency, Twitter right-wingers began calling her "Sushma Begum," an honorific usually used by Muslim women. These Twitter users also morphed a photograph of her face with an image of Mother Mary and a bleeding Islamic heart.
Her husband, a criminal lawyer, was tagged in tweets asking him to beat up his wife when she returned home that night — all for literally doing her job. Swaraj's husband responded to the tweets by describing her selfless love for his family, saying that he was "deeply pained" by the attack. He has since made his profile private.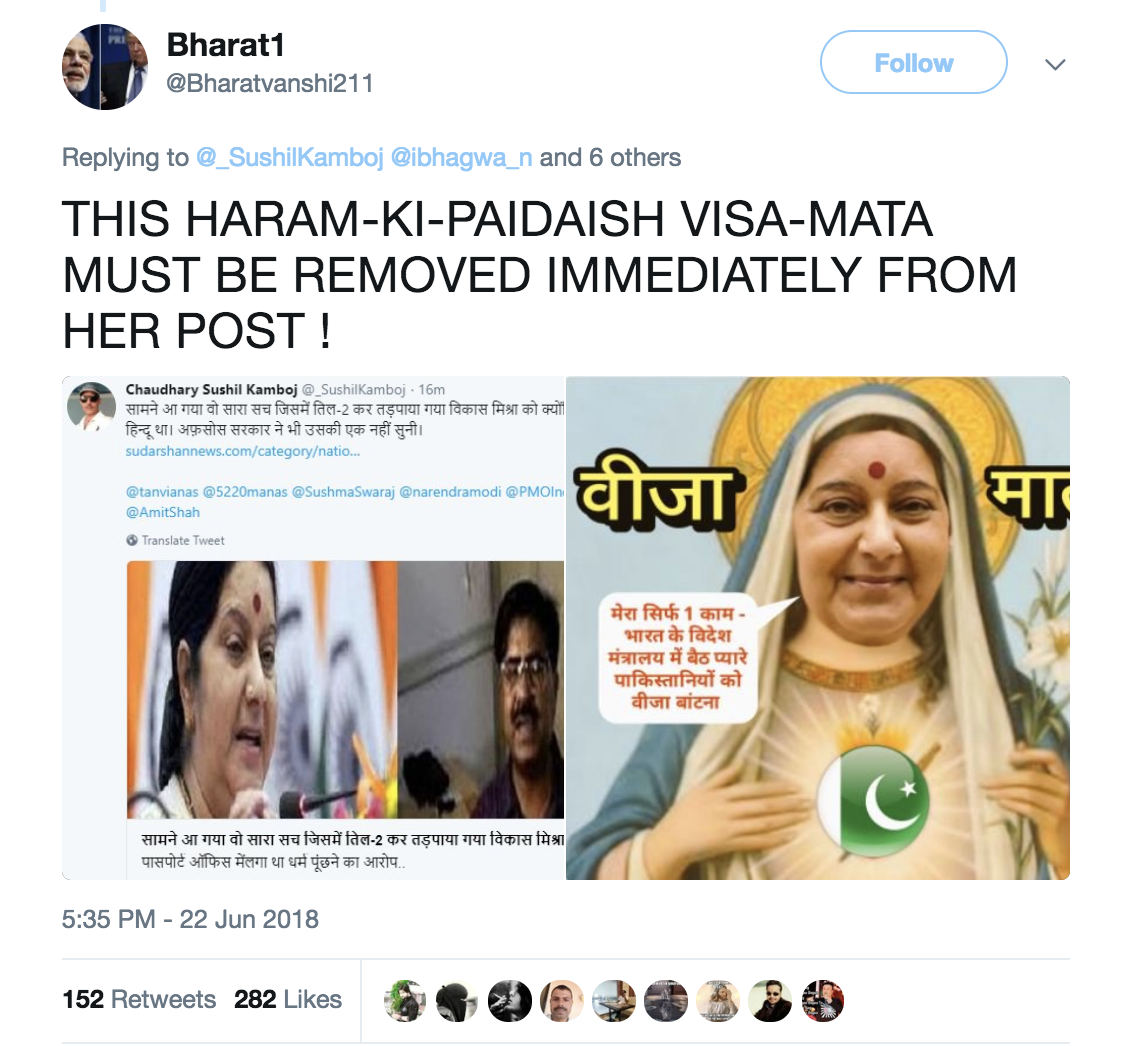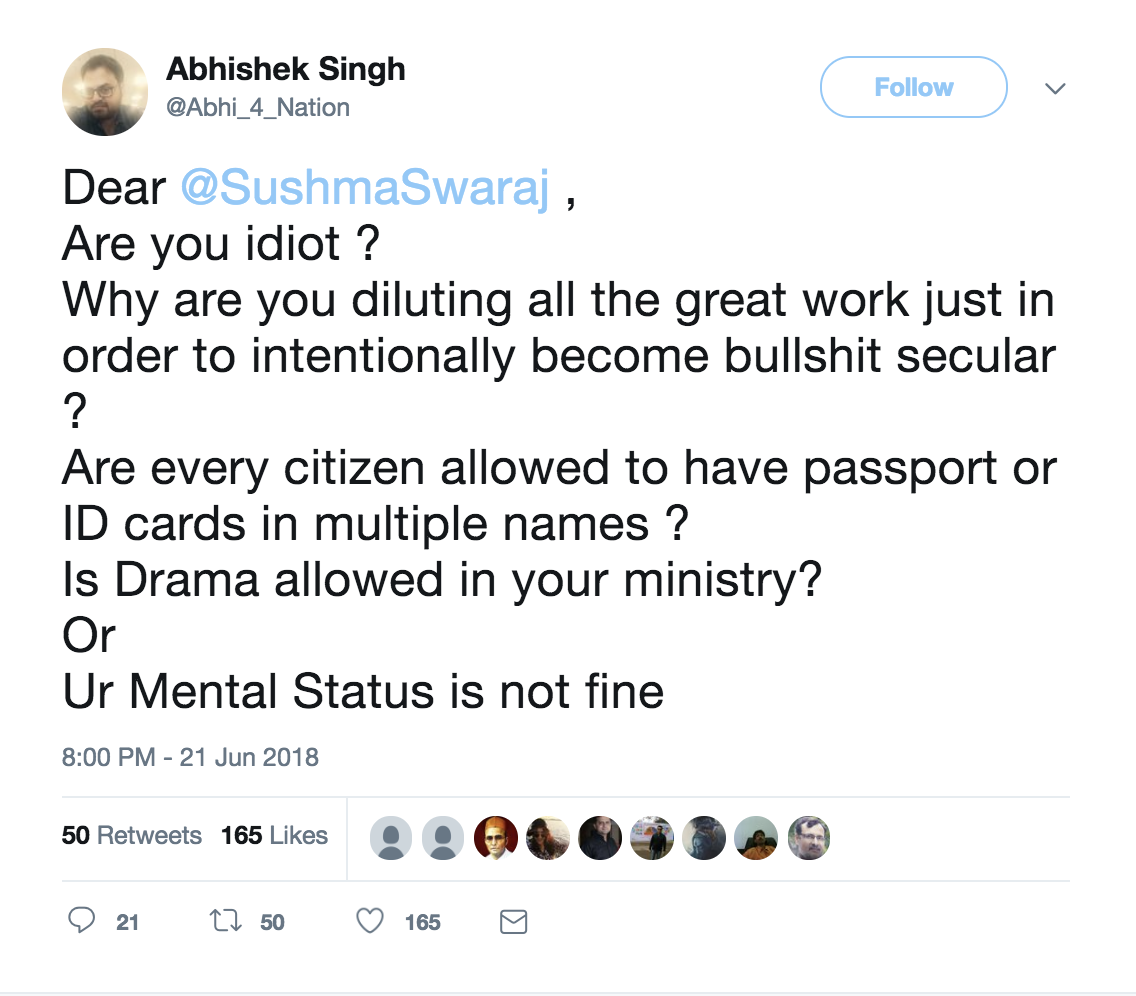 Two weeks since Seth tweeted to Swaraj, the foreign minister still faces abuse online. Apart from calling her names, random Twitter handles have also mocked the kidney transplant she got last year and accused her of "playing the victim card."
In response, Swaraj conducted a social media experiment: She liked a few of the (less offensive) tweets directed at her and hosted a Twitter poll on her profile, asking followers if they approved of the kind of language used. More than 53,000 people of the 124,305 who participated in her poll — 43% — said that they felt this was an acceptable way to speak to a female politician.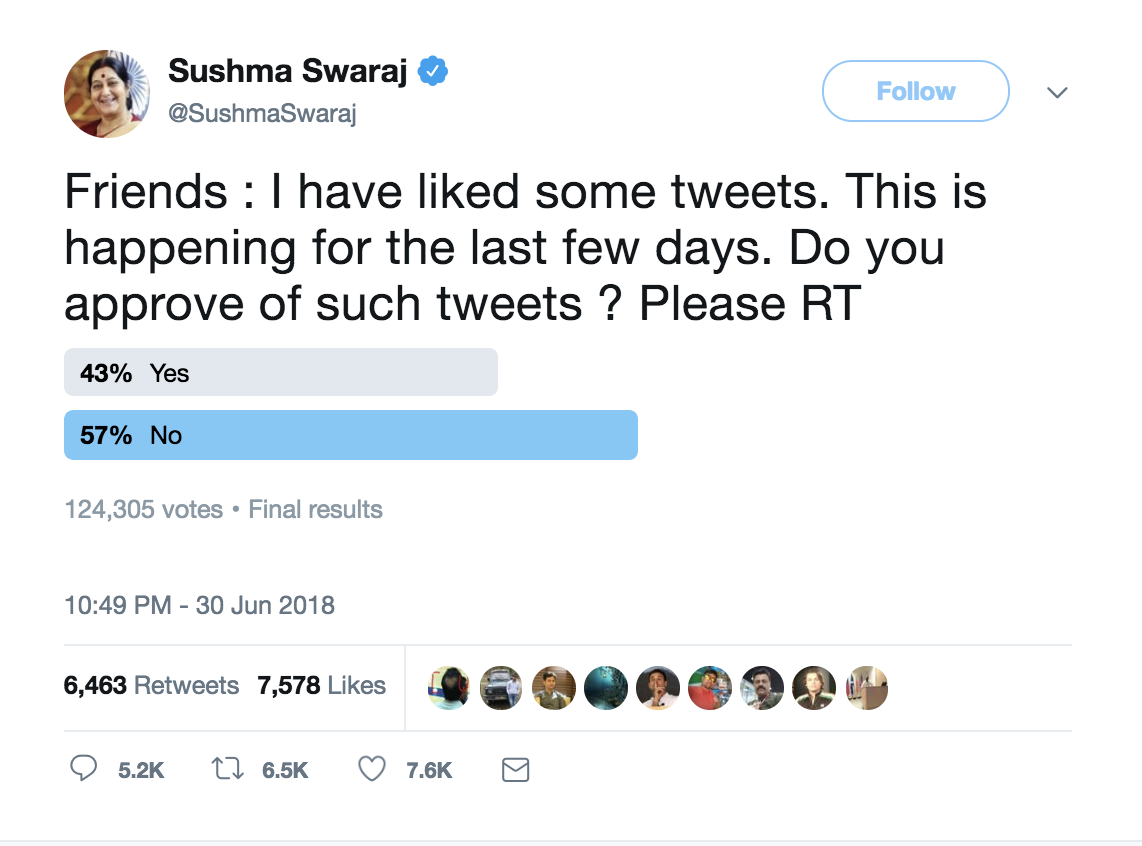 Despite how common this sort of abuse directed at women has become on Twitter, several people — including members of the opposition party — were shocked at both the brazenness of the vitriol directed at Swaraj and the response to her poll.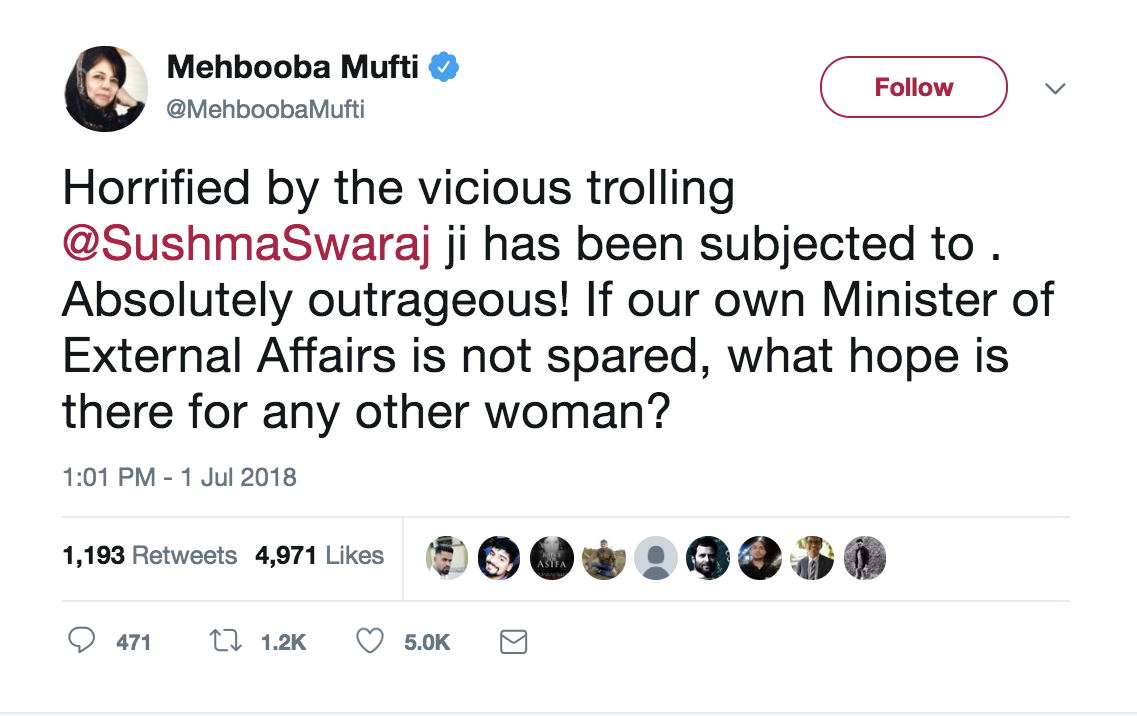 Three days after posting the results of her poll, Swaraj wrote a polite plea on her Twitter asking followers to disagree but do so by using polite language. None of this — the hate Swaraj received over the last week or the poll — has done anything to change the situation for women online.
Much like India in 2018, Indian Twitter is filled with angry, misogynist crowds. Two weeks since the relentless tirade of abuse began, only one member of Swaraj's party — Indian Home Affairs Minister Rajnath Singh — has condemned the attacks.
The silence so far has been telling: Despite the ruling Bharatiya Janata Party's promises to make the internet safer for women, Modi has not uttered a single word of support for the senior-most female minister in his cabinet.
On June 30, however, he did somewhat bizarrely wish Indian Twitter a happy "social media day," congratulating young people "for their innovative usage of social media, especially in conveying "frank" opinions.