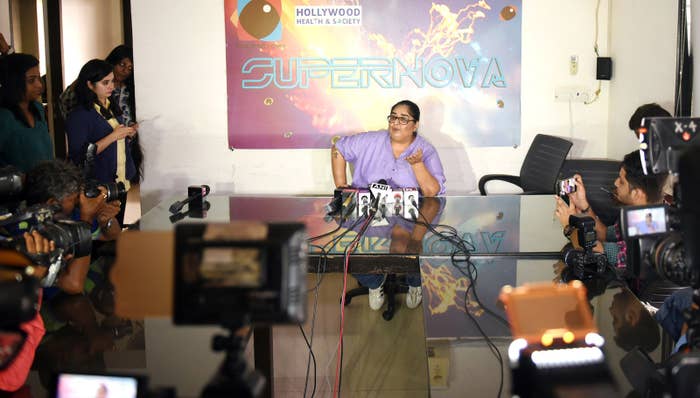 NEW DELHI — Exactly a year ago, when former Hollywood producer Harvey Weinstein was accused by multiple women of sexual harassment and assault, many in India wondered whether they would ever have their own #MeToo movement. Last week, it conclusively arrived, spreading like wildfire through the film industry, media, advertising, and comedy, with women sharing accounts on social media of violence ranging from rape to emotional abuse — and naming the men they say did it.

After less than a week, the clamor of women's voices online is already showing results. Senior editors at two major newspapers — the Hindustan Times and the Times of India — have been asked to step down from managerial positions following complaints by multiple women of years of sexual harassment.
Twitter has been the main forum for airing these claims, leading to an often angry series of allegations, counter-allegations, and denials. And the claims are still appearing online by the hour — leading many to demand resignations from those accused. Several men are facing institutional investigations, while others have issued apologies and denials on social media.

For decades, the legal system has failed women. It is this that is driving the anger, which shows no signs of abating — and every sign of becoming more focused.
Women journalists have compiled a private list of more than 100 predatory colleagues in the media and are collating testimonies from women who have been stalked, assaulted, groped, received unwelcome messages, been denied promotions, or demoted when they refused to have sex with seniors.
The past year has seen Indian women speaking their truth, but all too often silenced. Last week the dams broke, and the kinds of conversations that were once part of whisper networks are now being shared online — and having an impact.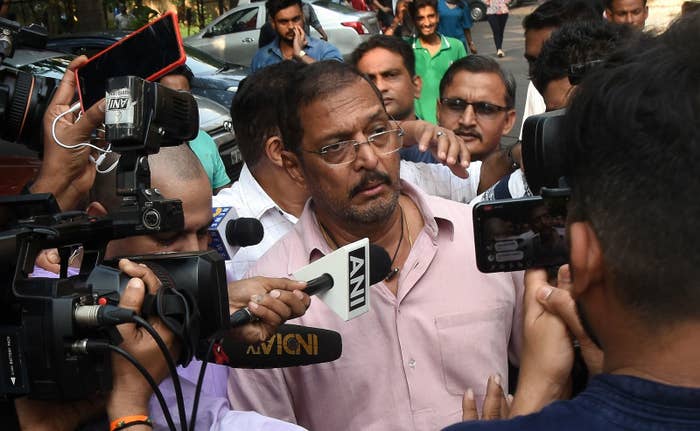 The surest sign of changing times came two weeks ago, when a decade-old story about the public harassment, bullying, and abuse of Bollywood actor Tanushree Dutta resurfaced. In 2008, Dutta said she was sexually harassed by her costar and industry veteran, Nana Patekar, while they were making a film together. When she protested, a mob showed up at the set, smashed her car, and threatened to hurt Dutta and her family. What happened to Dutta was routine in the Indian film industry, where women are often treated as little more than sex objects and find themselves sidelined if they complain about their treatment.
At the time, Dutta was treated with derision, and she eventually quit the industry — and left the country. Now, just over a decade later, her story is being seen in an entirely different light. Footage of her car being surrounded and attacked has been shared on Twitter — and this time many people are seeing it for what it was: a terrifying ordeal for a young woman to go through at her workplace.
Despite the public support for Dutta, she was served with two legal notices by the men she named as her abusers and was also threatened with physical harm by members of a nationalist right-wing party if she appeared on Indian TV.

Dutta's story was followed by more and more, as women came forward to speak out, often for the first time.
Days later, Mahima Kukreja, a poet and stand-up comic, shared her story — and Twitter listened. Kukreja called out a fellow comic and writer, Utsav Chakraborty, for sending her unsolicited dick pics and threatening to ruin her career if she mentioned the photographs.
Receiving unsolicited pictures of male genitalia ranks low on the spectrum of abuse Indian women face. But the frustration felt by many women — against men invading their personal space at work, dealing badly with rejection, enacting petty vengeance on their careers — could no longer be held back.
Through the course of the day, Kukreja's tweets were shared thousands of times. Multiple women messaged her about having faced similar harassment, including requests for nude pictures from Chakraborty. (Kukreja has requested media organizations not to link to or share her tweets.)
Despite the changing mood in India, many men have been slow to acknowledge their behavior — let alone properly apologize for it. Chakraborty posted several since-deleted tweets blaming his mental and physical health for his abusive behavior and claiming that the pictures were not of his genitalia.
It was only after he was kicked out of the comedy troupe that he worked with that he apologized. Even then he talked about the previous day being a "crucible" for him and asked Twitter for help.
The next day, on Oct. 5, journalist Sandhya Menon shared an account of being harassed by KR Sreenivas — now a senior editor at the Times of India — in 2008, when the two of them were about to launch a local newspaper for the Times Group, its parent company.


Sreenivas replied to Menon on Twitter, but rather than address the allegations, he said he would submit to an internal investigation, noting that it would be carried out by a "highly empowered committee headed by a senior woman."

Soon after Menon's complaint, seven other women wrote to the Times of India, describing Sreenivas's alleged abusive behavior with them. Sreenivas has since been asked to go on administrative leave.

The sense of injustice has been bubbling for the past year, with women becoming increasingly organized. Inspired by the infamous US list of "shitty media men," young Indian students — particularly those from social groups that have historically been marginalized — created a public Google document listing predatory professors. That list caused a rift among Indian feminists, many of whom described it as a "witch hunt" and argued that women should be making official complaints to their employers or going through the legal system, rather than outing their abusers online.
It has been the failure of these very systems that has catalyzed this latest development in India's #MeToo movement. Women are increasingly fed up at not being listened to. Assault victims in India are routinely discouraged from filing complaints by police — particularly if their abuser is a powerful or well-respected man. Legal cases often drag on for years (it is estimated that there are more than 30 million cases pending in Indian courts), and when women do make it to court they are routinely disbelieved by judges who have a narrow understanding of consent. While the law governing sexual harassment at work was passed five years ago, many major organizations and universities still have no official processes for investigating sexual assault.
Many women feel like they are left with little choice, even if the method of outing men on social media is imperfect. The evidence is hard to gather and verify, allegations often devolve into slanging matches, and details are debated with little nuance or understanding of the law.
Most of the debate thus far has been confined to an elite section of English-speaking Indians. Indian feminists are now making the case that #MeToo must speak for marginalized women.

The Network of Women in Media — a group made up of more than 300 women journalists from across the country — has reached out to newsrooms across the country with a statement translated into eight different languages, demanding better treatment for women employees.

No one knows where this will end up — or how high it will go. Since Tuesday, multiple women have accused the powerful government minister, and former journalist, MJ Akbar of sexual harassment. He has yet to respond to these allegations.
In another case, a TV director accused the actor Alok Nath, of raping her. Nath told an Indian news channel, that he didn't do it: "It must have happened, but someone else would have done it."
While none of these claims can be settled on Twitter, the events of the last week have left Indian women with one question: Will the courts deliver the justice that social media can't?