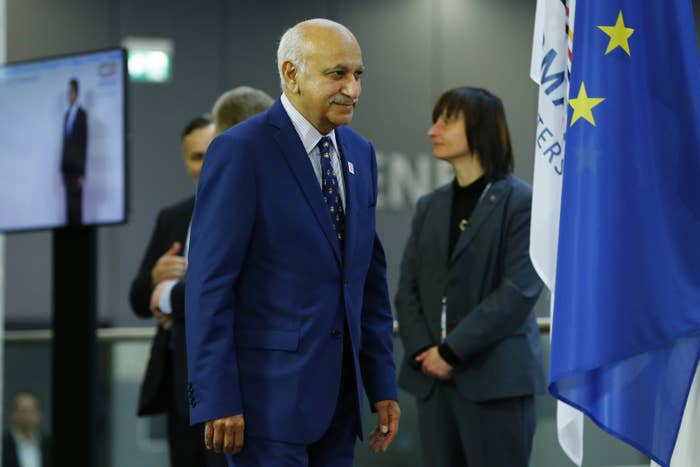 NEW DELHI — An Indian government minister accused of sexually harassing 14 women is suing the first woman who called him out on Twitter.
In the past week, several women journalists have tweeted about M.J. Akbar's inappropriate behavior, verbal harassment, and sexual innuendo while they worked with him in his previous career, when he was an editor at a number of newspapers. Most of the women said they had never spoken about it before because there were no allegations of physical assault.

This changed on Oct. 12, when The Wire published a first-person account by Ghazala Wahab, an editor who claimed Akbar groped and molested her in 1994, when she was a junior staffer at the Asian Age, an Indian newspaper. A few days later, HuffPost also published an account by an American journalist, in which she said Akbar forcibly kissed her when she was an 18-year-old intern.

As the demands for Akbar's resignation grew louder on social media, there was silence all of last week from the Foreign Ministry, where Akbar, 67, serves as the minister for external affairs. Akbar's boss, Foreign Minister Sushma Swaraj, ignored questions about Akbar shouted at her last week, documented in a tweet that went viral.
The only comment came from Amit Shah, leader of the ruling Bharatiya Janata Party and Prime Minister Narendra Modi's henchman, who said the party would "check the veracity of the post and who posted it."

On Oct. 14, Akbar returned from an official trip to Nigeria and made his first statement, denying the allegations to the news service ANI. Dismissing #MeToo as a "viral fever," he described the accusations against him as "wild and baseless."

"If I didn't do anything, where and what is the story? There is no story. This was admitted at the very inception. But a sea of innuendo, speculation, and abusive diatribe has been built around something that never happened," Akbar said.
Akbar also questioned the timing of the women's allegations, suggesting they were part of a political conspiracy against him. He dismissed Wahab's account of what happened at the Asian Age, stating that it was absurd to think so much could have happened "in such a tiny space" with several colleagues close by. (Wahab has since countered Akbar's statement, as well as his memory about the size of his office.)
On Oct. 15, Akbar served a legal notice to the first woman who spoke against him, editor and columnist Priya Ramani. Wahab and Ramani have since said that they stand by their statements.
The accusations against Akbar emerged last week, when Ramani re-shared an account she'd written about an unnamed former editor in 2017 — around the time the allegations against Harvey Weinstein first arose. Addressed "To the Harvey Weinsteins of the World," Ramani described meeting her professional hero when she was 23 and being invited to his hotel room for an interview:

"Turns out you were as talented a predator as you were a writer," Ramani wrote, describing an interview that felt more like a creepy date — complete with the 43-year-old interviewer offering 23-year-old Ramani vodka, singing cheesy songs to her, and insisting they sit close together while a bed loomed large in a corner of the room. Ramani escaped that night — vowing never again to be alone with the man who hired her.
On Oct. 8, she named Akbar as the man from her story.
While the accounts of women speaking against Akbar are over a decade old, they reflect much of the same newsroom culture that is still prevalent in Indian media — as the accounts shared by women over the last week have shown. Men in positions of authority over younger female employees still send them inappropriate texts, complain about their wives, comment on their clothes, and ask unwelcome questions about their sex lives. If the women resist, they are frequently shamed for being prudes or for their "small-town," unsophisticated alarm.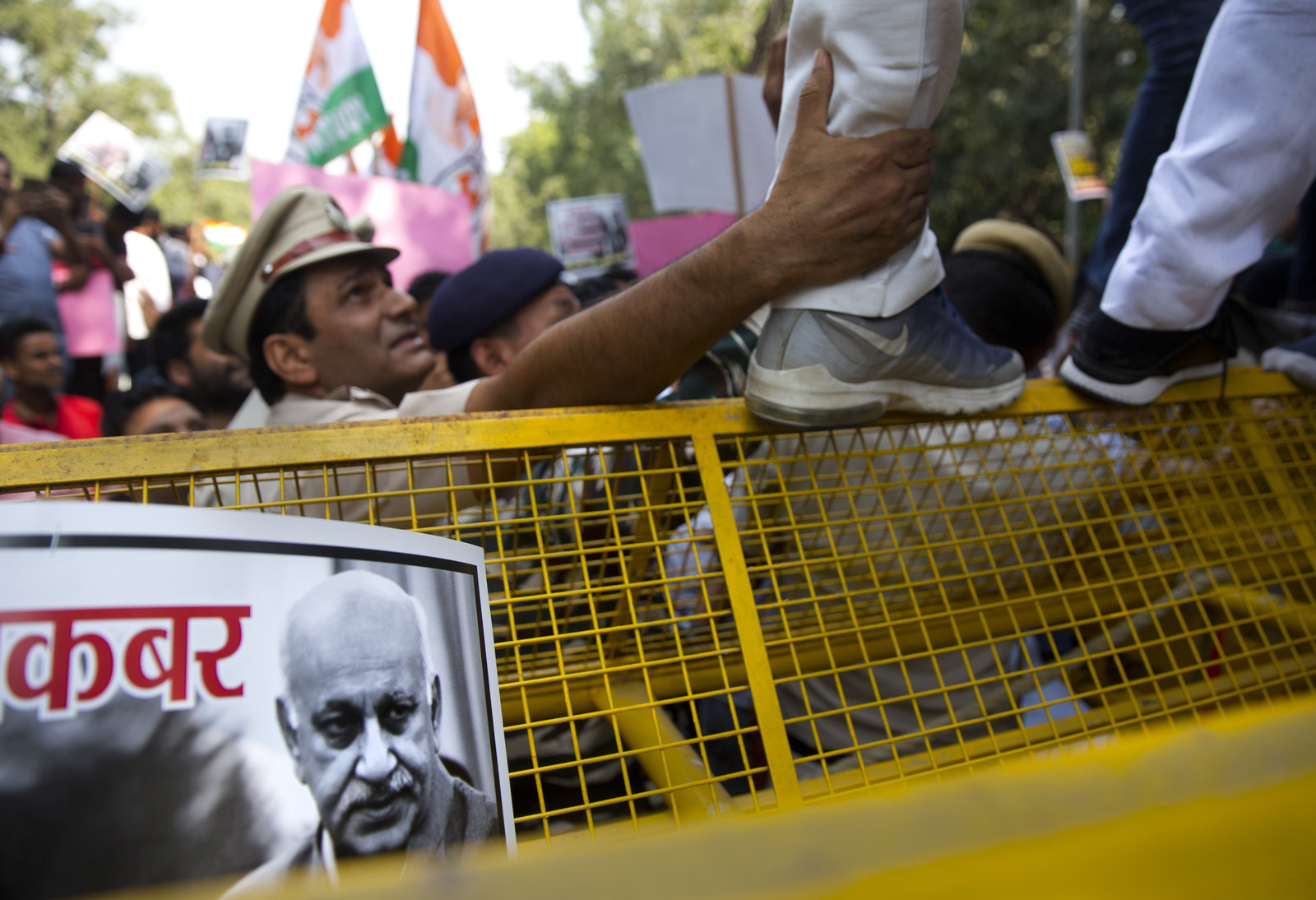 The main reason this culture of abuse has thrived unchecked is that until a few years ago, young women who complained about inappropriate behavior in the workplace were treated as troublemakers. Predatory men have been enabled by a culture of silence, buoyed by the support of their colleagues who turned a blind eye to sexually transgressive behavior, often seeing them as brilliant men or flawed geniuses.
That tide is finally turning in India. Following Akbar's denial and decision to sue his accuser, several journalists have offered to set up a legal fund for the women speaking against Akbar and extended support to Ramani.
Ramani has said that she is ready to fight all allegations against her: "Truth and absolute truth is my only defence."