NEW DELHI — "Hello, my beautiful friends," the Instagram story began like any other. The woman on screen was K., a 21-year-old from South India with more than 12,000 followers who visited her account for stories about dick appointments, staying thicc, and eating plant-based foods, as well as beautiful photographs accompanied by frequently unrelated but inspiring captions.
But this video was different.
"This is my story of a Tinder date gone bad," K. said with a nervous smile. "As you know, I'm a super-positive person, but this is one of the hardest stories I've ever had to talk about…" she said, twisting the neck of her shirt.
The Instagram story, as it turned out, wasn't just about a bad date — it was an account of alleged rape told over 80 separate 15-second videos, screenshots, and photographs. (It's also the reason K. cannot be identified in this story as per Indian law, which forbids identifying alleged rape victims.) According to the Instagram story, in 2015 K. had been trapped in the house of a young man whose last name she did not remember, with no way to escape, raped repeatedly, and photographed in the nude. She said she was only able to leave his house the next morning when she threatened to contact the police.
"I downplayed and disregarded it, but it happened. It's real."
Even before posting this latest Instagram story, K. was an anomaly online as a young Indian woman who used the internet to speak graphically — and often hilariously — about sex.
In a sea of #BrownGirlMagic, body positivity, #MelaninMondays, and makeup tips, K.'s stories about sugar daddies buying her gifts, of hookups and awkward encounters with self-conscious lovers, the glee of being in bed with a "snack" — all narrated with a wide-eyed charm — were the kind of thrilling, smutty-yet-wholesome online behavior that most Indian women simply do not engage in on public social media profiles, especially if, like K., they're still living with their parents. Watching her on Instagram, you felt like cheering for her exploits every night while texting to make sure she got home safe.
A few days before she spoke about the alleged rape, K. had briefly mentioned a past date with a man who wouldn't let her leave his apartment, by simply refusing to return her clothes to her. Immediately, she said, she began to receive messages of support that called her a "survivor" and thanked her for speaking up.
"Until that point, I had never thought of myself as a victim," she told BuzzFeed News after she had uploaded the Instagram story on July 18, 2018. "I was easily able to narrate the story like a plot from a movie because I viewed it as an incident that happened to me once, not rape, or assault, or any of those words. I never was traumatized by it. I downplayed and disregarded it, but it happened. It's real."
That Instagram story was only the beginning.

In 2015, the year K. first downloaded Tinder to idly browse a selection of men, the dating app was getting 7.5 million daily swipes in India. The company's biggest challenge then (and now) has been getting enough women to sign up. Even though dating is common in India, particularly in cities, it is often covert. Families still consider the ultimate goal of courtship to be marriage, babies, and choosing who inherits their property — so whom their children date is a decision closely governed (and often coercively enforced) by the boundaries of ethnicity, religion, caste, and class.

When she first saw him on Tinder in October 2015, K. said she swiped right because she liked his dog. Once the two of them matched, she says, they couldn't stop texting each other.
"Something in my 19-year-old brain said, He's so deep — maybe he's the one, girl! You've got to meet him!"

BuzzFeed News reached out to the man identified as K.'s date shortly after K. uploaded her story. In an email exchange, he provided BuzzFeed News with screenshots of the threats he had received as a result of K.'s story being shared publicly, and a statement that he uploaded on his private Instagram account in which he denied ever assaulting K.
BuzzFeed News is not naming the man because he has not faced arrest or investigation for any charges of sexual violence so far.
The first and only time K. and the man met was on Nov. 8, 2015. Toward the end of their date at a popular pub called Harry's in Bangalore (a city in southern India often described as the country's Silicon Valley because of the high concentration of tech companies), K. told BuzzFeed News she realized she was quite tipsy and also that it was too late to return to her university housing. Like many on- and off-campus living spaces for students in India, the room had a curfew — if you missed it, you had to spend the night outside. It was a rule designed to keep women safe by making sure they returned to their rooms early, but more often than not, it ended up leaving young women stranded outdoors, as K. realized she was that night.
"He said, 'That's OK, I live really close by. You can come over to my place,'" K. said on her Instagram story.
"I wanted to meet his dog!" she told BuzzFeed News in a phone call this July. K. said her phone was close to dying, so she put it on airplane mode to conserve battery. "I thought I could charge it at his place while I figured out where to spend the night."
As they went into the elevator, K. said, the man turned off the lights (old elevators in India often have light and fan switches to conserve electricity), forcefully pushed her against the wall, and began to make out with her. "I remember trying to get out of his grip but I couldn't," she said on Instagram.
K. also told BuzzFeed News that, in hindsight, she felt there had been signs that her date had an "aggressive and dominant" personality, but she didn't pay much attention to them at the time. "I thought maybe he was one of those men that liked being a little rough while making out."
K. did not try to leave the man in the time between leaving the elevator and arriving at his apartment. "I thought that once we're in his house and the lights are on, I'd be able to get the signal to work on my phone again and figure out how to get home or to a friend's place," she told BuzzFeed News. But once they got inside, K. said, things got worse.
Within minutes, K. said on her Instagram story, her date had her pinned down again — first in the living room, then she said he dragged her to his room. "You guys, what really struck me was the way he just pushed his dog off the mattress," K. said on her Instagram. "People that love animals don't do that."
K. described her state at the man's apartment to BuzzFeed News as "drunk, physically incapable of doing much but mentally aware of everything that was going on." When he left her on the bed to look for a condom, K. said, she refused him verbally for the first time. "I said, 'Yo, what are you doing? I don't want to fuck. I want to go home.'"
"I remember looking up at the ceiling, and I remember feeling like I was dead."
"I felt like this guy's personality kept switching," she told BuzzFeed News. One minute, K. said, he would demand sex and the next, he would try to play music on his laptop to set the mood. The switch between what K. called his "psycho voice" and his "caring, husband voice," she said, was what really terrified her.
"I remember looking up at the ceiling, and I remember feeling like I was dead," she said on her Instagram story. "I felt dissociation for the first time: I almost felt like I was not in my own body. I was looking at the ceiling, which was also out of focus, thinking that's all that'll help me for the next few minutes as this guy is on top of me fucking me and making so much noise. I was just frozen like, OK, do what you want to me, it's OK, thinking that if he falls asleep, at least I can make my way out of his house."
In one clip from her story titled "The reality of being a woman in India," K. described the two attempts she said she made to escape the apartment — the first time, she said, he dragged her back to bed. The second time, according to K., the man refused to return her bra — and his dog had chewed through her shirt. "I wanted to leave, but what were my options? Leaving his house at 2 a.m. and getting into a cab with a stranger, with no shirt or bra on, risking my life, versus being trapped in a house with a virtual stranger who wanted to have sex against my will," she said on Instagram.
She only managed to leave the apartment the next day, K. told BuzzFeed News, after he had raped her a third and final time; on her Instagram story, K. described lying on the bed like a "dead starfish." Before he let her go, according to her, he also insisted on taking naked photographs of her on his cellphone.
BuzzFeed News spoke with a woman — one of K.'s closest friends in Bangalore — whom K. messaged several times from the apartment before her phone finally ran out of battery. "I was about an hour away from the neighborhood she was in when she first told me he was forcing her to have sex, and that she wanted to leave," K.'s friend said. "But K. hadn't noticed the name of the apartment he lived in and Google couldn't give me an exact location for her. Even so, my then-boyfriend and I offered to try and find her. But her phone was dying, she couldn't talk in front of the guy, and after a point, she texted saying it was too late and that she would find a way out in the morning. In any case, once her phone died we had no way to contact her."
The friend said she was only able to speak with K. the morning after, once K. was back in her housing. She said K. was angry and upset — and also terrified of revenge porn. "We were really sure that we wanted to do something, even file a complaint. She's always been a bold girl, but she was scared about the fact that he had taken naked pictures of her and finally, that's why we decided to let it drop."

The alleged incident took place three years ago, when K. and her friend were 19 and studying at a college in Bangalore. Since then, the two young women have changed cities and phone numbers. As a result, they said, neither had screenshots or recorded evidence that the conversation between them ever took place.
On her Instagram story, K. also shared two images previously posted on her feed. One was taken and posted the morning after she left the apartment: It was a photograph of her wearing her a blue hoodie that the man had given her. In it, K.'s neck is covered with bruises. The picture had no caption. The other photograph was taken a few weeks later — a mirror selfie with the caption "Everything hurts."
While Indian law has no defined statute of limitations when it comes filing cases of rape, it becomes incredibly difficult for victims to prove allegations as time passes — physical evidence disappears and often memories become altered with time.

When she talked about the alleged rape on her Instagram story, K. began a conversation that is both rare and urgent. India has earned the tag of being the most dangerous country in the world for women, due in part to a perception poll based largely on the horrific stories of gang rape, abduction, and the murders of women and children. The frequency with which such brutal acts of violence are carried out across the country often obscures the fact that, more than 95% of the time, women and children are raped not by gangs of strangers on the streets, but by the people closest to them. While more women are reporting these crimes now, there is still a world of intimate partner violence that goes unreported. For instance, in 2018, India still does not legally recognize marital rape.

As soon as she finished narrating her ordeal, K. said, she received a message from a woman who immediately identified her Tinder date by his full name.
Within seconds, K. went through her blocked list and found his Instagram page — she said she had blocked him across all her social media after the "bad date." Then she shared a screenshot of his profile on her Instagram story — "In case anyone is wondering," she captioned it — outing him as a "predator" to her 12,000 followers.
Over the course of the next 24 hours, K.'s Instagram account was inundated with messages. Her followers increased by the thousands. Men and women were sending her messages of solidarity, urging her to stay safe, talking about their own experiences with dating and abuse and consent. K. said a few other women also claimed they had been on dates with the man and had had less than pleasant experiences with him — though none of the others said they had nonconsensual interactions with him.
On Twitter and Facebook, the outrage against K.'s date was gaining momentum — he received multiple threats of physical harm, including from people who were livid that he had allegedly been abusing his dog. (The man shared screenshots of these messages with BuzzFeed News.) On Twitter, animal rights activists began organizing ways to stage a rescue operation, or at least go check on the dog.
A day after K. had shared her Instagram story about her date with the man, he decided to make a statement, also on Instagram. In it, he denied the allegation of rape — but only after he had countered K.'s claim that he was abusing his dog.
"Leave [the dog] out of this," the statement began. "[The dog] is looked after like a Queen, nothing else. Feel free to ask anyone who has interacted with me and her, or has visited her at home. She's my baby. You are welcome, as long as you behave in a civil manner, to check it out for yourself."

Then, he disputed K.'s narrative, starting a flame war on Instagram and in the comments section of his post.

"K. and I had consensual sex — that neither of us particularly enjoyed, and had a mature conversation about it next morning — when she [was lying] comfily in bed, said she was lazy, didn't feel like leaving and wanted to cuddle."

The man claimed K.'s story was false and defamatory. He wrote that "she took a great share of initiative in physical intimacy right from Harry's until the next morning."

As his evidence to contest K.'s claims, he included four screenshots: one from a WhatsApp conversation between the two of them, two images from K.'s Instagram, and a screenshot from his own Facebook profile in which he said he had been a "lecher" in the past and drunkenly misbehaved with other women — but had learned his lesson since.
"There's plenty more I would like to state, but reserve for the court of law."
In the first screenshot, taken from a WhatsApp conversation, he and K. had the afternoon after their date, the man asks her if she has gotten home safely. K. thanks him for "a lovely night" but then says, "This is really not going to work out."
"I love spending time with you and everything but it's just, we're very different people. You come across as extremely dominant in bed and that's just something I can't deal with. I really can't deal. I'm sorry," she writes.
The man declined to share the entire conversation with BuzzFeed News, but in a note attached with this screenshot, he wrote, "I'll leave it to the subject matter experts to comment whether victims usually text their abusers to say they had a lovely time."
On the one hand, this screenshot was a way for him to defend himself in connection with what he called an "unpleasant but consensual" sexual encounter. He had already received multiple threats of physical violence and been told that people were coming to take his dog away from him. The WhatsApp conversation suggested — at least in tone — that he had parted with K. on pleasant terms.
But in a separate Instagram story K. shared the next day — which was not saved on her Highlights reel — where a story remains archived beyond its 24-hour life cycle – she said she was only being "nice" because she was afraid of revenge porn. K. said this was a big part of the reason why she hadn't reported him in the first place.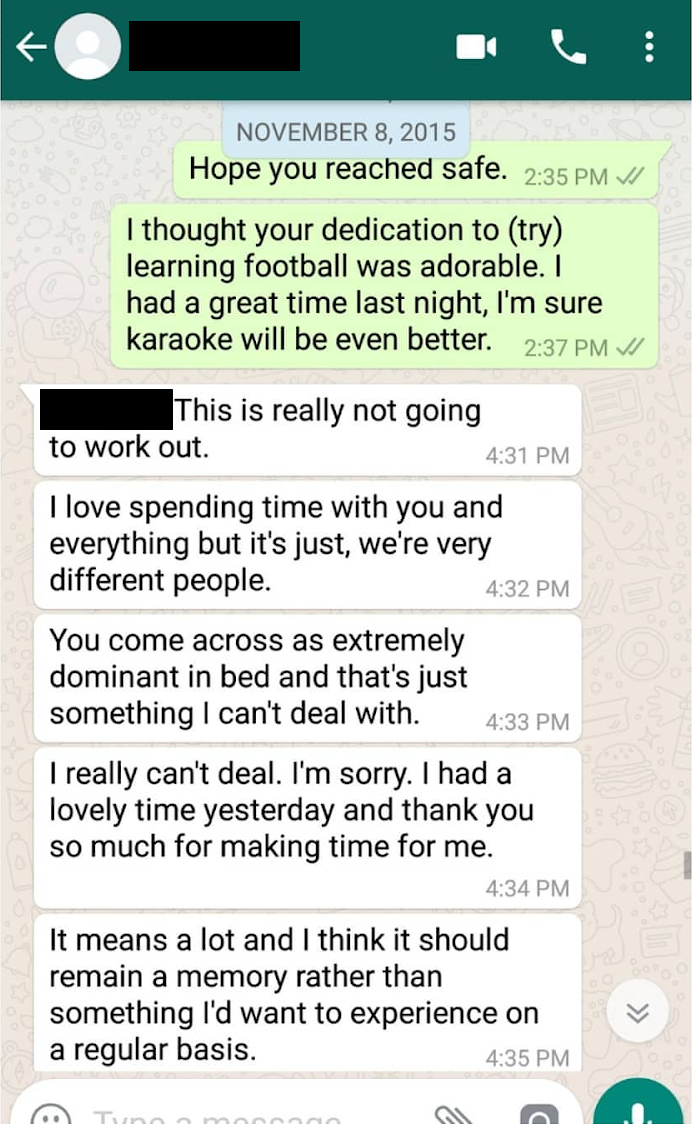 These two interpretations of the same conversation are in many ways exactly what the #MeToo movement has attempted to reveal online. Many women recognize that sweet-talking a bully, backing away as you repeat the word "no," is a way of staying safe (and in some cases, alive) by being nice to the person who could hurt you. (One of the most revelatory examples of this was when ex-Hollywood producer Harvey Weinstein tried to convince Lupita Nyong'o to let him give her a massage — horrified and afraid of what this request would lead to, the actor agreed to give him a massage instead, so that she "would know where his hands were at all times.")

In his defense, the man also shared two pictures taken from K.'s Instagram in which she is wearing the blue hoodie that he gave to her when she left his apartment. One of the pictures was of K. with a bruised neck that she shared the day after their date. The other was a screengrab taken from a video where she is dancing while wearing the hoodie almost two years later.
"Another one for the subject matter experts," he wrote. "Do victims usually keep triggering memorabilia (such as a hoodie) for over 20 months and do happy dances in them? There's plenty more I would like to state, but reserve for the court of law."
But in response, K. wrote on Instagram that she wore the hoodie again because she was not traumatized by it and never found it triggering. She said, "the hoodie means absolutely nothing to me and it's in the trash now, so."
The answer to the man's question about K. and why she didn't act like a rape victim appeared in a random comment on his Instagram page.
"After a point, the anxiety and dread whenever I see him faded away, only the tears stay."
"Let me tell you something," the Instagram user wrote. "After a point, nothing is 'triggering' anymore. I was raped by my cousin when I was 8 years old and still see him after every few months. He denied it when I asked him a few years later. After a point, the anxiety and dread whenever I see him faded away, only the tears stay. Shouldn't I be triggered then?"
The final screenshot the man shared was taken from an old Facebook post that began with the words "me too." He'd written it in October 2017, shortly after the revelations about Weinstein first became news.
He wrote that he had been chased and nearly molested by a woman while he was in college, but he had learned from that experience. He wrote, "I've had imbalanced relationships, been too much of a horn dog for women to handle on a first date and much else."
But things were different now. The man said he had mended his ways. "I (we) have made mistakes, learnt from them, and are better people today for it. This is always a 2-way street, with consent and 'stop' duly noted."

The statement the man shared on Instagram, which these screenshots were attached to, ended with these words: "I categorically state the allegations of rape as libel and it pains me to be falsely accused of it knowing specifically how legal proceedings will impact my father."
"Rule of law is supreme. Unless the allegations are redacted and an apology is issued, I intend to file a Defamation Suit tomorrow. Similarly, I am willing to stand trial in front of anyone who alleges I have wronged them, and if found guilty I wholly deserve punishment."
K.'s story disappeared off the internet almost as soon as the man threatened her with legal action. It was no longer on the Highlights reel of her Instagram profile.
"Isn't this a classic he said-she said?" one Instagram user commented below the man's statement. "Why would a girl or boy, all of a sudden, want to defame someone in such an arbitrary manner? How would she be supported by other girls if her story wasn't true?"
"Not taking sides but I'm going to ask some genuine questions," another user said. "Why did K. go private all of a sudden when she knew everybody is sharing her story?"

As far as K. is concerned, the story, both on Instagram and IRL, is over. Days after the man's statement, she returned online and clarified why she had taken her story off Instagram.

"I took the Highlight down and made my profile private for legal reasons," she wrote. For now, it was "back to positive posts."
"This incident does not define me. We are not the stories we keep repeating to ourselves or keep hearing from others," she said over the phone and, like a true millennial, shared immediately on her Instagram once the conversation was over. "The most important thing is — everyone knows about him now. His game is up; he can't repeat this shit with more women."
The next day, the man's own statement had disappeared from Instagram — according to a screenshot he shared, Instagram had deleted it for violating community guidelines. BuzzFeed News has contacted Instagram for clarity.
"This incident does not define me. We are not the stories we keep repeating to ourselves or keep hearing from others."
For many men watching, K.'s story summed up the post-#MeToo modern nightmare: What if, three years after a bad date, someone turned around and described an awkward sexual encounter with them as rape?
But for others, the story rang true precisely because it spoke to the way women frequently experience "awkward sexual encounters" — going along with something you never wanted to do in the first place is sometimes an act of self-preservation. And when that thing you have to go along with is sex, it feels a lot like rape.
One of the biggest reasons women are saying #MeToo is to counter the hostility their words are met with whenever they try to describe the experience of being harassed, abused, dismissed, and violated. On paper, rape seems black and white — women who are raped are traumatized, they cry, they report the crime, and they are able to retain all the proof necessary for conviction. Otherwise, how can we ever know that they are not lying?
As the millions of women who have shared their stories online have demonstrated, the truth is rarely that simple. As far as K. and the court of social media were concerned, the crowd had won: Women had been warned against a possible predator, and justice had been served. But in another world, where courts gather and examine evidence more minutely, with standards of proof that are difficult to meet, the battle was only beginning. ●