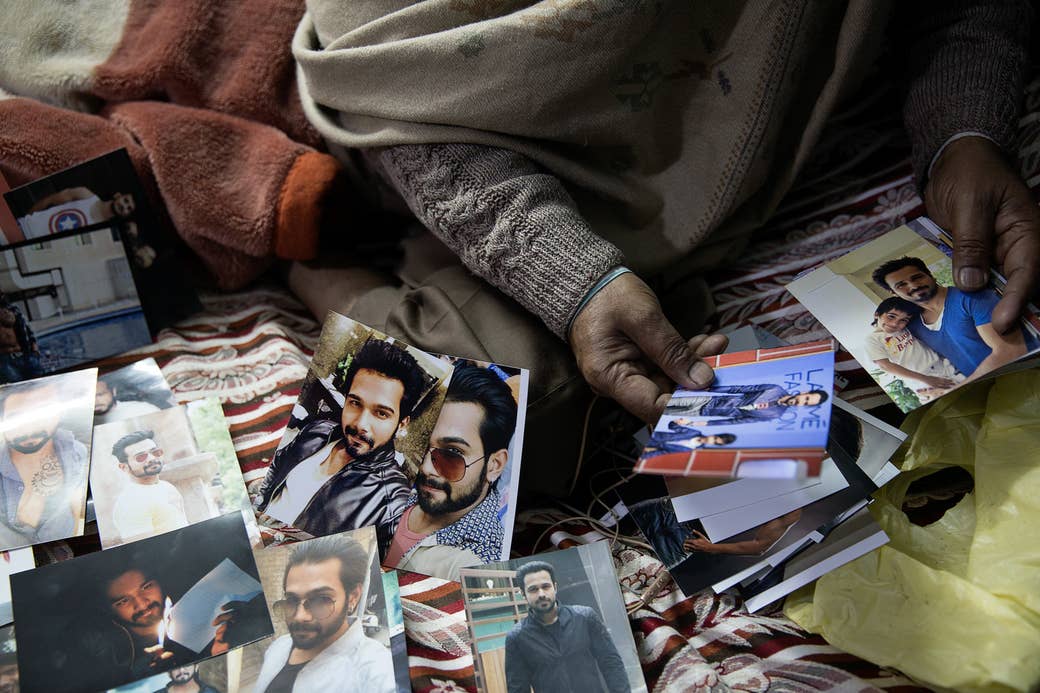 NEW DELHI — On Thursday, Feb. 1, at a busy street corner in West Delhi, Yashpal Saxena watched a man pull his son Ankit's head back, while another cut his throat.

"It took three seconds," Saxena recalled at his home a fortnight later, after the memorial service for Ankit. "In those three seconds, time seemed to slow down, but really … I'm telling you, it only takes three seconds for everything to change forever."
Saxena remembers rushing to his son's side, he and his wife struggling to lift the body of their 23-year-old. Both knew taking him to a hospital was futile — Ankit's blood was everywhere. Fourteen days since his death, the couple are still struggling to understand the course of events that led to that brutal moment: Unknown to Saxena and his wife, Ankit had a lover for the past few years, an old neighbor's daughter, Shehzadi. Ankit was a Kayasth Hindu, and Shehzadi was Muslim — a fact that Saxena told me would not really have mattered had Ankit chosen to confide in him. As things stood, Ankit's parents had begun to look for a suitable match for him once he started earning. For the longest time, Shehzadi's parents had no idea that she was involved with a Hindu boy.
"It only takes three seconds for everything to change forever."
Interfaith and inter-caste couples are common in India, but they have also faced persecution from identity groups that want to keep bloodlines "pure" and view these unions as unholy. Often, the only option for people from different religions or caste groups who fall in love is to elope, cutting off all ties with their own families. Those who defy these kinship norms, particularly when it comes to caste, are often killed by their own families — in what is described as an "honor killing." (According to official statistics, 288 people have been killed in India for inter-caste unions in the last three years.)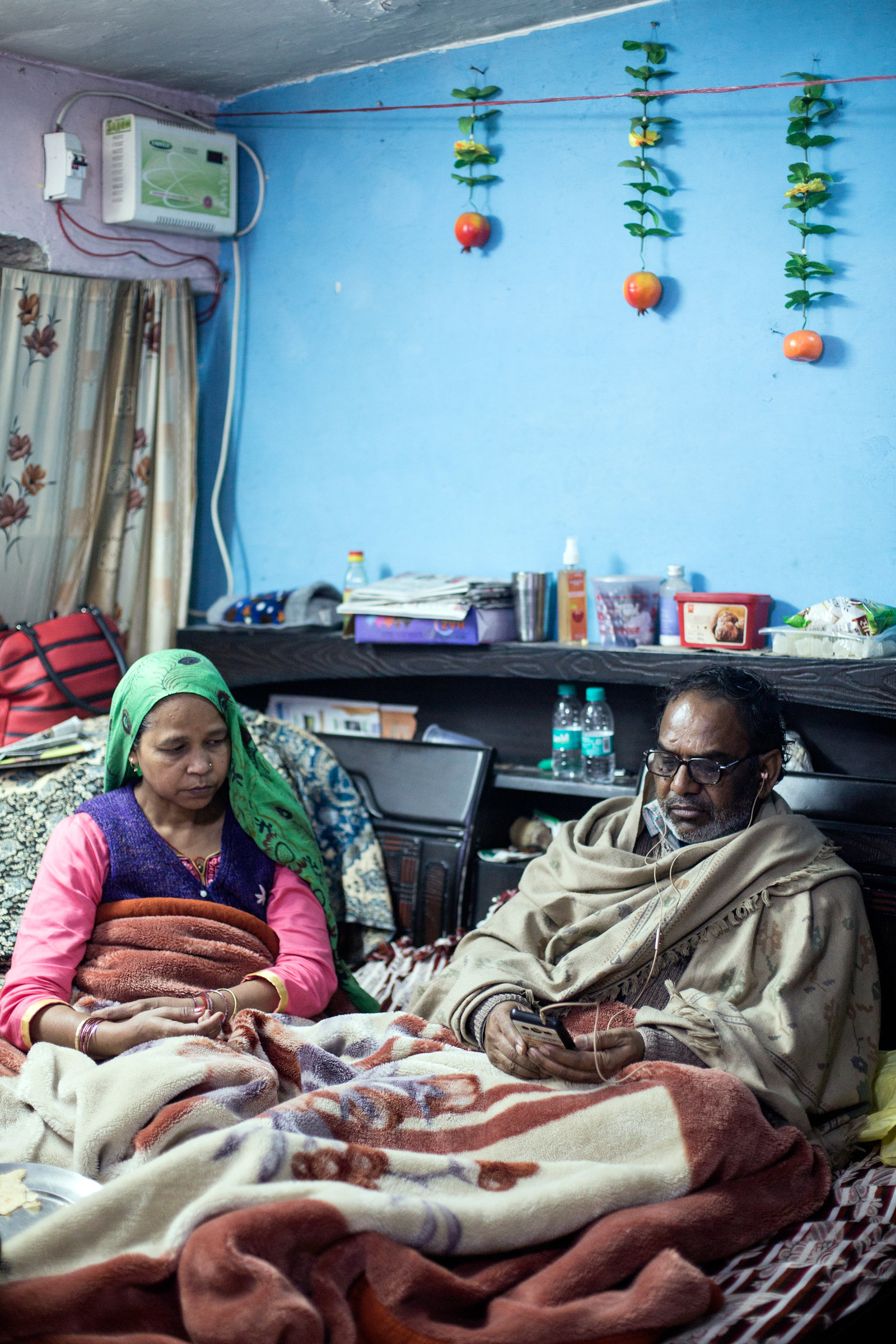 Love between Hindus and Muslims is demonized in another way, too. For years, Hindu fundamentalists in India have railed on about Muslim men carrying out "love jihad" — seducing Hindu women with the ultimate end of converting them, making Muslim babies, and increasing the population of Muslims in India. In January, a fact-checking website in India reported that right-wing Facebook users had published the names of 100 Hindu women married to Muslim men, asking young Hindu men — described as "Hindu lions" — to hunt those Muslim men and teach them a lesson.
Were Shehzadi's parents afraid that Ankit was waging religious war through their daughter? There are multiple accounts of what happened at Shehzadi's home the night before Ankit was killed by her father, uncle, and brother. Some neighbors have claimed that there was a huge screaming match at home when her parents discovered her relationship. Others say the family had already learned of the relationship from elsewhere, and though Shehzadi lied to them to keep things calm, she was planning to elope with Ankit on the day he was killed. But her parents intercepted a text message about their plans, and decided to end the love story once and for all.
After the fatal blow struck Ankit, the crowd at the street corner finally began to react. Someone dialed for an ambulance, someone else called the police. People helped Ankit's parents load their son's body onto a rickshaw. Shehzadi's father, uncle, and younger brother were taken into police custody, along with her mother. A day later, her youngest sister was sent to relatives in Uttar Pradesh.
Ankit's murder made national, then international headlines within days. Some contours of the crime were familiar, but in a sign of the times, the aspect of Ankit's death that has been most talked about in the past two weeks is not the brutality with which he was killed, which in modern India is fast becoming commonplace. It is Saxena's steadfast refusal to see his son's murder as another score to settle on the long list of Hindu–Muslim conflicts.
"Are people really surprised that I'm not calling for war on Muslims?" Saxena asked, once he had returned home from Ankit's memorial service. Thirteen days had passed since Ankit was murdered. "But that won't bring my son back, will it? I do want to raise an army — an army of lovers. Young men like Ankit, who are so full of love that even those who wish them harm are confused."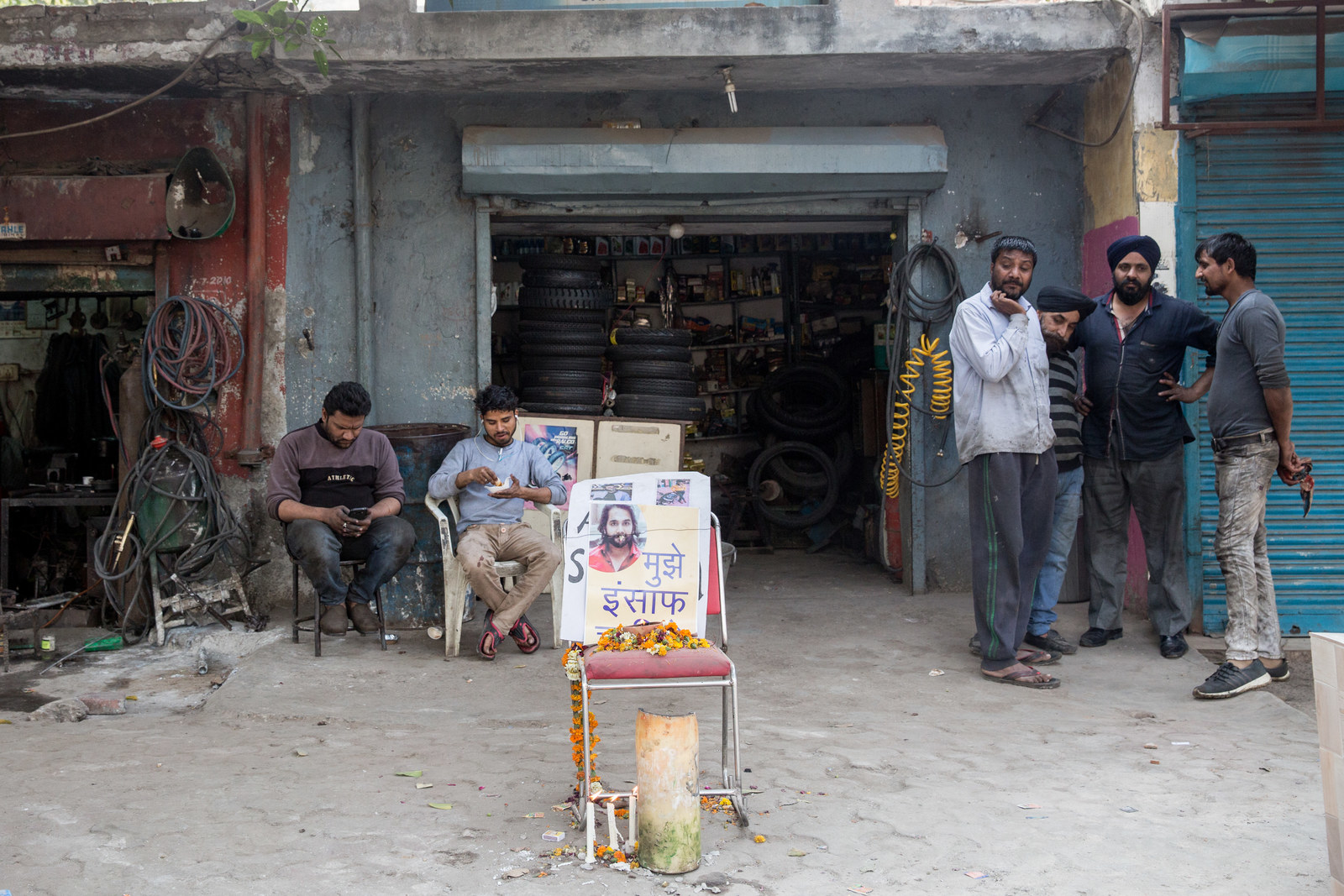 West Delhi's Raghubir Nagar is a crowded cluster of one-room flats (also known as Janta flats) stacked close together in tight, narrow lanes. Over the years, the neighborhood has become home to low-income groups from various communities — Hindus, Muslims, Christians, and Sikhs live together in extremely close quarters. It might be that such proximity allows little room for prejudice, but until the recent murder, life in Raghubir Nagar's lanes was "secular."

After the memorial service, below the tiny one-bedroom apartment that Ankit had shared with his parents, a gang of young men who called themselves the Awaara Boys — or wandering boys — were setting up beds on the street, where they have spent every night since Ankit's death. The men, aged between 18 to 24, were Ankit's closest friends and confidants. Several grew up on the same lane as him, others lived a few houses away — each of them drawn together by what they described as Ankit's incredible charisma.
"I do want to raise an army — an army of lovers."
"He was a magnet," Mazhar, the youngest of the group and Ankit's immediate neighbor, said with a shy smile, breaking into English to call his friend a "special person." "We would wait for him to come home every day, because that's when the fun began. He would bring out a guitar, sing a song, tease my mother or demand food. As soon as he parked his bike, even the dogs would come running — he had names for each one of them."

Ankit's father, who once ran an electronics store, realized early on that his son was not cut out for a nine-to-five job. Since his teens, Ankit had been obsessed with filming everyday life in bustling Raghubir Nagar, and as he grew older, he saved money from a series of odd jobs to buy himself a decent DSLR camera. Soon Ankit was earning 10,000–40,000 rupees ($155–$623) doing freelance wedding photography, depending on the number of gigs he got each month. He was the only one of his friends who didn't have a steady job; the others work as cashiers, at car dealerships and mobile and electronics hardware stores in West Delhi's many malls. But after work, Ankit was great at devising new ways for them to have fun.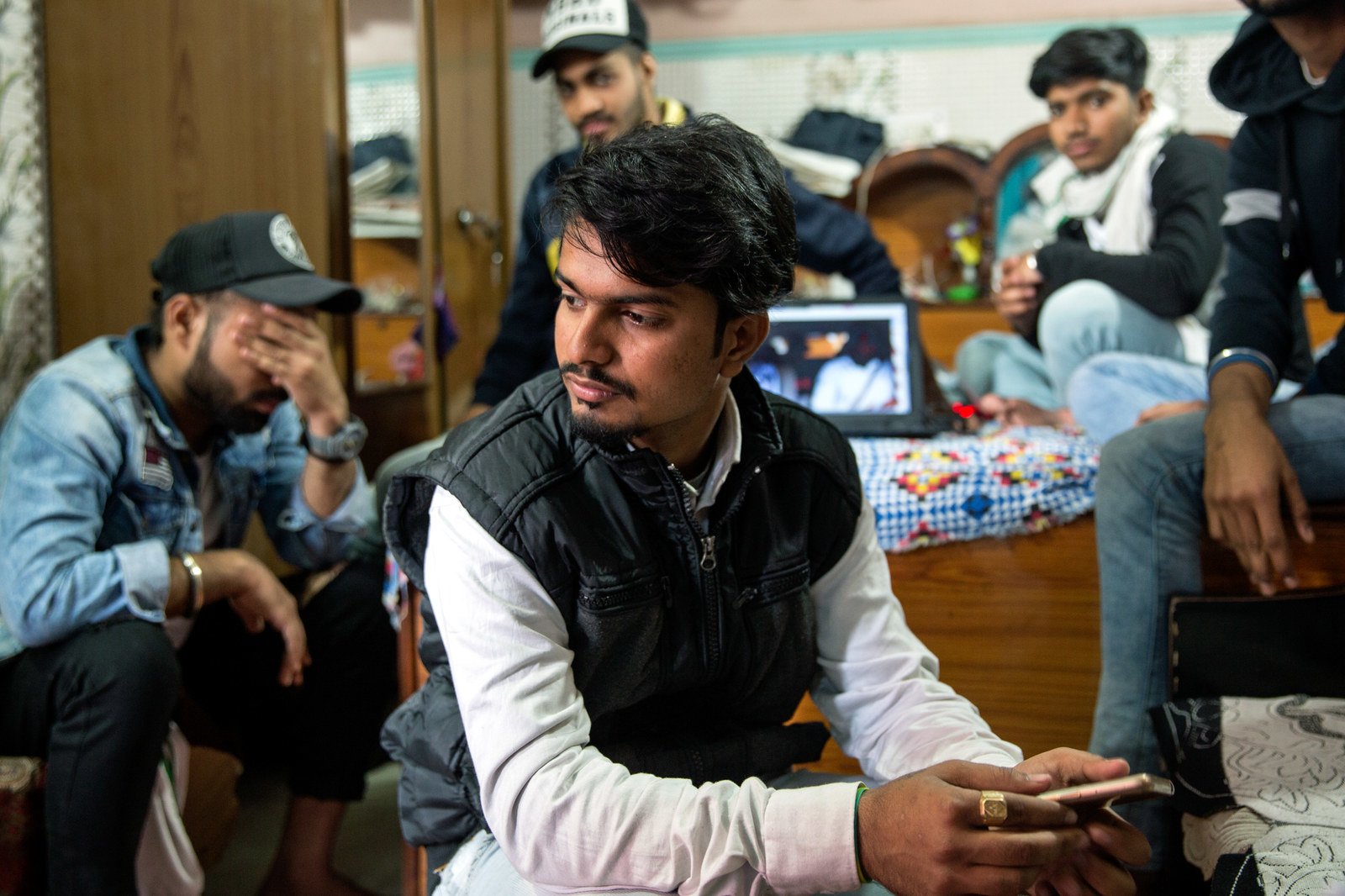 In August last year, the Awaara Boys uploaded their first YouTube video — a four-minute spoof of a son taking his father out for a drive. Before January, it had received scarcely 3,000 views. As Ankit's death began to make headlines, the number of views on the YouTube video passed 90,000.
Two weeks after Ankit's murder, his friends huddled around a laptop watching the outtakes from that first video, shot in a car. On screen, Ankit and two of his friends cracked up at his portrayal of a bearded, mustachioed nagging father, chastising his son for ogling at women while driving. His friends pitched in with occasional creative suggestions, but it was clear that Ankit was the driving force behind the film — the director, writer, lead actor, and editor of the Awaara Boys. His friends appeared to be confronting what they had lost for the first time since the frenzy that followed Ankit's death. As the outtakes ended, a silence fell over the room.
"Ankit bhaiya taught us how to celebrate life," Aman, a 19-year-old who worked at the McDonald's in Tilak Nagar, a neighborhood near Raghubir Nagar, finally said. (Bhaiya is a term used to describe an older male in North India, usually a brother). "He would dress up for every festival, take us to temples, mosques, gurdwaras [Sikh places of worship], churches. On New Year's Eve, when most of us were ready to go to bed, he began to play old Hindi film songs downstairs. Our parents went down to shout at him, but somehow, he had managed to make them all dance."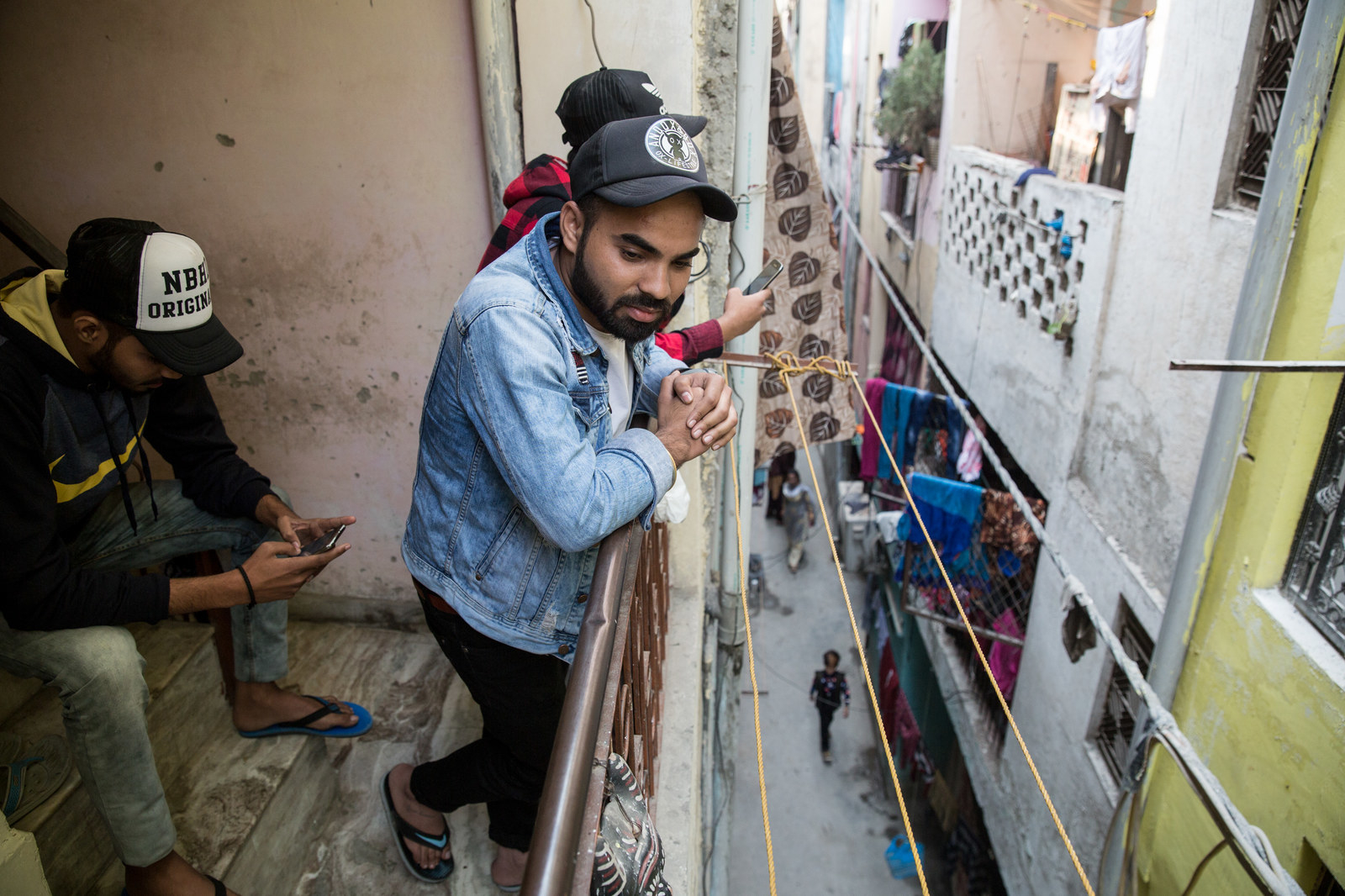 Private moments and romance were next to impossible in the bylanes of Raghubir Nagar, where Ankit and the Awaara Boys lived, thanks to what they called "the Aunty CCTV Network" — a network of watchful older women ready to pounce on them at the first sign of trouble — but the boys had found other means for courtship.

The wandering boys all lived with their parents in cramped quarters, two-story houses stacked up against one another in a narrow lane. "We'd take our dates to the restaurants and cafes in Tilak Nagar, Rajouri Garden, far away from the aunties," one of them said with a laugh, "and act as lookouts for each other if one of us was spending time with a girl in the neighborhood."
"Ankit taught us how to celebrate life."
Up until three years ago, Ankit and Shehzadi had been neighbors. Her family moved a few lanes away, across the park from where Ankit and his friends shot their YouTube videos, dancing and playing the fool for the camera. The Awaara Boys were uncertain about when exactly Ankit and Shehzadi fell in love, because they were almost never seen together. But older members of the group, who were closer to Ankit in age, said they knew of the relationship and that the two had made a beautiful pair — Ankit with his sharply styled hair and Bollywood physique and Shehzadi with her delicate features and a resemblance to Ankit's favorite film heroine, Shraddha Kapoor.

Since his death, while Ankit's friends mourn publicly, the women in his life are confined mainly to their homes, or quick moments of private grief when they pass one another in the narrow lanes of Raghubir Nagar. As in most parts of Delhi and North India, women do not loiter outdoors the way men do.
Ankit's mother, who was present on the street corner when he was attacked by Shehzadi's family, is shell-shocked, always silent. His neighbor, Mazhar's mother Zeba Khan, keeps herself busy feeding visitors, never allowing herself a moment of reflection to acknowledge the loss of Ankit.
Between pouring out glasses of Coca-Cola and Sprite for visitors, she did, however, briefly recall his death: "I shook his arm as he was lying on the street; I thought he would just open his eyes and start laughing. A prank, like always…" Khan's pain is particularly sharp because she loved Ankit like a mother — but she is also Muslim, like Shehzadi and her family. "The people who killed him are not real Muslims," she said, raising her voice. "Please write that in your story. They should burn in hell."
As the Awaara Boys watched more outtakes, sadness mixed with laughter, Khan's daughter, 18-year-old Lovely, showed me her favourite video of Ankit. "All my friends at the tuition center I go to love Ankit bhaiya because of this. Everyone was crazy for him; they've been calling me non-stop." In the video, Ankit smiles shyly into a mirror, lip-synching perfectly to a Bollywood song about meeting his lover's glance for the first time.
Where is Shehzadi? The Awaara Boys don't know. "I hope she's fine, but we have more important things to worry about," said Sukhmeet, 24, the eldest of the group. "Uncle and aunty [Ankit's parents] don't have any other children. We have to make sure the government gives them enough compensation to take care of them for the rest of their lives."

Shehzadi was last seen in a video circulating online, in which a reporter from an undisclosed news channel (or perhaps just a voyeur with a camera) found her looking for Ankit.
"Where are you going," a male voice asks. "What has happened?"
"I didn't see what happened," she says looking into the camera, "but everyone is saying my parents killed Ankit."
The voice demands, "Who was Ankit? Who was he to you?"
Shehzadi replies, "He was… We were going to get married."
Everyone in Raghubir Nagar has seen the video, but no one knows who made it, or where she's vanished to since, while her family is in hiding, fearful of reprisal. Newspaper reports have suggested that she's at a "women's shelter" somewhere, but multiple calls to government-run shelters in New Delhi yielded no further information. The last of her relatives in Raghubir Nagar have locked their homes, drawn the shutters down on their shops, and returned to Uttar Pradesh, fearing reprisal from angry Hindu mobs.
"Ankit always said he was going to be a star He was right. Every person in India will know his name now."
Ankit's parents are in their seventies — he has four stents in his heart and she suffers from breathing and gynecological problems. Outside their home is an endless stream of journalists armed with cameras, politicians with folded hands, and men from right-wing groups, dressed in saffron and promising weapons and manpower; should the Saxenas decide that they want vengeance for their son's death, everyone is primed for action. But Ankit's Awaara Boys, the army of lovers Saxena wants to raise, are on a mission to keep the peace. "Ankit ... always said he was going to be a star," Aman said. "He was right. Every person in India will know his name now."