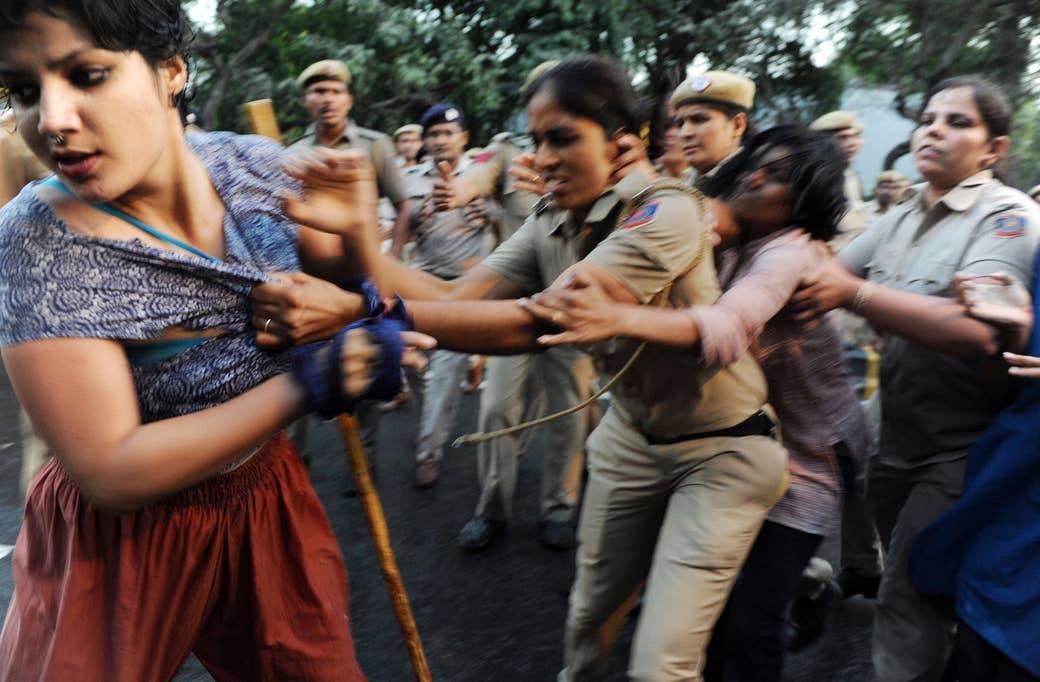 NEW DELHI — "Tear off her clothes!" the policewoman shouted as several pairs of hands ripped at Sheena Thakur's blue-and-white cotton shirt. Another officer yanked her bra, and Thakur went into shock as she tried to shield her body from being grabbed, punched, and groped.
Around her, students, professors, and journalists were drenched with dirty water from a police water cannon, before a group of male and female officers rained down blows with fists and truncheons.
"It was pure madness," Thakur, 24, recounted later, of the events of March 23 when a group of more than 2,000 people had gathered to protest against sexual harassment. "There was a policeman in the crowd who was in such a frenzy beating up kids that he had taken his own shirt off. … His eyes were blazing red. I couldn't smell any alcohol on him but I think he was just high off the fear and anger in the crowd." Pictures and the videos of the protest were soon doing the rounds on social media and on TV news.
Five days after she was assaulted by members of the Delhi police, Thakur and her friends — all students at New Delhi's Jawaharlal Nehru University — stood waiting outside a lawyer's office in the Supreme Court. In a bizarre turn of events, Thakur was not there to follow up on a complaint against the police. The police had filed a complaint against her, for assault, "outraging the modesty of a woman," and "rioting while armed with a deadly weapon."
In the corridor outside the lawyer's office, the mood was somber — the students were worried that Thakur could be arrested at any moment. Most of them had been unable to study for the past five days because of the physical and mental trauma of being beaten by the police, and now due to the possibility of jail. One of Thakur's friends had a dislocated shoulder, another had a busted eye, a third had allegedly been groped by police officers.
Amid all this, Thakur had unwittingly become the face of the police violence, because she'd been photographed trying to get away as female officers tore at her clothes. Shortly after she posted the picture on Facebook, the image was shared more than 25,000 times.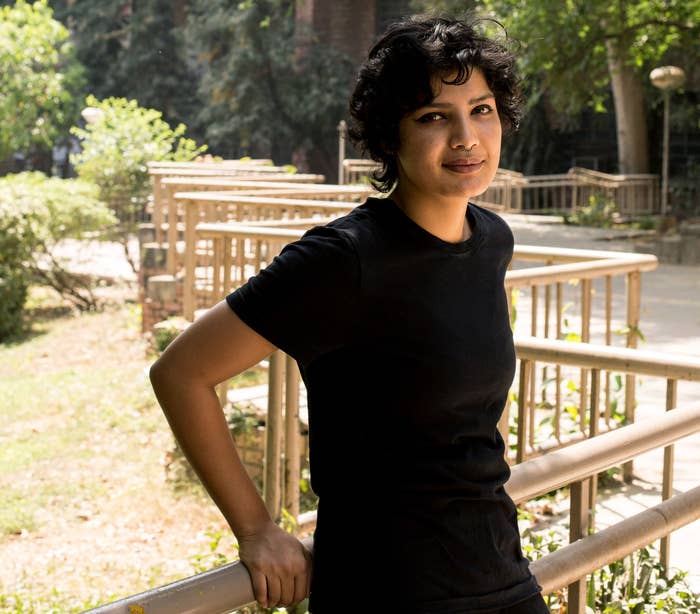 The protest — known as the Long March — had begun like any other.
Thakur and a group of students and faculty members had gathered to march from the campus of JNU to the Parliament in Raisina Road. They were there because of the way recent allegations of sexual harassment had been handled at their college. Eight different women had filed official complaints about a professor, but the university administration and the police appeared unconcerned with taking any action. The professor had been arrested but he was granted bail less than 90 minutes later. Shortly after, members of the faculty allegedly began pressuring the women to withdraw their complaints.
A sociology student, Thakur had attended several marches over the years. She was familiar with way the police treated protesters — how aggressively they behaved depended on the caste and class profile of the protesters, and whether they had received orders "from the top" to break up the protest.

When the protesters were college students, there was a fairly well-established protocol in New Delhi: People would march through the streets chanting slogans, singing songs, and occasionally, dancing. Organizers would seek permission from the police for a few days in advance (as they had on March 23), and a group of uniformed officers would walk alongside the crowd, smirking to one another, recording them on their phones.
The police would typically only intervene on the rare occasion that crowds became aggressive, or when the officers simply wanted to call it a night.
That day, however, was different.
"They diverted us off the route very clearly, into a barricaded lane in South Delhi," said Nupur Asher, a 28-year-old post-graduate student, who had accompanied Thakur on the march. "The officers were already prepared with water cannons, but instead of dispersing the crowd, they began attacking us with all their might."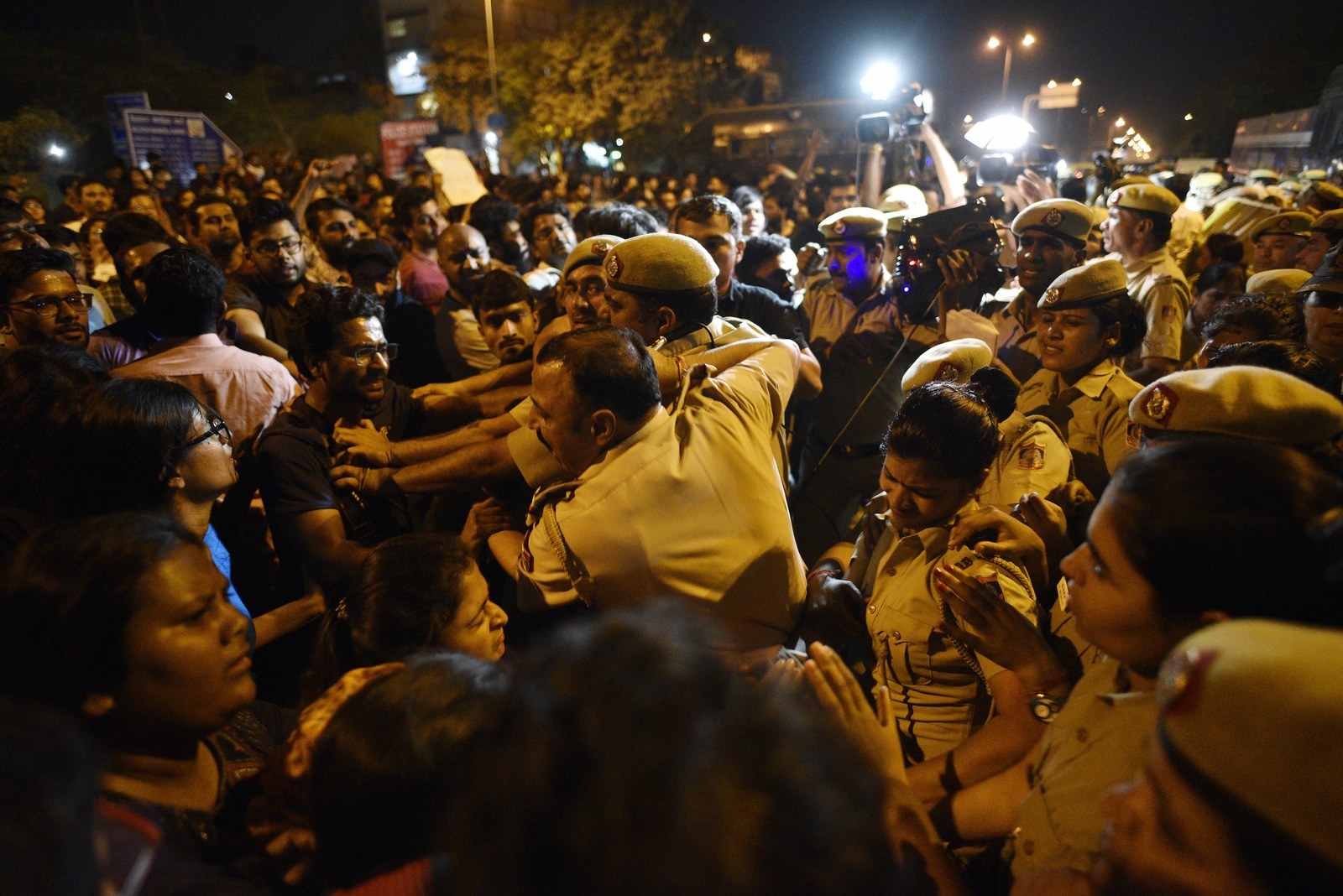 This is a bad time to be a student from JNU.
Thakur comes from a village in Himachal Pradesh, a quiet mountainous region in the north of India. She enrolled at the university in 2015, finding herself alongside students from across the country in a place that encourages robust political engagement and debate. But it is becoming increasingly difficult for students like her to protest on or off campus.
In the past few years, public resentment against the university has been growing, spurred by India's right wing. Some of this is political: In February 2016, following a campus demonstration against capital punishment, a group of JNU students was arrested for shouting "anti-India" slogans, and the student body was dubbed "anti-national" by the right-wing on Twitter in India. In July 2016, the newly appointed vice-chancellor of JNU suggested installing an army tank on campus premises to instill patriotism in the student body. A member of India's ruling party told the press that JNU was a den of vice. According to his "research," he said, "daily 50,000 pieces of bones, 3,000 used condoms, 500 used abortion injections, 10,000 cigarette 'pieces,' among other things, are found at JNU, where girls and boys dance naked in cultural programs."
In recent years, the vilification of JNU students has been such that students from the university are referred to online as the "tukde tukde gang," or those who want to break India into a million pieces.
None of this matters to Thakur and her friends. As they waited for the lawyer to show up, Thakur said her parents were worried about her, but they supported her because they knew she hadn't done anything wrong — she'd only gone to a protest against sexual harassment.
"Once you have a job and career, you have too much at stake to protest against what's wrong with the world," Thakur said. "When you're a student in university, that's when you evolve as a politically conscious being. Why don't people get that?"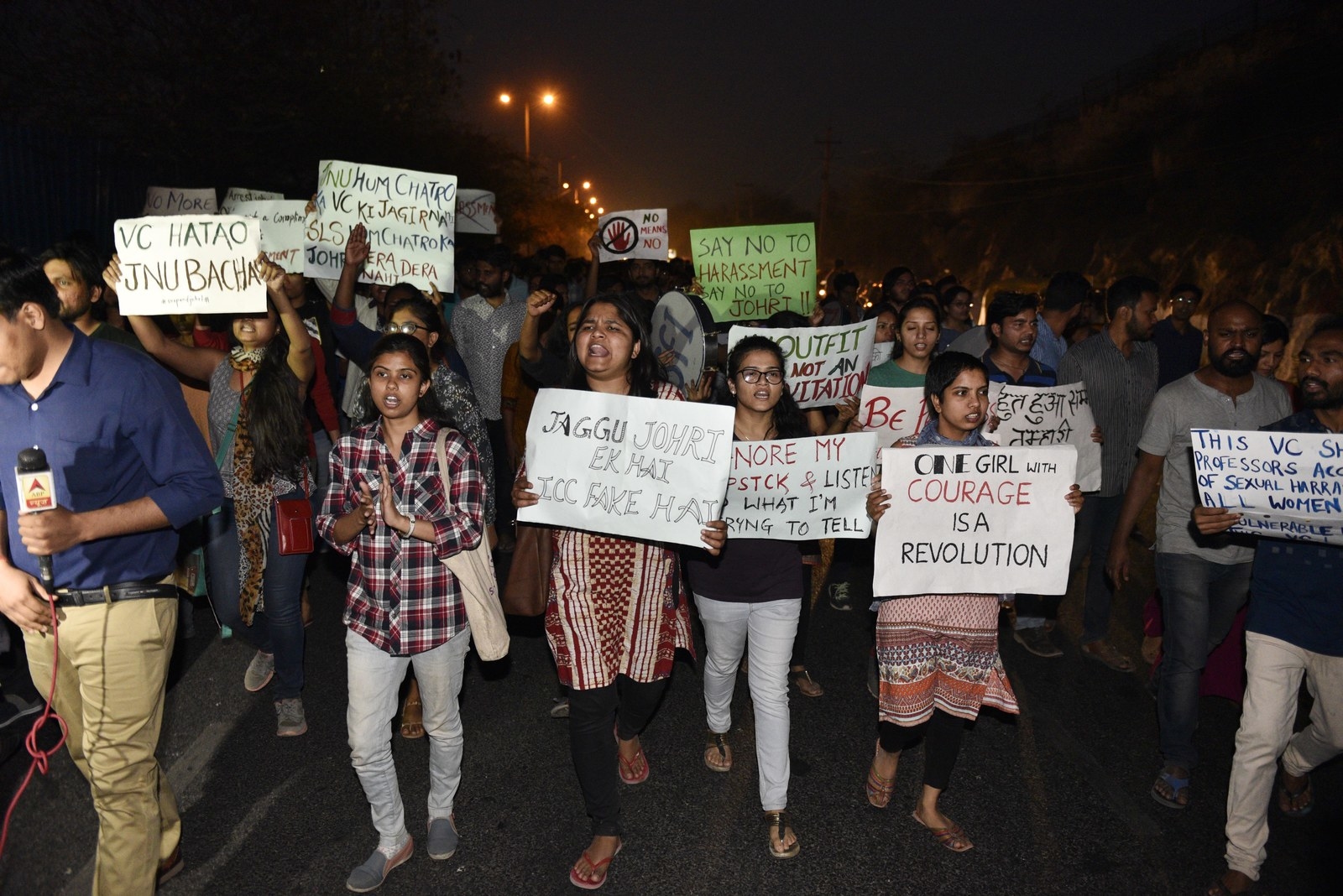 After the police officers were done beating up students, they bundled them into a police van and took them to a detention center in South Delhi, where the men and women were separated, Thakur and her friends told BuzzFeed News. Each group was given clothes to wear and made to write down their names and contact details.

The students had their phones taken away — but Asher and the others had already shared photographs and videos of the assault, as well as their locations with friends.

"They gave us new shirts so we could not prove they had torn our clothes," said one of the students.
Policewomen told Thakur and her female friends that they were going to separate them into pairs, and began to lead them back into the police van. No one would say where they were being taken. Afraid of what would happen if they were split up, Thakur, Asher, and the other female students refused to be separated. At this point, a female officer grabbed Asher by the hair and threw her out of the van, she said.
"Separating us from the girls had created a kind of fear psychosis for each of us," said Arun Patel, a male student of linguistics who was with the group. "We didn't know what they were doing to them, we'd already seen what they did to Sheena, so obviously that was making us very anxious."

At the station at least, the men had it worse — for some reason, the police officers decided to assault them again, taking pictures as they did so, said Patel. "They grabbed us by the face, pulled at our beards, pushed us against the wall, and wanted to take pictures of us in this weird, humiliated state," he added. "We refused to stand for those photos at first, but when we heard the girls screaming somewhere outside, we were scared."
After a few hours, the students were taken to the trauma center at the All India Institute of Medical Sciences, for a medical assessment of their injuries. Thakur had been living off adrenaline for several hours, but alone with a male nurse in the exam room, she said she felt truly terrified for the first time.
"He would say 'lift this arm, turn this way, show me your stomach.' He covered my belly with this gel and conducted an ultrasound and I kept thinking, this is what happens to women that have been sexually assaulted," she said, blinking back tears. "This is where they come to have the evidence on their bodies collected. I felt completely vulnerable and totally alone."

The certificates issued to the group from the hospital claimed the students had been brought to the trauma center by "relatives" — even though Thakur's only relatives live in Himachal Pradesh, 18 hours away from New Delhi by road — and that they had been slapped, but bore no other injuries.

"It was such a sick joke," Asher said.
Exhausted, the group returned to campus at 1:30 a.m. on March 24. By this time, news of their ordeal had spread through JNU and students surrounded Thakur, offering support and solidarity. "It's all right, man, we're going to fight the state," she assured her friends before she went to bed. "I didn't feel defeated, at least not then." Three days later, Thakur's name would appear in the police report, demanding her arrest.


After she woke up, Thakur called a lawyer. Although the police had removed their badges — as is often the case during protests — "I can identify them," she told the lawyer. "Plus, I have photographs and video evidence. They can't just get away with doing this."

"Are you out of your mind?" Thakur said the lawyer asked her. "If you fight the police, they will fight back much harder than you can even imagine. You might never get a job again — anything could happen. Just lay low for a few days and hope this blows over."
In an interview with BuzzFeed News on March 27, Thakur said she had tried to reach out to other students who had been assaulted, and to her faculty, for support. One by one, everyone who had initially promised solidarity stopped answering her calls.
"They would keep texting me things like 'I'm with you in spirit,'" she said with a wry smile, sipping orange juice at the Supreme Court's cafeteria. "But I don't need spirits! I need someone to talk me through this, I need a hug, I need advice."
The sense of betrayal was demoralizing. "It was finally sinking in … this is what it means to take on the system. That's when something broke inside me."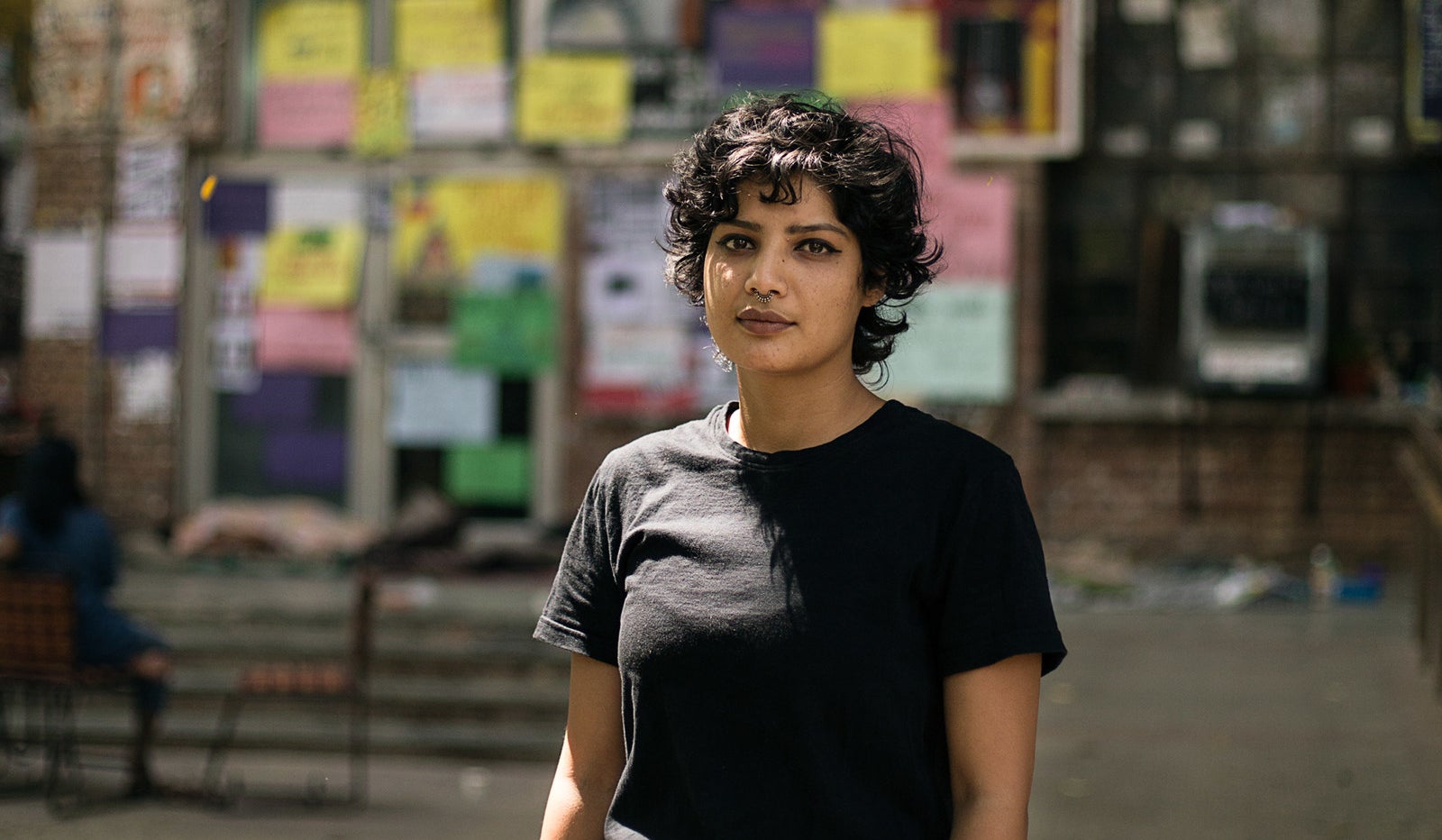 It wasn't just students who got attacked at the protest on March 23. The police also beat up journalists covering the event, sexually assaulted female reporters, and took away their equipment.

The following day, journalists in the capital went on strike against the police. A reporter from the Indian Express filed a police complaint against an officer for molesting her, pushing her up against a wall, and continuing to harass her even when she identified herself as a journalist.
Attempting some quick damage control, Delhi Police District Commissioner and spokesperson, Madhur Verma, told reporters that these attacks had been the unfortunate result of police officers mistaking journalists for students.
"Our deepest apologies to the media. Our intention wasn't to obstruct the media from doing its job … Delhi Police and I personally have always maintained that the media is an integral part of our democracy," he said.
This did not go down well with the students. "What the fuck is this supposed to mean?" asked Sunny Dhiman, a friend of Thakur's. "That it's all right for the police to molest and grope and assault women, as long as they're students?"
To counter the charges against them, the police drew up a list of students at the protest, including Thakur and her friends. On March 26, the Delhi Police filed a complaint of its own — alleging that Thakur and 25 others had assaulted officers, outraged the modesty of women present at the protest, and rioted "with deadly weapons."
"What a time to be alive," Thakur said with a sigh, as she left the Supreme Court. She was fiddling with a keychain on which she'd painted a picture of a cactus that offered free hugs — which she called a "cactivist." "If I go to jail, just make sure you get me out by the time summer vacations begin," she told her friend.