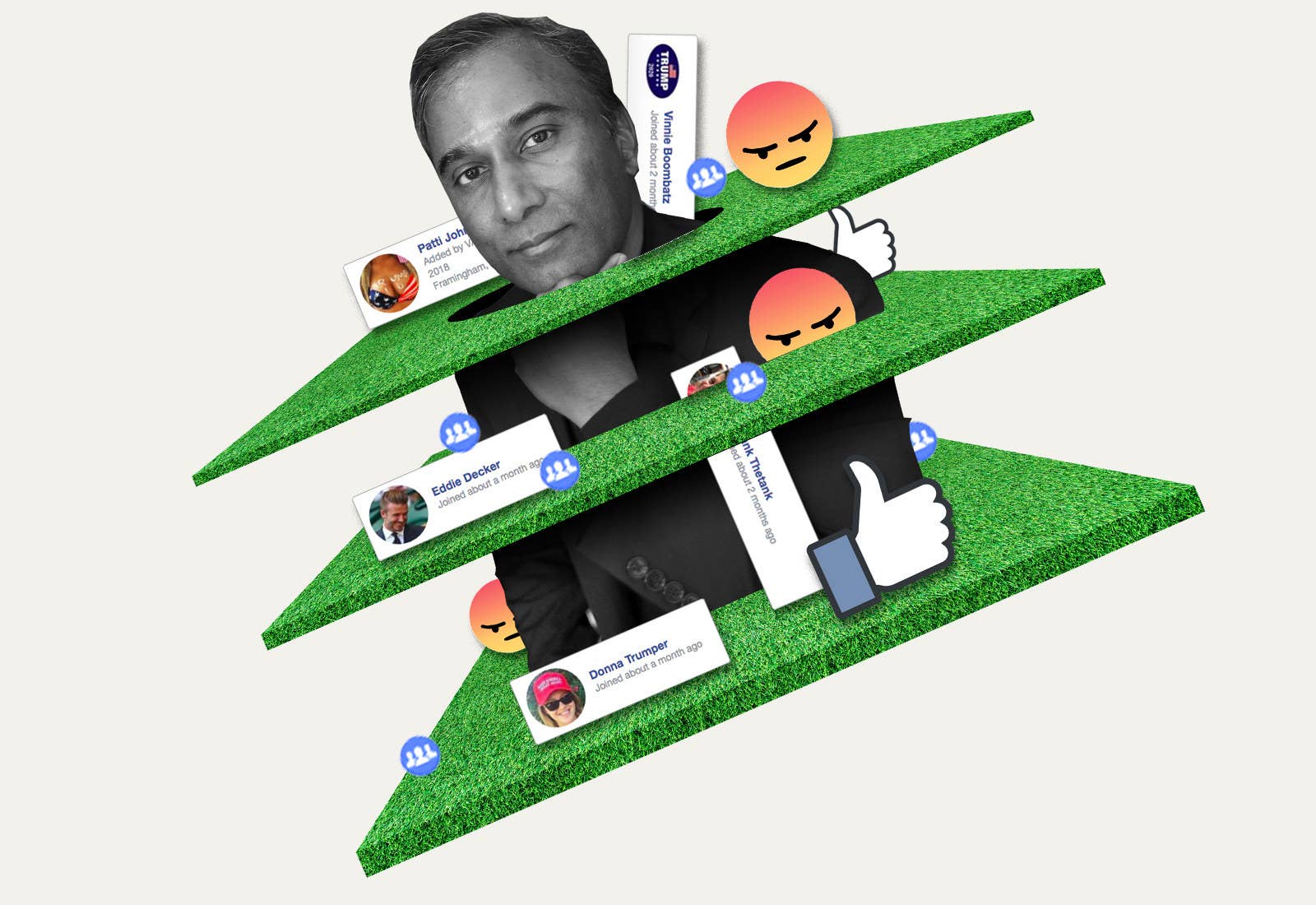 Patti Johnson is a die-hard Trump supporter. Her Facebook profile photo shows her in an American flag bikini with "Trump 16" handwritten written across her chest in a white gel.
Since the summer, she's also been working hard to promote the candidacy of V.A. Shiva Ayyadurai, a wealthy entrepreneur running as an independent to unseat Massachusetts Democratic Sen. Elizabeth Warren this November. He's a distant third in the polls, but Ayyadurai has managed to attract attention for his slogan, "Only a REAL Indian can defeat the Fake Indian," a dig at Warren's claim to Native American heritage. He previously gained notoriety for a claim that he invented email, which is disputed by internet historians, and was known for being married to actor Fran Drescher. (They split in 2016.)
Johnson certainly felt he was worth fighting for; she was one of the "Top Fans" for Ayyadurai's Facebook page. On Aug. 17, she shared a video to at least 10 different Facebook pages and groups showing Ayyadurai supporters protesting outside of Warren's Cambridge home. In her posts she turned the pro-Warren mantra "Nevertheless, she persisted" on its head, writing instead, "nevertheless WE persisted #Shiva4Senate #MAGA #KAG."
But three weeks ago, after inquiries from BuzzFeed News, Facebook deleted the Johnson account along with at least three other fake profiles that appear to have been part of a coordinated astroturfing campaign to benefit Ayyadurai. Facebook also removed three profiles and a page belonging to a key Ayyadurai campaign volunteer, Frank Licata.
A Facebook spokesperson told BuzzFeed News the company "disabled several accounts and Pages for violating our policies against fake accounts, spam, and misrepresentation."
Though this instance of false amplification was small-scale compared to the millions of impressions generated by Russian trolls during and after the 2016 election, it demonstrates the ongoing presence of astroturfing and fake accounts in US politics.
The fake profiles were created in June and July and appear to have been dedicated solely to pushing positive messages about Ayyadurai, attacking his opponents, or engaging in flame wars with people on Facebook who don't support him. The four fake accounts alone were responsible for hundreds of posts and comments over the summer before being shut down. They often shared the same content at the same time as the Licata profiles and page, though there is no direct evidence that Licata was behind them.
Ayyadurai's campaign relies exclusively on volunteer labor, and Licata is one of his most active volunteers. He was personally thanked in a June 25 campaign email. BuzzFeed News asked Ayyadurai about the fake accounts and the removed pages at a recent campaign event. He said he knew nothing about them and asked, "Really, who are they?" He said he only manages his Twitter account and declined to say who runs his verified Facebook page with over 40,000 followers. After more questions about the removed accounts, he ended the interview.
"We're going to end this interview right now because you're doing an insane and inane interview," he said. "I'm a serious political candidate."
Ayyadurai added, "You're doing a racist interview right now because you're a racist. You are. You're reducing a guy who busted his ass, came from India with nothing, to nonsense. And you came here to do a hit piece and you should go out."
He did not respond to follow-up requests for comment by phone and email.
When asked about the fake accounts and the simultaneous removal of his profiles and page, Licata said in an email, "I don't know about that, but what I do know is that I love patriotic American revolutionaries like our great President Trump and Dr. Shiva Ayyadurai, the next US Senator from MA!"
Along with the four fake profiles, Facebook removed a group called "Geoff Diehl Betrayed Trump," which targeted the GOP nominee. (Ayyadurai originally intended to earn the GOP nomination but later gathered the 10,000 signatures necessary to appear on the ballot as an independent.) That Facebook group has seen people share misleading claims about Diehl being a "Fake Trumper." One alleged that Diehl did not serve as the Massachusetts for Trump campaign chair as he claims, and that he faked a photo of him shaking then-candidate Trump's hand. Neither is true.
Also removed was a page with 9,000 fans where the fake accounts often posted comments. According to the page's history, since being created on May 19, 2016, it changed its name and focus several times, a favorite tactic of disinformation purveyors. The page name changed from "Veterans Against Draft Dodger Donald Trump" to "Women Against Rape, Sexual Assault, and Hillary Clinton" to "Bill Clinton's Sexual Assault Evidence Collection Kit" to its final incarnation, "Americans Against Elizabeth Warren."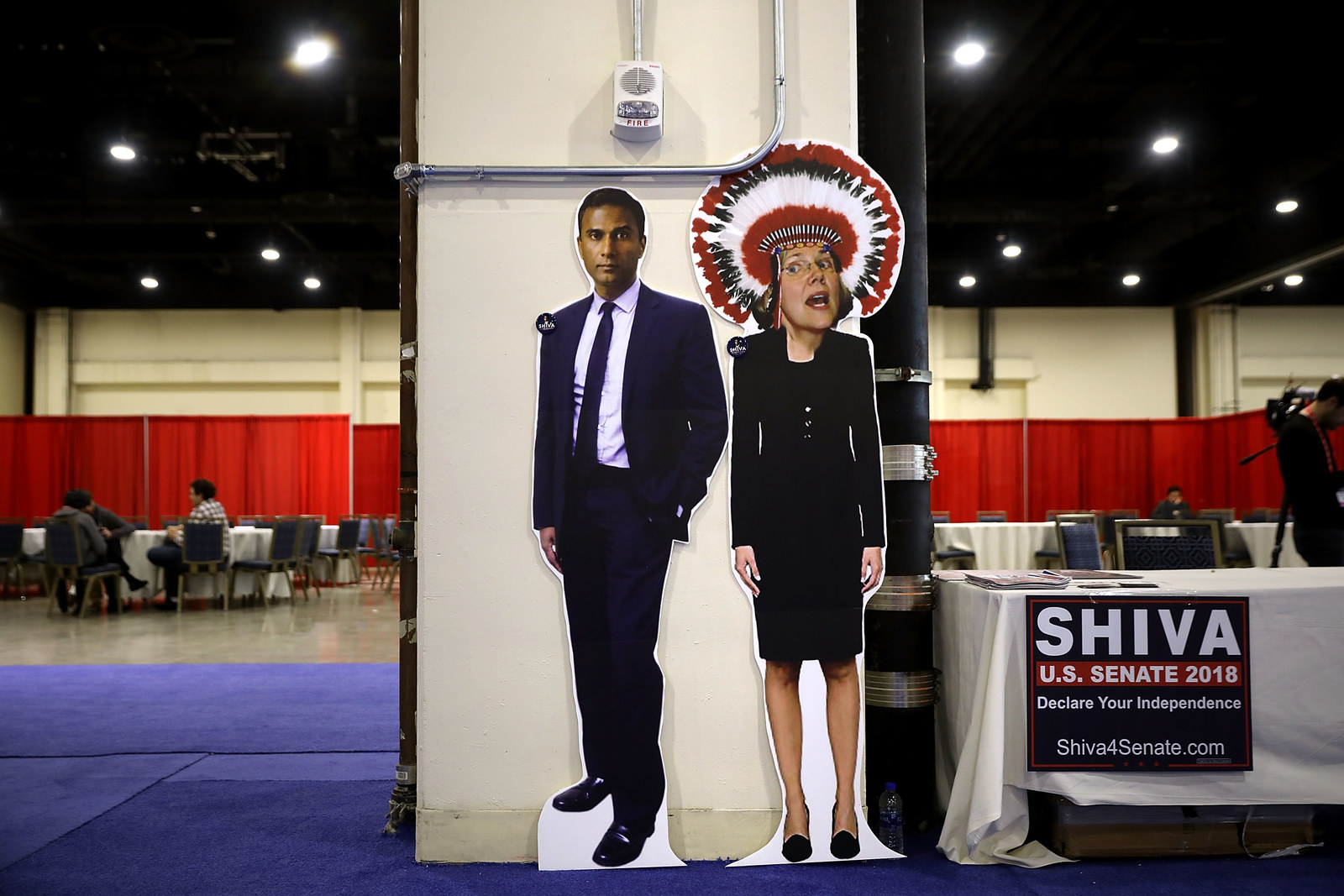 The oldest fake account appears to have been one using the name "Vinnie Boombatz," which is the name of a character in a Rodney Dangerfield sketch. His profile picture was uploaded on June 18, suggesting this was when the account was created. The other fake accounts — Donna Trumper, Patti Johnson, and Eddie Decker — appear to have been created between July 8 and 12. That's when they began their astroturfing operation in earnest. All four accounts had profile pictures that were taken from elsewhere on the internet, as evidenced by a reverse Google Images search. In pro-Trump, anti-Warren Facebook pages and groups, the fake accounts posted similar if not identical messages across the platform to create the impression of grassroots support for their candidate.
In many cases, they were added to Facebook groups by one another or by Ayyadurai's Facebook page. Licata, the campaign's key social media volunteer, also personally added Vinnie Boombatz to a group on June 30, and later added the three other sock puppets. The fake accounts went on to become administrators of some groups, lording over their internet fiefdoms and ridiculing anyone who disagreed with them. They often posted in quick succession, giving the impression that whoever controlled the accounts was logging out of one and into another.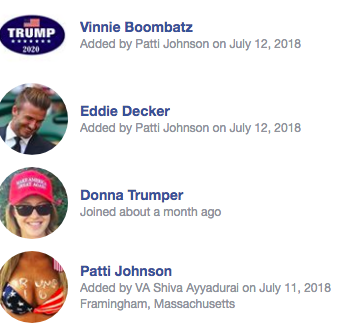 For example, on Aug. 25, after the Mollie Tibbetts murder made headlines, the four fake accounts, as well as three accounts and one page created in Licata's name, sprung into action at the same time. They all shared a photo of Massachusetts Gov. Charlie Baker and Warren, with many making the same comment: "The brutal denial of the value of #MollieTibbetts life by U.S. Senator Liz Warren reflects her being accustomed to the lack of any real opposition to her nonsense by the massGOP, who are actually her friends. This pic of #NeverTrumper Republican Gov. Charlie Baker and the #FakeIndian explains it all!"
The four accounts shared the photo 25 times between 9:44 a.m. and 10:06 a.m. to groups and pages such as "Trump Rocks!," "New England for Trump," and "Citizens to Defeat Senator Elizabeth Warren." Licata's personal profiles and his public page shared the post five times. All were later removed by Facebook.
Sometimes the fake accounts would gang up on those who opposed Ayyadurai. When a user named Paul wrote, "I would never vote for Warren. This guy is just as fake," they piled on with Licata's accounts in tow.
In a long thread of attacks, Patti Johnson wrote, "Paul is a DOPE!" Vinnie Boombatz responded, "Pussy Paul likes to talk about other peoples candidates but not his own." Donna Trumper agreed: "Ayup, Vinnie, apparently Paul is a RepubliCrat establishment tool just like Liz+Charlie's puppet Dirty Diehl."
Paul eventually caught on, writing, "Donna Trumper is fake like both Indians running. It's crazy to think you guys are more fake than Liz and call her out for being fake."