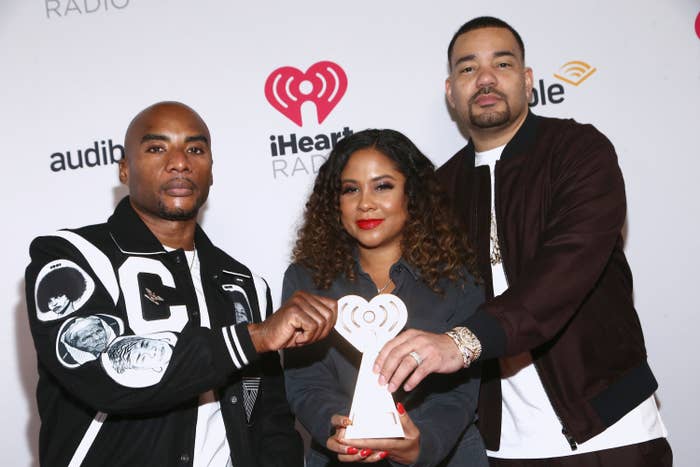 On Monday afternoon, a little more than a week after Charlamagne tha God interviewed Joe Biden and prompted the former vice president's "You ain't black" gaffe, the hosts of The Breakfast Club announced they would be talking to conservative talk radio host Rush Limbaugh. The announcement sparked waves of derision from various Twitter users, as Limbaugh is not known for his subtlety on topics of racial justice and has a history of saying racist things.
"What up, everybody, it's DJ Envy, Angela Yee, Charlamagne tha God. We are The Breakfast Club. Now, we are fed up. We're angry, hurt, and tired. The country is wounded," began DJ Envy, the show's facilitator, usually known for his zippy introductions. "The inhumane treatment and senseless murder of George Floyd has to be the final straw," he declared. The show has been the voice of the community for almost 10 years and it has "always had diverse guests, and are open to the tough conversations."
DJ Envy continued: "In that spirit, today we are having a candid conversation with fellow broadcaster Rush Limbaugh ... The dialogue has to be open beyond who we know or who we talk to every morning." He explained that Limbaugh's listeners "will hear us, probably for the first time ever."
One the one hand, this conversation seems inevitable. Over the past few years, as Bryan Curtis and David Shoemaker opined on a July 2019 episode of The Press Box, the Ringer's media podcast, The Breakfast Club has "displaced The View, at least temporarily" as one of the nation's premier political talk destinations. Curtis called Charlamagne "one of the leading power brokers in the Democratic primary." And, indeed, a number of prominent current and past Democratic contenders have appeared on the show, including Hilary Clinton, Bernie Sanders, and Pete Buttigieg. Although Charlamagne courted controversy in 2016 by conversing with conservative political commentator Tomi Lahren — and later being spotted out in Times Square with her — Limbaugh is by far the most right-leaning and discursively caustic guest ever featured on the show.
The Breakfast Club is more than just a platform for politicians, however. Over the past 10 years, it has captured the kaleidoscopic nature of black culture — featuring celebrities, health gurus, local politicians, has-beens, and up-and-comers — and has mastered the nascent power of YouTube as one of the internet's greatest distribution platforms. The show is not revolutionary; in the past, it has often been a space where folks like Lil Duval felt comfortable making offensive statements about the LGBTQ community, namely joking about killing trans women. Those missteps mar the show's legacy, even after the hosts' apologies and interviews with trans activists and comedians like Flame Monroe. Charlamagne's early penchant for shock jock behavior remains cringeworthy. But The Breakfast Club is entertaining, frequently thoughtful, and a rare internet forum where black celebrities appear unguarded. And in recent years, it has made a concerted effort to interview prominent nonblack celebs, too, like Justin Bieber, Ed Sheeran, actor Melissa McCarthy, Suze Orman, and Dr. Oz.

But the conversation between Limbaugh and the cohosts was clearly nothing more than a stunt, indicative of how The Breakfast Club has lost its way in its bid to become more mainstream. Amid rumors that the show will disband in December, after Charlamagne's contract expires — rumors indicated by comments he made to Nene Leakes on the show in March, and the frosty relationship between him and Yee after he failed to defend her in a solo October 2019 interview with Gucci Mane — perhaps the Limbaugh interview will be looked at as a moment when the show finally jumped the shark.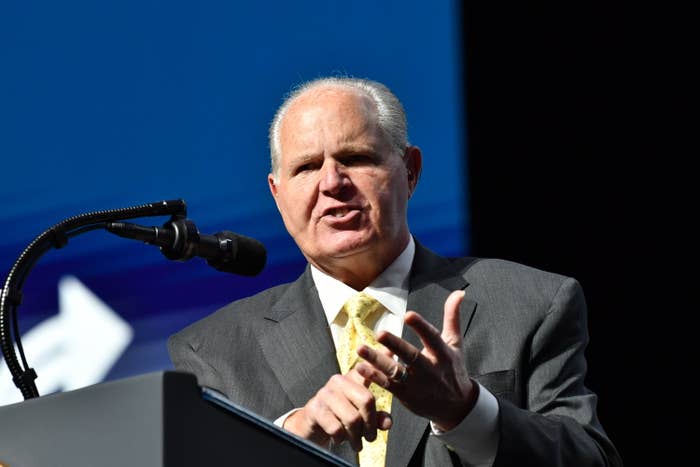 For the first few minutes of the Limbaugh interview, the show seemed to enter a different gear. I could hear tremors in Yee's voice as she spoke about the killing of George Floyd, clearly moved. But then as soon as Limbaugh's voice came on, the carefully considered aura and thoughtful energy dissipated. The conversation was rife with miscommunication, weird technical sounds of a teleconference and lots of overtalking. It ran on despite the dysfunction. Based on the sonically different quality of Envy's opening audio and the bleeping of profanity, it was clear this conversation had been pretaped and edited. Five minutes into the interview, it was also clear the discussion was just noise. "It's my honor to appear on The Breakfast Club even though I'm not a Democrat," Limbaugh said before remarking that Floyd's memory is being hijacked.
After that introduction, things just went further downhill. Limbaugh claimed that America's credo can work for "anybody who wants to adapt to it, for anybody who wants to try to take advantage of the unique opportunities that exist in the United States." He made presumptions about Yee, Charlamagne, and Envy's personal backgrounds, saying, "You guys are a testament to the opportunity available in America. Look at you! How did you do it? What did you have to overcome to become the Breakfast Club?" He asked, apparently unironically, "If the Minnesota Vikings had announced two nights ago that they were going to hire Colin Kaepernick, would the riots have stopped?"
The conservative host continued, saying he "doesn't have white privilege" and doesn't "buy into the notion of white privilege," calling it a "liberal political construct right along the lines of political correctness. It's designed to intimidate and get people to shut up and admit they're guilty of doing things they haven't done."
The conversation degenerated further when Limbaugh appeared to backtrack on the outrage he expressed over Floyd's death. Although he decried "the actions that some rogue cops take against African American men," and that there should not be "legalized murder," he claimed that racism at the hands of white supremacy doesn't exist, and that "if what happened to George Floyd had happened to a white man, we probably wouldn't have heard about it."
The conversation was nothing more than a forum for the politicization of black pain.
Yee, Envy, and Charlamagne made incisive points about police brutality in this country. And they countered most of Limbaugh's replies. But the import of their words was lost in the circular nature of the exchange — as well as the dismissive responses of the guest with whom they chose to share their huge platform. Limbaugh acted like the very same political anarchists who he claimed have taken hostage of the Floyd protests, behaving as an agent of dissent, confusing the terms of the conversation and muddying the rhetorical waters. At one point, Charlamagne asked Limbaugh, "How do we dismantle white supremacy moving forward?" as if the conservative talk show host's previous responses — and his entire broadcasting career — suggested he would know or add anything productive to the conversation. At the end of the interview, Charlamagne laughed, perhaps darkly, in response to one of Limbaugh's provocations. The interview closed with Limbaugh advocating for another interview and saying he appreciates "having access to" the Breakfast Club.
In 2017, when I profiled the Breakfast Club, DJ Envy likened the three hosts to athletes using the triangle offense, a play designed and popularized by former Chicago Bulls coaches Tex Winter and Phil Jackson. He asked me to observe "the passes," among the three hosts. It occurs to me that the old parallels between politics and sports have fused with the Breakfast Club's triangle ethos. On Monday, I heard the passes but wondered for whom, and to what end, the ball was being advanced. What, ultimately, was their goal by giving Limbaugh access to their massive platform?
As I listened to Charlamagne and Limbaugh debate the essential quality of America, and whether police brutality is at its core basically American, I was reminded of the token debates on Fox News, CNN, and MSNBC. When I was in college, I watched black political commentators like Marc Lamont Hill and Michael Eric Dyson, who are otherwise stellar writers and public intellectuals, go on Bill O'Reilly's show and argue their liberal, progressive side of an argument. Of course they always seemed to lose the argument and didn't get the last word, because it was impossible to go on O'Reilly's show as a liberal or nonconservative and win. Meaningful conversations have never been the point. Those shows need a prop to provide the illusion of fairness, and that's what happened on The Breakfast Club on Monday. I was reminded of First Take, ESPN's stalwart talk show and pop cultural institution. In his 2018 profile of Stephen A. Smith, First Take's star sports provocateur, Vinson Cunningham nailed the show's structure:
A moderator, customarily female, lobs a question to the two stars of the show (always male, so far, save for days when somebody is sick or on vacation). The men all but invariably offer opposing opinions, then duke it out, absent any real hope of persuasion, for two or three minutes, until the next commercial break. New segment, new topic. Repeat as needed until two hours are spent. It's a feat of transformation: the solid but unprocessed stuff of sports—movement and minute coördination, thousands of barely conscious acts of choice—becomes pure discourse.
While First Take's gendered dynamic doesn't really apply to The Breakfast Club, the whole "argument for argument's sake" nature of their debate with Limbaugh felt like a segment of First Take with higher stakes. Like the riled-up debates between Smith and his cohost Max Kellerman, Monday's conversation was a highly orchestrated expression of glibness and palaver, the compression of incredibly complex issues into "pure discourse." After the conversation aired, Angie Martinez, a fellow Power 105.1 host, called the Limbaugh interview an "uncomfortable conversation" but one that "needed to be had." She ended her summary of the interview by distilling the segment's impact with the repetition of one word: "Wow, wow, wow, wow, wow."
Wow, wow, wow, indeed. It's bewildering, but not surprising, to note that what appears to be happening to The Breakfast Club is the same thing that befalls a lot of black institutions once they go mainstream. When I wrote about the show in 2017, I mentioned that the proliferation of corporate programming took jobs away from radio stations not affiliated with iHeartMedia and Radio One, the titans of the "black radio" format, who don't run a programmed top 40 playlist. Now the corporate feel of the show has seemed to influence not only the songs they play but the people they interview as well.
"I'm not letting nobody politicize black pain," Charlamagne told Limbaugh. But in essence, the conversation was nothing more than a forum for the politicization of black pain.
The Breakfast Club usually runs incidental bumpers of sampled clips at the beginning and end of commercial breaks; its signature bumper is an audio collage of the phrase "wake up" spoken in various movies, TV shows, and shows. The bumper helps to reel casual listeners in, and it marks a transition between segments. As Yee, Envy, and Charlamagne talked about the importance of having Limbaugh's audience involved in the conversation, I was reminded of the psychological purpose of a radio interstitial, and how this dialogue was basically a supersized bumper to engage the most "casual" Breakfast Club listener: white people. To invoke Spike Lee, in particular the last line of his 1988 film, School Daze, and a sample that has been a part of The Breakfast Club's morning collage, I would ask Charlamagne, Yee, and Envy to do what activist Dap Dunlap asks of his viewers: "Waaaaaaaaaaaake uuuuuuuuup!" ●