"I wanna start this shit off straight," said Birdman, the Cash Money Records mogul most famous for signing Lil Wayne, in a now-infamous face-off with the hosts of The Breakfast Club, the Power 105.1 morning radio show, in April 2016. "I'm telling all three of y'all to stop playing with my name," he continued as he and his crew stood like sentries in front of the soundproof panels that lined the studio's right wall. The Breakfast Club's three hosts — DJ Envy, Angela Yee, and Charlamagne Tha God watched in suppressed amusement. Then DJ Envy responded to the escalating situation the way any veteran reality TV show producer would: "Let's go on air. Let's go!" he said, talking more to his camera operator than to Birdman.
"Stop playin' with my fuckin' name. Period," Birdman fumed.
"Let's go," Envy reiterated.
"Let's do it on air," his cohost Charlamagne Tha God chimed in.
"Stop playin' with my fuckin' name," Birdman said again. "I ain't gonna say it no mo'," he finished, his voice wavering. Then he pulled out his chair to sit down.
After months of speculation fueled by frank talk on The Breakfast Club — that Birdman didn't pay artists, that he made bad business deals with Lil Wayne, that there was more to the story of his infamous kiss with Wayne than a show of respect from Wayne, that he had a role in the shooting of Wayne's tour bus — Birdman had had enough. He removed his chewing gum before saying into the mic, "I wanted to come look you in your face like a man and tell you how I feel." He slipped off his glasses and looked at Charlamagne, who had previously talked on the show about Birdman's controversies. Then he said the words that would birth a new meme and make him lingua franca among hip-hop heads and white suburban teens alike:
"When y'all sayin' my name, put some respek on it."
"But I'm the radio guy!" Charlamagne said. "Why pull up on the radio guy? Don't act tough with the radio guy!"
"I hear you, my nigga. Y'all finished or is y'all done? I ain't got no mo' talking," Birdman replied. Then he stood up and commanded his crew to leave the studio.
A day later, the video was up on The Breakfast Club's official YouTube channel and several of its fan pages. Shorter clips of the interview made their way to Instagram and Twitter, and memes proliferated. Pusha T tweeted crying-laugh emojis and joked about Birdman's wavering voice. Ten days later, the video had garnered more than 8.5 million views, and approximately one year later, it's got more than 11.5 million plays, The Breakfast Club's highest official tally to date for an individual clip.

At 2 minutes and 22 seconds, the interview is the shortest in the show's seven-year history, but its popularity proved how moments on The Breakfast Club could go insanely viral. Shortly after the interview spread online, the mogul turned that instance into a song, "Respek." By the end of the year, "Birdman" was one of the top 10 most googled memes of 2016.
The Breakfast Club does what few widely syndicated radio shows do today: It asserts the importance of letting black people of all types speak, at length, for themselves.

Since the show began in 2010, the trio's interviews with various hip-hop artists, public intellectuals, and politicians have amassed millions of views and prompted the post-internet equivalent of watercooler conversations.
It was on The Breakfast Club that comedian Damon Wayans uttered the profane line about Bill Cosby's accusers being "un-rape-able bitches" and saw his national stock go down. It was on The Breakfast Club, in February 2016, that pharmaceutical bro Martin Shkreli threatened to smack Ghostface Killah, a member of the Wu-Tang Clan, the group who'd made the album he'd recently purchased for $2 million. Kanye West acknowledged the show's power in a February 2015 interview: "That's why I respect this show, because this is a voice to society. This is the voice of, I'd say, of the barbershop. This is a voice of the streets." Writer B Dot of hip-hop news hub Rap Radar called The Breakfast Club "America's Radio Show."
In its heterogeneous array of interview subjects, from the Nation of Islam's Louis Farrakhan to Future, The Breakfast Club does what few widely syndicated shows do today: It asserts the importance of letting black people of all types speak, at length, for themselves. Nowhere else can you find interviews with black nationalist gurus like Umar Johnson alongside Hillary Clinton and Justin Bieber. The Breakfast Club has become must-listen radio. It's at the vanguard of black culture, and it crucially moves the needle. But how did the show get there? And now that Charlamagne, its runaway star, has made appearances on mainstream television shows like The Dr. Oz Show, The Late Show With Stephen Colbert, and The View, and has a regular perch on MTV, will the thing that makes The Breakfast Club special lose its luster under the mainstream, and white, spotlight?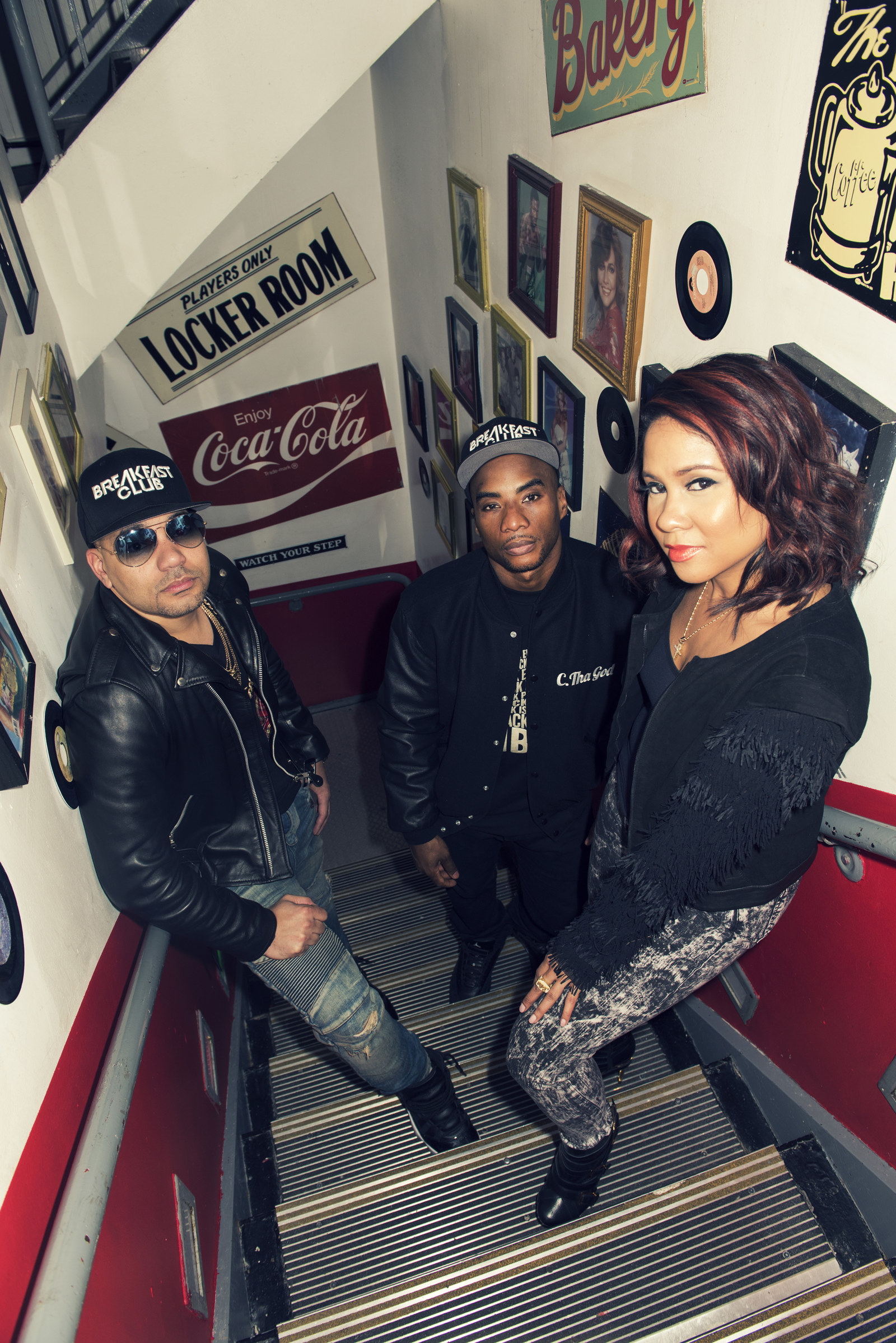 "What do you get when you take Ciph's old sidekick, Wendy Williams' old sidekick, and mix in Miss Jones' old sidekick?" asked Hot 97 radio personality Peter Rosenberg during a 2012 segment. I'll tell you what you get — nothing," he said. "Two jackoffs and a runt who mean nothing in this town." Although he didn't mention them by name, his question clearly alluded to his radio-industry competition Angela Yee, Charlamagne Tha God, and DJ Envy.

"You're dealing with three people who all worked with somebody that was the main personality," Envy told me in an interview in January 2016. "We kinda know how to play second fiddle. So we allow each other to get our emotions out or get our nuts off or say what we have to say in any interview or on any topic."
The Breakfast Club started in December 2010, but had been in the works for months. Geespin, Power 105.1's former program director, came up with the idea after deciding to replace The Ed Lover Show, which was hosted by the eponymous media personality.
Once he had decided on the show's mission, he needed to find the right hosts. Coincidentally, the three hosts he found appeared to have stumbled into radio. The college-educated Raashaun Casey, aka DJ Envy, 39, grew up in Queens, the son of a police officer. The Brooklyn-born Angela Yee (she declined to give her age) graduated from Wesleyan and spent years working in marketing, then interned for the Wu-Tang Clan, and was a rap manager before she made her way into radio. And Charlamagne, born Lenard McKelvey, 36, grew up in Moncks Corner, South Carolina, and sold crack and spent time in prison before interning at a radio station to stay out of trouble.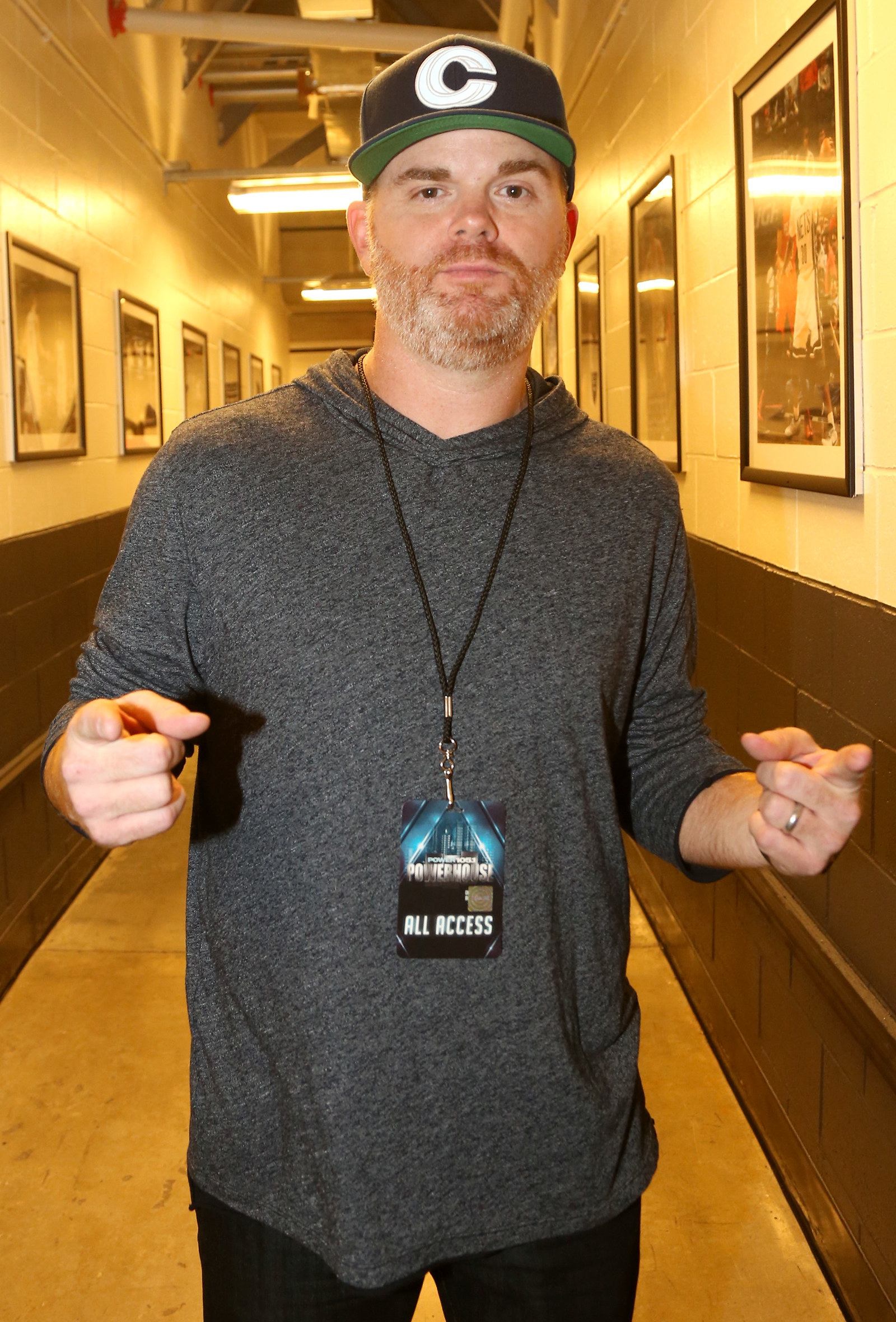 Geespin met with Charlamagne first. "Cadillac [Jack], who was the program director at the time, and I had discussed bringing Charlamagne into the fold. I had introduced [Cadillac] to Angela and he loved how she sounded as well. So, we got those two on board first, and Envy was the last one to get on board, because he had done morning radio before over at Hot [97], and he was doing well in his afternoon slot at Power. He wasn't overly enthralled at going back to morning drive. But he had had a good relationship with Charlamagne, and a good relationship with Angela, and that was kind of it."
After cycling through names, like "Three the Hard Way" and "The Big 3," they settled on The Breakfast Club. Geespin thought it worked because of the "misfit nature of what the [John Hughes] movie was and how they were. ... The Ally Sheedy character just kinda stuck out in my mind for Angela, almost like this genius misfit ... and then I guess Charlamagne would've played like the crazy guy on there or something." If you google The Breakfast Club, the radio show is now the first hit, topping the film's IMDb listing.
Yee saw The Breakfast Club job in practical terms. "When I did this morning show, you know, Hot 97 offered me a job there, too. But when I went up there, Ebro [Darden, Hot 97 personality and program director] was like, 'Well, am I gonna be on the show with Cipha and Peter, and it's all three of us?' 'No.' I said, 'So, is my name on there?' 'No.' And when he told me how much money I was making, I was like, I make more money than that at Sirius and I don't even make enough there." She's deliberate in breaking down the gender parity that made her decide to do the show. "So I'm glad when this opportunity came up, I said to them, 'Are we all three of us going to be equal?' Because I also had another offer in Philly to do the mornings there that would have been my show and I could've hired whoever I wanted. But I felt like this would be a good combination, and I felt like as long as all three of us were equal I could do it. Because I think sometimes as a female, they have a tendency to decide, 'Oh, you're the sidekick. Oh, you're just the girl who does the gossip, who does the traffic.' And I didn't want to do just that."
On The Breakfast Club, which airs on weekdays from 6am to 10am, the dynamic is clear: Yee is the voice of reason and part-time gossip reporter, Charlamagne courts controversy through his often probing questions and problematic catchphrases (like using "vintage vagina" for women over 40 he deems attractive), and Envy is the behind-the-scenes guy, handling introductions and the transitions in and out of segments and doing DJ mixes. The show struggled initially to find an audience and figure out its content. "When we first started, the show almost didn't last past the year," Yee remembered. "At first, it wasn't doing well. It wasn't connecting. The ratings weren't that great. A lot of that is just adjusting technical things for ratings. And then some of it [was] us just finding our groove together," in terms of testing out which segments worked. The other part of it, Yee said, was that people traditionally did not listen to Power 105.1 in the mornings, opting instead for Hot 97. "It took a while for people to know that The Breakfast Club existed."
Will the thing that makes The Breakfast Club special lose its luster under the mainstream, and white, spotlight?

Charlamagne remembered the early slump, too. "When we first started, and the ratings weren't where they were supposed to be, I was like, 'Everybody just be cool. It's gon' click in a minute. It's gon' click in a minute. Like, the cream will always rise to the top.'"
"The interviews have always been [a] hallmark for us," Yee said. According to Yee, early interview highlights include talks with Webbie, Gucci Mane, Lil Boosie also known as Boosie Badazz, and Jay Z. "They just work in synergy," Geespin said. "Look, if you want to use a sports metaphor, use Phil Jackson. They run the 'triangle' offense. All three of them touch the ball every single time."
The watershed moment for the trio came with the show's national syndication in August 2013. "We started off getting syndicated on the weekends first, so that was a big deal," Yee said. "But the impact was being syndicated on the weekdays. That was the biggest deal for us. I did not even think that would happen when we first started doing the show." Following national weekday syndication, Revolt TV began simulcasting the show in March 2014. In 2015, Power 105.1 beat Hot 97 in the ratings for the first time, helped in part by The Breakfast Club's ascendancy. (Nielsen declined to give me program level ratings, but based on data available to the press for the past three months, Power 105.1 continues to be the top urban radio station in New York City.)
One of the reasons why the show eventually clicked was because of the hosts' social media strategy — namely, they decided to actually use social media. They would post their interviews on YouTube and tease their upcoming segments on their individual Twitter accounts. (Their official YouTube channel spawned dozens of fan pages that posted their videos simultaneously.) They also distributed their interviews to blogs like World Star Hip Hop, the YBF, and Bossip. "I remember when we first started The Breakfast Club, I did this whole thing with Belvedere that was like a toast to the bloggers, acknowledging them and thanking them," said Yee. "And they came out and were like, 'Thank you, guys, so much for our first year and for helping us become successful. We appreciate it.'"
Cipha Sounds, a comedian and former MTV host who knows The Breakfast Club well —Yee was a cohost of his satellite radio show The Cipha Sounds Effect, and he has cohosted various shows on Hot 97, including the morning show Yee turned down — has his own theory about The Breakfast Club's success. "This is my theory. Like, if you quote this, like make sure it says my theory not my fact," he cautioned in an interview with me last year. "They just went at every angle possible. They spread the word out of New York that they were the hottest shit, so that when artists came to town, they would want to do that show." Cipha continued, "And they also catered to a certain market. Like, [Hot 97 was] a little more general. The heavy black angle was missing, and they snatched it up."
He explained that although Hot 97, which is owned by Emmis Communications, had KISS-FM, that station played old-school R&B, not rap or pop. "Hot [97] was like pop and hip-hop, so we had to cover both. There were a lot of street records that we didn't play because they were too hood, which Power 105 snatched up because they were gearing towards hood. Once they did that, they started blowing up more, and people started fucking with them more."
Envy, whose on-air admission of infidelity in January 2013 was one of the show's earliest viral moments, also pointed out that their experience in and around the music business facilitates a more vigorous exchange among the hosts and the artists featured on the show. "We all have history in the industry," he explained. "We can have a real conversation with somebody and be open. And if you say something we don't agree [with], challenge it. You get a real interview. It's not gonna be, 'Hey, so what's number three on your album?' We're gonna talk about politics, we're gonna talk about what's going on in your life, we're gonna talk about what's going on in the world, we're gonna talk about what you're feeling."
"I think [The Breakfast Club] has made people listen to radio again," Yee said. "You know, people love Steve Harvey, people love other shows, but I don't think there's been a syndicated morning show that's young, that's fun, that talks about real issues."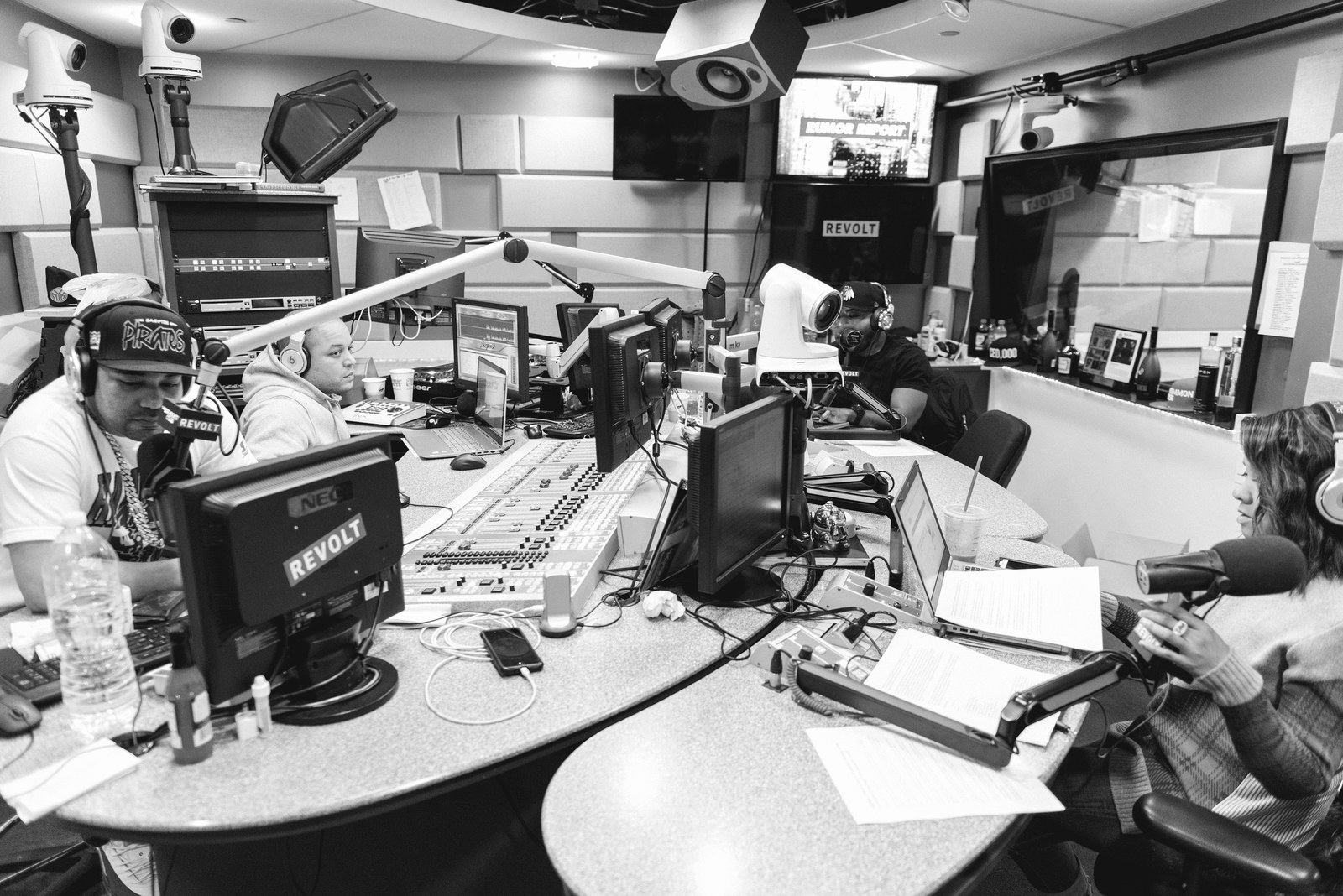 In Voice Over: The Making of Black Radio, historian William Barlow calls radio "the most popular mass medium in the black community, as well as [its] most vital source of information and culture." While the book was published before web 2.0 innovations like blogging and social media changed the way the world communicates (and bolstered The Breakfast Club's reach), it's not hard to see how a radio show with an internet following could maintain a stronghold in young black America. In former radio broadcaster Bernie Hayes' 2005 book, The Death of Black Radio: The Story of America's Black Radio Personalities, he gives another definition of "black radio":

When you accept as true the concept of Black Radio, you imagine personality radio; public figures from your community, who love and understand the music you love. Local stars that care about you and try to satisfy your musical and cultural tastes.
The book spans the '50s to the pre-internet era, and although it's obsolete in certain ways, it anticipates what The Breakfast Club does well. "I think that all of us bring something different to the table. I think part of it is that we all are like regular people," said Yee. "I still live in Brooklyn, so people see me all the time. I go out to eat at restaurants. I'm all over the place. Envy is in the club every single night. Charlamagne don't really go out too much, but you can see him like on TV, on Uncommon Sense and everything else. And he's so active on his Twitter, it's ridiculous. I think people feel like they know us. They feel like they can talk to us."
The hosts know how to garner those viral moments, like when Drake sent bottles of Dom Pérignon to Charlamagne and mentioned him on wax during his beef with Meek Mill in July 2015. But they also know how to carve out space for politically strident content, such as in their interviews with Farrakhan and political commentator Angela Rye, which mostly matter to black listeners.
"We all are like regular people," said Yee. "I think people feel like they know us. They feel like they can talk to us."
They also harnessed the power of longform, before podcasting became as prevalent as it is now. "They were having these 45-minute long conversations when nobody was really doing that," Geespin said. "The podcast era hadn't really taken hold yet. Now, you know, everybody's doing it." Take, for example, the now-defunct podcast The Champs, hosted by Chappelle's Show alum Neal Brennan and comedian Moshe Kasher. The show, which ran from August 2011 to February 2016, was a novelty in that it both called attention to the lack of longform audio interviews with black comedians and fetishized their presence. Almost a year earlier, The Breakfast Club was doing that very same thing, without assigning the mix of white guilt and exoticism Brennan and Kasher turned into mostly riveting audio. Indeed, Charlamagne told me, "I realize that with all of these various platforms that I have, it does come with great responsibility. I've always said radio personalities are public servants. We're here to serve the needs of the public."
They're not the first media personalities to do this, of course. Radio and video jockeys like Petey Greene, Donnie Simpson, Dee Barnes, Fab 5 Freddy and countless earlier personalities hosted black artists and community activists, largely within the auspices of corporate environments. Many local jocks are currently doing their hometown versions of this (if they're not in one of the 60 markets iHeart syndicates; in which case The Breakfast Club likely takes that place). The show is not wholly unique given the scope of its platform, either. National blogs like The YBF, Bossip, and Instagram hit The Shade Room are all known for their mix of what Charlamagne calls "righteousness and ratchetness," a formula he coined to describe what both he and the show do best. YouTube channels like VladTV (founded by the Russian music industry figure DJ Vlad), podcasts Tax Season and Rap Radar, and TV show Desus and Mero follow a similar format — whether derived independently or directly informed by The Breakfast Club.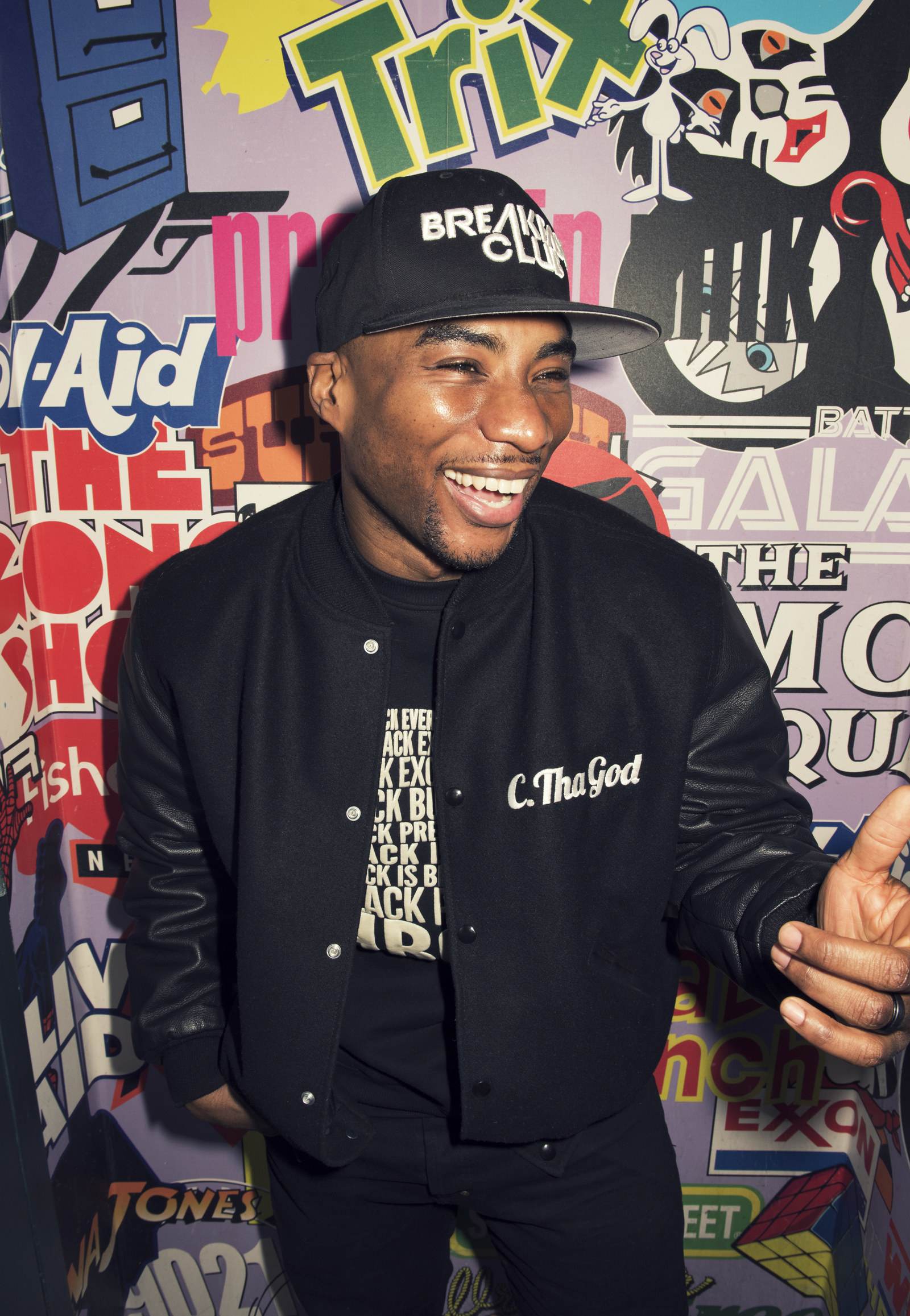 To get a better understanding of why Charlamagne has become the breakout star of The Breakfast Club, consider his book, which came out in April. Black Privilege: Opportunity Comes to Those Who Create It is a hybrid coming-of-age narrative, self-help book, and black-empowerment pamphlet. The mix of forms enables Charlamagne to flex his role as the show's in-house provocateur. On the page, his provocations are weightier, but also seem underdeveloped when not delivered on air, scorched-earth style and accompanied by donkey braying.
With chapter titles such as "It's Not the Size of the Pond but the Hustle in the Fish," "Put the Weed in the Bag!" and "Access Your Black Privilege," the book reads like an irreverent mashup of the Rev. Leon H. Sullivan's black economic prescriptions, the sermonic strains of Wu-Tang, and the tenets of the Nation of Gods and Earths, the religious sect that inspired him to add "Tha God" to his stage moniker.
Although he grounds his proclamations in personal experience, the last chapter, "Access Your Black Privilege," alternates between inspiring and scolding pull-yourself-up-by-your-bootstraps rhetoric. Alongside pro-black maxims like "We can never lose sight of the fact that we are indeed gods, kings, and queens," there are statements like this:
"I understand that ... oppression can be depressing. Even deadly. But if you let it completely color your vision of the world, then you're doing the white man's dirty work for him. When all we can see is the privilege of others, then the biggest oppressor of African Americans becomes OURSELVES. It might not be a popular sentiment, but it needs to be said."
Similarly, in September 2016, DJ Envy expressed support for stop-and-frisk policing tactics, only to shift his views shortly thereafter. These controversies complicate the show's black radio bona fides.
Statements like Charlamagne's Black Privilege "bootstrapism" also provide fodder for The Breakfast Club's archenemies. Hot 97 personalities declined to be interviewed for this story, but they have publicly criticized their rivals for their politics. Ebro Darden, the lead host of Hot 97's morning show and jockey for Apple's Beats 1 radio platform, has condemned Charlamagne for what he calls "coonin'," a term used to describe a kind of obsequious behavior performed by black people that's meant to appeal to whites.
"Has The Breakfast Club been able to blow up because of the power of syndication? Well of course they have. But they were already well on their way."

Aside from questioning Charlamagne's politics, something other people have done on occasion when Charlamagne has made tone-deaf comments, Darden contends that The Breakfast Club's success is partly due to its inclusion on iHeartRadio.
"The iHeartRadio thing, I know what the politics are," Darden said in an interview with The Source magazine in 2015. "They own 800 radio stations."
The notion that iHeartRadio's power fuels The Breakfast Club's success is important to consider. While it may come across as slightly undermining, it's not entirely without merit. The show does benefit from the infrastructure provided by its corporate parent. It's syndicated in more than 35 markets during the week and 60 on the weekend, which means that affiliate radio stations in those markets don't have to produce morning shows of their own, an arrangement that affects the employment of local jocks. The "black radio" idea espoused by Bernie Hayes doesn't seem to jibe with the corporatization of radio and the syndication market, which is more culturally homogenous and cheaper to produce.
Still, Geespin believes that the show's reach was extensive, both in cultural and geographical terms, before syndication. "If you were in New York at the time before they got syndicated, I think it would be pretty clear the cultural importance that they were bringing to the table. Have The Breakfast Club been able to blow up because of the power of syndication? Well of course they have. But I think if you look at what they were doing to even get considered for syndication, they were already well on their way."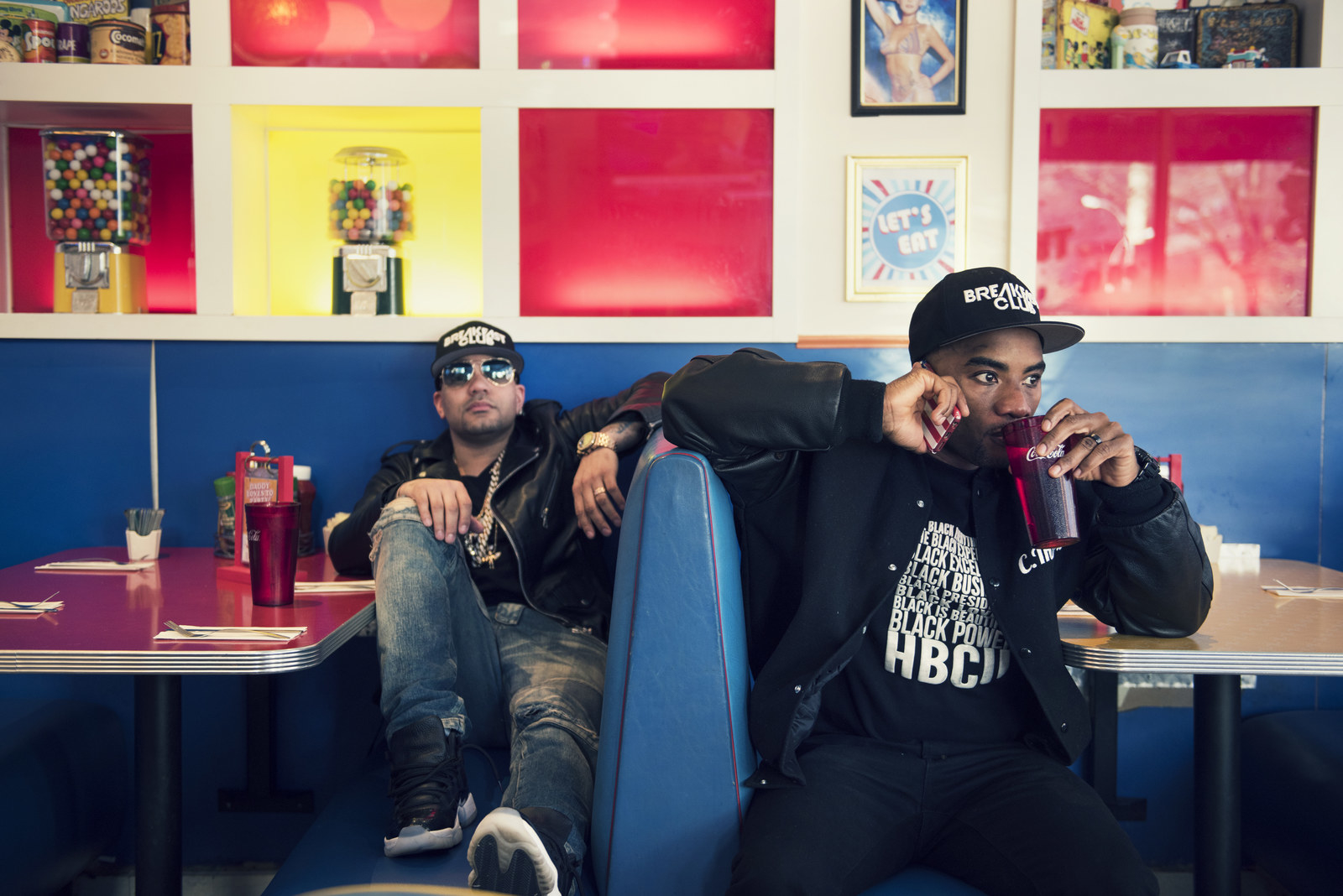 Despite The Breakfast Club's undeniable influence, it's still something of a self-contained system. It undoubtedly has more mass media influence than, say, pioneering hip-hop radio shows like Mr. Magic's Rap Attack and The Stretch Armstrong and Bobbito Show, but it continues to maintains a relative insularity in spite of the individual efforts of its hosts, who are split on whether the show has crossed over. When I spoke to those close to the show, including the hosts and producers, over the last year and a half, they didn't seem to think they needed to break into the mainstream. There's a chance they were affecting humility, or being cagey about their ambition, but nearly everyone I spoke to about the show thinks the show is just fine where it is, and they are not too concerned with it being more mainstream.
"I think we have crossed over … I think we are seeing a lot of mainstream success, whether it's MTV or VH1, or whether it's on TMZ, you know?" said Envy. "A lot of mainstream people are looking at The Breakfast Club. The fact that you have an artist like Ed Sheeran who listens to The Breakfast Club, or Justin Bieber. Or a lot of these athletes, or actors and actresses who are not in our demographics, and just genuinely enjoy The Breakfast Club. It's amazing."
In response to a question about why the show hadn't reached mainstream popularity despite its virality, Yee said, "We are looked at as 'Are we supposed to be in the stories or reporting on them?' People don't traditionally look at a lot of radio personalities ... It's not like we're celebrities, you know what I'm saying? We're supposed to be more behind the scenes. It just so happens with us being on Revolt TV and with so many things happening outside of what we do up here in the studio," she said, tapping on the recording console, "it does make us more in the forefront of everything."
Still, they've negotiated that balance between staying behind the scenes and maximizing the celebrity status they do have. This past April, Yee cohosted The Real, Fox's daytime talk show for a few days and she appeared alone on one episode of Empire last fall. A few months later, in November, Empire aired an episode that featured all three hosts doing a quasi version of The Breakfast Club's Revolt simulcast. Those appearances on a primetime, top-rated network TV show solidify the show's place in both contemporary hip-hop culture and the media establishment.
Charlamagne is the kind of famous in which he gets mistaken for other black men.
But perhaps no other moment showcases the liminal line The Breakfast Club walks between cult hit and pop culture fixture than Charlamagne's recent book signing in late April. Charlamagne is the kind of famous in which he gets mistaken for other black men. People who know him, know him. Those who don't stare at his face and superimpose other people's biographies onto it. Earlier that day, Charlamagne had appeared on Elvis Duran and the Morning Show and The View, and later, he'd go to MTV and then tape The Late Show With Stephen Colbert. But now he was a semi-famous black man in a bookstore. He had just finished a 90-minute signing at the Barnes & Noble on Fifth Avenue in Manhattan. Shoppers were doing that thing they sometimes do: Even if they didn't know who he was, they wanted to catch a glimpse of him, so there was a lot of rubbernecking in front of journals and stationery.
A woman told me that she couldn't believe it was him. "He's a physician," she said. She told me that she watched him in movies and saw him nightly on television. I wondered if she thought he was a reality TV doctor, or if she had seen him on Dr. Oz. "He's a movie star," she added. Scrums of customers stood around, waiting for Charlamagne to leave the store, and security had blocked off the area near the green room and bathrooms. "Chicago Cops," she finally said, presumably referring to the NBC procedural Chicago P.D.
All of a sudden those in his circle — book publicist, manager, friend Wax — left the B&N greenroom and descended the escalator. An employee asked me and the woman to move to the side. I swear I didn't see him pass by even though the entourage had moved to the ground floor. "See him?" the woman asked, and she pointed to a banner that listed his name and the title of the book. We followed the entourage. As we were walking, she said, "He doesn't look like in the movies, though. [He's] smaller, shorter." At some point after, I googled the Chicago P.D. cast. The lady was right: The show's only current black regular, LaRoyce Hawkins, is a lot taller than Charlamagne.
Outside the store, an hour and a half before the signing, there was a queue of mega-fans waiting anxiously to meet their idol. Desiree, a medical worker from Milwaukee, had extended her NYC trip by one day just so she could meet him and have her book signed. Nicholas, from Staten Island, arrived at the bookstore when it opened at 9 a.m. so that he could secure his place in line and get the book for his brother-in-law, a member of the military who's currently stationed in Texas.
A man wearing a bow tie and carrying a DSLR camera on his shoulder said he was on break from his job in the sales department of a soda company nearby. When half-seriously asked if he was a member of the Nation of Islam, at first he joked that he was a part of their press team. Then he echoed the subtitle of Charlamagne's book, even though he admitted he hadn't read the book yet. "See, again: Opportunity comes to those who create it. You present yourself a certain way, they treat you a certain way," he said. "I'm on the job. So me going to these office buildings walking in, presented a certain way, they're going to treat you a certain way. The bow tie works."
Wearing a Roc Nation fitted hat, burnt orange leather Timberlands, and a dark T-shirt bearing #BlackPrivilege, Charlamagne stopped to sign more autographs before he was ushered into a tinted black SUV.
Something tells me that although Charlamagne himself might become more popular, The Breakfast Club is too prickly for true mass consumption. Earlier, in the Barnes & Noble signing room, Charlamagne told me he planned to talk later that night to the president of OneUnited Bank, a black institution he banks with, about "what we can do to move the culture forward." When talking about black economics, he shared a mantra that echoes not only the sentiments he expresses in his book, but of The Breakfast Club more generally: "Let's embrace what we have as opposed to pointing the finger at what everybody else has .... Like, we can build our own ecosystem and our own communities and have that privilege amongst each other!"
Moments later, loitering around Times Square, I emailed Charlamagne's manager Karen Kinney to ask if the talk at OneUnited Bank was still happening, thinking I could tag along and cover that meeting. Her reply: "He is at MTV now and then heading straight to Colbert. Then he has book party at night." So, no sit-down with OneUnited Bank. It's understandable that this talk would be shifted given the hubbub taking place on book release day. Still, with all of his solo appearances and individual ventures, I wonder how long the ecosystem Charlamagne described will stay in place. For now, it appears that this individual striving is a part of the show's success.
"The three of us are so busy doing our own thing... I don't think our focus now is 'How can we make The Breakfast Club the biggest that it could be?'" Yee said. "I think right now, everybody's like, 'I'm gonna do this, he's gonna do that, Angela's gonna do this,' and then we all come together. And that makes the show stronger." ●