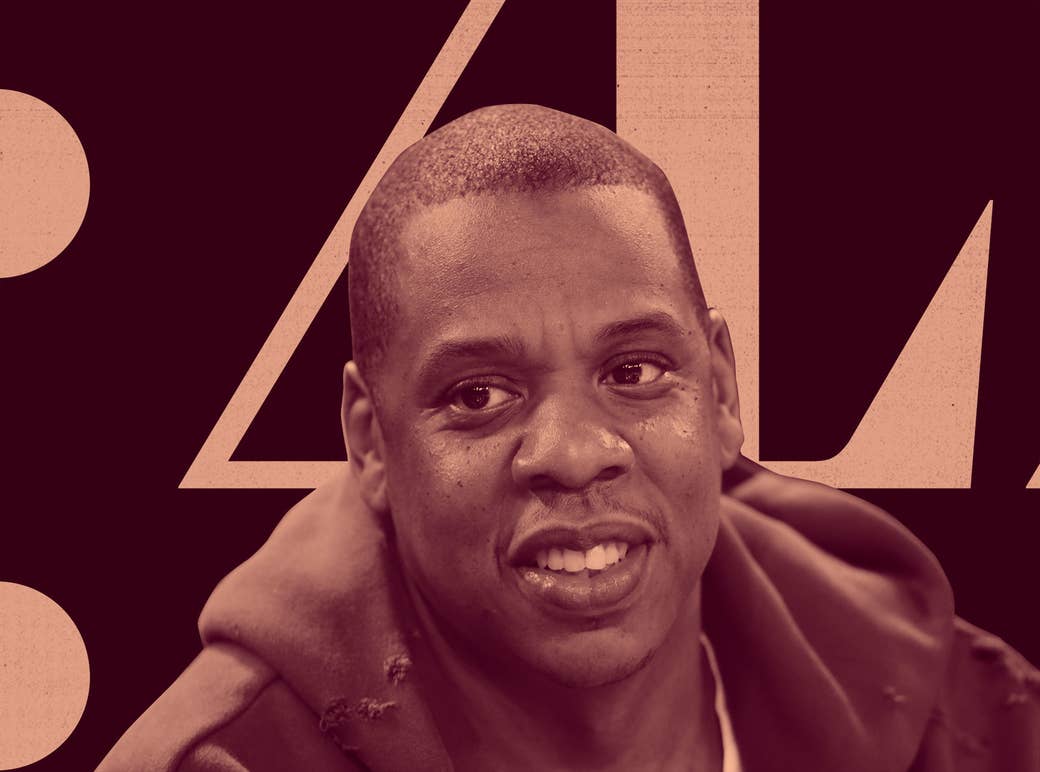 Jay-Z, the man who once nicknamed himself J-Hova, like God, has finally made a come-to-Jesus album. Released Friday morning just after midnight, Jay-Z's 4:44 is a bracing first-listen because it's so different from everything else in his braggadocious catalog. Because it's still a rap record, 4:44 doesn't elicit the same genre-shock as other midcareer artists trying to change their style like Robert Plant playing bluegrass or Joni Mitchell singing jazz, or even Johnny Cash growling Rick Rubin-produced hurt by the fireside. But by virtue of Jay's uncharacteristically revealing lyrics and sole producer No I.D.'s skittering, evocative flips of soul classics, the record is a new take on Americana music.
It is roots music, not only because Jay investigates the nation's core mythologies of race, upward mobility, capitalism, and entrepreneurship, but because he also charts his own trajectory, from his origins in the Marcy Projects to his current billionaire status, mulling over a multimillion-dollar Dumbo property. Most of all, it's roots because he goes deep inside his own head. This is an album about midlife, as an artist, and as a man. On album opener "Kill Jay-Z," he puts it best: "Cry Jay-Z / We know the pain is for real, but you can't heal what you never reveal."
And boy does he reveal. In the overnight haze that accompanied the release of 4:44, it was thrilling to hear Jay drop several bombshells that felt plucked straight out of a fever dream. On this album, not only does the uber-private Jay-Z acknowledge his long-rumored infidelity on several songs, but he also addresses the infamous elevator incident with his sister-in-law Solange. He makes two pointed references to his former protégé and estranged friend Kanye West, publicly talks about his mom being gay for the first time, and dangles internet catnip by referring to "Becky" on "Family Feud," the name Beyoncé conjured on Lemonade for the mistress(es) he allegedly cheated with. Although Jay's teased the idea of making his own Lemonade since the release of his wife's album last April, it's still jarring to hear what sounds like a pretty honest depiction of his failures and deepest fears, given the impenetrable cool the world knows him for. This is the first fully realized Jay-Z album in a long time, and the most insightful since his first album Reasonable Doubt. That's because the Jay-Z on 4:44 doesn't sound like one of his personas — Hov, Jigga — he simply sounds like Shawn Carter.
Jay-Z on 4:44 doesn't sound like one of his personas — Hov, Jigga — he simply sounds like Shawn Carter.
Of course this could all be a big manipulation — but isn't that what art is? In Reasonable Doubt, Jay plumbed his subconscious and gave voice to the paranoid dread that underlay the slick, mafioso hustler he portrayed. He expressed the fearful kid underneath all of the gold chains and silk shirts, exposing the fractured psyche that develops when one becomes addicted to making money. On 4:44, Jay digs into another level of hubris attached to being one of the most powerful men in the entertainment world, and the responsibility that comes with it. On "Kill Jay-Z," he raps, "What's up, Jay-Z? / You know you owe the truth to all the youth that fell in love with Jay-Z / You got people you love you sold drugs to / You got high on the life, that shit drugged you." Although he speaks in the third person, the distance seems appropriate. He's talking to yet another persona, accounting for the ways that narcissism has splintered his personality.
He's more emotionally available — his words, not mine — than ever. He talks about maintaining his mental health on "Smile": "My therapist said I relapsed / I said, 'Perhaps I Freudian slipped into European whips.'" It's as if he acknowledges that his emotional honesty will almost certainly come with a backlash. At the end of that same song, he says, "Oh these people gonna kill me, 'cause the more I reveal me, the more they afraid of the real me."
And who is the real Shawn Carter? It's taken nearly 25 years for listeners to really get a glimpse. Like Michael Jordan before him, some of Jay's cool-guy varnish has lost its luster recently. There was an ill-advised public skirmish with celebrated civil rights icon Harry Belafonte, who said in 2012 that Jay-Z and Beyoncé "turned their backs on social responsibility." In retaliation, in a song off of 2013's Magna Carta Holy Grail, Jay called the octogenarian a "boy." A month after Holy Grail's release, Jay-Z spoke with music journalist Elliott Wilson and, in response to Belafonte's criticism, he said that his mere "presence is charity." Next came the May 2014 elevator incident at the Met Gala, where Solange pelted him with punches and jujitsu kicks. Tidal's losses in the streaming wars haven't helped his public perception, either.
And a final crescendo came in the form of Beyoncé's Lemonade, which exposed fissures in what appeared, from afar, to be a solid romance. Most recently, Jay attended the 2017 NBA Finals, posed for a picture with Kevin Hart and asked the photog to "take a picture while we're talking," and proceeded to fake a funny conversation with Hart for the shot. That seemingly throwaway bit 0f Shade Room fun shows, in a goofy way, just how image-conscious he is. The undoing of his public image has been precipitous, but he's not one to ignore criticism leveled his way.
When Lemonade came out last year, public view of Jay, even for those who stuck with him through the shortsighted political comments, didn't look good. He was, after all, the villain who'd broken the heart of America's beloved icon. The fallout from the album's release included online excoriation from the Bey Hive, memes, and incessant talk-show chatter. Perhaps he anticipated the onslaught of negative attention, but the quickness with which outlets began to report on Jay's intention to do his own version of Lemonade (less than two weeks after Beyoncé's album dropped) suggested an instant awareness of shifting public support and a desire to rehabilitate his brand.
Instead of attempting to outlast the controversies, comfortably ensconced in his wealth and fame like Jordan, he's decided to tackle them head on. Recently, he produced a documentary on the late Kalief Browder, announced another on the life of Trayvon Martin, and bailed out dads on Father's Day. And because of his desire to either seriously contend with his contradictions or revamp his public image, he's managed to evade Jordan's awful decline. There is no Jay-Z version of the Crying Jordan meme. There are only songs where Jay sounds like he might've cried while recording them.
On 4:44, Jay-Z further differentiates himself from the notoriously apolitical Jordan by taking a strong stance on several hot-button issues. On "The Story of O.J.," he addresses America's racial fissures through the lens of Simpson's conception of himself — "I'm not black, I'm O.J.!" Jay raps, then deadpans, "okay," musing over American racial inequity with help from a haunting Nina Simone sample. The accompanying animated music video features what was once known as "darky iconography"— Jim Crow–era images of African-American caricatures in blackface. On "Smile," he critiques the hypocritical push for weed legalization across the country while the government imprisons young black men for selling it. Jay's still an unabashed capitalist, and it's clear from his verses that he feels like economic deliverance is the major key to black American success. His pitch on "Family Feud"? "What's better than one billionaire? Two / 'Specially if they from the same hue as you." On "Caught Their Eyes," Jay even goes so far as to critique Prince's estate for allegedly selling out the late artist's legacy.
There are songs where Jay sounds like he might've cried while recording them.
As with Kanye's The Life of Pablo track "I Miss the Old Kanye," "Kill Jay-Z" and most of the other self-critical fare on 4:44 are, among other things, an acknowledgment of midcareer malaise. But the emotional heart and actual centerpiece of this album is the title track, which is a bruising exploration of Jay's failures as a husband. It's one of the most emotionally devastating songs the rapper's ever made, and as Jay told iHeartRadio hours after the album dropped, "I woke up, literally, at 4:44 in the morning, 4:44 a.m., to write this song." That admission, along with his uncharacteristically laconic vocal, gives the whole album an ethereal, hallucinatory quality. It was easy to assume that the allusion to fours was a nod to his and Beyoncé's personal numerology. Both of their birthdays are on the fourths of months, they got married on 4-4-08, and their oldest child's middle name is widely assumed to be a nod to the roman numeral for four, "IV." However, the song's pseudo-spiritual origin story fits with the overall revelatory feel of this album.
"4:44" is basically a successor to 2002's "Song Cry," where Jay-Z rapped, "I can't see 'em comin' down my eyes, so I gotta make the song cry." There is no audible bawling on "4:44," but there are lines that might inspire tears in its listeners. As if to redress the GIFs and memes of Beyoncé rocking back and forth or peering over at his phone at basketball games and other public embarrassments, Jay cops to hurting his wife. "I apologize 'cause at your best, you are love / and because I fall short of what I say I'm all about / Your eyes leave with the soul that your body once housed / And you stare blankly into space thinkin' of all the time you wasted in on all this basic shit." "4:44" is like Citizen Kane remade for 2017, a piece of art wholly concerned with love, ardor, failure, one man's big ego, and the formative psychological scars that made him.
Ultimately, though, Jay-Z is no Charles Foster Kane, and I don't know what his "Rosebud" is. On 4:44, it feels like he's trying to find it. The album's closing track, "Legacy," is a moving distillation of all the album's themes. Over a prominent sample of Donny Hathaway's "Someday We'll All Be Free," Jay vacillates between talking about black entrepreneurship — "Generational wealth, that's the key / My parents ain't have shit, so that shift started with me" — playing family man, and addressing childhood trauma by running down his family tree. By the end of the song, he sounds spent. "See how the universe works? / It takes my hurt and helps me find more of myself / It's a gift and a curse."
CORRECTION
Elliott Wilson's name was misspelled in a previous version of this post.