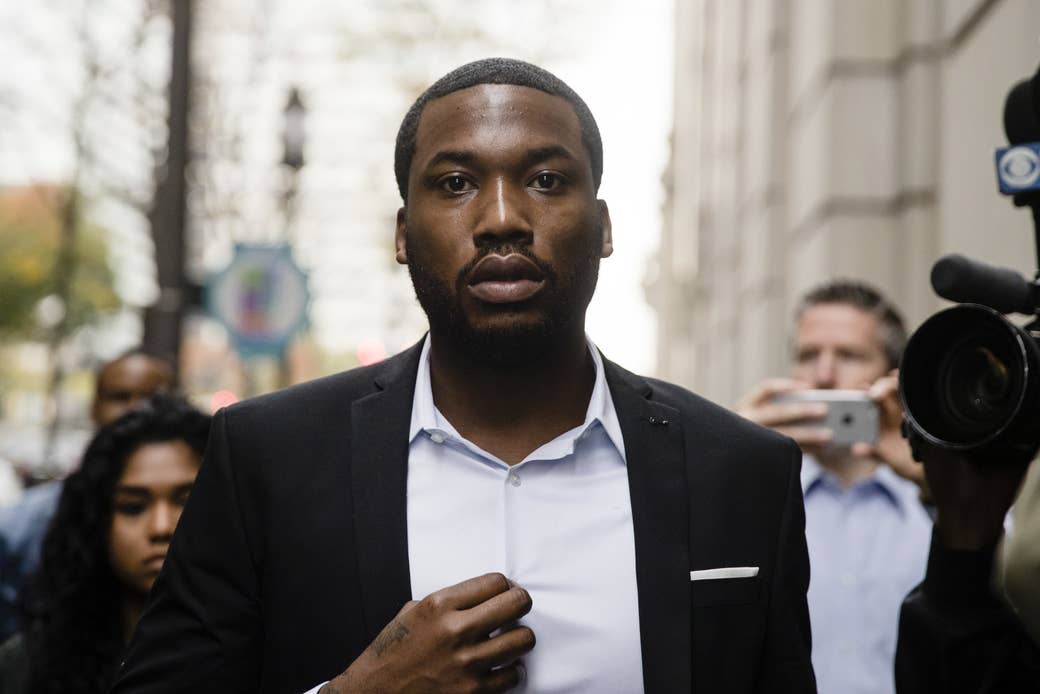 Meek Mill stays losing. The likelihood of loss is the main theme of Meek's latest album, Wins and Losses. It is also the main theme of his life, from the outside looking in. He lost to Drake in the most notorious rap battle of recent years; he lost cool points in his beef with The Game, and then he lost credibility to hometown hero the rapper Beanie Sigel. He lost his girlfriend, Nicki Minaj. He lost his dad, close friends, and a protege, Lil Snupe, to senseless violence. And now he's lost his freedom — again.
On Monday, the rapper was sentenced to two to four years in prison for violating the terms of his probation, stemming from a 2008 conviction on drugs and weapons charges, when he was 21 years old. Meek is now headed back to jail (pending an appeal), for the third time in nine years. It feels like déjà vu. It also serves as a litmus test for how one feels about systemic injustice and the US's prison-industrial complex. His conviction makes me uncomfortable on a critical level, but also a deeply personal one. I see myself in Meek; we're two Philly natives who have lost relatives to gun violence and the prison system.
I knew Meek was going to court Monday, but I assumed he would be okay because the situation seemed like it would, logically, pan out favorably for him. The two incidents that prompted this hearing — an assault at an airport, and a reckless driving charge for riding his dirt bike in New York City — had been dropped. The assistant district attorney and Meek's probation officer had both recommended against jail time. I thought for sure that he would walk away a free man.
The surprise I felt, along with frustration at the result, appears to be common. On Facebook, Jay-Z, Meek's mentor, posted a supportive message, writing that the sentence is "unjust and heavy handed." Meek's former label head T.I. invoked Christian scripture, writing in an Instagram post, "This too shall pass. You got this!! God places the heaviest loads on the strongest backs." Other rappers, including YG, Nipsey Hussle, and Lil Durk, all expressed support for the rapper, most echoing the "FREE MEEK MILL" line.
Not all of the response to the news has been supportive for Meek, or the "Free Meek Mill" movement. On her Instagram page, Eva Marcille, an actress and former winner of America's Top Model, shared a meme that read "When They Posting FREE MEEK MILL But Won't Go Out and Vote for the New District Attorney," and captioned the post by encouraging people to vote in local elections. The rapper and media personality Joe Budden bifurcated his thoughts into what he called "a hip-hop response" — "Yes, the system is bad. Yes, Meek is talented. I want to hear music from Meek. I am saddened that he's gone, and especially for so long." — and the "mature, non hip-hop response": "I don't feel bad for Meek at all...Black man. System. They're watching you…"
I see myself in Meek; we're two Philly natives who have lost relatives to gun violence and the prison system.
Indeed, the timing of the sentencing, aligned with the larger political happenings on Tuesday, Election Day in many places around the country, including Philadelphia, feels especially cruel. Criminal defense attorney Larry Krasner, a lifelong progressive, won the district attorney race on a platform that calls for the end of mass incarceration. What an awful twist of fate for Meek Mill, then to be sentenced shortly before Philadelphia seems on the verge of a real reckoning with its sentencing policy on the heels of Krasner's win.
The stakes of Meek Mill's probation, which would see him under state supervision until 2022, were already too high. There was so much riding on his being perfect for the next five years. He seemed doomed to fail, and now he has failed, earlier than expected. And so his sentencing feels like a cosmic joke, or a dream of Drake fans. Here we go again with the "FREE MEEK MILL" shirts, the memes, the status updates from his famous friends, claiming that they'd just spoken with him and that he's working on epic music. Here we go again with the jailhouse phone calls some A-list rapper will use as an interlude on their next album. Wash, rinse, repeat. When I type this I can hear myself sigh, the sound of the exhaustion I've felt when talking about my uncles or cousins or other male relatives who have been recidivists themselves.
Besides being a complex human being, who feels joy, pain, and makes mistakes, Meek Mill is a cipher for the country's criminal justice system. He's an existential case, an Aristotelian archetype. It seemed apt that T.I. employed biblical imagery in his message, because Meek might as well be a man that you can teach to fish or who gets his hand cut off for stealing bread. He's both a cog in the machine that is this nation's carceral state and an agent of his own demise.
He could also be my brother, my cousin, and in an alternate universe, my boyfriend, one of my nephews, a man I see on a SEPTA bus, my neighbor who was away, the favored euphemism family tend to use for incarcerated loved ones who have returned home. In 1937's Everybody's Autobiography, Gertrude Stein famously wrote "There is no there, there," to refer to her vanished childhood home, somewhere in the vicinity of Oakland, California. There is a there around here in Philadelphia, where women and men go away, where their adulthoods disappear: Graterford, Camp Hill, SCI Houtzdale, where my older brother is doing life.
Based on the discussions I've had with my family and friends, all black, all lifelong Philadelphia residents, there is a schizoid response to Meek's sentencing. There's a combination of conspiracy theories, hard-earned wisdom born of personal experience, academic observations from books, and the grim accounting the poet Robert Hayden once called "the riot-squad of statistics."
Almost all of the older people I've polled feel sympathy for him but say, ultimately, it's his fault. Echoing Joe Budden's comments, the sentiment is something like, If you know that they're out to get you, how could you not be more careful? Some people I've talked to who are under 30 feel like he was set up. Others say he is rich and don't feel sorry for him. Some express a combination of all these reactions. In these divided responses, there's a mix of respectability politics and rage, anger about institutional injustice and tsk-tsk headshaking about personal agency.
On the one hand, he is no victim. He is a grown man capable of acting within the legal bounds of his probation, a rich guy who had the means to be more disciplined, the resources to stay on point. On the other hand it looks like he's being made an example of.
I have a personal reason for disliking the "free so and so" movement. As the victim of a violent crime, I tend to chafe at the knee-jerk defense of folks who commit unnecessary violence. Growing up, still scarred by the memory of my father's murder, I seethed when I heard people automatically jump to the defense of those who definitely committed the crimes they were charged with. Oftentimes people knew who had run up and killed the teenage boy on the corner, or had heard whispers about the shooter's identity, but still for people my age (under 30) would immediately invoke "FREE so and so" on T-shirts and in Myspace posts.
My dislike for the "free so-and-so" movement was not a wish to have the accused's civil liberties or presumption of innocence taken away, but for all of us in the know to show some integrity and respect toward the survivors of violence. I was confounded by the lack of accountability "free" proffered to rapists and murderers. In my mind, it was a way to link the politically motivated incarceration of activists like Geronimo Ji Jaga with "if I did it" killers like O.J. Simpson and his ilk, a connection I found incongruous and outright disingenuous.
He's both a cog in the machine that is this nation's carceral state and an agent of his own demise.
But Tuesday morning, I woke up early with Meek on my mind, thinking "FREE MEEK," even if I had a hard time saying it out loud. Yesterday, upon hearing the news, I shook with disbelief. I called friends to talk about what had happened. Because it definitely felt like something had happened. As hyperbolic as it sounds, it seemed like a minor tragedy had taken place. Was I stewing because I hated the biased criminal justice system in my hometown? Yes, but there's more to it. I was angry for reasons I can't wholeheartedly explain. But I'll try to.
I have an irrational sense of love for Meek Mill. I have been rooting for him since we were both teenagers in Philly. He's two years older than me, but I see him as a contemporary. We have parallel paths. When he was battle-rapping in front of North Philly corner stores, I was writing poetry and reading Toni Morrison novels inside my bedroom. While he was at Strawberry Mansion High School, allegedly selling crack and doing narcotic math, I was at Parkway Gamma, a few miles away, playing dumbass games on a TI-83 calculator.
Now we are two vectors, dots of choice and chance, charting different courses. I'm a woman, he's a man. He's been arrested several times and has spent significant time in prison. I'm a goodie two-shoes who's never been in trouble for anything in my life. We have divergent trajectories; we are points on a graph that, if you look close enough, resembles Philadelphia's grid of neighborhoods and wards.
And yet as different as we are, we're very similar. We were both raised by single mothers. Our fathers had been murdered in the streets. We both struggled financially. We are both writers, of different kinds. We both hoped our creativity would give us a chance to lead better, happier lives. More importantly, both of us have chips on our shoulders. I get the sense that the people who love Meek love him not in spite of his propensity to lose, but because he loses.
He's a Rocky Balboa figure for a certain type of young, black Philadelphian, which is why hearing Meek's music soar over the rising action in Ryan Coogler's Creed made the movie feel all the more authentic. It's not his history with drug and violence that resonates or makes him "real" to me; it's his fallibility. It's him literally falling down on his mom's icy steps last winter (and subsequently posting the security footage on his Instagram), a rare humorous nod to the way he's perceived online. He's Black Philly's generational underdog, the Joe Frazier statue our parents always complained should have been placed in front of the Philadelphia Museum of Art instead of that fictional "great white hope" boxer.
Sonically, he still seems like the young battle-rapper he was when he began, slow to embrace commercial tactics in order to stay authentic to his base. He hasn't easily adapted to the changing musical landscape; even for an artist who makes music for the streets, he seems inordinately trapped. He can't stop screaming on tracks, eschewing popular hip-hop's trendy vocal croons and laconic delivery for a chronic need to be heard at the top of his lungs. His apparent allergy to subtlety doesn't exactly lend itself to pop success. Yet there's something endearing about his high decibel, all-caps remonstrations, his need to project so that he knows he'll be heard, especially for the people in the back of the room.
He's a Rocky Balboa figure for a certain type of young, black Philadelphian.
But of course, this is about more than music. FREE MEEK MILL is a motto, but also a provocation. There will be the inevitable legal appeal from Meek's camp, but under these circumstances, how will it not also be an ethical appeal, a conversation about the value of a young man's life and the kind of punitive measures that will actually make a difference in his rehabilitation?
Within Meek's life and music, contradictions are what make him both a hopeful and semi-tragic figure. The juxtaposition of his long-standing hustle and determinist arc aches; there is his 2012 single "Amen," and there is the bad faith in dumb shit. In the "Intro," you can find strains of American optimism and Afro-pessimism, a philosophical approach that deals with black resilience and imagination in the aftermath of historical trauma. This duality is echoed in the visual art that accompanies his albums. On the cover of Dreams and Nightmares, a fancy watch is linked to a handcuff, and in the artwork for 2015's Dreams Worth More than Money, an obituary and stack of hundred dollar bills are bound together. Always, in Meek's mind, the wins and losses are side by side.
Yesterday in Philadelphia, we elected Krasner. Krasner can't affect the decision-making of the judges in his city, nor the police officers who are sworn to uphold the law. (After all, this is the city whose police department initially defied the last mayor's attempt to decriminalize small quantities of marijuana.) But his win marks a change in the city's culture around the kind of person who most deserves to be clogging up our jails and prisons. Krasner's victory is now one of the great ironies of Meek's life — a sea change happened at almost the exact moment he went down again. And I can't help but look at that victory through Meek's Wins and Losses calculus, one that feels like a theme of the country's rising awareness of mass incarceration in the wake of the national discourse around Michelle Alexander's watershed book The New Jim Crow and Ava DuVernay's Emmy Award-winning 13th. With every win, there's a loss. ●
Niela Orr is a writer from Philadelphia. She is a columnist for The Baffler and a contributing editor of The Organist podcast. Her work has appeared in the New York Times Book Review, Elle, the Believer, and McSweeney's.