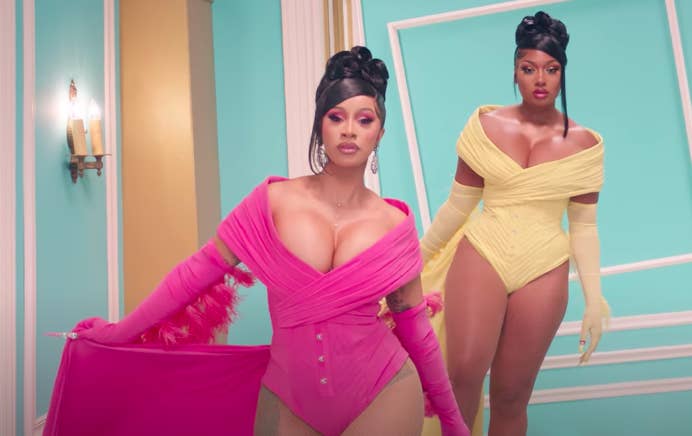 In the 2011 song "That's My Bitch," from the album Watch the Throne, Jay-Z asks "Why all the pretty icons always all white?" and demands that art curators "put some colored girls in the MoMA." He name-drops Jean-Michel Basquiat and gallerists like Larry Gagosian with the same verve which other rappers (and Jay himself) have rattled off celebrity jewelers and luxury fashion brands. The most iconic shot of his and Beyoncé's 2018 music video for "Apeshit," which was filmed at the Louvre in Paris, situates the couple directly in front of the "Mona Lisa." Their purposefully confrontational stance was meant to problematize the famous portrait, or at least to call into question its symbolic influence on aesthetics and standards of beauty. Now, nine years after Jay's "MoMA" line, some colored girls have eschewed the Museum of Modern Art and put themselves in their own museum.

There's the Colored Girls Museum, a real exhibition space in Philadelphia, which opened in 2015, but then there's also the setting of Cardi B and Megan Thee Stallion's delightfully maximalist video for "WAP," the first single from Cardi's forthcoming sophomore album. In the Colin Tilley–directed video, which premiered last Friday along with the song, Megan and Cardi play curators, docents, and visitors all at once.
"WAP," which stands for "wet-ass pussy," is appropriately infused with splashy imagery; there's liquid everywhere. Part art gallery, museum, estate, and Willy Wonka factory, the video's setting showcases Black and brown women (with the notable exception of Kylie Jenner, who makes a conspicuous and controversial cameo).
On the grounds of the mansion, there are water fountains that double as statues of Cardi and Megan, and inside, against a surrealist Alice in Wonderland backdrop, the rappers, sporting elegant updos and colorful gowns, navigate oddly proportioned hallways and walls that stretch like funhouse mirrors. Sculptures of voluptuous women's bodies hang within slightly askew borders on Dali-esque panels. Disembodied legs, thighs, and cleavage gyrate in time to the beat's undulations. Meg and Cardi ride conveyor belts, rotating and contorting like mechanical gears. The imagery syncs with the women's alternating verses, which are hilariously raunchy. "I want you to touch that lil' dangly thing that swing in the back of my throat," Cardi snarls; Meg boasts of changing wigs so her lover "feels like he's cheating," and calls men who perform analingus "bottom feeders."
In the way that an acronym both obscures the meaning of a word and hints at its definition, the track's title, "WAP," is like a peep show curtain, which hides its performers and titillates viewers at the same time. The song's name demonstrates an attempt at decorum, which is simultaneously counteracted by the brazen sexuality even the song's edited version — "wet and gushy" — doesn't conceal. The pleasure of saying "WAP" is owed to its onomatopoeia, and the sweaty skin slaps inferred when you sound the title out loud and say it quickly, much like the cadence of Megan's double-time verses. It's a subversive song in almost every way, even as it plays with the limits of explicit expression.
The song's name demonstrates an attempt at decorum, which is simultaneously counteracted by the brazen sexuality even the song's edited version — "wet and gushy" — doesn't conceal.
The overriding point and evolution of "stripper rap" — and stripper movies, like 2019's Hustlers and even 1995's Showgirls before it — is that ambitious women in compromising situations aren't settling for chump change (raining dollar bills, stolen wallets and credit cards); their demands are escalating. Just as they are poised to take advantage of the men who trade sexual favors for cash, they're also out for patriarchy and other institutions, too, when it's advantageous to do so. People can also carry the weight of institutions, if they're prominent enough. Jenner, who Forbes accused in May of inflating her own wealth, and who was previously sued for allegedly plagiarizing the intellectual property of other fashion and makeup entrepreneurs, is an interesting, uncomfortable choice to do a walkthrough, but also a perfect person to amplify the video's absurdity. On Instagram, director Colin Tilley called the video a "wild ride," and in a Tidal interview Cardi said it was "a scary video," but nothing marks its truly bizarre nature more than the fact that Carole Baskin herself, who already has enough on her plate, spoke out about the video, speculated about the impact its photoshopped tigers will have on the big cat black market, and told Billboard the visual presentation was "lurid."
"WAP" samples Frank Ski's 1993 Baltimore club classic "Whores in This House," a song that includes a male voice incessantly chanting "there's some whores in this house," over a thumping house track. In Cardi and Meg's choice to co-opt the sexual insults usually directed at them, and, more broadly, rappers like them (see Jermaine Dupri's comments about "stripper rap," which he thinks should be called "strap"), there's the gall of Betty Davis's funk jam "Nasty Gal." The women's lyrics are reminiscent of raps in songs by scores of male emcees, including Schoolly D, Too Short, Uncle Luke, Bun B and Pimp C, Snoop Dogg, and Kevin Gates, just to name a few. The excessive detail in "WAP's" lyrics recalls the nearly 10-minute sexual odyssey described in Too Short's 1987 hit "Freaky Tales" ("When I freaked Michelle, I freaked her well / Her pussy got hotter than the flames of hell") and the 63-minute cover of "Freaky Tales" the Insane Clown Posse released in 2012.
Both musically and visually, "WAP" is certainly influenced by the music and iconography of Lil' Kim, whose 1996 debut Hard Core and its iconic album cover would go on to inspire Cardi, Megan, and Nicki Minaj's aesthetics. Kim songs like "Big Momma Thang" (1996) and "How Many Licks?" (2000) prefigure "WAP" by decades. The visual DNA of Missy Elliott's "Beep Me 911" and "One Minute Man" videos are also all over the music video. But still, the presentation of the "WAP" video suggests that Cardi and Megan are going beyond merely adding to this canon of sex rap and absurd, boundary-melting visuals; they're now commenting on it, too.
The commentary comes from the epicenter of a year that has seen both rappers weather public and private turmoil. While Cardi's musical output has dipped, she's been a fixture of pop culture this year; her earnest warning to her Instagram followers about the coronavirus threat turned into a meme and viral sensation in March, and was sampled everywhere. In a recent Elle interview with writer Marjon Carlos, Cardi revealed that several of her relatives had been diagnosed with COVID-19. She's also been very active lobbying for justice for Breonna Taylor, frequently posting on social media. ("DONT LET KENTUCKY POLICE DEPARTMENT GET AWAY WITH THIS SHIT!!!!!" she wrote in an Instagram caption.) All while dealing with rumors around her husband Offset's alleged infidelity, and a series of controversies that resulted in several temporary "cancellations."
Megan's 2020 has been a torrent of conflict and trauma. Her 2019 "hot girl summer" movement gave way to a spring that saw her dominate with "Savage," the subject of a ubiquitous quarantine dance challenge, and its Beyoncé-assisted remix, which went No. 1 on several Billboard charts. Now Megan is dealing with a very public legal battle with her record label, 1501 Entertainment, over what she claimed in March is an unfair recording contract. (She is still managed by Jay-Z's talent firm, Roc Nation.)
"WAP," is like a peep show curtain, which hides its performers and titillates viewers at the same time.
In July, she endured what, by many accounts, seems like a truly harrowing, potentially deadly experience. On the night of July 11, Canadian musician Tory Lanez allegedly shot Megan as she was attempting to leave the vehicle they were traveling in together, Page Six reported. She was reportedly shot in both of her feet and underwent surgery to remove the bullets. The day before the shooting, the two had appeared on Instagram Live with Kylie Jenner, and on the night of the shooting, Lanez and Megan were reportedly hanging out at a party Jenner threw at her Hollywood Hills home. Lanez, who posted $35,000 bail on July 12, has not publicly spoken about the incident, and neither has Jenner. Megan has been tight-lipped about the incident, but did admit on Instagram that she "suffered gunshot wounds, as a result of a crime that was committed against [her] and done with the intention to physically harm [her]." Megan's music producer also spoke cryptically about the shooting on social media, threatening Lanez. On July 27, more than two weeks after the shooting, she went live on Instagram and addressed her fans, bemoaning the loss of her parents — both of whom are dead — and tearfully saying, "I didn't deserve to get shot."
One could argue that the timing of this video is then perfect, as it provides Megan a welcome distraction from the shooting scandal and the public's craving for more details about it. But the presence of Kylie Jenner only calls attention to the incident.
For someone who is so highly, tactically visible, Jenner's appearance seems to invite a different kind of attention than she's used to receiving in cameos of this sort. In her cameos in videos by ex-boyfriend Tyga and Travis Scott, her daughter Stormi's father, she is the garden-variety video girl: pretty and just noticeable enough to stand out but not to distract from the men's spotlight. In those videos, she was used as eye candy or trophy wife or "futuristic Virgin Mary," objectifications that seem in keeping with her public relationship dynamics.
In "WAP," however, she functions as bait.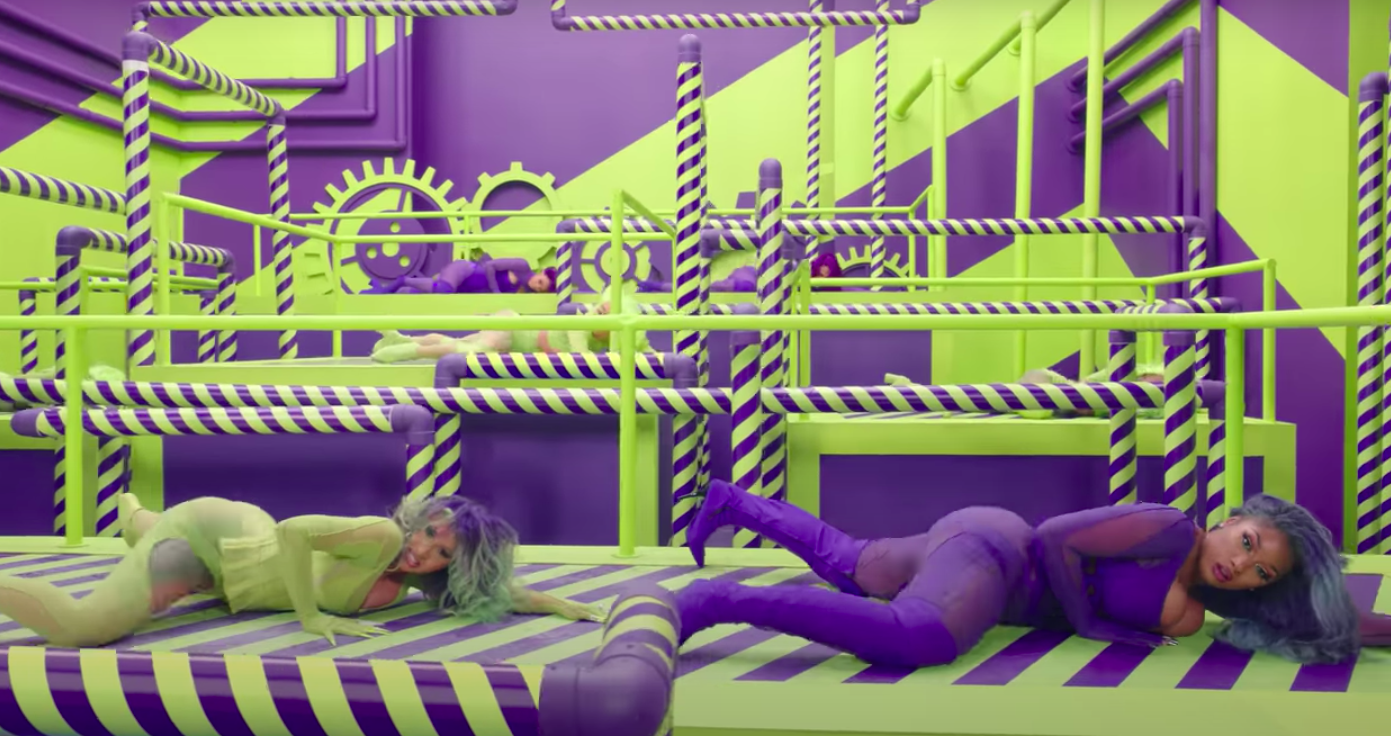 "WAP" enters the pop culture landscape just as the respectability politics of male hip-hop icons like Jermaine Dupri and CeeLo Green have reemerged. In an August 9 interview, Green decried the work of women rappers, arguing that there's a "time and place" for certain explicit sexual references. The singer and rapper, who himself released a single called "Closet Freak" almost two decades ago, told Far Out magazine that "A lot of music today is very unfortunate and disappointing on a personal and moral level. There was once a time when we were savvy enough to code certain things. But now music is shameless, it is sheer savagery." Although he released a statement on Wednesday apologizing for his words, his point of view had already circulated. Clearly not everyone is "sassy," "bougie," and "ratchet," to quote Meg's "Savage" chorus; some folks are just bourgeoisie.
The video and its art-world aesthetics also arrive at a time when museums and other fine art institutions are being challenged to divest from police, and progressive curators are leading the charge to decolonize and reimagine museums and to ask these institutions to reckon with their colonial, imperial histories. "WAP" invites viewers to conjure a different kind of museum.
Not since Carole Baskin went viral in the spring has a white woman in leopard print garnered so much ire from the internet.
Speaking of conversation around appropriation, Kylie Jenner's cameo coalesces criticism of cultural theft, on both a macro and highly personal micro scale. Not since Carole Baskin went viral in the spring has a white woman in leopard print garnered so much ire from the internet. (You would've thought they named the song "WASP"!) Jenner's appearance instantly sparked derision online, with Twitter users claiming that Jenner's cameo ruined the video, while others argued that her presence made a point about the difference in the way that Black women's labor is overlooked in comparison to that of white women. So far, more than 68,000 people have signed a Change.org petition to remove Jenner from the video, which was organized by members of Meg's fanbase. Fans have even reedited the video, replacing Jenner with Viola Davis. For her part, in a series of since-deleted tweets, Cardi wrote, "Why did I put Kylie on my music video? She treated my sister and daughter so lovely at her kid bday party," and "Not everything is about race." Cardi also mentioned that Travis Scott, the father of Jenner's daughter Stormi, is close with her husband Offset. Megan, however, hasn't publicly spoken about Jenner's presence in the video.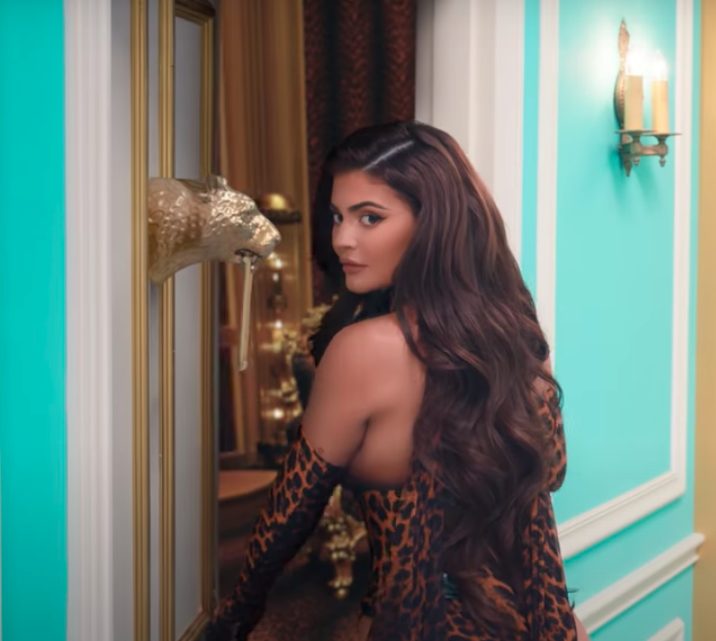 Jenner herself has long faced accusations of being a "culture vulture," or a non-Black person who appreciates the cachet of Black culture, but is conspicuously absent when there's something at stake. From the notion that her body modifications and public relationships with Black men mean that she's co-opting Blackness to the allegations of cultural appropriation that stemmed from her and sister Kendall Jenner's unlawful licensing of Biggie- and Tupac-themed T-shirts in 2017, and their supposed theft of Mexican American fashion and cultural sensibilities — she has a history. It's an assessment Kim Kardashian West faced earlier in her career, but because of her prison reform advocacy, that particular critique has waned. Recently, Jenner's fielded this criticism as a result of her association with Tory Lanez and Megan. The shooting incident is a legal matter, so it's reasonable to expect that she is silent for now, but even so, Jenner's refusal to speak on the record about the shooting, compounded with her cameo in the "WAP" video has once again brought up commentary that she's merely an opportunist.
And of course, there is last year's infamous Tristan Thompson–Jordyn Woods cheating scandal, which precipitated the end of the friendship between Jenner and Woods. What does it mean for two Black women to cosign Jenner in their video, after all of that? Because they had to know that she would bring all of that cultural baggage with her, it seems like Jenner's inclusion was well thought-through, online hordes be damned.
It appears that, despite Cardi's deleted tweets, in which she says "not everything has to do with race," she and Meg are flipping their association with Jenner, like Beyoncé and Jay-Z did to the "Mona Lisa," turning an elevated image of white femininity on its head. The rappers have used Jenner's proximity to scandal and the "always-on" nature of the Kardashian model of celebrity to bring the asscheek and boob sculptures of "WAP" — its suggestive peaks — closer to the uncanny valley.
There's also an example of this dynamic that's a little closer to home: In 2016, Blac Chyna (also a former stripper) was perceived as manipulating the Kardashian clan, and her child's father, Rob Kardashian, to maximize her own fame. Now Meg and Cardi seem to be using Jenner like Blac Chyna did Rob, or like the white art establishment used Basquiat, capitalizing off of her celebrity and notoriety.
In accessorizing their video with Kylie Jenner, the rappers have done another thing, beyond curating, or showing themselves (and viewers) around their museum: They've pulled off a subtle form of theft. Like any good art heist, they've done a switcheroo. Cardi and Meg have used Jenner, their bait, to switch the discourse, from the lyrical bawdiness of two Black women to a real-life, white, scion of the "sex sells" business — to switch the public's attention from just an assessment of their song and video's overindulgence to Jenner, a symbol, for some, of excess, who is frequently accused of stealing and of doing too much.
In a year of strange reversals, this is one we can enjoy. ●