Personal lives and professional plans were shattered overnight for scientists and students when President Donald Trump signed a hugely controversial executive order on Friday that limited travel for citizens of seven countries.
At the nation's top universities, which are hubs for foreign visitors, citizens of Syria, Iraq, Iran, Sudan, Somalia, Libya, and Yemen — including students on F-1 visas and researchers with jobs — found themselves canceling flights and conferences, rethinking rentals, and reconsidering wedding plans as the executive order imperilled their chances of flying into or out of the US for at least the next 90 days.
Some were on flights and in transit when the order was signed, and so found themselves trapped at airports, or detained here when they arrived.
"If we are to create an ecosystem where we have a wall around the country, science would crumble," Stefano Bertuzzi, CEO of the American Society for Microbiology, told BuzzFeed News. "We cannot do it by ourselves."
Across the nation, colleges have mobilized lawyers to help those immediately stranded. Meanwhile, international student offices at leading federally funded research universities are issuing stern directives to the foreign students and faculty in their community to cancel any plans to travel outside the US.
"We continue to push hard to bring back to MIT those members of our community, including two undergraduates, who were barred from the US because of the January 27 Executive Order on immigration," MIT President L. Rafael Reif wrote Monday in an email to the students and faculty, calling the order a "stunning violation of our deepest American values."
In a terse statement posted Saturday, top administrators from Stanford University noted that a Sudanese student was returning from a research trip this weekend when she was detained and briefly handcuffed at New York's JFK airport.
"An unfortunate consequence of the new policy appears to be that students and scholars from designated countries are, for the moment, effectively detainees in this country," President Marc Tessier-Lavigne, Provost John Etchemendy, and incoming Provost Persis Drell wrote in a statement addressed to the academic community.
They were among the university chiefs who pungently condemned the executive action for its broadness, noting that its harm reached beyond the academic world.
Columbia University President Lee Bollinger called the action "discriminatory, damaging to America's leadership in higher education, and contrary to our nation's core values and founding principles" in a statement posted over the weekend.
"It is important to remind ourselves that the United States has not, except in episodes of national shame, excluded individuals from elsewhere in the world because of their religious or political beliefs," Bollinger wrote.
At Cornell University, interim President Hunter Rawlins wrote that the order was "fundamentally antithetical to Cornell University's principles," and said the university would continue to accept applications from the countries named in the travel ban.
Andrew Hamilton, NYU president, wrote that the order "harms one of the most admired and cherished of American principles — religious non-discrimination itself."
At MIT, where over 40% of the faculty and graduate student body are immigrants and 2,400 international researchers on campus are foreign visitors, faculty and administrators joined a large protest against Trump's order in Boston's historic Copley Square.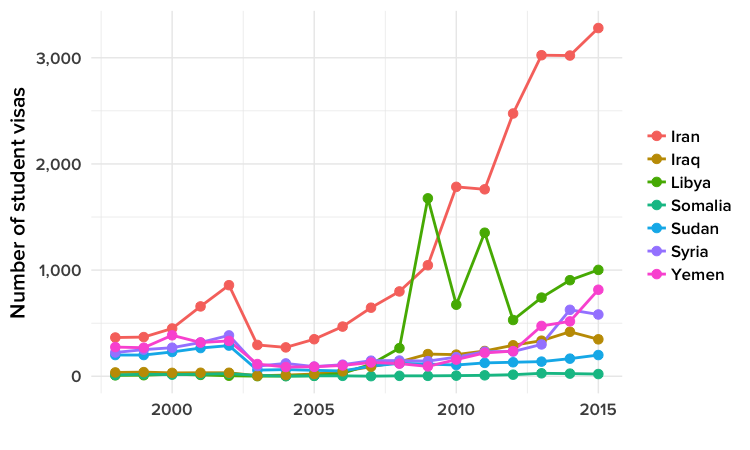 Academic leaders warned that the order also risked crippling the US scientific enterprise, which has flourished in the US through the contributions of immigrants. Among the venerated members of the National Academy of Sciences, a quarter were born overseas.

"How many hundreds of scientists have come to the US and showered us with prizes and discoveries?" ASM CEO Bertuzzi said. "That's what made our country a hub for science where everybody wants to be."
The society has 1,400 members in Yemen alone — Bertuzzi said he spent the weekend fielding emails from microbiologists who say they won't visit the US for conferences or events because the travel ban excludes their collaborators and colleagues.
"Implementation of this policy compromises the United States' ability to attract international scientific talent and maintain scientific and economic leadership," American Association for the Advancement of Science President Rush Holt, a former congressman, wrote in a statement addressing the executive order.
While legal teams at airports grappled with shifting events — stay orders from judges, noncompliance of those orders by airport staff, shifting instructions from the administration regarding permanent residents — researchers elsewhere tried other routes to circumvent the ban.
Joshua Plotkin, a mathematics professor at the University of Pennsylvania, spent the weekend trying to find a way to have a postdoctoral researcher, an Iranian citizen with a green card, return to the US from a conference in Germany. He tweeted at Pennsylvania senators, to no avail. The researcher is waiting out the situation a few days, he told BuzzFeed News in a direct message on Twitter.
Where they can, scientists are raising their voices in protest, tweeting their opposition to the ban, or joining rallies. One letter opposing the travel order began as a petition circulated among colleagues, but blew up over the weekend to include more than 12,000 scientists signing their support.
Neuroscience researcher Athena Akmari, a postdoctoral researcher at Princeton University who was among the creators of the letter, told BuzzFeed News that she feels the order addresses her personally, as a citizen of Iran working in the US on a visa. "It seems from a legal point of view, I am getting into trouble," she said. "I am being called a 'removable alien.' How can I feel comfortable living in this society?"
The order seems to have affected the Iranian and the Iranian-American community acutely.
"Overall, it has been extremely stressful for anybody I know," MIT professor Hazhir Rahmandad wrote to BuzzFeed News in an email. "Most have personal friends and family directly affected."
Another Iranian postdoctoral scholar, Samira Asgari, was traveling to Boston to begin a postdoctoral fellowship at Harvard Medical School. She was stopped in Frankfurt airport and prevented from boarding her flight to the US despite having a valid visa.
"I feel sad, frustrated, and discriminated," she told BuzzFeed News. Though a Massachusetts court has issued a stay on detaining or removing visitors with valid visas or green cards, her calls to airlines asking if she can travel have been unsuccessful so far.
To make things harder, visas issued to Iranian citizens tend to permit a "single entry" to the US. This means that if they leave the US to travel elsewhere or go home, they need to reapply for permission to visit again — an expensive and time-consuming process — and chance being rejected.
That's the fear that kept Amirhossein Ghasemi, a postdoctoral researcher at University of Michigan, from returning home to see his grandmother when she was ill in 2016. When she died, he missed her funeral.
Ghasemi has been planning his wedding for two years, and slotted it for New Year's Eve this year, after waiting to ensure his parents could get a visa to travel to the US. Now the executive order has thrown those plans into turmoil.
"I am doubting, doubting about everything," he told BuzzFeed News. "About if the path that I'm taking, is it worth it or not? I spent 10 years not going to my brothers wedding, my cousin's wedding, not going to funerals, not being able to talk to or see my mom. Am I on the right path? I don't know."
With additional reporting by Azeen Ghorayshi and Dino Grandoni.
CORRECTION
Stefano Bertuzzi is the CEO of the American Society for Microbiology. An earlier version of this post misstated his title.