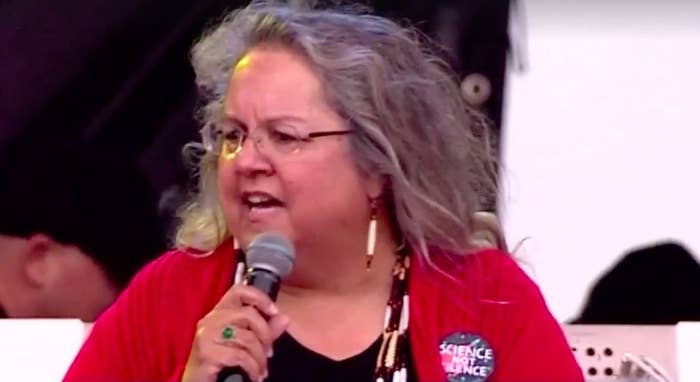 WASHINGTON— From Sydney to San Francisco, indigenous scientists and scholars celebrated traditional knowledge on Saturday, as thousands across the world demonstrated at March For Science events.

Indigenous knowledge and practices are often dismissed as mythology or "quaint stories," Melissa Nelson, associate professor of American Indian Studies at San Francisco State University, told BuzzFeed News.
"There are numerous contemporary indigenous sciences based on a long tradition and history. They need to be validated as such — not as folklore," said Nelson, who is Anishinaabe.
With the global March For Science events being held on Saturday, Nelson was part of a group that wrote a declaration arguing that indigenous science, including ancient practices of conservation and healing, could complement dominant "Western science" and be useful at a time when people are looking for ways to tackle problems, such as climate change and issues of sustainability.
More than 1,700 people, including members of more than 40 indigenous groups, and allies, signed the statement.
"It seemed incomplete to me that as we celebrate science, we don't celebrate the other sciences," Robin Kimmerer, director of the Center for Native Peoples and the Environment at State University of New York, who is Citizen Potawatomi, told BuzzFeed News.
Kimmerer began drafting the petition and looking for collaborators when she saw the movement to make a public show of support for science gather momentum online.
"People often think about indigenous science as a historical example, as a museum piece," she said. "It's a very contemporary problem-solving ability because of the principles it's based on."
For example, ecology, biology, and tribal practices are at work restoring salmon and sturgeon in the Columbia River basin. In Arizona, the Tohono O'odham Nation is turning to traditional grains and diets to combat diabetes.
Though the pursuit of "Western science" has sometimes antagonized indigenous groups, the March For Science is an opportunity to collaborate, and raise awareness that these alternate libraries of knowledge exist, Rosalyn LaPier, a visiting professor at Harvard Divinity School who co-wrote the statement, told BuzzFeed News.
Indigenous communities in the US, from Louisiana to Alaska to Montana, are already feeling the effects of climate change and preparing to survive despite it, sometimes tapping into indigenous knowledge system.
"Let us remember that long before Western science came to these shores there were indigenous scientists here — native astronomers, geneticists, botanists, engineers — and we are still here," Kimmerer said, during a speech at the March For Science event in DC.

"There are a lot of people who say when climate change comes to us we'll just go," Kimmerer said. "[But] many indigenous peoples are extremely vulnerable to climate change and are in homelands that they cannot leave."