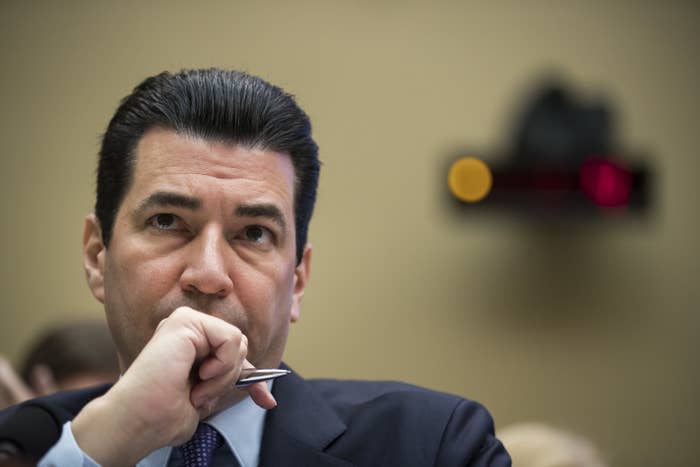 A White House proposal to remove the FDA's food safety role and consolidate it under another agency appears to be at odds with the FDA chief's vision of keeping the global food supply safe and disease-free.
On Sunday, FDA Commissioner Scott Gottlieb published a series of tweets staking out the agency's current role and accomplishments in this space.

As of now, the major responsibility for monitoring food products is shared by the FDA and the USDA.
For example, the FDA monitors game meat like venison, and all seafood except catfish, while the task of inspecting poultry and meat products falls to the USDA. The FDA inspects whole eggs and egg-containing products, but it is the USDA that inspects liquified, frozen, or dried eggs.
In a proposal published Thursday as part of a wide-ranging reorganization of the federal government, the White House suggested assigning full oversight of food programs to the USDA as a way to streamline food oversight.
The plan also suggested changing the name of the FDA to the "Federal Drug Administration" so it could "focus on drugs, devices, biologics, tobacco, dietary supplements, and cosmetics." The proposal, however, is expected to meet opposition from lawmakers in Congress.
Gottlieb has prioritized food safety among the agency's tasks in op-eds and speeches in the past. In interviews after he took the top job in May 2017, he reaffirmed his commitment to this aspect of the agency's work. In January, the FDA and USDA announced an agreement to improve "cooperation and coordination" in their oversight of food.
Gottlieb began his "Sunday Tweetorial" by stating once again that food safety is "one of [his] highest priorities," and went on to make a case for the agency's role in protecting food in the US, but also globally.
Gottlieb reminded his followers that the US imports food from 200 countries, including 90% of seafood and spices. He then flagged the agency's push over the last few years to use whole genome sequencing to identify foodborne bacteria that transmit diseases.
"This helps scientists respond more effectively to food contamination, allowing faster recalls and preventing illnesses," he wrote.
He also pointed to a novel sampling program launched in 2014 that was designed to detect bacteria ahead of a potential outbreak.
"Our goal, through regulation and use of technology, is to shift our food system from one that just reacts to problems to one that prevents them from happening in first place. Food safety is priority #1 from the farm to table," Gottlieb wrote.
The FDA and the White House did not immediately respond to a request for comment from BuzzFeed News.