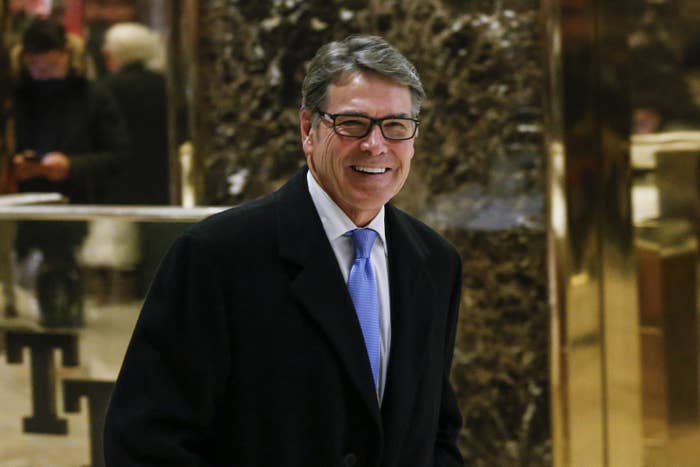 Scientists are reacting with alarm to news that Rick Perry, the former governor of Texas who once proposed eliminating the Department of Energy, has been chosen by President-elect Donald Trump to lead it.
"I might be able to think of a worse choice, but it would be a reach," Al Teich, a professor of science, technology, and international affairs at George Washington University, told BuzzFeed News.
Anxiety among scientists peaked on Tuesday, because the $30 billion agency is a critical supporter of basic research, and the biggest funder of physics in the country. DOE-funded research has led to milestones like the discovery of dark energy and the creation of the internet.
"A lot of people fail to realize that the DOE is the center of nuclear weapons stewardship, is involved in huge environmental cleanup, and is the largest center of research in the physical sciences — far more than any other government agencies," Rush Holt, CEO of the American Association for the Advancement of Science and a former congressman, told BuzzFeed News.
"I think any secretary who comes in thinking that the department is about oil and wind farms has a lot of catching up to do."
A majority of the DOE's budget is currently allocated toward maintenance of the country's nuclear arsenal. But the agency also supports 17 national labs, and funds some 22,0000 scientists. It supports applied research on alternative energies, and this year allocated $5.34 billion for basic science.
"The greatest period of economic prosperity was fueled by federal investment in basic science and training scientists" and the DOE was the "federal backbone" of that effort, David Kaiser, a professor of physics and history at MIT, told BuzzFeed News.
"If support for basic research is seen as merely discretionary, then I think we're in big trouble," he said.
Prominent physicists have led the agency for the last two terms: Nobelist and Stanford professor Steven Chu took on the role in January 2009, and was followed by Ernest Moniz, who chaired MIT's physics department, and also did stints with the White House Office of Science and Technology Policy.
Scientists such Risa Wechsler, a professor of physics at Stanford University, who was gladdened by seeing one of their own at the helm of this hugely influential agency, regard Perry as a misfit who fails to grasp its core charge.
Most famously, Perry forgot the name of the Department of Energy during a debate in 2011, meaning to list it as one of the three agencies he wanted to eliminate, along with the Department of Education and Department of Commerce. Perry's "oops" moment effectively ended his campaign.
"It may mean that he doesn't understand what the agency does or what the value is, and that's very concerning to me," Wechsler, who unloaded on Twitter about the choice, told BuzzFeed News.
Environmental groups are also incensed that Perry, who has questioned climate science, will now be in charge of an agency tasked with developing alternative energy technology and implementing parts of President Obama's Climate Action Plan.
The Natural Resources Defense Council called the appointment "absurd." "Yet again, Trump has chosen an unqualified individual who is at war with the central mission of the agency he is being nominated to lead," Rhea Suh, president of the NRDC, said in a statement.
At the Union of Concerned Scientists, a group that has already fired warning shots at the upcoming administration for its denial of climate science, president Ken Kimmell said in a statement that "the fact that Governor Perry refuses to accept the broad scientific consensus on climate change calls into question his fitness to head up a science-based agency like DOE."
Of particular concern last week was the transition team's request that the DOE provide names of people who worked on projects related to climate change science and the Climate Action Plan.
"This reminded me of Joseph McCarthy's tactics," Teich said. "That really smells bad."
On Tuesday morning, the agency announced that it would not provide those names, but the query reportedly put staffers reportedly on edge.
"He's going to want the DOE to do a lot of things that the staff is not comfortable with," Teich said.
Then on Wednesday, members of the Trump transition team told CNN and other outlets that the questionnaire was "not authorized."
"The swift and strong negative response to this incident should signal to the Trump administration that the scientific community is organized, engaged and watching closely to make sure that independent science is respected and protected," Andrew Rosenberg, director of the Center for Science and Democracy at UCS, said in a statement commending the team's latest response.
UPDATE
This story has been updated to include comments from David Kaiser.
UPDATE
This story has been updated to note the Trump transition team's response to the questionnaire sent to the DOE last week, and with the UCS response to that response.