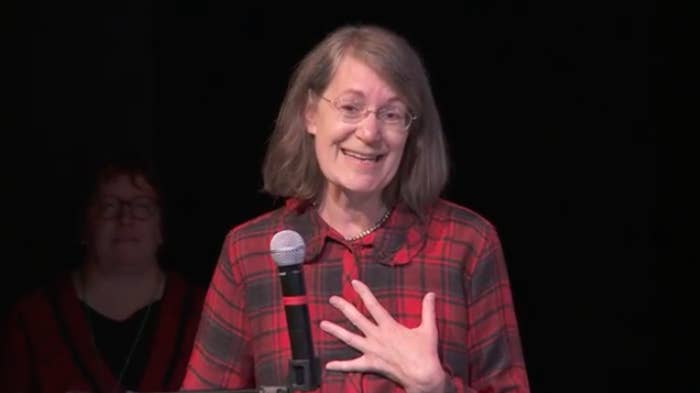 A top EPA official just put on administrative leave said the Trump administration was trying to "disappear" her office dedicated to children's health, according to an email obtained by BuzzFeed News.

Ruth Etzel, the director of the Office of Children's Health Protection and an internationally renowned expert who cowrote the field's "bible," was placed on administrative leave Tuesday, the New York Times first reported.
"I appear to be the 'fall guy' for their plan to 'disappear' the office of children's health," Etzel wrote Tuesday to the leader of a nonprofit, in an email shared widely among academics and advocates.

Etzel wrote that the EPA told her the decision to place her on leave was not a disciplinary action, and that it ended several months of conflict.

"It had been apparent for about 5 months that the top EPA leaders were conducting 'guerrilla warfare' against me as the leader of OCHP, but now it's clearly official," Etzel wrote. Etzel did not respond to requests for comment from BuzzFeed News.
The EPA declined to comment on Etzel's email or the specifics of her leave. But a spokesperson contested the notion that the agency's children's health programs would be nixed.
"Children's health is and has always been a top priority for the Trump Administration and the EPA in particular is focused on reducing lead exposure in schools, providing funds for a cleaner school bus fleet, and cleaning up toxic sites so that children have safe environments to learn and play," John Konkus, an EPA spokesperson, told BuzzFeed News by email.
Konkus added that the Children's Office, along with others like Environmental Justice and Civil Rights, "will continue to be a part of headquarters and regional organizations."
This is just the latest controversy at Trump's EPA, which has rolled back several environmental regulations, overhauled its advisory panels, and taken down climate information on its website. These changes and more have led to low morale at the agency, and spurred hundreds of career staff to retire or leave. Trump's first EPA chief, Scott Pruitt, left the agency in July amid a series of ethics problems, and now the agency is led by acting head Andrew Wheeler, a former coal lobbyist.
Former EPA officials and other public health experts are worried about what happened to Etzel. Elizabeth "Betsy" Southerland, the former top official in EPA's water office, said she has never heard of an office director being put on leave like this, and she's worried this is the EPA's first step toward suspending or firing Etzel.
"I think it's horrible," Southerland told BuzzFeed News. "This is stunning. I've never seen it done at this level."
Experts outside of the government are concerned about the fate of the Children's Health Office if Etzel does lose the job.

"It leads me to the belief that EPA does not value this office," Tracey Woodruff, a professor at the University of California at San Francisco, told BuzzFeed News. "I would say that the administration has already demonstrated that they are undermining the use of science in decision-making and this would be consistent with that."

Children are uniquely vulnerable to harm from environmental factors, Laura Anderko, a professor at Georgetown University School of Nursing and Health Studies, told BuzzFeed News.
"Children are not little adults — they drink more water, breath more air, eat more food," Anderko said. During growth spurts, smaller levels of toxins can do greater damage. Also, infant behaviors — crawling, touching things, and putting their hands in their mouth — ups their exposure to environmental harms.
The OCHP was established after a 1997 executive order signed by then-president Bill Clinton cited growing scientific evidence that children "suffer disproportionately from environmental health risks and safety risks," and instructed federal agencies to assess such exposures and figure out how to minimize them.
Among its roles, the OCHP publishes the "America's Children and the Environment" reports, which pool research and national survey data on such things as illness rates, body contaminants (like blood lead levels), and environmental pollutants as they affect children, mothers, and mothers-to-be.
Without the OCHP, public health experts worry that there will be less advocacy for a group that is already underserved. As an example, Anderko pointed out, "When we calculate safety levels of chemicals, we're using adult men. Unless there are researchers at the Office of Children's Health Protection at the table, children won't be protected adequately."
"My fear is that they will dissolve the office," Anderko said. "The writing is really on the wall."