Dozens of Trump supporters gathered outside of the White House Saturday to show their support for the President Trump's decision to pull out of the Paris climate agreement, which he said would have drained the country's economy.
The rally, drawing roughly 200 people both in support and against Trump's decision, ran about two hours and was organized by the Fairfax County Republican Committee and the Republican Party of Virginia.

It was dubbed the "Pittsburgh not Paris" rally after Trump's most memorable — and criticized — line from his speech where he announced the US would leave the agreement. It began in Lafayette Square outside the White House, named for French aristocrat/military officer Marquis de Lafayette who fought in the Revolutionary War.
(BuzzFeed News was live from the rally on Periscope — watch a replay here.)
Many attendees argued that they were unconvinced that climate change is happening due to the actions of humans — some called it an outright hoax. Others — who said they supported a right-wing conspiracy theory web site — weren't really there because of the decision but because they thought the media has misconstrued the issue.
"The Paris Accord would be a disaster to the United States because it's about transferring money from this country to other countries," Matt Ames, the Fairfax County Republican Committee chairman, told a small crowd gathered outside of the White House. "If you're a poor country of course you're going to sign up for it because you don't have to do anything under the agreement."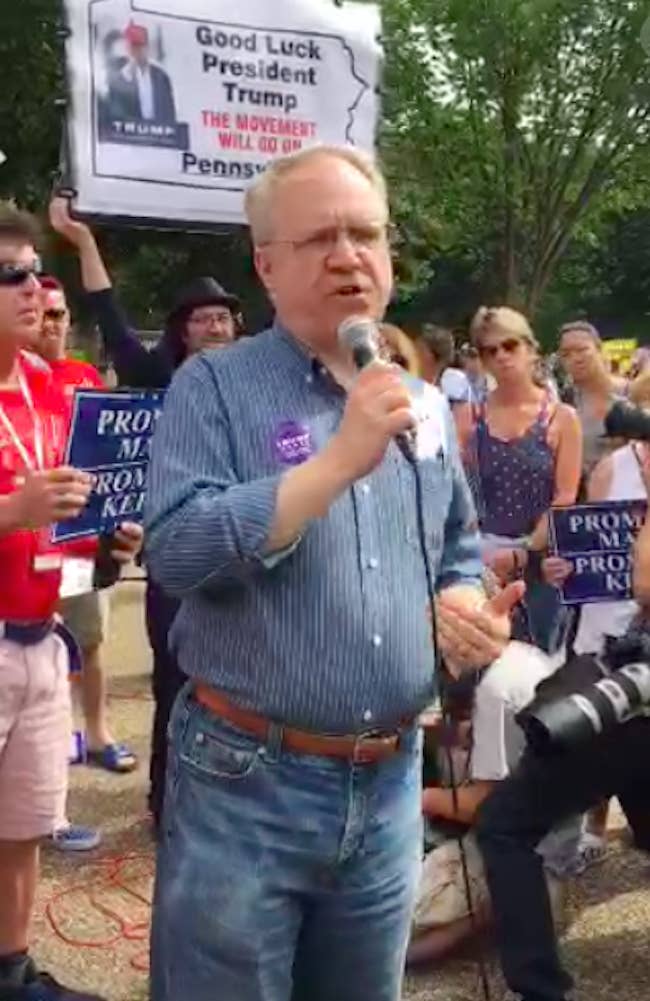 Ames argued that the accord, a non-binding agreement which called for the US to cut greenhouse gas emissions within a decade by at least 26% compared to 2005 levels, was adopted without voter support.
"We in the Republican Party care about the Constitution," said Ames. "How many voters voted for the Paris accord? One! He was the only person. Do we have a democracy, a republic where the people get to decide? Yes or no? Do we have a president who gets to decide what affects our entire economy? No ... We get a say."
A number of people told BuzzFeed News that they came out for the rally to show general support for Trump, who they believe is being undermined by the Republican party.
"This is a globalist play thing issue," said Marilyn Oachs, a Trump supporter from Bethesda, Maryland. "I'm not here for that issue I'm here to show my support for President Trump ... It's a little toy."
She said that "there's nothing he could do that I could ever turn on him, except give in to the establishment Republicans which they're harming him at every turn," she said.
"He's our last hope for the country," she added.
A Trump supporter, who told BuzzFeed News that he is an immigrant from El Salvador and a veteran, said that he rallied on Saturday because he believes the President is "for real" for pulling out of the Paris deal.
He said that any backlash against Trump is a result of efforts to attack "a champion."
"Just like any sports, when you take a stand and you're a champion, everyone wants to put you out," he said.
"The climate accord was a fool's errand and a lop sided deal," said one Trump supporter.
"That's what the climate change hoax is all about," he said. "It's taking American money and giving it to other people."
He argued that scientists may have come to a consensus that the science proves climate change is happening, science is "the process of questioning."
"Just because everyone else thinks the world is flat doesn't mean you're wrong," he said. "This is the flat earth theory."
Another Trump supporter told BuzzFeed that pulling out of the Paris Accord was an "excellent decision" because the issue of global warming is "bogus."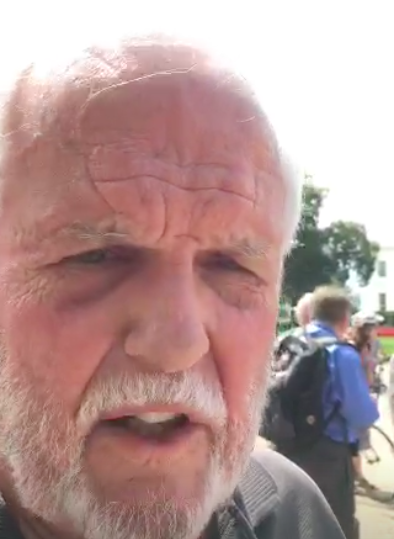 "I think the issue of global warming is, it may be getting warm, but I believe it's the height of arrogance for human beings to think that they can control the weather and it's the height of insanity for people to think that people will voluntarily control their own misuse of industry," he said. "I think if we expect any kind of conformity we would expect from the Chinese or east Indians would be just totally worthless."
He also believes that countries that are given financial support from international efforts to curb global pollution spent the money on "whatever they wanted ... they could spend it on whatever they wanted."
One person, asked what was bad about the Paris agreement, said he wasn't sure. "I personally haven't looked into it. I just trust Trump," he explained.
He said that he wasn't up-to-date on the arguments against the agreement because he hadn't recently listened to his go-to news source, conservative commentator Laura Ingraham.
He, along with several others, were also holding a sign reading "CNN is ISIS." When BuzzFeed News asked him to clarify the sign — pointing out CNN is a media organization and ISS is a a mass-murdering global terrorist group — the man clammed up on the topic.
Another person holding a similar sign — who also criticized BuzzFeed News for its coverage of Trump — said that it has nothing to do with climate change. Both signs also promoted Infowars, a far-right outlet run by conspiracy theorist Alex Jones.
The Trump campaign later included in an email a story from InfoWars reporting that his supporters outnumbered people protesting Trump — but was unclear if the article was referring specifically to the rally at the White House or the nearby March For Truth.
"President Trump can't thank his supporters enough for coming out and standing with him as he continues to Make America Great Again!" read the email.
The email includes a link to an InfoWars story with a headline claiming "Trump supporters outnumber climate change advocates at the White House."
But BuzzFeed News estimates about 200 people total were at the White House, with a small crowd of Trump supporters surrounded by media, protesters and tourists. The March for Truth clearly involved thousands of people worldwide.
This is a side-by-side of a photo of the "Pittsburgh Not Paris" rally and a March For Truth crowd.
One person estimated that there were about 100 people who came out for "Pittsburgh Not Paris."
Alex Jones, who runs Infowars.com, is notorious for using the platform to manipulate facts that spur conspiracy theories including "Pizzagate," a false claims that suggested Hillary Clinton and campaign chairman John Podesta were operating a child sex trafficking ring out of a pizza restaurant.