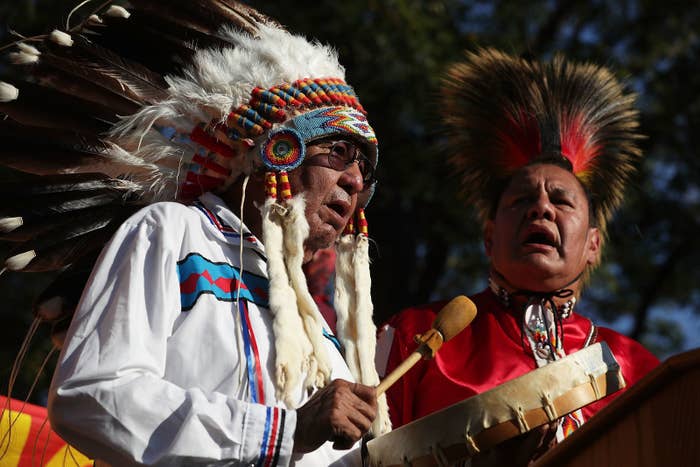 A repeal of the Affordable Care Act — now in the offing in Congress — could deal a body blow to healthcare for at least 33% of all Native Americans.
The federal government promised free healthcare to tribes in treaties more than a century ago. The legislation that protects and modernizes those treaty promises was rolled into the ACA when it became law in 2010.
With the ACA on the chopping block, this legislation could vanish, tribal leaders say.
"Revoking it will have catastrophic consequences for the Indian health care system," Jenifer LittleSun, executive director of the Southern Plains Tribal Health Board in Oklahoma, told BuzzFeed News. "This is a direct result of thousands of hours of negotiations with the federal government."
Nine tribal health boards, the National Indian Health Board, and political groups including the National Congress of American Indians sent a letter to Congress in December, asking to preserve sections that addressed healthcare for tribes.
"Repealing these provisions and the IHCIA now would have disastrous consequences for the Indian health system," they wrote, with urban and rural health centers losing "3rd party revenue, legal authorities, and life-saving programs."
Of primary concern are a series of amendments to the Indian Health Care Improvement Act (IHCIA), rules that were bundled in with the ACA. Originally passed in 1976, the law laid out the responsibilities of the Indian Health Service, which provides healthcare to tribes. But it was revised substantially in 2010.
"It really was a ten-year effort to get the amendments done," Myra Munson, of counsel at Sonosky, Chambers, Sachse, Miller, Monkman & Flannery, LLP in Anchorage, who worked with tribes to draft IHCIA amendments, told BuzzFeed News. "It would be an enormous waste of energy to start all over."
On Wednesday night, Senate Republicans took the first steps towards repealing the ACA by voting for repeal plans as soon as January 27. Similar actions are expected from the House of Representatives.
"If Congress does not repeal the ACA in a surgical manner that would preserve the IHCIA reauthorization provisions, the result could be a lot of harm to the Indian health care system as it works today," said Geoffrey Strommer, an attorney at Hobbs, Straus, Dean and Walker, LLP in Portland, who works on tribal law and healthcare, told BuzzFeed News.
The amendments to the IHCIA include rules that allow tribes to employ doctors in one state even if they were licensed in another. Another authorized IHS facilities to offer elder care and long-term care, which, "prior to the IHCIA was not a set of programs that the IHS felt that like they had to carry out," Strommer said.
Two other sections of the ACA make extra dollars available for the chronically underfunded system: One allows tribe-run or IHS clinics to bill Medicare for broader range of services, and another requires that insurance companies or Medicaid be billed before tapping into federal appropriations.
Medicaid expansion, another possible target of the ACA repeal, has brought welcome additional funding to centers that serve Native Americans. It's also expanded the services that are available.
"From my perspective taking away Medicaid would be devastating," Donald Warne, chair of the Department of Public Health at North Dakota State University, told BuzzFeed News.
In North Dakota, one of the states that has expanded Medicaid, private insurance has begun to cover many services that the underfunded Indian Health Service cannot provide. If Medicaid were to go away, "We cant even do things like cancer screening or a colonoscopy," Warne said. "Taking insurance from American Indians or any other population will kill people.
Of the IHS's $6.2 billion budget in 2016, $807,600 came from Medicaid.
The issue has received some congressional attention: Among the amendments to the budget bill proposed Wednesday night was one sponsored by Senator Tom Udall of New Mexico, that sought to protect the Native Americans enrolled in Medicaid.
"Any reduction in federal payments to the Indian health system would jeopardize the lives and well-being of American Indians and Alaska Natives, as most health care facilities that serve Native Americans are already woefully underfunded," Udall, who is the incoming vice-chairman of the Senate Committee on Indian Affairs, said in a statement. Just in New Mexico, 132,000 tribal members are enrolled in Medicaid, according to the senator's office.
But Warne worries that tribes do not have the political clout to make their needs heard — federally recognized tribes only exist in 35 states. "We have to contend with the fact that there are lawmakers who are in positions of power who don't care about American Indian issues because we're not in their constituencies," he said. "[In] Kentucky, home of the senate majority leader, there are no American Indians. What does Mitch McConnell care about American Indians? If you look at his voting record he doesn't care."
That the IHCIA amendments were piggybacked on the ACA in 2010 was an accident. Lawyers and tribes began working on amendments as early as 1999, but by the time negotiations with Congress were complete, Democrats were gearing up to push Obamacare through.

"The message was clear: it was impossible to push two major health bills. An agreement was reached to combine them into a single document," Munson said. "We don't believe that any of the objections that the leadership has had are really directed at Indians."