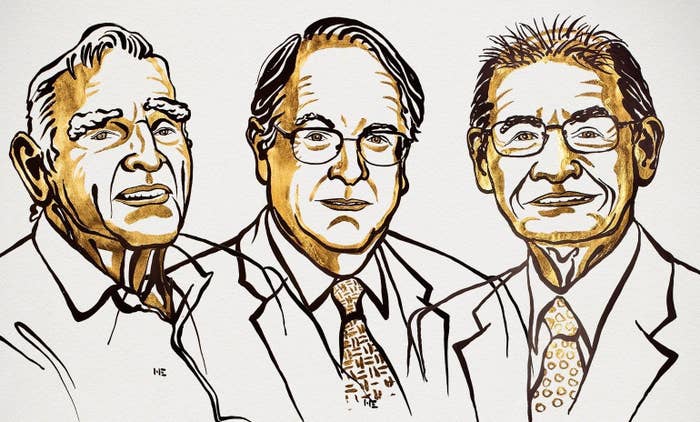 Three scientists have won the Nobel Prize in chemistry for their work developing lithium-ion batteries.
John Goodenough of the University of Texas at Austin, Stanley Whittingham of Binghamton University, State University of New York, and Akira Yoshino of the Asahi Kasei Corporation in Japan were announced as the winners by the Royal Swedish Academy of Sciences on Wednesday.
"Lithium-ion batteries have revolutionized our lives since they first entered the market in 1991. They have laid the foundation of a wireless, fossil fuel-free society, and are of the greatest benefit to humankind," the Academy said in statement.
The chemists will split the award, about $905,000, equally.
Goodenough, born in 1922, is the oldest person to ever win a Nobel prize, Göran Hansson, secretary general of the Royal Swedish Academy of Sciences, said at a news conference announcing the award.
"Live to 97 and you can do anything," Goodenough said. "I'm honored and humbled to win the Nobel prize."

Yoshino said via telephone at the awards news conference that he found the news of his win "amazing" and "surprising."
Whittingham did some of his pioneering battery work, and patented it, while working for ExxonMobil in the 1970s and '80s. "The research I have been involved with for over 30 years has helped advance how we store and use energy at a foundational level, and it is my hope that this recognition will help to shine a much-needed light on the nation's energy future," he said.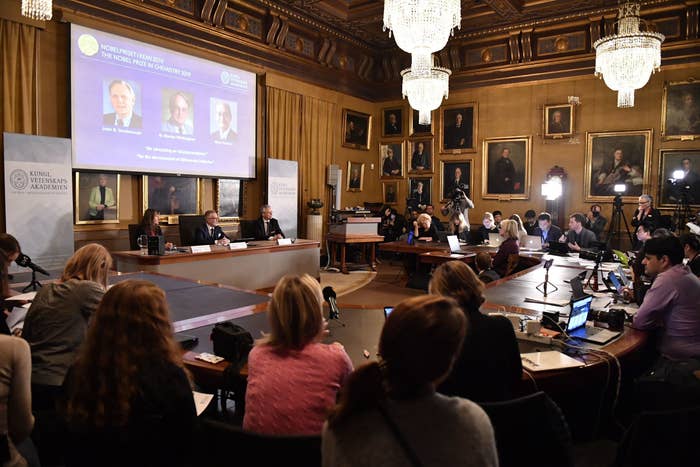 The laureates each refined a once-novel battery design that harnessed the shuttling of lithium ions to store and release energy. Their work laid the foundation for the manufacture of small, stable batteries that could be recharged multiple times.
Embedded in smartphones, laptops, medical devices such as pacemakers, and more, these miniature power sources transformed the electronics industry. The technology also disrupted the energy sector. Lithium-ion batteries serve as stores for energy captured by solar panels and wind turbines, and also as batteries in hybrid and electric cars.
"The importance of this chemistry and technology for a more sustainable world has increased its relevance in recent times, and made it a very timely award now, although several of the discoveries were made quite some time ago," Hansson said.

"In the face of increasing threats from extreme climate change, today's announcement shines a welcome bright light on the portability of energy that has enabled unprecedented advances in communication, transportation and other tools to support critical aspects of life around the world," American Chemical Society president Bonnie Charpentier said in a statement.
Last year, Frances Arnold, George Smith, and Sir Gregory Winter won the chemistry Nobel for their work co-opting biological methods to engineer biofuels and drugs.