6 Reasons Why Native Americans Got Mad At The US Government In 2017
Statements and policy changes on pipelines, monuments, and native history struck a nerve.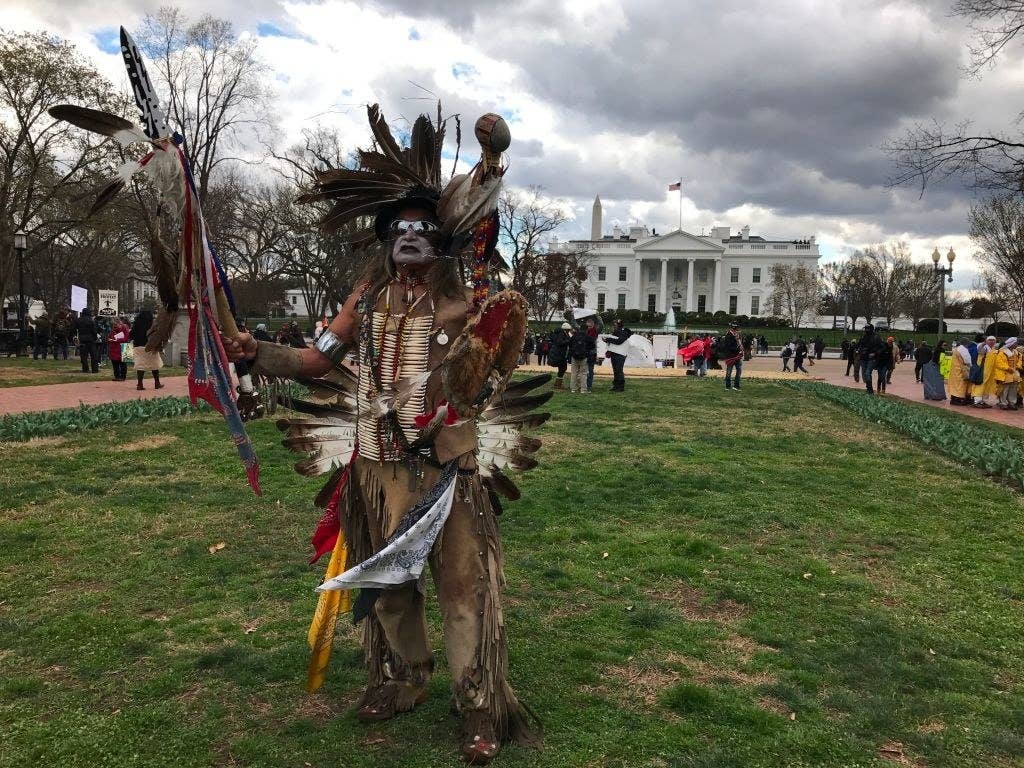 In September 2016, native leaders gathered in Washington, DC, at President Obama's invitation, and toasted a US president they said had made incremental but steady progress in building relationships with America's first people.

At the event, about a month shy of the 2016 presidential election, some tribal leaders told BuzzFeed News they were wary about a Donald Trump presidency because the campaign had yet to reach out to them, or list priorities as applied to American Indians and Alaska Natives. Also, Trump's past encounters with tribal nations had left them anxious.
Trump, of course, won the election, and tribal leaders have now had just about a year to see how exactly his administration will treat them. In a statement announcing November as "National Native American Heritage Month," the White House said that the administration is "committed to tribal sovereignty and self-determination."
But over the course of the last year, the Trump administration has made a series of policy changes that have sparked demonstrations and marches, and drawn sharp criticism from native rights groups and leaders. (The White House did not respond to a request for comment on these policy changes and Native Americans' reactions.)
1. Native leaders and activists launched a historic movement to halt an oil pipeline in North Dakota. Then the Trump administration pushed for its approval.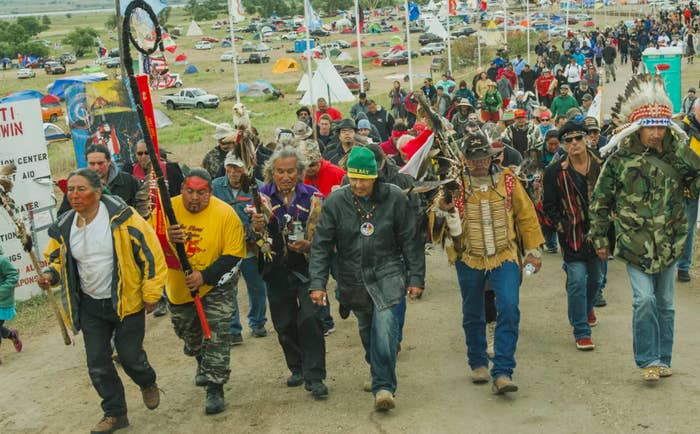 In his first week in office, on Jan. 24, President Trump signed a memorandum that ordered an expedited review of unbuilt parts of the 1,172-mile Dakota Access Pipeline. The pipeline, whose planned path would stretch from the North Dakota Bakken oil reserve to Illinois, was a major investment in US energy infrastructure, according to the administration, and would "serve the national interest."

The activists argued that the pipeline's path threatened a critical water source.
For the preceding months, "water protector" activists, led by members of several Native American tribes including the Standing Rock Sioux, had mounted a persistent opposition to the pipeline. Gathered in thousands at a campsite in North Dakota, the activists argued that the pipeline's path threatened a critical water source.
Before Trump took office, in December 2016, the US Army Corps of Engineers agreed with the activists, and announced that it was necessary to explore alternate routes for the pipeline. The decision, which also promised an Environmental Impact Statement, was heralded as a major victory, particularly for native rights. The then-chairman of the Standing Rock Sioux Tribe called the win a "historic moment" in an op-ed in Indian Country Today.
Perhaps presciently, some experts had doubts. Some told BuzzFeed News then that the next administration could easily reverse the Army Corps' decision to find a new path.
On Feb. 8, two weeks after Trump signed his executive memorandum, the Army Corps announced that it had granted the easement required to begin construction of the pipeline along the route thousands had opposed.
"To suddenly change the decision and issue the easement after already starting the legal process of preparing an Environmental Impact Statement is arbitrary and capricious," then-National Congress of American Indians (NCAI) president Brian Cladoosby said in a statement responding to the decision.
The Standing Rock Sioux Tribe is fighting the decision in court.
2. The Trump administration cut back national monuments, including lands and sacred sites that southwest tribal nations fought for years to protect.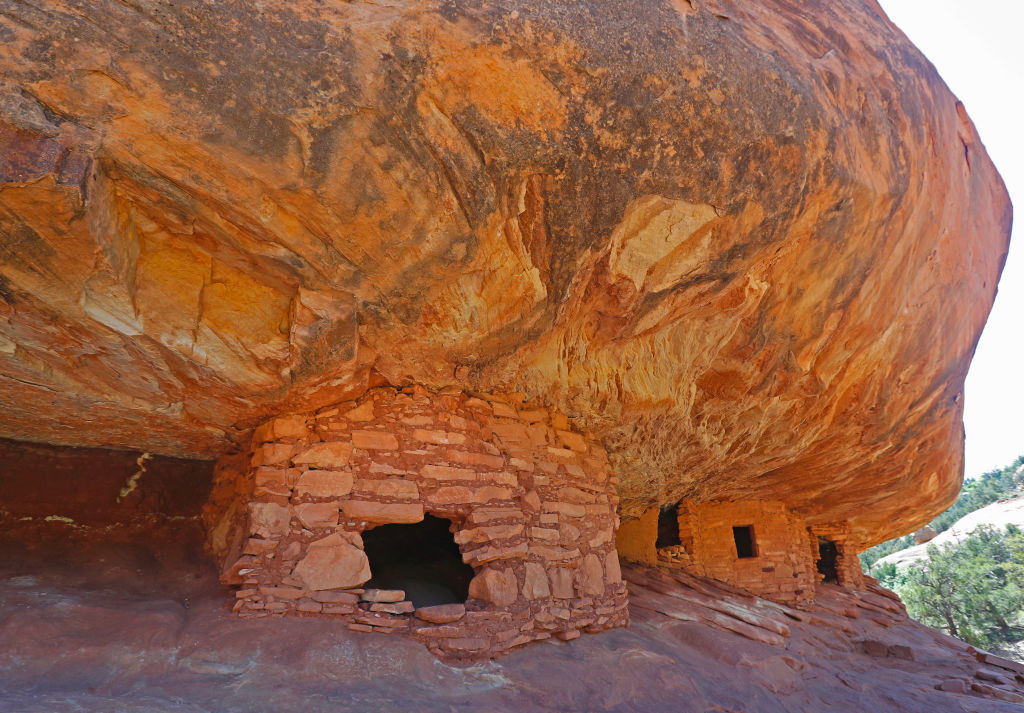 On Dec. 4, President Trump made a proclamation that the 1.35 million-acre Bears Ears monument in Utah would be reduced by about 85%. Trump's decision followed a recommendation from Interior Secretary Ryan Zinke to revise the boundaries of six national monuments.
The Bears Ears region is rich in religious and historical sites important to five tribes in the area — the Ute Mountain Ute, Uintah Ouray Ute, Navajo, Hopi, and Zuni — who lobbied hard to protect it. When President Obama protected the region under the Antiquities Act in December 2016, the decision was hailed as a victory by conservationists, scientists, and tribal leaders.
Ahead of Trump's decision this year, former interior secretary Sally Jewell advocated for the preservation of the monument, noting that Bears Ears "is the first monument ever created through tribal advocacy, and the first monument that directly engaged tribes with management."
The Trump administration argued that existing laws already protected the sites and objects within the original boundary, and that a smaller site hewed closer to the stipulations in the Antiquities Act.
Following Trump's decision, NCAI President Jefferson Keel said in a statement that the decision "endangers our freedom of religion, our histories and our communities."
At least five groups have filed lawsuits seeking to block Trump's decision.

3. Trump insulted Native Americans at a ceremony honoring native veterans.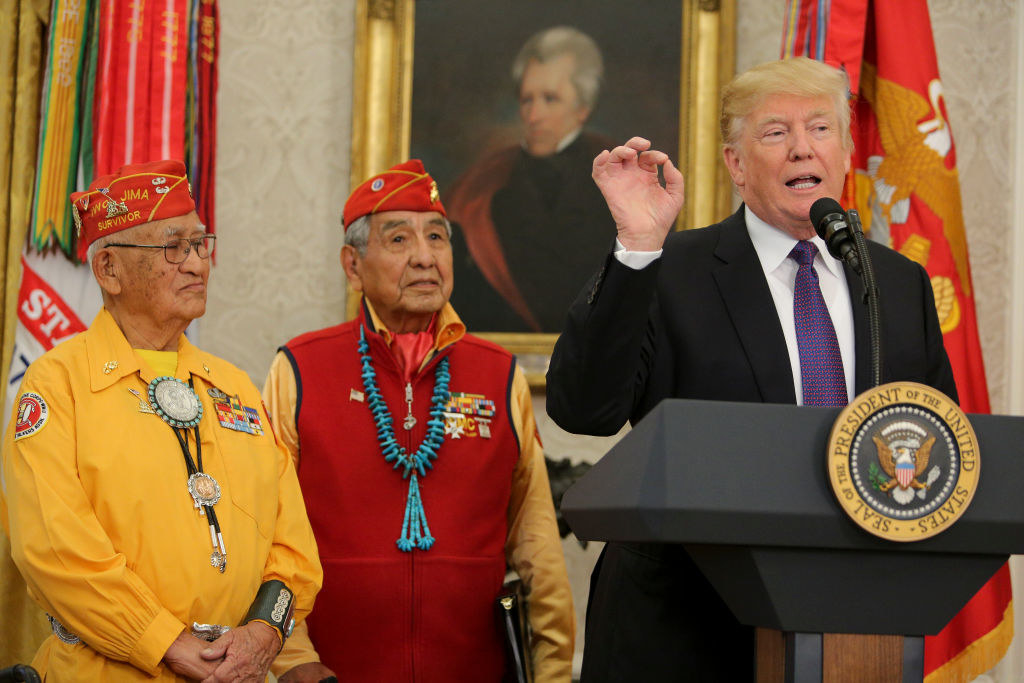 At a White House ceremony honoring Native American code talkers in November, President Trump chilled the audience with a familiar, offensive reference.
"You're very, very special people," Trump said. "You were here long before any of us were here, although we have a representative in Congress who, they say, was here a long time ago. They call her Pocahontas. But you know what, I like you because you are special."
Trump has referred to Massachusetts Sen. Elizabeth Warren by this name in the past, alluding to her controversial claim of native ancestry early in her career. Native American scholars and leaders have criticized Trump's use of this moniker, arguing that it insults the legacy of Pocahontas, a member of the Pamunkey Indian Tribe in Virginia.
The remarks set off a firestorm on Twitter, and native groups weighed in tersely.
"We regret that the President's use of the name Pocahontas as a slur to insult a political adversary is overshadowing the true purpose of today's White House ceremony."
"We regret that the President's use of the name Pocahontas as a slur to insult a political adversary is overshadowing the true purpose of today's White House ceremony," Jefferson Keel, president of the NCAI, said in a statement. The NCAI had already issued a statement in May, responding to Trump's use of the term in a speech to the National Rifle Association.
"Once again, we call upon the President to refrain from using her name in a way that denigrates her legacy," Keel said.
4. Meanwhile, federal programs that serve tribes are floundering.
Federal programs that provide critical services to tribes are inefficient and mismanaged, according to the Government Accountability Office, an independent watchdog agency that provides audits and investigations to Congress.

In its February report, the GAO added the Indian Health Service, an agency within the Department of Health and Human Services, and two Interior Department agencies — the Bureau of Indian Affairs and Bureau of Indian Education — to its "high risk" list.
On the list were health care shortfalls that tribes themselves had been reporting for years. A 2017 survey by NPR and the Harvard Chan School of Public Health, for example, found that 23% of American Indians feel discriminated against because of their race when they see a doctor.
The GAO report stated that the "challenges" faced by these programs "put the health and safety of American Indians served by these programs at risk."
5. The administration downgraded climate change work as a priority.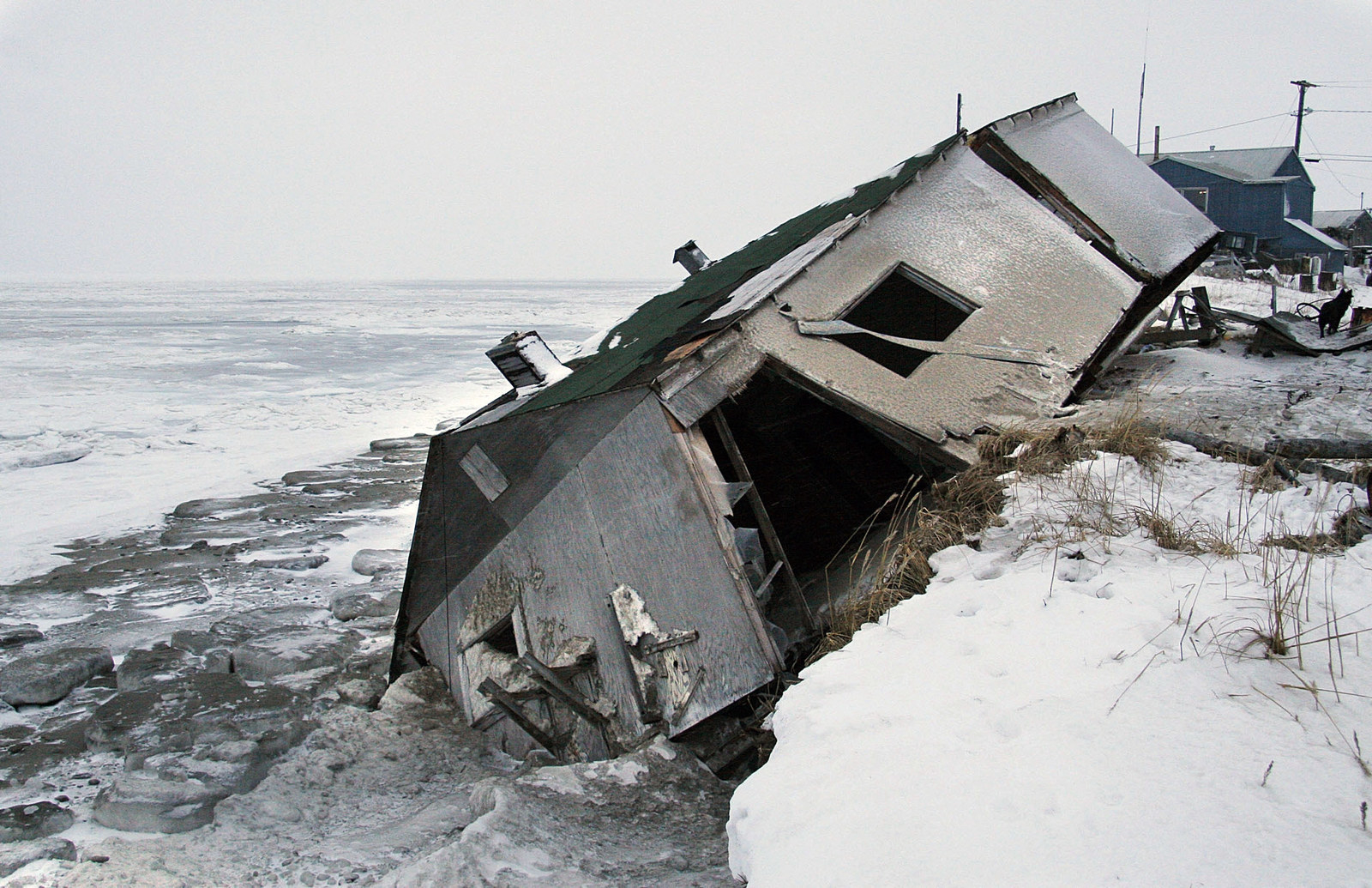 Scientists working for tribal governments argue that native people are some of the first and worst victims of climate change because their lifestyles and traditions are intertwined with the place they live in.
Climate denialism and anti-science ideas expressed by Trump's transition team and nominees caused alarm among tribes. At the State of Indian Nations address, members of tribes asked NCAI's then-president Brian Cladoosby how tribes would persevere with research and resilience efforts if the issue was not prioritized by the federal government. Cladoosby had one suggestion: Call climate change something else.
In June, Trump announced that the US would pull out of the Paris Agreement, citing the "draconian financial and economic burdens the agreement imposes on our country." That same month, the phrase "climate change" was scrubbed from the Bureau of Indian Affairs website describing those programs. Climate "resilience" programs exist across agencies, but are anchored by the Interior Department's BIA.
At least four tribal nations, as well as the NCAI and the Native American Rights Fund, pledged to uphold the Paris Agreement, even as the US federal government pulls out.
6. Interior Secretary Zinke killed a plan to let a Montana tribe manage a bison range.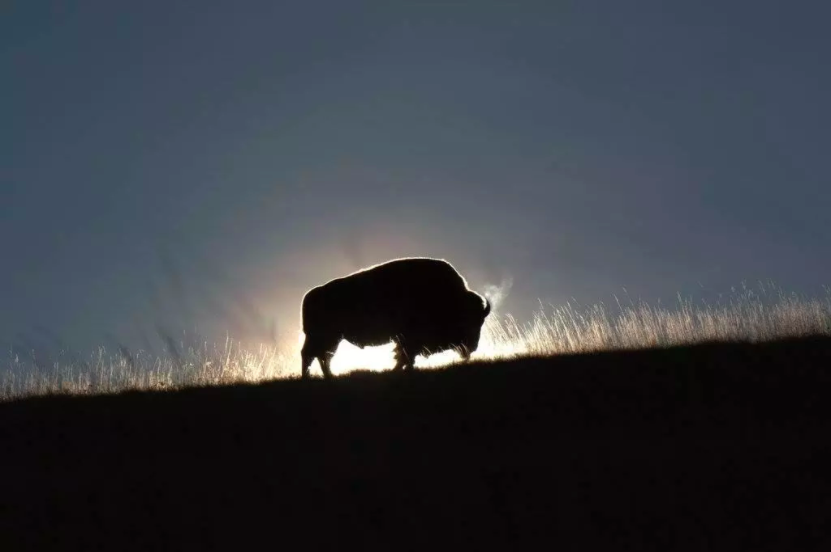 The Flathead Indian Reservation in Montana, home to the Confederated Salish and Kootenai Tribes, surrounds the 18,800-acre National Bison Range. Like other ranges, this one is managed by the US Fish and Wildlife Service within the Interior Department.

For years, the tribe had been petitioning to help manage the range and the herd, citing historical and cultural ties to the bison.
The agency and tribes came close to an agreement early in the year, but newly confirmed Interior Secretary Ryan Zinke in April decided against moving ahead.
"As Secretary, my job is to look 100 years forward at all of Interior's resources. I recognize the Bison Range is a critical part of our past, present, and future, which is why I have changed course," he said in a statement.
---