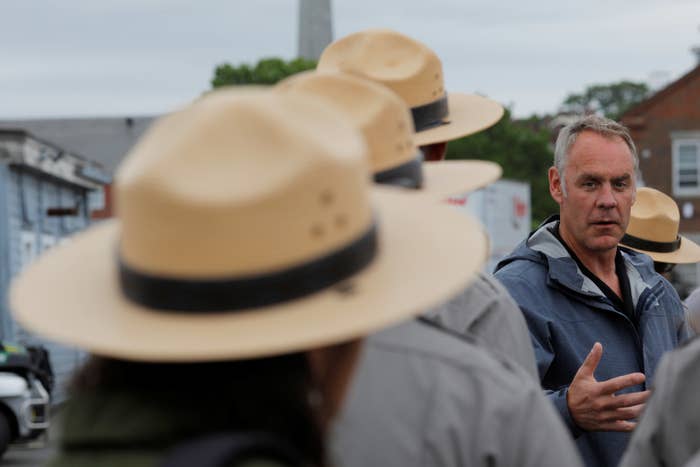 A federal survey of National Park Service employees released on Friday reveals a toxic workplace culture for the stewards of some of America's most beloved public lands.

Some 39% of the broadly dispersed National Park Service (NPS) workforce has experienced harassment or discrimination on the job, employees reported to the Interior Department.
In the last year, over 10% of NPS employees experienced sexual harassment, almost 20% reported experiencing gender-based harassment, and 0.95% reported experiencing sexual assault.
The agency released results of the survey to the media on Friday, along with a summary of steps Secretary Ryan Zinke and NPS Acting Director, Michael Reynolds, intend to take to address the crisis. Last year, the NPS employed 22,000 permanent, temporary, and seasonal staffers, and 340,000 volunteers.
The results indicate dwindling faith in the system among rangers: Nearly 75% of those who said they had been harassed said they did not report the incidents, and nearly half of that group said they didn't think a complaint would make a difference. According to the agency, 33% explicitly said they "did not trust the process."

This trend is "especially striking," Amy Blackstone, a professor of sociology at the University of Maine, told BuzzFeed News by email.
"Working to improve climate and putting structures into place that employees can trust should be top priorities," she said, adding that training must be directed at all employees, including those at the top.
"Until employees are able to trust that their reports will be taken seriously — and to know that harassment will not be tolerated, the culture of harassment will likely continue," Blackstone said.
Since January 2016, the Department of the Interior's Office of Inspector General found instances of harassment or inappropriate behavior by employees at the Grand Canyon National Park's River District, the Chattahoochee River National Recreation Area in Georgia, and De Soto National Memorial in Florida. Media reports in HuffPost and the High Country News have indicated that the issue, particularly relating to the harassment of female NPS employees, is widespread.
Zinke and Reynolds traveled to Grand Canyon National Park Friday to announce corrective measures.

"A culture that tolerates harassment and discrimination is absolutely unacceptable to me and to the president," Zinke said in a press call with reporters following the visit.
"If we find a predator in our workforce, we will terminate that person from the National Park Service," Grand Canyon National Park Superintendent Chris Lehnertz told reporters on that call.
According to a release sent to media, steps include additional resources for oversight: The agency said it would add 10 employees to the NPS Employee Relations and Labor Relations staff and four employees to the ethics staff. The agency said it would also back employee support groups and training sessions.
Some members of Congress demanded more action.
"Dumping this news on a Friday afternoon, without any clear next steps, suggests this administration still isn't taking this problem as seriously as it should," Rep. Raúl Grijalva, ranking member of the House Committee on Natural Resources, and Rep. Donald McEachin, ranking member of the Oversight and Investigations Subcommittee, wrote in a joint statement following the announcement from Interior.
UPDATE
This article was updated to include comments from Secretary Ryan Zinke, Grand Canyon Superintendent Chris Lehnertz, and a joint statement from Reps. Raúl Grijalva and Donald McEachin.