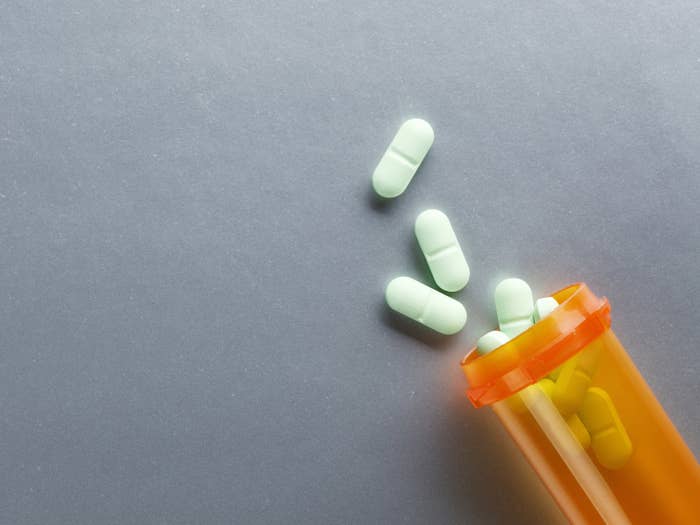 Foster kids in Missouri are overmedicated with powerful drugs that keep them in "chemical straight-jackets," putting them at risk of harm, according to a class-action lawsuit calling on the state to improve the care it offers the youngest people in its charge.
At least 23% of the 13,500 children in the care of the state's Children's Division were taking one or more psychotropic drugs as of December 2017, according to court documents. This mirrors a national trend: Children in foster care are at least twice as likely to be taking these powerful drugs than kids outside the system, according to an analysis of Medicaid data.
"Too often children are on these drugs simply as a matter of chemical restraint, rather than as a truly medically necessary treatment course," Samantha Bartosz, deputy director of litigation strategy at Children's Rights, one of the groups who filed the lawsuit in July 2017, told BuzzFeed News.
Bartosz and her colleagues claim that Missouri often does not give doctors or foster parents records of the drugs the children were prescribed, or if they triggered any side effects. The suit also alleges that the state fails to secure informed consent before kids are dosed, and that kids who wind up on high-risk treatment regimens — such as the use of drug cocktails — are not monitored adequately.
The state puts foster children at risk of "serious physical and psychological harm," the complaint states, "in violation of their federal constitutional and statutory rights."
The suit is asking to force the state to document children's medical histories and make those available to foster parents; to craft and enforce a clear consent policy; and to require an additional medical review for unusual prescription cases, such as those that involve risky drugs or many drugs at once.
"What we're simply asking for in the suit is very fundamental," Bartosz said. "Have an oversight system in place so that when psychotropic medications are prescribed to these kids, that that is done so when safe and when appropriate."
In July a Missouri judge granted class-action status to the lawsuit — which means that the outcome will impact any child in the state's foster care system on psychotropic medication.
A spokesperson for the Missouri Department of Social Services, which oversees the Children's Division, said the agency does not comment on pending litigation.
In the first of four cases described in the complaint, a 14-year-old boy identified as "M.B." traveled through eight different facilities over three years, including a psychiatric hospital. When Missouri resident Ericka Eggemeyer, a first-time foster mom, brought him home in November 2015, she was given a brown paper bag full of pill bottles, but no medical history for his condition — and only the labels on the bottles to guide her to continue his treatment. Three weeks later, the boy told Eggemeyer, "I feel like I have knives in my eyes," and a few days later threatened to kill her, the suit states. M.B. was hospitalized, and never returned home.
At a peak in his treatment in January 2017, the lawsuit claims, M.B. was given at least seven psychotropic drugs, including three antipsychotics, along with a drug called benztropine that's typically used to treat Parkinson's symptoms, and levothyroxine, which treats hypothyroidism. In April 2017, the suit claims, M.B tried to run away. Eggemeyer, who visited him at the facility, said she saw him transform from an energetic boy to one who was "lethargic, slurring his speech, and falling asleep in broad daylight."
Amy Cohen, a child and adolescent psychiatrist who has worked with children in foster care for decades, told BuzzFeed News that M.B.'s story as presented in the documents is alarming. Although she doesn't have enough information to diagnose him, she said, "I will say unequivocally that there is never — literally never — a reason to have a child on three antipsychotic medications simultaneously. Never."
According to Cohen, kids who've been serially displaced like M.B. typically need psychotherapy and a consistent relationship with an adult to recover from the damaged relationships they had in the past.
M.B.'s experience shows a pattern Cohen has seen before: "You can see that it's very likely in his case that the medications are added to and escalated in order to keep him someplace, so they don't have to keep moving him around," she said.
"The only way they are managing to do that is by drugging him so significantly that he is not going to give anybody any trouble. But it also means he is not going to be able to function in school, and most importantly he's not going to be able to engage in treatment."
"I will say unequivocally that there is never — literally never — a reason to have a child on three antipsychotic medications simultaneously. Never."
In another case, the lawsuit claims, siblings aged 2 and 3 were prescribed the antipsychotic Risperdal, typically used to treat schizophrenia and bipolar disorder in adults. The FDA has not approved the use of this drug for kids under the age of 5.
In a third case, the suit claims that a 12-year-old girl, K.C, was on a regimen of five psychotropic drugs simultaneously. The suit claims that she has gained weight and hallucinates, side effects that are consistent with those expected from antipsychotic drugs. For a while, K.C. was given Seroquel, a drug known to trigger violent spells. When K.C. became violent, the center put her in "physical holds" but did not discontinue the medication until a volunteer raised the alarm.
According to the lawsuit, "K.C.'s psychotropic medications have been changed frequently and erratically with little to no input from informed or knowledgeable medical consenters."
The suit was filed by Children's Rights and three other legal groups: the National Center for Youth Law, the Saint Louis University School of Law Legal Clinics, and Morgan, Lewis & Bockius LLP.
Doctors began prescribing psychotropics to kids in the early 1990s, Thomas Mackie, assistant professor of public health and policy at Rutgers University, told BuzzFeed News. But the explosive growth of prescriptions to kids in foster care in particular led to federal and state efforts to check that trend, he said.
This included a Government Accountability Office report in 2011 that spurred the Department of Health and Human Services to back clear guidelines for how psychotropic drug prescriptions for foster kids are issued, monitored, and documented. Due in part to such efforts, the growth in the rate of prescriptions has slowed.
Nationwide, kids in foster care account for roughly 3% of children insured by Medicaid. But they make up nearly 13% of Medicaid-insured kids prescribed psychotropics, according to the Center for Health Care Strategies.
In 2015, the HHS Office of Inspector General analyzed a sampling of Medicaid claims from five states for kids' psychotropics and flagged 67% of those as problematic, including prescriptions to kids who were too young, prescriptions for the wrong dose, and prescriptions for the wrong treatment.
Experts suggest a few different reasons for this trend. For one, children who enter foster care receive a mental health screening early on, which means that kids in the system are more consistently accessing such services than kids outside it. Also, children who enter the foster system often do so because they have experienced trauma, abuse, or a distressing family situation. Also, Mackie said, Medicaid reimbursements are larger for drugs compared to alternative approaches like therapy.
There's also the possibility, Cohen said, that symptoms of trauma shown by kids in foster care are ignored or misdiagnosed. "Children who have particularly severe trauma histories can manifest the entire range of symptoms that you see across pretty much every other diagnosis."