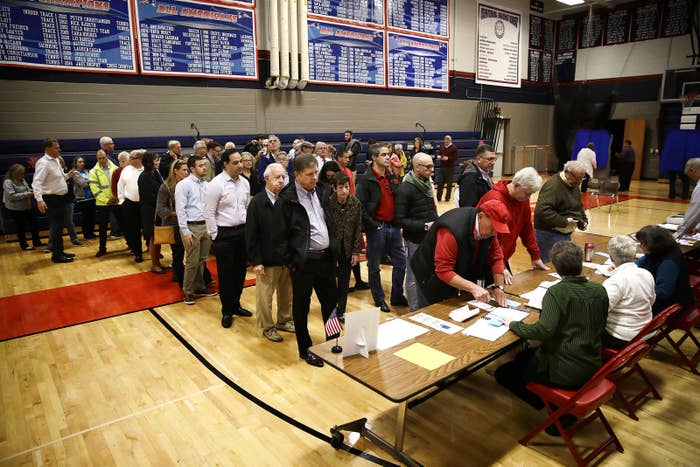 Election Day voters across the country are encountering long lines at polling stations and reporting some wait times of longer than an hour to cast their ballot — and that's not necessarily a great thing for democracy.

Long waits were reported in Atlanta, St. Louis, Kansas City, New York City, and at precincts in Florida, Georgia, Wisconsin, and elsewhere.
"I ask voter exiting building as I'm walking in, 'How long did it take to vote?' Looks at his watch & replies, 'Almost two hrs,'" tweeted one voter in Kentucky.
Some celebrated this as a sign of strong voter turnout. But there's more to the story: Long lines could be yet another barrier to voting access.

"My mother-in-law in central Virginia had to abandon her line to vote after a multiple hour wait because of work. She plans to return in the evening. It is a travesty that elections in this country are not on a weekend or a holiday," tweeted another person in Virginia.

Myrna Pérez, deputy director of the Brennan Center's Democracy Program at New York University, said there are many factors that can lead to long lines to vote.
"I think it's great that people are waiting and people are staying — but it can also mean that the voting machines are broken or that we don't have enough poll workers," she said.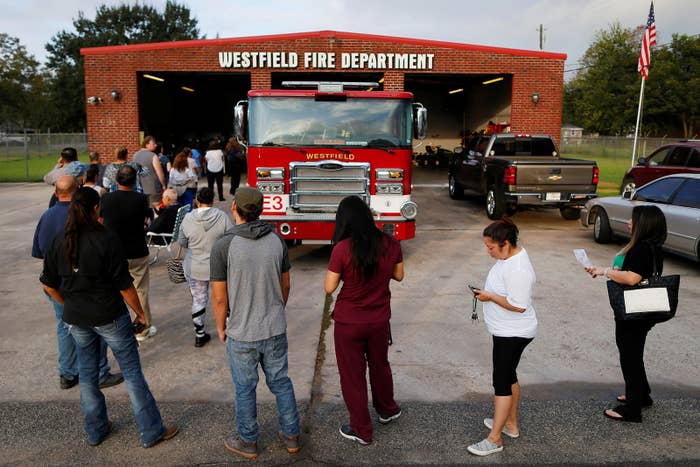 The wait could be a simple nuisance for some people, Pérez said. But for others with less flexibility — those who need child care, to get back to work, or must rely on others for transportation to and from polling centers — "It could be a barrier to casting a ballot that counts."
Pérez and others at the Brennan Center released a study that examined why voters in Florida, Maryland, and South Carolina faced some of the longest lines in the country during the 2012 election. They found that precincts with high minority populations had some of the longest waits.
Those precincts, they found, also tended to have fewer voting machines. The report concluded that many of the delays could have been avoided — with better planning and, in some cases, additional resources.
"We're not going to be able to get a good democracy on the cheap," Pérez said.
In Georgia, people said there were long lines and there were reports of malfunctioning machines. Voting hours in three polling stations were extended by the Fulton County Superior Court in part because of a lawsuit from the NAACP — one place covers much of Atlanta and will stay open two hours later than expected. In the suburban Gwinnett County, three polling spots were also ordered to stay open late.
In New York City, ballot scanners — in which voters insert their sheets into the devices to register their votes — were broken around the city, causing confusion and forcing people to leave the lines.
A judge in Harris County, Texas, issued an order Tuesday night requiring 9 polling locations to stay open an extra hour due to long lines and sites that did not open on time, leading some voters to leave. According to the ruling, those locations must stay open until 8 p.m. and allow anyone in line at that time to stay and vote. A court order in Indiana will allow the polls to stay open until 7 p.m. in Monroe County. After glitches with electronic systems caused delays in Gwinnett County, Georgia, at least three locations announced extended hours.
Long lines one year can have a spillover effect into the next election, MIT political science professor Charles Stewart III told BuzzFeed News. "Places that had really long lines in the 2012 election were much more likely to have lower turnout in the 2014 election," he said.
Stewart said the longest lines tend to occur in the early morning — because people show up before polling sites open, or because the polls sometimes open late — or late in the evening.

His research has revealed that voters sometimes behave weirdly in election lines. Voters are more likely to leave the longer the line is, but only in a medium sized line of under 100 people. In longer lines of about 200 people, voters tend to stick around.
Stewart said reports of lines and wait times are consistent for turnouts at midterms.

And it also reportedly caused people to hurt themselves!
This line in Manhattan was 150 people long.
Some people said they were stuck in a line but were able to wait and see it through. This is in Minneapolis:
In Maryland, at least four different polling places ran out of ballots. The Maryland Democratic Party released a statement saying unprecedented voter turnout in Prince George's County caused the ballot shortage.
And here's the scene in Atlanta:
Some reminded us that these lines are are becoming an American tradition.

The nonprofit group Pizza To The Polls sent 9,000 pizzas to people waiting in longs lines at polling places across the country, according to its website. The nonpartisan organization, which is run on donations, said it raised $375,000 this year for free pizza.
Voters were told to simply send a picture of themselves waiting in line to vote, and Pizza To The Polls would have pizza delivered to the polling site.
Michelle Broder Van Dyke contributed reporting.