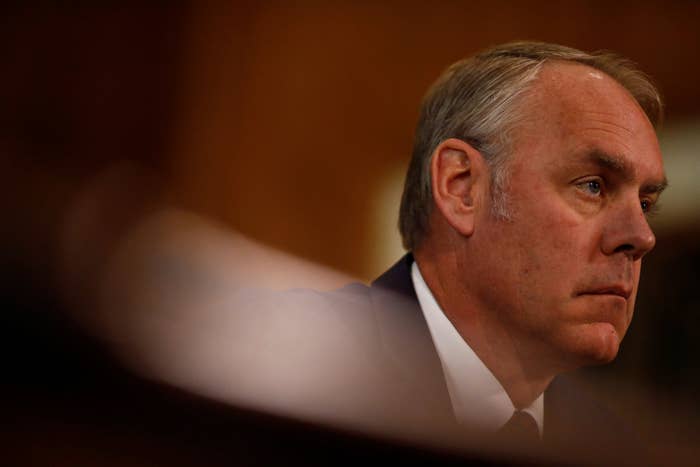 The Interior Department's controversial decision last year to move 27 senior career executives to new positions, often cross-country, is being described as chaotic and hasty by the agency's internal watchdog.
In a report released Wednesday, the Office of Inspector General said that it could not determine if the agency followed federal law when it reassigned 27 members of the Senior Executive Service between June and October last year, because the staffers and review board that made the reassignments had kept no documentation.
The investigators determined that the leaders convened to make selections "did not gather the information needed to make informed decisions," and that those selected for reassignment had no prior warning that they were being moved.
The Interior Department did not follow guidance issued by the Office of Personnel Management, the report found. For example, members of the agency's Executive Resources Board, the group that made the reassignments, could not provide meeting minutes, notes, or records of their decisions to the office. Some told IG reviewers that they had not considered the cost of moving senior executives across the country, according to the report. And, although the OPM recommends a mix of career and political staff, as of May 2017, six of the seven members of the board were political appointees.
Interior Deputy Secretary David Bernhardt, in a response included with the report, told the Deputy IG Mary Kendall that he believed the actions of his agency were lawful, and pointed out that the OPM guidelines are "not required by law." He wrote that he had made some changes, including communicating with senior executives and instructing the ERB to write a charter.
According to the report, 17 of the executives chosen for different positions told IG investigators that they wondered if they had been selected because they were close to retirement, or because their past work, in areas like climate change and conservation, conflicted with agency priorities.
"This goes beyond mere incompetence. It's absolutely unacceptable for political appointees to take this action without leaving a public record or any attempt to explain why dedicated public servants are being treated this way," Andrew Rosenberg, director of the Center for Science and Democracy at UCS, said in a statement.
The IG recommended that the agency document its decisions, communicate with staffers who are being reassigned, and estimate costs associated with moves.
The report was requested in July of last year by eight Democratic members of the Senate Energy and Natural Resources Committee following reports that Interior had selected up to 50 people for reassignments.
Adding to the controversy, Joel Clement, who was moved from his position as director of the Office of Policy Analysis to a senior adviser position at the department's Office of Natural Resources, claimed that his reassignment was retaliation for promoting an unpopular position: that climate change was drowning the communities of Alaska Natives.
"It is clear to me that the administration was so uncomfortable with this work, and my disclosures, that I was reassigned with the intent to coerce me into leaving the federal government," Clement wrote in a widely shared op-ed published in the Washington Post, adding that he had filed a complaint with the Office of Special Counsel. (Clement resigned from the agency in October.)
"If they had good reason to assign us, they would have had a paper trail," Clement told BuzzFeed News. "In my view, it makes it very clear that they had ulterior motives in reassigning many of us."
At a budget hearing in June, Interior Secretary Ryan Zinke told lawmakers that he intended to shrink his agency's workforce by 4,000.
The 70,000-person agency manages one-fifth of all US land. The elite Senior Executive Service includes 227 members.
According to the IG report, 35 executives were selected for new positions, though some moves were later canceled. According to documents released by the agency, at least three senior employees retired rather than move to new roles.
The report arrives at a period of heightened scrutiny of Zinke's relationship to the workforce he oversees. In March, citing three unnamed "high-ranking Interior officials," CNN reported that Zinke told Interior employees that diversity was not a priority at the agency. In a speech to an oil industry group in September, the AP reported, Zinke said that he believed one-third of agency employees were not loyal to him or President Donald Trump.
CORRECTION
Joel Clement filed a complaint with the Office of Special Counsel. An earlier version of the post misstated the name of the office.