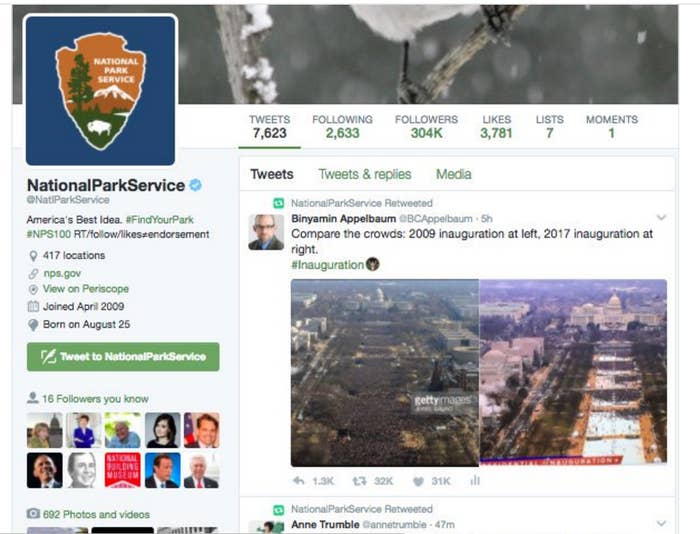 In the hours after President Trump's inauguration in January, the White House acted to freeze public social media activity across the Department of Interior, following a National Park Service tweet making fun of his crowd size.
According to internal emails released by the agency late on Wednesday, the order went out by email minutes after 5pm on Inauguration Day, and came from Larry Gillick, whose LinkedIn profile identifies him as Acting Director of Digital Strategy at the Department of Interior.
Gillick wrote that the new administration was "not jazzed" by two "unwise and unflattering" tweets from the National Parks Service Twitter account that day. One of those was a re-tweet of New York Times journalist Binyamin Appelbaum, in which he compared the sizes of crowds assembled for inaugurations in 2009 and 2017.
"The new administration says that the Department and all Bureaus will not tweet this weekend and must wait for guidance before returning to Twitter. Such guidance is not expected until Monday at the earliest," Gillick wrote.

As the tweets from the National Parks Service went viral, media reports interpreted it as an act of defiance against the administration. But Gillick's initial email suggested otherwise: "No doubt this was done in error," he wrote.
In subsequent emails, staffers clarified that accounts that relayed public safety information, like USGSVolcanoes and USGSBigQuakes, were exempt from this freeze. As reporters' queries poured in, other staffers urged for a swift removal of the freeze.