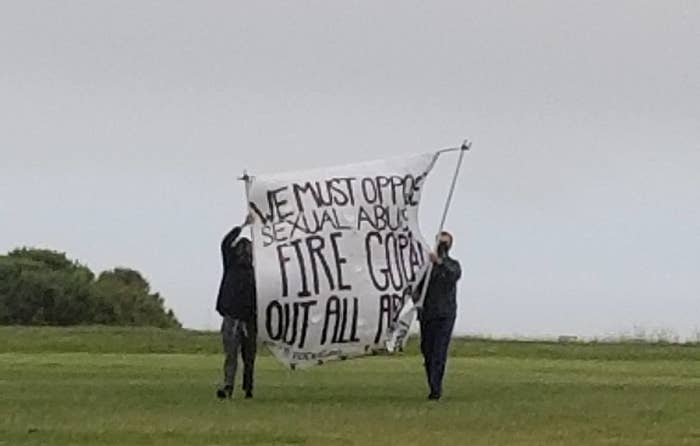 Professor Gopal Balakrishnan, whose reputation provoked a #MeToo-inspired campaign at the University of California at Santa Cruz, broke the school's harassment policy when he had oral sex with an undergraduate without her consent while she was drunk, BuzzFeed News has learned.
A Marxist historian in the humanities division, Balakrishnan has been under investigation by the school's Title IX office since February. As reported by BuzzFeed News in May, the professor has been accused of a wide range of inappropriate behaviors, from pushing himself onto unwilling colleagues to using cocaine with students, between 2006 and 2017. In previous stories about his case, Balakrishnan has denied all wrongdoing, and his lawyers said he was a victim of an anonymous smear campaign on campus.
The investigation found that some of the accusations, including that he stared at one student's chest, likely happened as the complainants described, but did not violate university policies. The Title IX office also referred the complaints about drug use to a different university office for further review.
Balakrishnan is still on paid leave until the administration determines what disciplinary action to take, according to investigation documents. "Discipline can take many forms, ranging from a written warning, suspension, all the way to termination," UC Santa Cruz spokesperson Scott Hernandez-Jason told BuzzFeed News by email. He said he was unaware of any UC Santa Cruz faculty member who had ever been fired.
In an unexpected twist, the school's official report included statements from a private investigator hired by Balakrishnan's lawyers. The PI had called at least three of the complainants and asked them about their stories — a tactic that they say was intimidating, and that some lawyers say violates the school's own policy and federal guidelines for harassment investigations.
"To me, it is a total miscarriage of justice for them to have allowed that," said Kristina Larsen, a lawyer who worked as an administrator at UC San Diego for two decades and is advising two of Balakrishnan's accusers. For the school to effectively endorse a professor to hire a private investigator, she said, "is sending a terrifying message to future complainants."
Balakrishnan and his lawyers did not respond to a request for comment. University spokesperson Hernandez-Jason said, "Under our policies, parties are not precluded from hiring an investigator. However, we expect anyone acting on behalf of the parties to be professional and respectful to the parties and/or witnesses involved."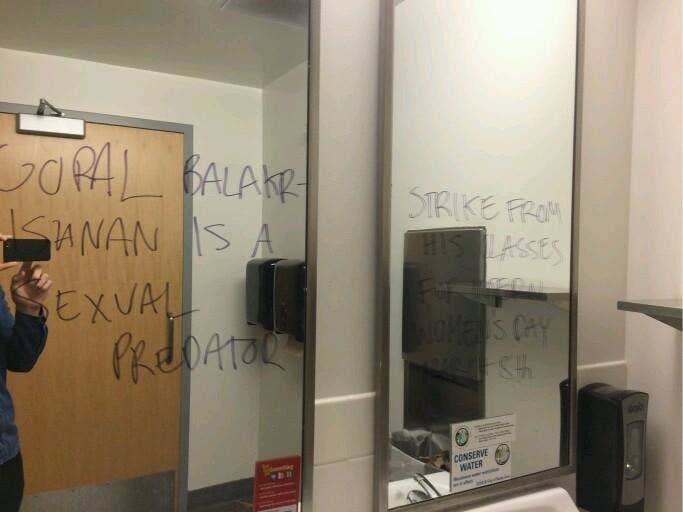 This inquiry follows a tumultuous year on campus that began when graffiti calling Balakrishnan a "sexual predator" appeared scrawled on bathroom mirrors. Flyers slipped under faculty doors, and signed "Undergraduate Students invested in the Humanities departments," asked for a boycott of Balakrishnan and his work.
In the face of these anonymous accusations, some faculty expressed their support of Balakrishnan in an email thread. It leaked, and provoked further outrage among current students and alumni.

Nine people crafted an online letter demanding that Balakrishnan be barred from professional social events. That document, published in November 2017, weeks after the Harvey Weinstein allegations, included seven anonymous firsthand accounts of interactions with Balakrishnan that shocked the UC network and gathered over 160 signatures.
Annaliese Harlander was among the hundreds of alumni who read this letter. As she told BuzzFeed News and school investigators, the anonymous stories motivated her to file a complaint about what happened to her.
Harlander told the university that one night after graduation in 2013, Balakrishnan was attending a party at her friend's house next door. Harlander said she drank a lot, and remembers the rest of the night in flashes. She told the Title IX investigator that Balakrishnan walked her home, that they kissed, and at some point, the two were both naked. She said that the professor performed oral sex on her and that he was trying to penetrate her, and remembers telling him to stop. She woke up the next day naked, disturbed, and reliving disturbing flashbacks to scenes of the night before.
Two former students who were present at the party and heard the story from Harlander the next day, or in the weeks following, confirmed details of the account to the university, according to the investigator's report obtained by BuzzFeed News. Harlander's mother also confirmed to investigators that her daughter had mentioned such an event.
In a statement to the Title IX investigator, Professor Balakrishnan said that he was present at the party on the evening in question, but that he did not have intercourse with Harlander. He also offered an alternate version of events: that Harlander had pulled him into her house as he was walking to his car, and took her top off — at which point he left.
He also argued that university policies should not apply because the alleged incident took place off campus and because Harlander had graduated. The investigator disagreed, based on testimony from Harlander and three people who were at the party or spoke with her in the days after.
"Respondent, with knowledge of Complainant's extreme intoxication, took advantage of her [intoxication], went to her home and engaged in physical conduct of a sexual nature with Complainant. This sexual conduct included attempted penetration of his penis in Complainant's vagina and performing oral sex on Complainant with Respondent's genitalia situated in Complainant's face," investigator GayLynn Conant, a consultant hired by UC Santa Cruz to investigate Balakrishnan's case, wrote in a Sept. 18 report to Interim Title IX Officer Cherie Scricca. Conant concluded that Balakrishnan's conduct "falls squarely within the definition of prohibited conduct under the University of California Policy on Sexual Harassment Policy dated February 10, 2006."
Conant also investigated complaints filed by at least three other current or former students. In one case, alum Brian Glasscock told the investigator that Balakrishnan had provided him with cocaine and alcohol when Glasscock attended a party at Balakrishnan's home in 2009. Glasscock, who was 18 at the time, said that Balakrishnan drove him home that night while drunk and high.
The Title IX office referred Glasscock's case to the office of UCSC's Executive Vice Chancellor Marlene Tromp. She is currently reviewing this report, which includes interviews with nine people besides Glasscock and Balakrishnan, according to a letter the school sent to Glasscock and obtained by BuzzFeed News.
In another complaint, alumnus Beth Peller alleged that when she was an undergraduate in 2014, Balakrishnan sat across from her at a university café, stared at her breasts, and asked her to go to a bar with him. Her complaint also claimed that in a separate incident, she had tried to prevent Balakrishnan from flirting with a drunk undergraduate at a bar, at which point Balakrishnan became verbally and physically aggressive.
The Title IX office found that the "preponderance of evidence" suggested Balakrishnan was involved in at least some of the events described, but that his actions did not violate the university policy on sexual harassment and sexual violence at the time of the incidents. This case and another one, provided by student Amanda Reyes, a witness to Peller's incident at the bar, were referred to Tromp to review for possible violations of other university policies, such as the Faculty Code of Conduct.
Peller said she is frustrated by the emotional and administrative demands placed on her during the lengthy investigation process. For example, due to a dispute between Balakrishnan and her over where on her body a tattoo was located, she said she was asked to submit a photo of her upper body to investigators, which she found humiliating.
"From my experience, due process seems retraumatizing and seems to protect the rights of the accused."
"From my experience, due process seems retraumatizing and seems to protect the rights of the accused," Peller said. But she remains conflicted. "
At the same time, I don't want to say, don't come forward."
Harlander, Glasscock, and Peller were all contacted by phone by Eric Mason, a California-based private investigator hired by Balakrishnan's attorneys. Mason called Harlander while she was at work and asked about the details of the incident she reported to the school and the outcome she wished to see, she said.
Glasscock's call with Mason was short, about a minute, and Mason was polite. However, he was expecting the complaint process to be confidential, and found a call from an investigator who said he was attached to a two-person legal team intimidating.
Mason had previously tried to reach Peller by looking for her at previous addresses. When he didn't find her there, he called her phone. But Peller said she refused to answer his questions.
Glasscock and Peller were concerned enough to file new complaints with the University of California asking to review Mason's participation in the investigation.
"We're broke students, he has this expensive legal team that he's able to pay for because he's on paid leave," Peller told BuzzFeed News.
But the school ruled that his participation was allowed. Peller had hung up on Mason before answering his questions, but his statement detailing his interactions with Harlander said that her story was inconsistent, and was quoted in the final Title IX report. (Mason did not respond to voicemails asking for comment.)
"Increasingly, we're seeing people who are accused of sexual assault hiring their own lawyers and mounting what are often intimidating tactics against their victims of assault," Noreen Farrell, the executive director of Equal Rights Advocates, told BuzzFeed News.
Though routine in legal proceedings, such responses used to be rare in administrative inquiries at universities. And it could be intimidating, Farrell pointed out — "It could be continuing evidence of harassment and retaliation against a victim and schools should look at that very closely."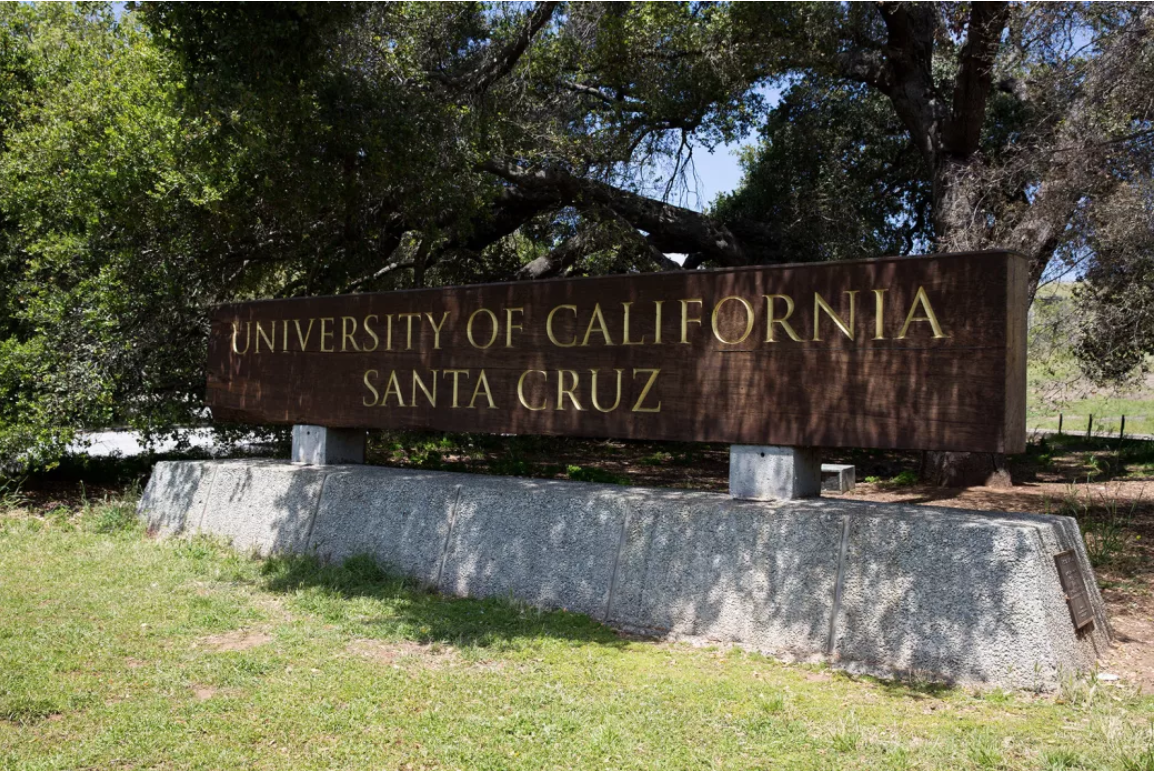 Over the summer, following the publication of a BuzzFeed News story disclosing the investigation, a new petition drafted by UC Santa Cruz alumni and published online asked the university to fire Balakrishnan and describe the steps it would take to "protect reporters and survivors from intimidation and retaliation." There are now 684 signatures, including more than 400 students and alumni.
Some former students have been petitioning for such developments for over a decade, and are unsurprised by the current findings.
"It seems like too little too late. I know they've had more complaints than that, and they never took any of the other ones seriously," said former student Trevor Sangrey, who lodged a joint complaint with six other graduate students in 2009 alleging that Balakrishnan was openly hostile toward women and gender-nonconforming students.
"I'd like to see some reckoning for the fact that there is a significant pattern here," Sangrey said.
Harlander, who has begun corresponding with the other complainants and is planning to attend a protest in October, says that Balakrishnan should no longer be teaching.
"We all agree that he should be fired," Harlander told BuzzFeed News.
UPDATE
This story has been updated with comments from UC Santa Cruz.
CORRECTION
Harlander plans to attend a protest in October. An earlier version of this post suggested that all of the complainants would be attending. An earlier version also erroneously suggested that Mason had contacted Reyes.