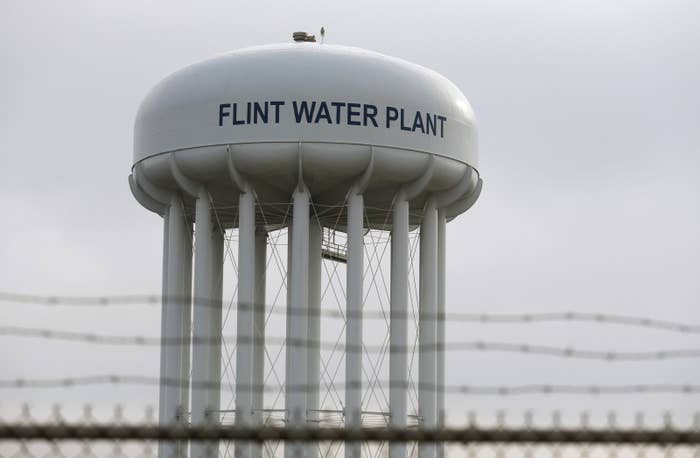 The EPA and the Michigan environmental agency bungled their response to the Flint water emergency in 2015, prolonging residents' exposure to lead, according to a new report by the EPA's internal watchdog, the Office of Inspector General.
The report concludes a two-year probe of the EPA's response to the lead crisis in Flint. Investigators found that the Michigan Department of Environmental Quality did not follow certain stipulations of the federal Lead and Copper Rule, written to protect against lead exposure in drinking water. The report also stated that the EPA Region 5 office, which oversees operations in Michigan, did not use its authority under the Safe Drinking Water Act (SDWA) to intervene when early complaints and reports of high lead levels surfaced.
"Flint drinking water contamination continued, in part, because the public health protection authorities of the SDWA were not used effectively," the report stated.
This adds weight to complaints from residents and advocates, who said that the crisis was worsened by inaction from city, state, and federal health officials.
"While oversight authority is vital, its absence can contribute to a catastrophic situation," EPA Inspector General Arthur Elkins said in a statement Thursday. "This report urges the EPA to strengthen its oversight of state drinking water programs now so that the agency can act quickly in times of emergency."
The EPA has agreed to all nine of the recommendations listed in the report, including better training and creating a system to track complaints from the public. The IG made a case for revising the Lead and Copper Rule with stronger requirements for monitoring water systems.
"This report is clearly a step forward, yet our national nightmare due to an ineffectual Lead and Copper Rule will be recurring for some time to come," Marc Edwards, a professor of civil engineering at Virginia Tech who raised the alarm on the water contamination in Flint, told BuzzFeed News.
The trouble began four years ago when the city of Flint changed its water source because of cost-cutting measures. The Flint Water Treatment Plant did not treat the water adequately, so contaminated water ran through the water system for months. The water eroded the protective coating that lined the city's system of lead pipes, which in turn began leaching out the toxic metal into the drinking water.
Despite residents' complaints about foul-smelling and discolored water, the city didn't switch back to the previous water system until October 2015. On the heels of a report from Greater Flint doctors that said the percentage of kids with elevated blood lead levels had doubled since Flint River water began flowing through the taps, Flint Mayor Karen Weaver declared a state of emergency in the city. That was followed by state and national emergency declarations from Michigan Gov. Rick Snyder and former president Barack Obama.
Flint's water problem was unusual in its severity and triggered by a decision to change a water source. But reports have warned that US water infrastructure is in need of an expensive overhaul and that millions of Americans may be unknowingly drinking water with lead at low levels.
Former EPA administrator Scott Pruitt proposed a "War on Lead" at a Congressional hearing in January this year, saying that "we need to eradicate it from our drinking water." In February, Pruitt held a meeting with water utilities and local and state agencies about the issue but resigned from his position before specific plans for this effort became clear.
In October 2016 the OIG published an interim report about the EPA's role in the crisis, which found that the agency was slow to respond. According to that report, the EPA knew enough about the crisis to issue an emergency order and begin water sampling and other activities in June 2015, but did not do so until seven months later, in January 2016.
"These situations should generate a greater sense of urgency," Elkins said in a statement at the time.
In April of this year, Snyder announced that Michigan will stop providing bottled water to Flint residents, citing low lead levels measured in the city's water. Some critics, including Weaver, called that move premature, in part because a massive effort to replace city's corroded pipes was still underway.
Michigan Attorney General Bill Schuette has filed criminal charges against at least 51 state and local officials as part of an investigation of the response to the water contamination. The state is also suing two companies for failing to raise warning signs about the corrosion and contamination.
UPDATE
This article was updated to include comment from Virginia Tech professor Marc Edwards.