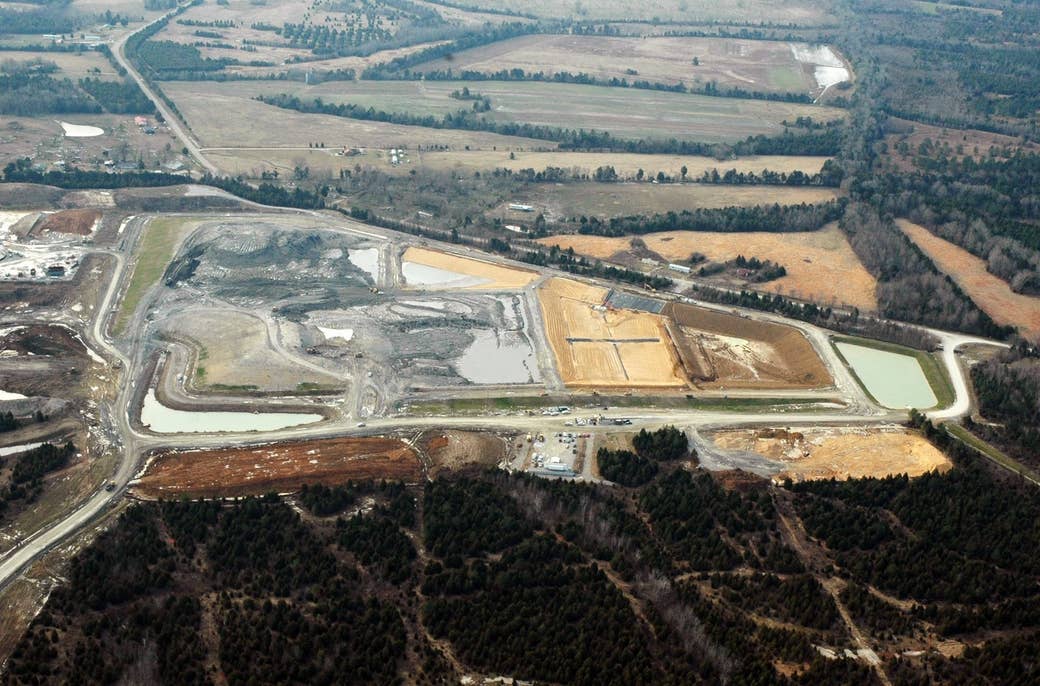 The highest point in the city of Uniontown, Alabama, is a towering mound in the Arrowhead Landfill made of coal ash. A powdery residue from burning coal at power plants, coal ash contains heavy metals like mercury and arsenic — and it flies everywhere.
When the dump site is active, Uniontown resident Ben Eaton told BuzzFeed News, "Everything out here turns gray or white."
In 2013, Eaton and other residents of Uniontown filed a complaint with the Environmental Protection Agency (EPA) claiming that the site was harming the largely black city, whose residential neighborhoods began less than a mile away. People reported respiratory troubles, nausea, and nosebleeds. The EPA and the Alabama Department of Environmental Management had approved bringing in this coal ash from the site of a massive spill in Kingston, Tennessee — diverting 4 million tons of this toxic refuse some 300 miles, from a community that's 90% white to one that's 90% black.
Uniontown filed this to EPA's Office for Civil Rights — a team within the agency meant to ensure that federal funds are not being used in a manner that is discriminatory, in accordance with the Title VI of the 1964 Civil Rights Act.
Although the EPA is supposed to investigate complaints within 180 days, three years later Uniontown is still waiting for an answer. It's one of hundreds of complaints that the EPA has either dismissed or kept pending over the last two decades. And the lead contamination crisis in Flint, Michigan, was yet another example of the agency's inaction, activists say.
"We want them to know that we are here, and our lives are just as important as others," Ben Eaton, vice president of the activist group Black Belt Citizens Fighting for Health and Justice, told BuzzFeed News. "The rich, the majority — it's just, we don't feel like we have those rights."
Now, in a scathing report published on Thursday, the US Commission on Civil Rights, a government watchdog group, is reprimanding the EPA for failing in its duty to protect minority communities from so-called environmental racism.
Although the EPA conducted a cursory environmental assessment of the Uniontown dump site before it was approved, the report alleges, the agency nevertheless decided to dump in Uniontown for economic reasons: because it was easily accessible by rail from Kingston.
"I'm not certain if the Environmental Protection Agency is incompetent or indifferent when it comes to requiring environmental justice from polluters of minority communities, but whatever the case, the result is the same," commission chairman Martin Castro wrote in the report. "The EPA has failed miserably in its mandate to protect communities of color from environmental hazards."
The EPA denies that it is failing minorities.
"EPA has a robust and successful national program to protect minority and low-income communities from pollution," Mustafa Ali, senior advisor to EPA administrator Gina McCarthy, said in a statement emailed to BuzzFeed News.
The agency created an Environmental Justice 2020 Action Agenda to address criticisms of its civil rights record, but that effort "is largely absent" in the new report, Ali noted. The agency hopes to collaborate with the US Commission on Civil Rights going forward, he added.
For years environmental groups and lawyers have been raising hell about the EPA's failure to use its authority to penalize commercial or state actors that bring pollutants to poor, minority neighborhoods.
In Flint, for example, lead-laced water was long ignored by state and federal regulators. Over the years, other complaints have streamed in from towns across the country: pesticides for strawberry fields threatened school kids in majority-Latino Oxnard, California, for example, and refinery emissions from an ExxonMobil plant poisoned the air in largely black Beaumont, Texas.
In its report, the commission focused on coal ash dumps, but also showed more generally how the EPA sets rules and handles complaints — or mishandles them.
"The commission's critique and recommendations related to civil rights enforcement goes to the heart of 'What the hell happened in Michigan?" Marianne Engelman Lado, senior attorney at Earthjustice, an environmental law nonprofit, told BuzzFeed News.
Among its findings, the commission found that the EPA's Office of Civil Rights has never "made a formal finding of discrimination" and has never denied or withdrawn funding from companies or groups. (In the one instance the EPA made a preliminary finding of discrimination, it resulted in a settlement with the companies and did not involve the community that complained, the report said.)
Just this July, five groups from different parts of the US, represented by Engelman Lado and Earthjustice, sued the EPA for ignoring claims that had been filed up to 20 years ago.
Michael Boyd, president of Californians for Renewable Energy, is among the plaintiffs Engelman Lado is representing.
In 2000, Boyd wrote a Title VI complaint to the EPA about the construction of two power plants in Pittsburg, California, noting that they would add pollution to a low-income, minority community already saddled with high rates of asthma and cancer.
After staying silent for 15 years, the EPA's Office of Civil Rights replied, saying that it was closing the complaint after finding "insufficient evidence" that the parties had made civil rights violations.
"What choice do I have but to sue?" Boyd told BuzzFeed News. "That's the only thing they pay attention to."
While the Civil Rights Act forced other federal agencies into action — leading to the desegregation of schools and hospitals, for example — the "EPA has never developed the will to take this on," Engelman Lado said.
The federal watchdog's report follows years of news reports that have steadily chipped away at the EPA's history of ignoring complaints about environmental discrimination.
Last year, a powerful investigation from the Center for Public Integrity documented systematic inaction at the EPA's Office of Civil Rights — and found that the agency dismissed complaints "more than 9 out of 10 times."
"I would describe it as complete abdication of their obligation to protect the civil rights of communities suffering from environmental racism," Brent Newell, legal director of Center on Race, Poverty and the Environment, told BuzzFeed News. His organization has filed more than 10 Title VI complaints to the EPA, he said. "The institution itself, its acts and inaction, have perpetuated racial injustice in the United States."
Meanwhile, Uniontown is bracing for fresh battles. The company that owns the landfill is suing four members of Black Belt Citizens, including Ben Eaton, for $30 million in damages — for comments the group posted about the landfill on its Facebook page.
"I don't feel like we're going to lose, I just feel like I'm tired of fighting the fight that should have been decided on a long time ago," Eaton said. "If they had just done what they were supposed to do we wouldn't be jumping through the hurdles and hoops of reminding them of what they're supposed to do."