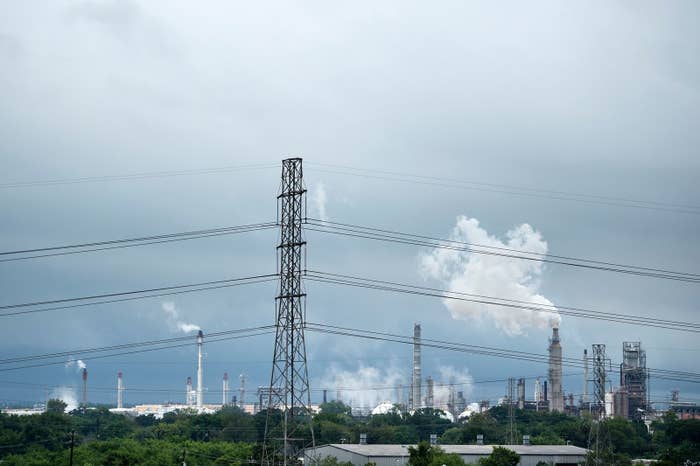 People of color face more air pollution than white people, and black people bear the biggest environmental burden of any group, according to a new study by EPA scientists.
This exposure could explain disparities in health quality among different communities, scientists from the EPA's National Center for Environmental Assessment write in the paper, published Thursday in the American Journal of Public Health.
"It's excellent work in a top journal making the point that environmental disparity is alive and well in the US," Manuel Pastor, director of the Program for Environmental and Regional Equity at the University of Southern California, who was not affiliated with the study, told BuzzFeed News.
Years of research has suggested that minority communities face an outsize burden of air and water pollution, and get diagnosed with additional health problems as a result.
"Our study contributes to the narrative by providing a systematic study of burden by race, ethnicity, and poverty status across the entire US," EPA researcher and study author Ihab Mikati wrote in an emailed statement to BuzzFeed News.
Mikati and his colleagues tracked the location and quantity of air pollutants emitted by refineries and factories using the EPA's National Emissions Inventory. The team then compared the emissions with the demographics of communities within 2.5 miles of each facility, using data from the US Census Bureau.
The new report found that the average US resident lives near about five emissions sources. But, the authors noted, "Blacks in particular are likely to live in high-emission areas."
Compared to the average American:
Black US residents are exposed to 1.54 times more fine particulate matter, a pollutant that contributes to haze and has been linked to heart and lung diseases.

Hispanic US residents are exposed to 1.2 times more fine particulate matter.

People below the poverty line were exposed to 1.35 times more fine particulate matter.
"I do see this as a very valuable study," Paul Mohai, professor at the School for Environment and Sustainability at the University of Michigan, who was not involved with the study, told BuzzFeed News. "It's very unusual for researchers to try and measure the absolute level of inequality like they do, through their ratios."
In every state except Virginia, North Dakota, New Mexico, and Maryland, and Washington, DC, the study found, nonwhite people have a higher exposure to particulate matter than white people do. The worst disparity exists in Indiana and Alabama, where people of color were exposed to more than twice as much particulate pollutants as white people.
The researchers focused on levels of "PM2.5" — tiny particles that are 2.5 microns across or smaller. A byproduct of burning in cars, machinery, and a range of industrial processes, these particles contribute to haze on a still day. The EPA regulates this pollutant because it has been associated with heart and lung diseases, and a shorter life.
The researchers found the same disparity when they examined other air pollutants, including lead, carbon monoxide, and nitrogen oxides.
Despite years of research that suggests minority groups are overly affected by pollution of all kinds, the idea still faces detractors.
For example, when the National Association for the Advancement of Colored People (NAACP) and Clean Air Task Force published a report that linked health disparities in black communities to the observation that 1 million black people live within a half mile of petroleum operations, and 6.7 million lived in counties with power plants, the American Petroleum Institute disputed the findings, instead ascribing health disparities to "genetics, indoor allergens and unequal access to preventative care."
The new study refutes an argument that pollution impact disparities are driven primarily by economics — that factories are located in low-income communities because land there is less expensive, Pastor of USC said.
When the researchers compared exposures faced by people above and below the poverty line, that difference was less than the gap between black and white people.
"It will lend credibility to people who are saying that the environmental disparities are real and something needs to be done about them," Pastor said.
The study adds to "a vast body of research showing unequal protection and unequal burden of pollution borne by poor people and people of color," Robert Bullard, professor of urban planning and environmental policy at Texas Southern University and a founding architect of the field of environmental justice, told BuzzFeed News by email.
Even though the study was carried out by EPA's own researchers, scientists like Bullard are concerned that the racial disparities are only set to widen as agency chief Scott Pruitt tries to roll back environmental regulations.
For example, in January, the agency announced that it intended to revise restrictions added to the "Regional Haze Rule" by the Obama administration, and suggested it could cede some regulatory control to states.
"If they start letting the states decide all of this, it's a virtual certainty you'll have worse PM 2.5 pollution," David Baron, managing attorney at Earthjustice in Washington, DC, told BuzzFeed News.