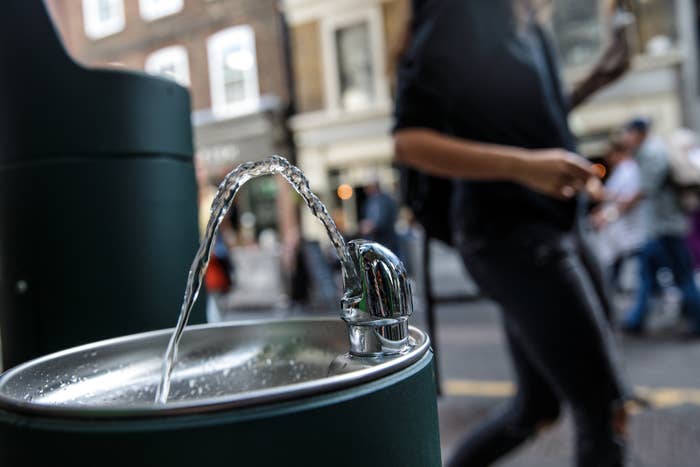 Drinking water has been shut off in all 106 schools in the Detroit Public Schools Community District after elevated copper or lead levels were found in 16 of 24 schools tested this year.
Districtwide testing of school drinking water began this spring. Since 2016, 34 schools in the district have reported water quality problems.
In a statement, school district Superintendent Nikolai Vitti said he asked for a districtwide shutdown "out of an abundance of caution."
"I am turning off all drinking water in our schools until a deeper and broader analysis can be conducted to determine the long-term solutions for all schools," Vitti said.

The City of Detroit has posted school water testing reports on its website.

At the Academy of the Americas Elementary-Middle School, for example, two taps in the cafeteria — a kitchen faucet and a drinking water faucet — reported lead levels of 182 micrograms per liter and 154 micrograms per liter, respectively. Both are more than 10 times higher than EPA's action level of 15 micrograms per liter.
"This is a disgrace," Mona Hanna-Attisha, the pediatrician credited with drawing attention to the water crisis in Flint, Michigan, tweeted. "Kids are in school to learn, not to be poisoned by lead."
The Detroit Water and Sewerage Department said that the issue did not affect other residents because the water distributed by the city was tested hourly and met federal and state drinking water regulations. Instead, it pointed to aging plumbing in the schools as a source of concern. "The drinking water is of unquestionable quality," the agency said in a statement to BuzzFeed News.
Schools are not required by federal law to test drinking water for lead, and only eight states have laws that compel schools to do so.

Last year, the Government Accountability Office surveyed more than 500 school districts and found that only 43% of them, serving 35 million students, had conducted lead tests in 2016 or 2017. Of those, one-third had found elevated lead levels in the water.
Of the schools the GAO surveyed, 41% had done no lead tests in 2016 or 2017.

The agency recommended that the EPA, which regulates public drinking water systems, provide schools with schedules for regular lead testing and guidance about how to respond to high lead levels.
Lead is a neurotoxin, and no level of lead in the blood is safe, according to the CDC. Children are particularly vulnerable to lead poisoning, which has been linked to developmental delays and learning disabilities.
UPDATE
This post was updated to include a statement from DWSD, a comment from pediatrician Mona Hanna-Attisha, and water lead measurements at the Academy of the Americas Elementary-Middle School.