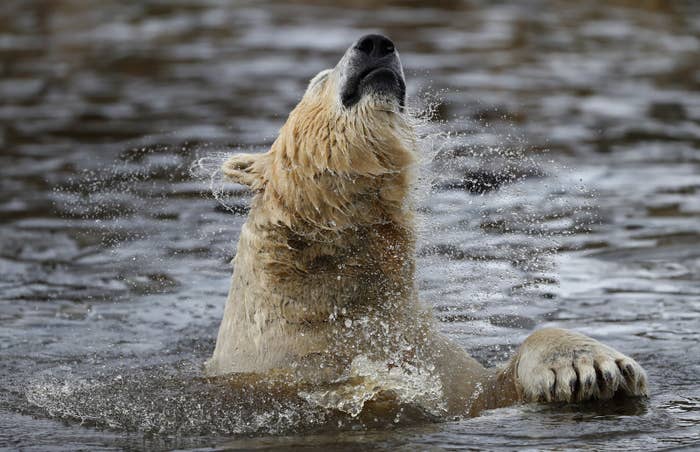 The only way to save the polar bear population is to hit the brakes on climate change, the US Fish and Wildlife Service said in a report announced Monday.

There are about 26,000 polar bears estimated worldwide. Rising global temperatures are the biggest threat to the polar bear populations and to the Arctic sea ice on which the mammals depend, the agency said.
"The future for polar bears is pretty bleak," Michael Runge, a research ecologist with the US Geological Survey and co-chair of the polar bear recovery team, told BuzzFeed News.
The Fish and Wildlife Service listed the polar bear as a "threatened" species under the Endangered Species Act in 2008. The plan for recovery, announced by the agency Monday, includes steps to mediate their interactions with humans, track and manage oil spills that would affect their habitat, and monitor their numbers.
But ultimately, the survival of polar bears will depend on the world's ability to address climate change, according to the report.
Asked whether any action will be taken along those lines: "That's the part that's outside my area of expertise," Runge said.
At a major climate meeting in Paris in 2015, countries agreed to take steps towards limiting rising global temperatures to no more than 2 degrees Celsius. That's also the cutoff for climate conditions that will allow polar bears to thrive, the report said. Without actions to arrest the progress of this change, three-quarters of polar bear habitat will vanish in about 60 years, Runge said, with the possibility that the species itself will be lost.
But climate activists and conservationists face an incoming administration that is skeptical of climate science. President-elect Donald Trump has said climate change was invented by the Chinese and that he intends to "cancel" the Paris deal, even as sea ice coverage in the Arctic hit freakishly low levels this winter — 28% below historical average — after a series of warmer-than-usual months.
"Timely implementation of the plan is crucial as the Arctic is warming twice as fast as the rest of the world," Elisabeth Kruger, Arctic program officer at the World Wildlife Fund, said in a statement addressing the new report.

But some say the report isn't doing enough. "This recovery plan is just too risky for the polar bear," Shayne Wolf, climate science director at the Center for Biological Diversity, said in a statement. "Recovery plans work, but only if they truly address the threats to species. Sadly that simply isn't the case with this polar bear plan."