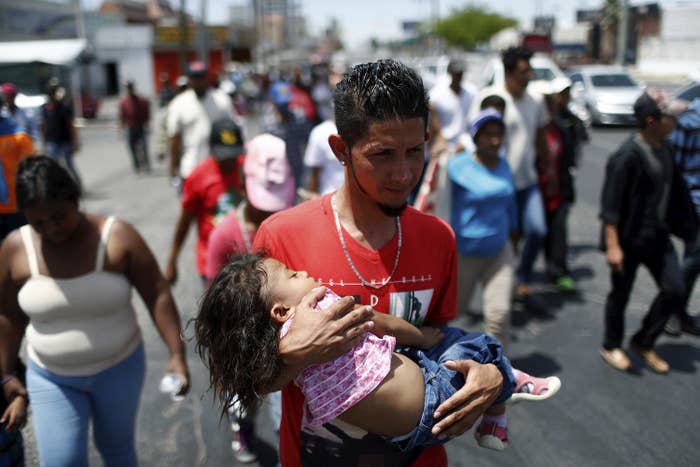 Migrant parents who crossed the US border to seek asylum said that losing their children to US agents left them traumatized and sleepless, waking screaming from nightmares, and having flashbacks to the moment their child was taken away, according to a new lawsuit filed on behalf of more than two dozen migrants.

This psychological trauma, the suit claims, left parents too distraught to explain the dangers that drove them across the border, robbing them of a chance to the apply for legal status in the US.
Filed in US district court Friday, the complaint asserts that perhaps thousands of distressed parents were too traumatized by the loss of their child to explain the dangers they were fleeing in a "credible fear interview" with asylum officers. In doing so, they lost a legal right to access safe haven in the US.
"The one opportunity to explain why they are here, fleeing for their life — why they shouldn't be deported — was essentially taken away from them because they were so traumatized by the government's actions in taking their kids away from them," Sirine Shebaya, senior staff attorney at Muslim Advocates, one of the groups that filed the suit, told BuzzFeed News.
Muslim Advocates, along with the Legal Aid Justice Center, named Attorney General Jeff Sessions as a defendant, with Department of Homeland Security Secretary Kirstjen Nielsen, and the chiefs of ICE, USCIS, and Customs and Border Protection. ICE, USCIS, and CBP declined to comment on the lawsuit. The Department of Justice and DHS did not respond to requests for comment.
More than 2,500 children were separated from their parents after the Trump administration announced a "zero tolerance" policy to charge every adult crossing the border with illegal entry.
The filing includes the stories of 26 women and three men who entered the US between May and July from Central America. In their home countries, all of these migrants encountered violence, such as a murdered family member, rape, enslavement, or other threats.
The records in the complaint offer a rare look at the impact of the strict immigration policy on the mental health of parents who lost their kids for weeks, or sometimes months.
One Guatemalan woman identified as "Esperanza" fled because her husband had sold her to a gang leader as a sex slave, where she faced rape, abuse, and threats to her children's lives, according to the complaint. When she arrived in the US in May, her son was taken away and Esperanza was told that her child "belonged to the government now." During her interview to determine if she faced credible threats at home, the lawyers wrote, "her primary focus during the interview was recurring thoughts of terror that she would lose her son."
Esperanza, like the other 28 parents listed in the lawsuit, failed to describe to an asylum officer how her life was in danger at home.
The suit seeks to obtain a second interview for each of the plaintiffs, accommodating their mental health status, and with it a second chance at making a case for asylum. Currently, each member of the group has been reunited with their lost children, but very likely faces deportation.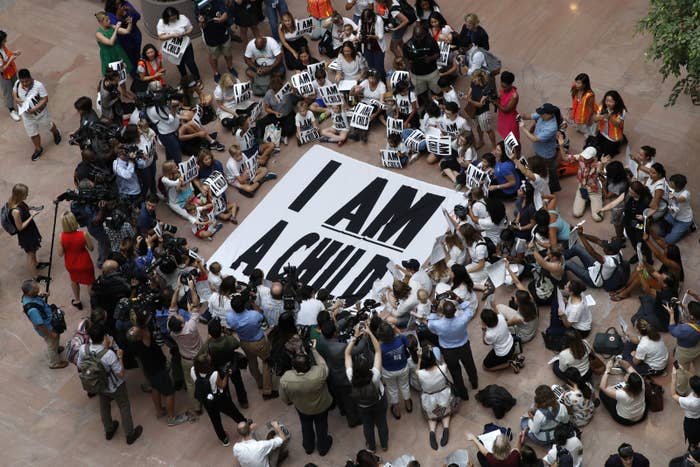 Other legal experts who work at detention centers have noticed for some time that grieving parents are too preoccupied with finding their children to prepare for the interviews.
"The standard for credible fear is quite low — so people should be passing," Trina Realmuto, directing attorney at the American Immigration Council, told BuzzFeed News.
Another woman from Guatemala, identified as "Sylvia" in the complaint, traveled to the US with her 9-year-old daughter, who had been assaulted when she was 6. Sylvia had "crippling" fear and anxiety after the two were separated, and would wake up screaming from recurring nightmares in which "she vividly saw her daughter being assaulted."
"Jenifer" was afraid that her 7-year-old daughter, who had been molested in Honduras, would face a similar threat after being separated from her in the US.
"For me it was like sitting with people who had had their hearts ripped out."
"For me it was like sitting with people who had had their hearts ripped out. They were devastated," Amy Cohen, a California-based psychiatrist who interviewed 12 of the individuals named in the lawsuit, told BuzzFeed News. She compared their experiences to parents whose child had died or been kidnapped.
In a declaration filed with the lawsuit, Cohen wrote that the parents who faced separation were "legally disabled, and cognitively too impaired to engage in a Credible Fear Interview." She explained that the parents were too confused and fearful for their children to focus on the content of questions, or provide an answer in response.
Cohen recorded reports of weight loss, weakness, and headaches. All parents told her they had trouble sleeping, palpitations, and nightmares related to the separation. Several parents told her they had had abdominal pain and cramping, nausea, and diarrhea. Some told her they heard the sound of children's voices at night, even though they knew there were no children present. Most were afraid their children would now face violence.
Cohen said that in her own interviews with the parents, many had trouble following the questions she asked them.
"In the 30-plus years that I have worked with highly traumatized individuals suffering from everything from being enslaved to watching their parents be killed, I have never sat with suffering like the suffering of these parents," Cohen said.
In June, President Trump signed an executive order to exempt parents crossing with children. Following this, a majority of children in US custody were reunited with their parents, but as of early August, more than 410 kids still remained with the Office of Refugee Resettlement because their parents had already been deported, and an additional 68 children had been released in the US.
Shebaya said that reunification was not "the end of the story," and that was the point the lawsuit sought to raise.
"We owe it to them under asylum laws," she said, "to at least give them that one shot to apply for asylum."