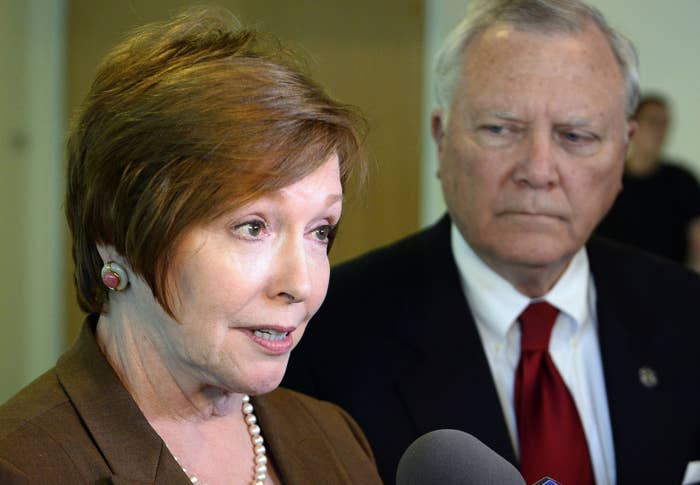 Brenda Fitzgerald, the director of Centers for Disease Control and Prevention, resigned from her role at the agency this week.
Fitzgerald's departure was announced by the US Department of Health & Human Services in a statement on Wednesday morning, citing financial conflicts of interest.
"Dr. Fitzgerald owns certain complex financial interests that have imposed a broad recusal limiting her ability to complete all of her duties as the CDC Director. Due to the nature of these financial interests, Dr. Fitzgerald could not divest from them in a definitive time period," HHS spokesperson Matt Lloyd wrote in the statement.
On Tuesday, Politico reported that Fitzgerald had traded tobacco stock, including shares in an international tobacco giant, Japan Tobacco, after assuming the lead role at the public health agency in July. HHS told Politico that the investments were made by a financial manager.
Documents obtained by Politico also noted investments in pharmaceutical companies Merck & Co. and Bayer, and health insurance company Humana. All stocks valued over $1,000 were sold by Nov. 21 that year.
Fitzgerald is a medical doctor specializing in obstetrics and gynecology. She served in the US Air Force, and before joining the CDC, she led the Georgia Department of Public Health as commissioner for six years.
Former CDC chief Tom Frieden, who held the post before Fitzgerald, told BuzzFeed News that he has spoken to her.
"I have spoken with Dr. Fitzgerald and believe her when she says that she was unaware that a tobacco company investment had been made, she understands that any affiliation between the tobacco industry and public health is unacceptable, and that when she learned of it, she directed that it be sold," he wrote in an emailed statement.
This flu season has been severe and deadly, even before reaching its peak in some states, the CDC reported last week.

But the departure of its director is unlikely to alter the agency's work tracking this epidemic, Marc Lipsitch, professor of epidemiology at the Harvard T. H. Chan School of Public Health, told BuzzFeed News.
"I don't think the loss of one person is likely to by itself slow down the response to the flu in any major way," Lipsitch said.

This is a developing story. Please check back for more updates.