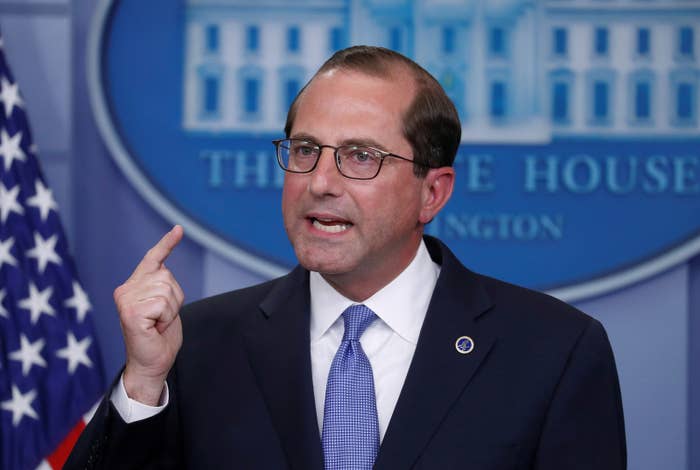 Seeking additional funds to house and feed immigrant children separated from their parents, the federal government intends to move money from maternal health, mental health, AIDS, and substance abuse programs, as well as cancer research.

In a letter sent on Sept. 5 to Washington Sen. Patty Murray, the head of the Department of Health and Human Services (HHS) Alex Azar said he plans to shift $266 million to the Unaccompanied Alien Children program in the Office of Refugee Resettlement (ORR), as first reported by Yahoo News.

According to the letter, obtained by BuzzFeed News, the funding to the Unaccompanied Alien Children program for the remainder of fiscal year 2018 would come from a number of other projects, including:
— $13.3 million from the National Cancer Institute
— $80 million from other refugee support programs within ORR
— $16.7 million from the Centers for Disease Control and Prevention
— $5.7 million from the Ryan White HIV/AIDS program, which provides medical care and support for people with HIV who lack sufficient insurance
— $6.3 million from the Substance Abuse and Mental Health Services Administration
Other programs that would lose funding serve maternal and child health, and rural US residents.
The reallocation this year was necessary because of "increases in caseloads and unexpected surges in children needing care from our program," HHS Deputy Secretary Eric Hargan said in a statement to BuzzFeed News.
The New York Times reported last week that the number of immigrant children in government custody has skyrocketed from 2,400 in May 2017 to 12,800 as of September this year. This month, HHS said that it would expand a tent facility in Tornillo, Texas, which housed hundreds of children separated from their parents.
"Based on the current growth pattern, and increased length of time needed to thoroughly vet appropriate sponsors for the ensured safety of unaccompanied alien children, HHS is preparing for the possibility of heightened capacity to continue so it can meet its responsibility, by law, to provide shelter for those referred to our care by the US Department of Homeland Security (DHS)," Hargan said.
Funds within HHS were also reallocated to the Unaccompanied Alien Children program in 2017, 2014, 2013, and 2012. The Zika response in fiscal year 2016 was funded by a similar shift.
An HHS spokesperson told BuzzFeed News that "the only funds that have been reallocated to support FY 2018 costs are the remaining $17 million in unspent Ryan White funds from a FY 2017 notification."