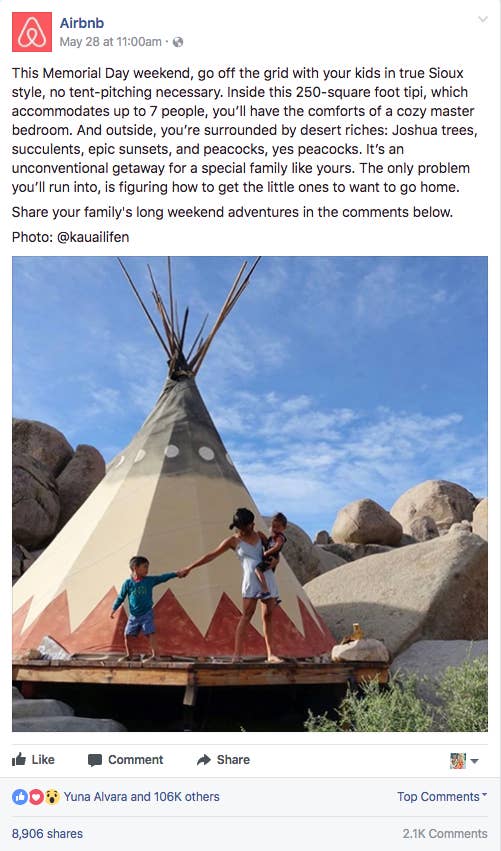 An Airbnb post that featured a teepee and advertised an "off the grid" experience in "true Sioux style" is drawing criticism from Native Americans scholars and activists for thoughtlessly and inaccurately using American Indian references to promote a listing.
"This Memorial Day weekend, go off the grid with your kids in true Sioux style, no tent-pitching necessary," the post on Facebook read. The post advertised a "250-square foot tipi, which accommodates up to 7 people" that features "the comforts of a cozy master bedroom" as an "unconventional getaway." According to the post, visitors could also encounter succulents, sunsets, and peacocks.
An identical post on Instagram appears to have been deleted from the Airbnb account over the weekend, but users on Twitter captured screenshots. After BuzzFeed News contacted Airbnb on Tuesday, the Facebook post also disappeared.
"We should not have used this language and we want to apologize to everyone for our poor judgement," Nick Papas, an Airbnb spokesperson, told BuzzFeed News by email. "We have deleted these posts."
The ads drew sharp criticism from Native Americans.
"Airbnb is profiting off of racist stereotypes and that is unacceptable in a democratic society," Judith Le Blanc, director of the Native Organizers Alliance, who is a member of the Caddo Tribe of Oklahoma, told BuzzFeed News. "When Airbnb uses a racist stereotype it's buttressing social norms that oppress Indian people."

Airbnb is recovering from a public relations crisis over reports of racial discrimination on the booking platform — one Airbnb customer claimed in a lawsuit last year that he had been blocked by a host because of his race. Last month, the company committed to allowing the California Department of Fair Employment and Housing (DFEH) to investigate reports of discrimination.
Responding to the Memorial Day post on Twitter, one commenter pointed out that California is not home to Sioux tribes, where the Airbnb listing was located. The Great Sioux Nation originally spanned regions of present-day North and South Dakota, Nebraska, Montana and Wyoming.

"This entrepreneur doesn't care enough to actually understand that what they are doing is actually factually wrong," Le Blanc said.
"Part of the problem with all the stereotypes is that everyone thinks all Native Americans are the same," Adrienne Keene, a professor of American studies at Brown University, who writes the Native Appropriations blog, told BuzzFeed News.
There are 567 federally recognized tribes in the US, each with a distinct culture and traditional dwelling. So "to locate a Lakota Dakota Nakota style teepee in Joshua Tree and call it 'true Sioux style' was ridiculous," she said.
Keene, who is Cherokee, also saw a romanticized allusion to the months-long encampment in North Dakota, where thousands of indigenous people gathered to oppose the building of the Dakota Access Pipeline. Incidents of violence against activists by state and federal authorities drew the attention of a UN Special Rapporteur who criticized the US for failing to protect the civil rights of indigenous people.
"Remember just a few months ago when water protectors in ND were being violently pulled out of their tipis at gun point?" Keene wrote on Twitter.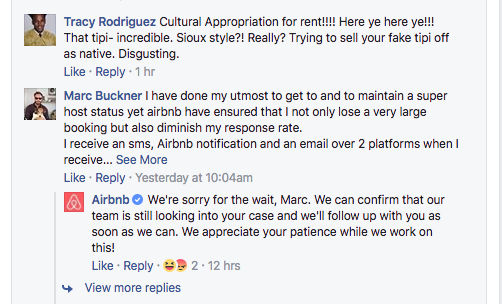 UPDATE
This article was updated to include comments from Adrienne Keene.