The jitters came for Tracy Ream, who heads 11 California health clinics, on the morning after the election: What happens to my job? Will I still be able to see my doctor? Will you go away?
Ream tried to "reduce the level of panic that people were feeling initially," at the Neighborhood Healthcare clinics, she told BuzzFeed News.
But president-elect Donald Trump's campaign promise to "deliver a full repeal" of the Affordable Care Act (or Obamacare), suddenly made imminent by the election, has rattled the 9,000 community health clinics nationwide that depend on federal funding.
As non-profits that reach a population who often cannot pay for services — their patients include people who are homeless, poor, mentally ill, undocumented, or excluded in some way from America's healthcare enterprise — community health centers typically operate on a tight budget. Obamacare had brought on a rare time of plenty though.
"The Affordable Care Act brought us more financial stability," Ream said. Mirroring a trend across the country, more of the center's patients were eligible for insurance, and more patients overall started seeking everyday medical treatment.
Over three years, Neighborhood Healthcare added two new clinics, and started construction on a third. The group hired 100 more people, and spruced up its existing digs — all the better to accommodate the 20,000 new patients who streamed in the first year.
Across the country, 550 new clinics have similarly opened to receive 5 million new patients since 2009.
"If the ACA is repealed and not replaced with something equivalent that would be a huge blow to community health centers," Steve Wallace, who chairs the Department of Community Health Sciences at the University of California in Los Angeles, told BuzzFeed News. "I would say CHCs are the canary in the mine — if that system is significantly hurt it will have ramifications through the entire healthcare system."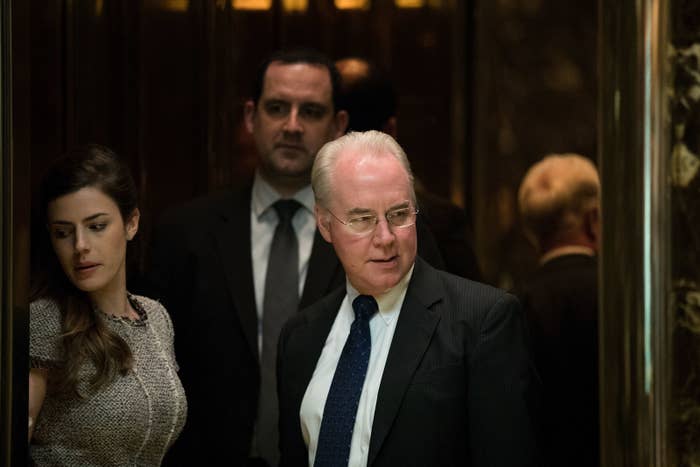 A full repeal could take years to go into effect, but the selection of Rep. Tom Price as Secretary of the Department of Health and Human Services will install a strong opponent of Obamacare in charge of HHS and the Centers for Medicare and Medicaid Services.
Under the Trump administration, community health centers could face three flavors of funding cuts:
— Any policy shift that causes people who are newly insured under Obamacare to lose their coverage would mean that these centers go back to using their own federal allowance to pay for primary care, rather than billing insurers. That might affect the 6.5 million community health center patients who acquired insurance between 2010 and 2015.
— Rep. Tom Price and House Speaker Paul Ryan both support changes to the way Medicaid is paid out to states that could cut the dollars that ultimately reach these centers. Medicaid costs are currently shared between states and federal government, but the alternate plan of a lump sum — known as block grants — would cap the amount of money that goes to each state. Over the next six years, one such proposal could reduce the number of people who receive Medicaid by up to 20 million.
— Finally, $3.7 billion in annual federal funding for this year and 2017 is tied to the Medicare and CHIP Reauthorization Act of 2015, and will expire next year. Whether Congress will renew that allotment, and in what form, is up in the air.
Meanwhile California, which went all in on the ACA and hosts the country's largest number of community health centers, could be hit hard.

"We have the most to lose," Carmela Castellano-Garcia, president of the California Primary Care Association, told BuzzFeed News. "Millions of people from our most vulnerable communities would once again be uninsured," she said.
She worries in particular about rural communities, where private health centers are reluctant to operate. Often, a community health center is the only source of medical care for miles, serving patients of all economic groups, insured or not.

In Texas, the proportion of uninsured patients in the state dropped from 51% before the ACA to 41%.
"Depending on what parts of the ACA are changed or done away with about 59% of health center revenues are on the table," Jose Camacho, executive director and general counsel at the Texas Association for Community Health Centers told BuzzFeed News. Across the state, these clinics see 1.2 million patients per year.
"I don't think anyone is panicking yet because we haven't seen what adjustments or outright repeals are proposed," Camacho said.
Still, directors of health centers in the state have been questioning future funding — whether, say, to put the latest construction project on hold.
One thing is clear: "There are going to be an increased need for places that are 'safety net' clinics," at the very moment when clinics will find themselves in a pinch, Leighton Ku, director of the Center for Health Policy Research at George Washington University told BuzzFeed News.
"This creates a real rub where certain low income people will have serious problems getting primary care."
"Nobody has a crystal ball," Tiffani Helberg, vice president of communications and development at Community Health of South Florida Inc., which has 11 sites in the state, told BuzzFeed News. "Are we discussing it? Absolutely. Are we talking about the beginnings of Plan B? Absolutely." Significant cuts can mean shorter hours at clinics, fewer services, and closing of some sites, she said.
Over the last three years, her center added 300 staffers, growing to 900 employees in all. Federal grants helped the center open four new sites, and start a training program for doctors to focus on community health. Half the patients the center sees are Hispanic, and 70% of them used to be uninsured. This year, about half the patients the center sees are insured.
"It would be very unfortunate to see us move backwards to serve the needs of communities they're in," Wallace, at UCLA, said. "CHCs are the bedrock of the safety net."