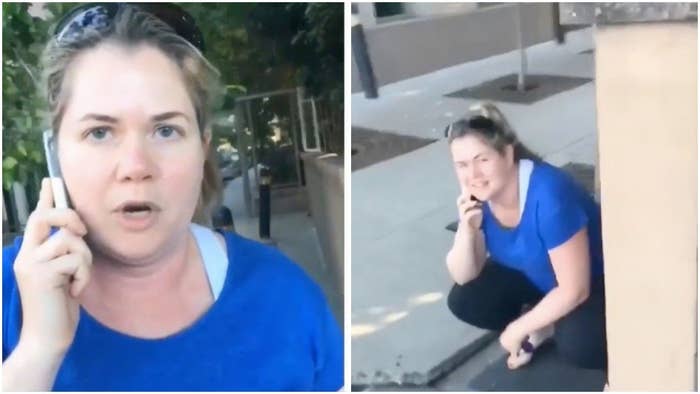 A white woman was accused of calling the police on an 8-year-old nonwhite girl selling bottled water Friday on a sidewalk in San Francisco.

The girl's mother posted a video of the encounter to Instagram on Saturday morning, in which she can be heard saying, "This woman don't want to let a little girl sell some water. She's calling the police on an 8-year-old little girl."
The woman, identified by HuffPost as Alison Ettel, appears to be making a phone call. She ducks behind a low wall as the camera follows her, and then can be heard saying "illegally selling water without a permit" on the phone.

The girl's mother can be heard saying, "On my property."
Ettel then replies, "Not your property," and continues with the phone call.
A woman who said she is the girl's cousin later also posted the video to Twitter, saying, "So my little cousin was selling water and didn't have a permit so this lady decided to call the cops on an 8 year old. #PermitPatty"

She posted another video to Twitter of the girl selling bottled water from a cooler, writing, "my family thanks you all for the funny comments memes & words of encouragement my little cousin is doing okay for those who are asking and her mom is going to be pressing charges for harassment."
The girl's mother and cousin did not respond to BuzzFeed News' requests for comment, nor did Ettel. The San Francisco Police Department also did not immediately respond to questions about whether they had received a call from Ettel on Friday.

The girl's mother in the San Francisco encounter, Erin Austin, told KTVU Ettel demanded to see her daughter's permit for selling water while they were in front of their apartment building near AT&T Park, where the Giants had an evening home game.
But Ettel told HuffPost that she had only "pretended" to call the police and said the call had nothing to do with the girl's and her mother's race. She said she had been hearing the little girl and her mother "screaming about what they were selling" from her open office window above the sidewalk.
"It was literally nonstop. It was every two seconds, 'Come and buy my water.' It was continuous and it wasn't a soft voice, it was screaming," she told HuffPost.
She said she ducked and hid from the camera while the child's mother was recording to "find a quiet place where [she] could hear."
"I have no problem with enterprising young women. I want to support that little girl. It was all the mother and just about being quiet," she said.
The video appears to be the latest in a series of incidents in which white people have called the police on people of color for going about their lives, and this particular case is drawing comparisons on Twitter to a woman, dubbed #BBQBecky, who called the police on a group of black people having a barbecue in Oakland in May.
In another recent incident, two Native American teens were interrogated by campus police at Colorado State University after a white woman on their campus tour was suspicious of them being "real quiet."
"I think they're Hispanic. I believe, one of them for sure, he said he's from Mexico," the woman said when she called 911.