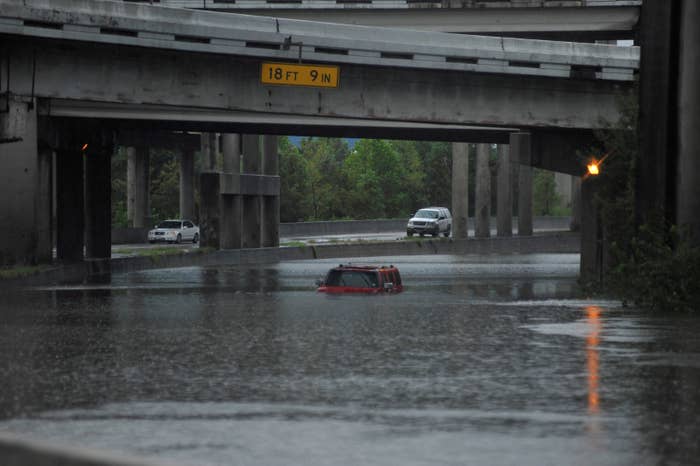 Millions of Texans were stranded in their homes on Sunday morning as relentless rainfall and rising flood waters pounded neighborhoods and roads in the southeastern part of the state.

In Houston, residents resorted to pleading for help on Twitter after trying and failing to get through the city's inundated emergency call system. By early Sunday morning, parts of the city had already received more than 20 inches of rain, and local officials were warning residents to wait for emergency responders on rooftops to escape the rising waters.
Though Houston, the nation's fourth largest city, has become increasingly prone to flooding in the last decade, local officials did not put any mandatory evacuation orders in place for residents in the lead up to Harvey's landfall. Though voluntary evacuation orders were implemented in some parts of the greater Houston metropolitan area Saturday night, the majority of people in the region were told to stay put.
But as the damage of the storm became apparent Sunday, and government agencies scrambled to find shelter for displaced residents, some began to question local officials' decision not to evacuate the area.
Houston Mayor Sylvester Turner defended the decision, telling reporters at a press conference Sunday that officials did not expect the city to be directly in the line of the storm, and that there was not time to evacuate residents safely.
"In this particular case, the hurricane, we were not in the direct line," Turner said. "It is true we anticipated a lot of rain, a lot of rain. But the best place for people to be is in their homes."
"You cannot in the city of Houston put 2.3 million people on the road. That is dangerous," he continued. "When you combine Houston and Harris County, you literally cannot put 6.5 million people on the road. If you think the situation right now is bad, you give an order to evacuate, you are creating a nightmare. Especially when it's not planned."

To illustrate this, Turner pointed to the city's disastrous evacuation efforts during Hurricane Rita in 2005, when some 2.5 million residents tried to leave Houston before the storm, creating monumental traffic jams and leaving 100 people dead.
"Many of us remember when an evacuation order was ordered before and we learned our lesson from that," Turner said Sunday.
Local and state officials had been divided on whether to evacuate residents from cities in southeast Texas, causing confusion among residents over what to do when the storm hit. On Friday, Texas Governor Greg Abbott encouraged residents to leave, even in the absence of an evacuation order.
"Even if an evacuation order has not been issued by your local official, if you are in areas between Corpus Christi and Houston ... you need to strongly consider evacuating," Abbott said during a press call. "If I were living in the Houston region, as I once did, I would decide to head to areas north of there."

The advice conflicted with what Houston officials had been telling residents for days, and city leaders pushed back strongly, urging people to stay in their homes despite the governor's warning.

"Local officials know best. Houston has no evacuation order. In Harris County: very limited to select communities. LOCAL LEADERS KNOW BEST," Francisco Sanchez, a spokesperson for the Harris County Office of Homeland Security and Emergency Management, tweeted Friday afternoon.

"The safest thing is to stay where you are and ride out the storm," Harris County Judge Ed Emmet told reporters on Friday. "We don't anticipate any kind of massive evacuation."
A mandatory evacuation "has to be very well coordinated all the way from Houston to the destination point," he said, adding that it would involve coordinating traffic lanes and ensuring that enough gas was available for motorists leaving the city.
In his own tweet Friday, Turner also cited the chaos of Hurricane Rita. "No official has issued evac order for Houston now," he wrote. "Calm and care!"

Asked about the mixed messages regarding evacuations, Abbott said Sunday that government agencies were dealing with bigger issues in responding to the storm. "We've moved beyond whether or not there should have been an evacuation or not," he told reporters. ""We're at a stage where we just need to respond to the emergencies."

And on Sunday afternoon, local officials expanded mandatory evacuation orders to include parts of Brazoria County, on the outskirts of Houston.

Turner's office did not immediately respond to BuzzFeed News' request for comment.
Zahra Hirji contributed to this report.
Outside Your Bubble is a BuzzFeed News effort to bring you a diversity of thought and opinion from around the internet. If you don't see your viewpoint represented, contact the curator at bubble@buzzfeed.com. Click here for more on Outside Your Bubble.