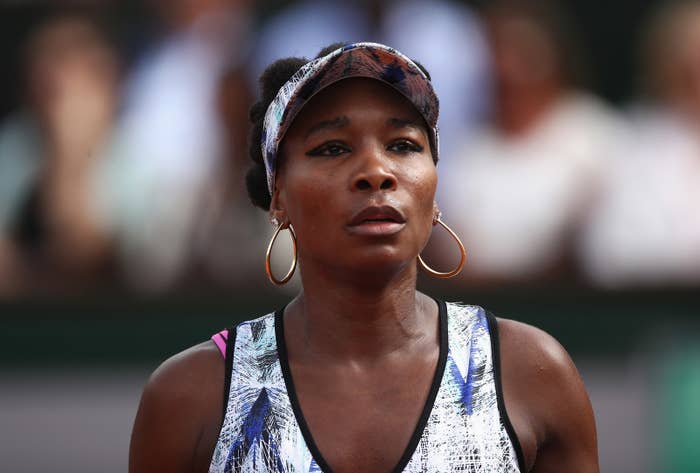 Citing newly discovered surveillance video, police in Florida said Friday Venus Williams was following traffic laws before a fatal car crash last month.
The tennis superstar was involved in a car crash in Palm Beach Gardens, Florida, on June 9, which resulted in a man's death. Williams posted a message on her Facebook page saying she is "devastated and heartbroken" over the accident.
A police incident report first obtained by TMZ last week found that "[Williams] is at fault for violating the right of way of [the other driver]" when she drove into an intersection while another car had right of way. The driver of the other car, Linda Barson, was not able to stop in time and ran into Williams' car, according to the report.

The man, 78-year-old Jerome Barson, was hospitalized and died of his injuries on June 22, Palm Beach Gardens Police Department told BuzzFeed News in a statement, adding that the investigation is ongoing.

On Friday, police walked back the initial report faulting Williams after investigators found surveillance video showing the crash. In a new statement, police said the video showed Williams to be lawfully in the intersection.
"Based on the evidence obtained in the ongoing investigation, it has been determined the vehicle driven by Venus Williams lawfully entered the intersection on a circular green traffic signal, and attempted to travel north through the intersection to BallenIsles Drive," police said.
But, police continued, a southbound car made a sharp left in front of Williams, causing her to stop to avoid hitting them. Once her path was clear, Williams continued to drive north through the intersection. At that point, the westbound traffic light turned green and Barson drove into Williams' vehicle, police said.
Linda Barson's lawyer, Michael Steinger, told CNN last week that she has filed a wrongful death lawsuit against Williams.
"Mrs. Barson is suffering intense grief and doesn't know how she will go on," Steinger told CNN. "Her husband of 35 years was struck by Venus Williams, who was at fault in a car accident, which ultimately resulted in Mr. Barson being hospitalized 14 days with multiple surgeries which resulted in his death."
Williams' lawyer, Malcolm Cunningham, issued a statement to reporters calling the incident "an unfortunate accident" and stating that Williams has not been charged over the crash. He added that Williams entered the intersection on a green light — which the newly released video now corroborates.
"Ms Williams entered the intersection on a green light. The police report estimates that Ms Williams was traveling at 5 mph when Mrs Barson crashed into her," Cunningham said in the statement. "Authorities did not issue Ms Williams with any citations or traffic violations. This is an unfortunate accident and Venus expresses her deepest condolences to the family who lost a loved one."

Cunningham and Steinger did not immediately respond to requests for further comment.